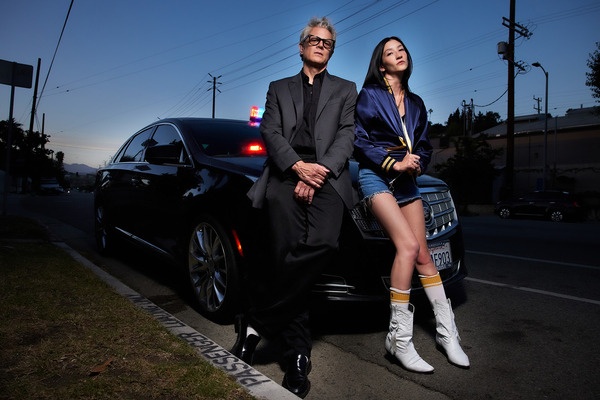 @skopemag news – wednesday – september 7, 2022 @ 12 pm est
@skopemag HQ – http://smarturl.it/skope
GONEMAGE Release New Single "Father Time's Grandfather Clock"
GONEMAGE, the video game themed solo project of Cara Neir's Garry Brents (or Galimgim), will release his new album Handheld Demise on September 30th via WereGnome Records (Cassette), Xenoglossy Productions (Cassette) and Fiadh Productions (Vinyl). The album features over 40 guests. Today they have unleashed the second single from the album "Father Time's Grandfather Clock"
Dylan Jarvis releases new video for "White Horse (The Forgotten)"
"'White Horse' is about not forgetting the people who are struggling most – whether that be a homeless man, a soldier, or the tent city kid," says Dylan. "You never know what people are capable of and it's usually the people you least expect that can accomplish the greatest things. As the song says, 'The tent city kid could become president while the debutante sells the dope.'"
The Snuts release infectious new single 'Knuckles'…
Premiered as Clara Amfo's 'Hottest Record In The World', The Snuts release their infectious new single 'Knuckles'. The track is the fifth advance from their highly-anticipated new album Burn The Empire, out October 7th on Parlophone Records. The album follows their acclaimed, number 1-selling debut album W.L.
Introducing Creature Cult, who share debut single 'ughly' – for the queer kids and the unapologetic misfits | Signed with Various Artists Management (Cassyette, Ashnikko, Yonaka)
Creature Cult are a duo from Colchester, Essex consisting of Connar Ridd (vocals/guitar) and Jonn Downham (synths/backing vocals) who twist genres with impactful messages, blending the likes of punk, rock, pop and electronic into an anarchic mix. Being outcasts most of their lives, they stand with the kids society pushes out – the LGBTQ+ community, the misfits, the kids with coloured hair and smudged makeup who have to shout louder to be heard.
(ENG + ITA) In the Black Hole with DRABIK, new single + video released!
After two singles and some other cool anticipations from the new album to be released on September 23rd, Italian metal explorers DRABIK make public today the video of 'Black Hole', a new powerful and strong tune that anticipates the full length.
Leah Weller returns with FREEDOM
DUTCH CRIMINAL RECORD Reveal New Single 'C'est La Vie' Out Now Via Alcopop! Records
Portsmouth, UK indie surf rock band Dutch Criminal Record are pleased to reveal their new single 'C'est La Vie' which is set for release on 7th September 2022 via new label home Alcopop! Records.
UK Hyperpop princess Roma Radz releasese highly-anticipated debut EP 'Really In Love"
UK hyperpop princess Roma Radz's new EP 'Really In Love' is a deeply-personal sugar-sweet peek behind the curtain at love and heartbreak.
Indie-folk artist Hailey Beavis announces debut album 'I'll Put You Where The Trombone Slides' & shares new single 'Crow'
Symphonic Metal Icons XANDRIA Release New Single feat. Ralf Scheepers of Primal Fear & Official Music Video!
SLANEY BAY announce debut EP & share new single 'I Could Love You Better' | out today (Sept 7th)
South West London-based trio Slaney Bay announce debut EP 'A Life Worth Living', set for release November 11th, and share scintillating lead single 'I Could Love You Better', arriving today (September 7th).
Johnny Knoxville Channels Harvey Keitel's Bad Lieutenant in QUEEN KWONG's "Sad Man" video
An ode to all of the sad men Carré has encountered throughout her time in the music industry, "Sad Man" is dedicated to all "the f*ckboys, the narcissists, the band dudes who think they're all that," she notes. It's an inner dialogue surrounding the desire to ignore the nonsense that comes with a life in LA and being part of the rat race.
NICKELBACK ANNOUNCE NEW ALBUM GET ROLLIN' TO BE RELEASED VIA BMG ON NOVEMBER 18TH
"We've spent the last few years making a record at a pace that gave us the freedom to create and we can't wait for everyone to hear the new music," says Nickelback. "We've missed the fans and look forward to bringing the new songs to life on stage, so let's Get Rollin'!"
Gold Panda announces new album, The Work – Out November 11th on City Slang, watch the video for "The Corner"
Sudan Archives releases "OMG BRITT" video
Sudan Archives has shared a video for her bombastic new single "OMG BRITT," the fourth and final advance taste of her highly anticipated sophomore album Natural Brown Prom Queen, out this Friday on Stones Throw. The song details yet another dimension of Sudan's multifarious talents, as she effortlessly flows and glides across a trap-indebted production that grows increasingly complex as the song progresses, an effect empashized by the futuristic and claustrophobic video by Zach Sulak. Fresh off a sweaty run of UK festival appearances at All Points East, FORWARDS, End of the Road and more, she's announced her largest headline show to date – in London at KOKO – as part of her Homecoming Tour.details below.
Deerhoof's New Single "My Lovely Cat," An Unintentional Lil Bub Tribute, Out Now via Joyful Noise Recordings
Deerhoof today released "My Lovely Cat," their new single dedicated to world famous cat Lil Bub, recorded and mixed by Mike Bridavsky at Winnipeg, Canada's No Fun Club, and mastered by Bridavsky at Russian Recording. With lyrics written and sung in Japanese by Satomi Matsuzaki (who also illustrated its adorable artwork), "My Lovely Cat" is as groovy as it is bittersweet, and marks Deerhoof's first new music since their acclaimed 2021 LP, Actually, You Can (Joyful Noise Recordings).
GRiZ Shares New Single "Your Light" Off 'Chasing The Golden Hour 4'
Continuing to show his lighter, more melodic side with the series, "Your Light" harnesses GRiZ's funk roots and minimalist sentiment. A stark contrast to this year's previous dubstep-leaning releases, "Your Light" flutters with airy guitar melodies, hazy vocal accents, and bright, bubbly synths before diving into a heady saxophone solo. "Your Light" marks the first release off the latest edition of GRiZ's iconic Chasing The Golden Hour album series.
Athens, GA legendary post-punk band Mercyland share new song&video; confirm first shows in 12 yrs
Anti-Flag Share "IMPERIALISM" Video Feat. Ashrita Kumar
Music Submission: Noise MK III
BRUTUS DROP NEW SONG + VIDEO
Isla Craig (U.S Girls, Jennifer Castle) announces new album Echo's Reach and shares 'Song For Boots'
Golden Features Releases New Single + Music Video 'Vigil' On Foreign Family Collective
Today, acclaimed Australian electronic producer Golden Features (AKA Tom Stell) returns with his second single of the year 'Vigil', out now via Foreign Family Collective / Warner Music Australia.
Alt-rocker Moon Walker reflects on hidden history with new single out today: "The Stolen City"
Moon Walker's unabashed observations of the flaws and failures of American society permeate the artist's work, and the latest single, "The Stolen City" is no exception. Written while watching the Lena Waithe-produced television show Them, Moon Walker was instantly struck by the way modern American cities are quick to stamp out their true, often dark, history and culture in place of a more polished, idyllic facade. Moon Walker explains the show, "made me think a lot about how, even to this day, geographical locations are stolen or gentrified and the history, culture, people, etc. that they were stolen from are often forgotten."
[Single + Tour Announcement] Izzy Oram Brown Releases "Without You" and Announces Tour + Select Dates with Julian Lage in Advance of Debut Album "Mess" out 09.23.22
Izzy Oram Brown will not be boxed in. The Brooklyn-based guitarist –– by way of Nashville and Western Massachusetts –– has spent plenty of time backing other musicians, studying guitar, deep-diving the musical histories of various places, and working within precise limitations and categories. But on Mess, her debut record, she refuses to be one thing or another. Nevertheless, Mess is a strikingly precise affair.
Tom Skinner (The Smile/Sons of Kemet) announces new album 'Voices of Bishara' via Brownswood, International Anthem & Nonesuch
Drummer, producer and composer Tom Skinner (The Smile, Sons of Kemet) announces his lean and beautiful mini-album "Voices of Bishara" out November 4 via Brownswood / International Anthem / Nonesuch and shares the first lead single "Bishara". The sonorous and tuff piece of music is the result of his editing of a starry recording session into a beguiling new shape.
SIGNS OF THE SWARM Release New Track and Video for "Unbridled" Today
SIGNS OF THE SWARM states, "To commemorate our signing with Century Media, we wanted to offer something truly special – 'Unbridled'.
This track is a taste of everything that we have to offer, reaching for new levels of intensity and keeping what makes us SOTS. If you like riffs, blast beats, and breakdowns don't skip this one.
Rich Homie Quan Drops "Krazy" Music Video
Alela Diane Goes Through The Looking Glass
Hailed by The Guardian for creating songs like "campfire pipe dreams filled with picket fences, desert sands and paths leading back to you," Alela Diane grew up in the winding rivers and golden hillsides of Nevada City, California where as a girl she listened to her parents harmonize bluegrass songs in the kitchen. She moved to San Francisco at age 19 and began writing her own songs, making her recorded debut with 2004's acclaimed The Pirate's Gospel. A string of increasingly well received albums have followed, supported by extensive touring through North America, Europe, and beyond.
Watch Will Joseph Cook Team Up With Tessa Violet For Collab On "GUMMY"
Of the collaboration, he shares, "'Gummy' came to life literally by me setting out one day to make the most ridiculous song I could write. Day 1 it was just a synth bass line, the beat, and the opening gummy chant. I didn't think I would use it for anything but I kept coming back, plus all my friends were bopping to it. As I built it up it transformed into this very earnest dreamy love letter."
NNAMDÏ DROPS FINAL SINGLE FROM UPCOMING SECRETLY CANADIAN DEBUT
ACEPHALIX Releases "Innards Of Divinity" Single; Bay Area Death/Crust Act With Vastum, Chthonic Deity, Ensepulcher Members To Release Theothanatology LP Through 20 Buck Spin This Month
ACEPHALIX awakens from five years in morbid repose with a new offering upon the glistening altar of flesh, a devastatingly tormented study on Theothanatology, the idea or belief that God is dead. Within this cerebrum shattering inquiry lies, as always, a primal spewing forth of vicious death metal malignity and bomb-raid hardcore dispersions. Across a decade-and-a-half lifespan, the evolution of ACEPHALIX into the bludgeoning instrument of discord and dead faith displayed on Theothanatology has never felt so urgent. The crumbling siege-like mentality of modern life leaves no doubt God has left the building and ACEPHALIX adeptly soundtracks the contradictions, atrocity, and inner turmoil of such massive loss and decay.
[psych-pop] French pop-rock artist Laure Briard releases new psych-infused soul single/music video, 'My Love Is Right' + announces new album
The Vacant Lots release new single and video: "Consolation Prize" – The Brooklyn duo's album, Closure, is out September 30th on Fuzz Club Records.