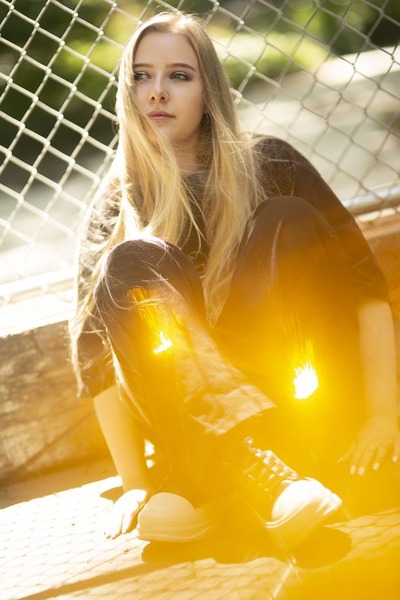 @skopemag news – wednesday – august 7, 2022 @ 4 pm est
@skopemag HQ – http://smarturl.it/skope
Jon Batiste Sweet Music Video Release
Today, the renowned Oscar and multi-Grammy® Award-winning recording artist, songwriter and composer Jon Batiste, 3x Grammy® Award-winning and multi-Platinum-selling recording artist Pentatonix and the iconic Grammy winning and 13-time Oscar nominated songwriter Diane Warren deliver the official music video for "Sweet (Single Edit)" (Di-Namic Records/BMG) directed by Matt Earl (Doja Cat, Carlos Santana, G-Eazy, Cordae) with music and lyrics by Diane Warren.
DISILLUSION reveal new video single 'Tormento'
Cherie Amour share genre-defying new single "Letting Go"
Yumi Zouma share new video for "If I Had The Heart For Chasing"; global tour continues
French death metallers Post-Mortem unveiled new music video "Opening Of The Underworld's Gates"
Baltimore hardcore band Jivebomb get in your face on new single "Primitive Desires"
ABRAMS: Heavy Blog Is Heavy Premieres In The Dark From Denver Rock Outfit; Record To Drop This Friday Via Small Stone Recordings!
Heavy Blog Is Heavy is currently streaming In The Dark, the latest full-length from Denver's ABRAMS. The exclusive premiere comes in advance of the record's official release September 9th via Small Stone Recordings.
EXCLUSIVE PREMIERE: Abrams Don't Leave Us "In The Dark" With New Album
Safiyah Hernandez Shares Cathartic New Single "Hummingbird"
Safiyah has found songwriting as a form of catharsis in dealing with the overwhelming grief, loss, and confusion that is the current state of the world. Written the day Safiyah's great-grandmother, Hamida Begum-Sardar, passed away, "Hummingbird" is an emotional reflection on family connection and heartbreaking loss.
Ty Herndon Marks Suicide Prevention Week with Official Release of "God or the Gun" Music Video
The video was filmed in Nashville and produced and directed by Neighborhoods Apart Productions."Though God or the Gun begins at one of the lowest points I have experienced in my life, it ends with a message of hope and redemption," said Herndon. "There's a universal truth in this song for everyone who listens — we all have the power within us to change our endings. No one is ever truly alone. Someone is out there ready to help us. There's nothing too big for us to handle if we simply reach out and ask when we need it most."
Ali McGuirk's New Single "Milk" Is A Vintage Rock Anthem For Dystopian Love
"It's the last song on the record, but definitely one of my favorites," says Ali McGuirk of her newly-released single, "Milk." Flanked by rowdy, swirling electric guitars over a slow but swinging 6/8 groove, McGuirk uses her soulful, smokey voice to go about framing a love story in an unlikely setting. "I think we created a whole dystopian love scene on this one," she says.
5 SECONDS OF SUMMER DROP NEW SINGLE "OLDER (FEATURING SIERRA DEATON)" – LISTEN HERE
"Older" is a surprising shift from the band's signature pop-rock sound to a soft, tender love ballad. The track was produced by Michael Clifford and co-written by Michael Pollack (Justin Bieber, Beyoncé, Ed Sheeran). "Older" also features vocals and a co-writing credit from lead singer Luke Hemmings' fiancée, Sierra Deaton, which sees the couple perform together on a song for the very first time.
ABRAMS: stream new album "In The Dark" in full!
Denver heavy rock stalwarts ABRAMS share their fourth studio album "In The Dark" in full in anticipation of its worldwide release this September 9th on Small Stone Records. Dive into the expansive and addictive vibe of "In The Dark" courtesy of The Sleeping Shaman now!
Premiere: Abrams 'In The Dark' – New Album Releases This Friday via Small Stone
KANGTA RELEASES NEW ALBUM AND SINGLE, EYES ON YOU
Running Violet Share Uplifting New Single "Who Needs Love"
Their explosive new offering, "Who Needs Love," takes an uplifting, hopeful look at growing up and the consequential traumas that shaped our futures. It features a punchy guitar solo by their guitarist Petr Balaz who fully produced, mixed and mastered the colourful tune about self-discovery.
Miami rock band The Gas share "Angel" music video
Tungz deliver ABBA inspired new video on Heist or Hit
obSCENE Stealers feat. Ken Lewis and Michael Maas Release New Single "DANGER" with Vocals by DERAJ
LENNE Releases New Lyric Video for Single "Miracle"
CINIS: No Clean Singing Premieres "Aegis" Single From Polish Death Metal Act; Band's Third Album, Lies That Comfort Me, Nears Release Through Selfmadegod Records
No Clean Singing is hosting an exclusive stream of "Aegis," the new single from Polish death metal quartet CINIS. The track is the latest warning shot from the band's impending third album, Lies That Comfort Me, nearing release later this month through Selfmadegod Records.
CHERIIMOYA REVEALS MUSIC VIDEO FOR VIRAL SINGLE "LIVING LIFE, IN THE NIGHT" FEATURING SIERRA KIDD
Maryon King Premieres "Boys Will Be Boys" (Heartbreak Version) Video
Today, pop singer and songwriter Maryon King returns with "Boys Will Be Boys (Heartbreak Version)," a stripped-back piano version of her latest single. Wonderland Magazine exclusively premiered the video and called it "a captivating reimagination of the track."
SAMIR GUERRERO Releases New Single "Cosas Iguales"
"Cosas Iguales" is a song that speaks about the connection between two people who like the same things, such as habits, in sexuality, in tastes, in life, etc. It's a song that generates introspection in regard to the memory of the great moments shared with another person, which impact and leave an impression on their lives.
INTRODUCING: Precious Pepala Reveals Official Music Video To 'My Eyes Only'
Precious Pepala today shares the official video for her debut single 'My Eyes Only', a bold arrival and opening statement from a rising new voice in UK pop. At just seventeen, Precious' lyrics manage to contain universal sentiments that speak to her generation – 'My Eyes Only,' which NYLON Magazine praised as "a stunning introduction to a promising talent," hailing Precious for having "a voice beyond her years and ear for captivating melodies"; is a soaring vocal showcase about vulnerability in private, and the video, directed by Alexandra Crichton-Brannan, reflects this sentiment, with Precious crying in her bedroom, wanting to hide her emotions from those closest to her.
Out Today indie rockers Luke Warm and The Cold Ones share melancholic Americana kissed track "Paradise Lost"
Emotive guitars, earnest vocals, and the violin skills of Dreamhouse Studios' Kara MacKinlay create a melancholic overture which illustrates the importance of caring for what you have before it's too late.
SALLY BOY RELEASES "TRUE AMERICAN" MUSIC VIDEO
GABRIELS ANNOUNCE DEBUT ALBUM ANGELS & QUEENS + RELEASE TITLE TRACK
Produced by GRAMMY Award-winning and fellow Compton-native producer Sounwave, who has worked with the likes of Kendrick Lamar, Chloe x Halle and Beyonce, Angels & Queens will be released in two installments, with Part I arriving September 30th via Elektra Records. Part I is available for preorder now, with the second installment set for arrival in March 2023.