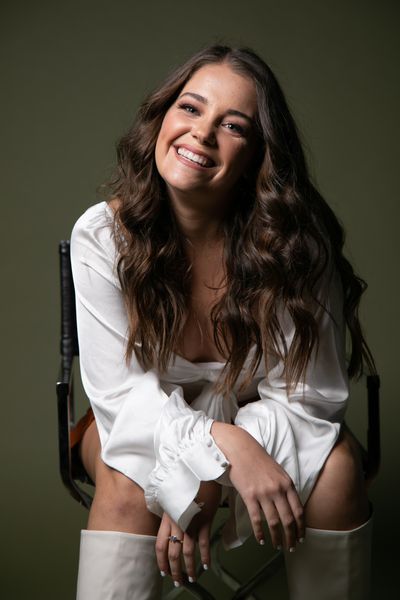 @skopemag news – saturday – august 27, 2022 @ 8 am est
@skopemag HQ – http://smarturl.it/skope
Miles Hewitt's ambitious debut LP is out everywhere today
Today Miles Hewitt is sharing his ambitious and eerie debut LP, Heartfall. The record release show is on Aug 31 in Brooklyn at Union Pool (Get Tix here). The record features contributions from members of Devendra Banhart, Kevin Morby, and Aldous Harding's bands. Click here to stream/purchase the record. In case you've missed them, check out all of the previous singles "Heartfall," "Moongreening," and "The Ark."
Banners Returns With His Soaring New Single "Happier"
August 26, 2022 – After recently returning to deliver his glorious comeback single "Keeps Me Going," his first piece of new material since the widely-praised 2021 EP It's Gonna Be OK, which has since garnered more than twenty million streams since its release, Liverpool native Michael Nelson aka BANNERS is back once again to unveil his soaring new offering "Happier."
RISING SINGER/SONGWRITER GEORGIA WEBSTER RETURNS WITH SPECIAL TWO TRACK PACK
Sony Music Nashville/River House Artists rising star Georgia Webster returns with a double dose of music and releases a special two track pack that includes "I Hate Phone Calls (Long Distance Sucks)" and "Risk" ft. Jonathon Hutcherson. Both songs showcase Georgia's songwriting as well as sees the singer producing both tracks. Additionally Kerr adds his production credits to both tracks and co-writes on "I Hate Phone Calls (Long Distance Sucks)" while Philip Vo lends his songwriting credits on "Risk". Listen here for both tracks.
KH (Four Tet) Shares Official 'Looking At Your Pager' Remix By Clipz
Lil Gnar Releases Debut Single "Almighty Gnar" Featuring Chief Keef
Rising Atlanta-based rapper Lil Gnar has released his debut single "Almighty Gnar" featuring multi-platinum, Billboard chart-topping artist and progenitor of Drill music Chief Keef. Lil Gnar is the inaugural signing to 43B [Forget Everybody], Chief Keef's label in partnership with RBC Records/BMG.
Modern Hard Rock Band, Titans in Time, Release New Single "Prey" to All Major Platforms!
Titans in Time is a modern hard rock band from Cleveland, OH who is quickly gaining recognition as a hard working, performance driven group chasing the dream of Rock and Roll.
MILES RELEASES DEBUT EP FT. TRAVIS BARKER ON THE TITLE TRACK
FERBY shares razor sharp new single 'Boo Hoo'
New Zealand based newcomer FERBY today follows up on the buzz gained from her first two cuts fresh 'Bad Vibes Stuck In My Teeth' and ' Every Night' with razor sharp cut ' Boo Hoo'. A glitchy cut bordering hip-hop and left pop, the track showcases FERBY's infectious flow over patchwork beats. Fresh from opening for JPEGMafia, FERBY is set for a big few months. Speaking on the track, she states:
Alphaville: 'Forever Young' Single & Video from new album 'Eternally Yours'
After 'Big in Japan' and 'Sounds Like a Melody', 'Forever Young' is the third symphonically interpreted single release from Alphaville's new orchestral album 'Eternally Yours' and will be released on August 26, 2022. In their sequence, the three newly produced singles repeat the authentic order of their original releases in 1984. This backward look at the beginning of the band's history marks the starting point for a new "classical" chapter of Alphaville, which will be heralded with the release of 'Eternally Yours' on September 23, 2022.
Global Star Mark Tuan Releases Debut Solo Album 'the other side' Out Today
After accumulating close to 50 million streams on Spotify and YouTube with a series of acclaimed singles, Tuan is excited to finally share the album in its entirety with the world. An album chronicling his personal experiences spending 10 years away from home in a foreign land, the tracks on the other side display Tuan's loneliness and despair as he navigates difficult times on his own. Spotlighting a personal and reflective side of Tuan's songwriting, the album is akin to a stolen peek at Tuan's personal diary, shedding light on emotions that, for most artists, often remain hidden.
Muse's New Album Will of the People Out Now!
Grammy Award and Brit Award winners Muse today release their new studio album 'Will Of The People'. The album has emerged to widespread critical acclaim for its audacious ambition and reflection of a world in flux.
Rock Duo, THE SPIDER ACCOMPLICE, Release New Single "FIGHT" + Official Music Video; New Album Due Out in October!
XLOVCLO Showcases Her Multitude Of Talents & Singularity As An Artist On "John"
Earlier this year, the Maryland native popped onto the scene with the rockstar romance of "WTF," earning praise from Doja Cat, Lil Nas X, and Doechii. Aside from her own releases, XLOVCLO has also collaborated with Yvngxchris, Skaiwater, Destin Laurel, and producer Dylvinci. Though still in her teens, XLOVCLO is practically a production veteran. While "John," was produced by Neiiburr, Te$oro, and Jband$, XLOVCLO labors carefully over every stem, with a fleshed out and fully realized sound beyond her years. She's schooled not just in production and performance but the nitty-gritty of mixing and engineering.
Kramer Shares "Burial at Sea" Single + Video via CHORUS.FM | 'Music for Films Edited by Moths' Out Now via Shimmy-Disc/Joyful Noise
Today, iconic musician and producer Kramer shares "Burial at Sea," the final single off his brand new LP, Music for Films Edited by Moths, out today via Shimmy-Disc/Joyful Noise Recordings.
TODAY Esteemed HXC outfit Get The Shot fulminates on dynamic track "Divination of Doom"
Latest single, "Divination of Doom," is the first song that was written for the new album. It encompasses the multiple musical influences that now shape the band's sound, from traditional hardcore to old school death metal and beatdown grooves. The music video features mainly live shots from their last tour across Quebec.
A primal anthem for the disillusioned youth trapped in a society built on oppression and injustice, we'd love to hear "Divination of Doom" featured over at Skope Mag
Kay Nambiar Bares His Soul On Debut Single "Speaking In Tongues"
MULTIPLATINUM PRODUCER RICO BEATS DROPS DEBUT SINGLE "WINNING" WITH SHANI BONI
After shaping the game from behind-the-scenes for years, multiplatinum producer, esteemed artist manager, and dynamic mogul Rico Beats unveils his official debut single "Winning" with one of the most buzzing female rappers out of the Bronx Shani Boni today. It arrives via his label Starlife Music Group in partnership with Republic Records.
ARLISTON — Reveal Artistic New Video For "Mothering" || New EP 'Even In The Shade' Out November
BC Musician Zoe Guigueno Announces Release of New Album, Lead Single OUT TODAY
Queen Of My Domain' is the lead single from Zoe's forthcoming album We Were Radar Stations, set for release on October 13th. Zoe wrote the track about her aunt, drawing details of the story from their correspondence and visits over the years.
Zoe Guigueno | Queen Of My Domain: Exclusive Single Premiere
BASTARD JAZZ RELEASES NEW REMIX FROM RUMTUM'S ISLES IN INDO "ESCAPE CAPE (BROTHERTIGER REMIX)" IS OUT NOW
Half a year after the release of his debut album, "Isles In Indo," the Denver, Colorado-based visual artist and producer RUMTUM (aka John Hastings) has tapped his friend Brothertiger for his first official remix. Brothertiger, a pioneer of the early '10s chillwave scene, has chosen "Escape Cape" – track 4 of the LP – and transformed it into a rich, textural piece. While the original focusses on rhythm and melody, Brothertiger's remix taps into and augments the lush ambience of the song. The drums lie higher in the mix, such that, despite the ethereal harmonies, the remix maintains a space-out danceability. RUMTUM's original melody still remains, but through a kaleidoscope of layered sounds: "Escape Cape" has become dreamscape.
MEECHY DARKO RELEASES LONG AWAITED SOLO DEBUT ALBUM GOTHIC LUXURY
Today, Meechy Darko has released his long-awaited debut album, Gothic Luxury, via Loma Vista Recordings. Focus track "Lost Souls" comes on the heels of previous singles "On GOD", "Get Lit or Die Tryin'", and "Kill Us All (K.U.A.)", and comes paired with the first episode of EVERYBODY EATS, a roundtable discussion between Meechy Darko, Denzel Curry, and executive producer Dot Da Genius. This first installment of the 3-course series explores Meech and Denzel's family ties, the making of "Lost Souls" (originally intended for Denzel's own album Melt My Eyez See Your Future), Meech and Dot Da Genius' first encounter, how Denzel earned a production credit on Gothic Luxury, and more. Along with the album release, Meechy Darko has announced a massive run of US tour dates to kick off this November.
THE CALLOUS DAOBOYS: MetalSucks Premieres "The Elephant Man In The Room" Video; Celebrity Therapist To Drop September 2nd Via MNRK Heavy/Modern Static Records
Atlanta, Georgia-based mathcore collective THE CALLOUS DAOBOYS today unleashes their delightfully sardonic video for "The Elephant Man In The Room." Now playing courtesy of MetalSucks, the manic hymn comes off the band's anticipated Celebrity Therapist full-length, set for release September 2nd via MNRK Heavy and Modern Static Records.
Exclusive: The Callous Daoboys are the Most Frenzied Church Band in Their Video for "The Elephant Man in the Room"
FAUSTIAN: Louisiana Black/Death Trio Sign to Black Lion Records; Release First Single "Birth of Apparitions"
Louisiana black/death trio FAUSTIAN have inked a deal with Black Lion Records and have released their first single "Birth of Apparitions" via the band's YouTubewill release their self-titled debut EP on Oct. 7 via the Swedish extreme metal label.
Tropical F*ck Storm – Moonburn
Leah Justine releases new video for "Run Home"
Discussing the song, Leah commented, "I co-wrote the song with Tony Hauenstein and my best friend from kindergarten, Kallista Frost, about a momma's boy that she had to call it quits with. Divorces can be a bit taboo, and break-up songs are usually portrayed in a melancholy or angry light, but I wanted to feature a different perspective. The strong clear-headed female, who knows her worth, and chooses herself over a toxic relationship."
Battle Trance releases 'Green of Winter' today, receives early acclaim
Today, August 26, 2022, "the unusual quartet Battle Trance, comprised of four wildly talented tenor saxophonists" (NPR), releases Green of Winter, the followup to 2016's Blade of Love, one of the "20 Best Avant Albums of the year" (Rolling Stone), a record featuring "three adventurously dense movements … that maintain a focused sense of restraint and melody throughout" (Pitchfork). In the past week, Green of Winter has already been praised in the September 2022 issue of The Wire, named Bandcamp Daily Album of the Day, and buoyed by The Big Takeover. You can also tune in to WNYC's New Sounds tonight to hear host John Schaefer play a few tracks from the new album.
Today Martha Zed shares charming ode to her pet with "Cat Song" FFO Courtney Barnett/Soccer Mommy
Debut single, "Cat Song," came to Zed while she was playing guitar and looking at her own feline friend. There's a certain vulnerability that comes along with a relationship with an animal, and maybe that's why we love them as much as we do – not because of the unconditionality of their love (a sentiment spoken about dogs in particular) – but because we can't help but just be ourselves with our pets. That shameless co-existence is pretty liberating.
COUNTRY SONGSTRESS MADDIE LEIGH RELEASES NEW SINGLE "MORNING AFTER"
With sassy lyrics like can't afford to catch no butterflies, been hurt one, two, three, many times, Maddie Leigh's "Morning After" chronicles a modern-day love story that listeners are sure to connect with.
Walker Hayes Releases New Track "That Dog'll Hunt"
After playing the song for the first time on the road this summer, and posting a clip online, Hayes knew he had to release the track…and fast. Fans took to social media, demanding to get their hands on the song. Today, Hayes makes good on his promise to release it. Written by Hayes with Cameron Montgomery and Melissa Fuller, and produced by Hayes with frequent collaborator Joe Thibodeau, with executive producer Shane McAnally, "That Dog'll Hunt" is available everywhere today.
BORTS MINORTS + HUG VICTIM: V13 Premieres Video For Title Track To Brut! Debut; Collaboration Between West Coast Performer And Netherlands' Guitarist Out Now On Nefarious Industries
Veterans of weird and brothers from another mother, BORTS MINORTS is the project of Arizona-based performer Christopher Carlone, while HUG VICTIM is one of the monikers of NYC-based Timo Ellis of Netherlands. The two come together to create a blistering eight-song eargasm of insanity simply titled Brut!, named affectionately after the 1970s aftershave cologne of the same name. The results are an enchanting and punishing sonic assault of PCP induced anthems that will leave the listener wondering, "… um, what the hell just happened?"
BORTS MINORTS + HUG VICTIM Premiere Their Brutally Good "Brut" Video
JADE NOVAH RELEASES NEW 'MOON IN PISCES' EP
She paved the way for the project with the release of the whimsical single "Trip", which has already racked up more than 100,000 streams to date. Soul Bounce lavished the single with praise, calling it "another dreamy slice of R&B on which the songstress uses the idea of taking a road trip as a metaphor for a sensual liaison" and adding that "the song's simple production features mesmerizing keys and hard-hitting drums that provide the momentum that keeps the slow jam going." Written by Jade and executive produced by Devin Johnson, Jade's husband and creative partner, the duo defines this most recent collaboration as a labor of love. "It's a full musical journey where we navigate our ups and downs in love while healing and self-reflecting," describes Jade.
Lakeyah Releases New Single & Music Video "Real B*tch" feat. Gloss Up !!!
For Skope: Dutch talent Timmo Hendriks joins forces with Scott Forshaw, JJ Beck and Sam Welch for "I Need To Know" (out now on Protocol)
NIN3s Releases New Single & Stunning Video: "Innerlight" ft. Francesca Lombardo
OMAR COURTZ ENCONTRÓ A SU MUSA!
El cantautor de la nueva generación de la música urbana, OMAR COURTZ, quien no le tiene miedo a romper esquemas y trazar su propio camino a nivel creativo, presenta su nuevo sencillo "PAOLA" disponible en todas las plataformas digitales desde el 25 de agosto de 2022 a las 8:00 p.m. (EST). Esta nueva producción es presentada por Mr. 305 Records., el sello discográfico independiente que continúa centrando en el desarrollo y el éxito de la superestrella, Omar Courtz.
MO'YNOQ Release New Single "Penance"
The band comments: "Penance is a representation of the sacrifice we make to the mistakes of our past. How through this sacrifice we can unlock the truth. That through our own pain we can find the higher meaning in our suffering."
Joshua Lewis Announces New LP, Shares "Heartbreaker" Single via CHORUS.FM
Today, Boise, ID singer-songwriter Joshua Lewis announces his upcoming LP, Friction, due November 11 via Earth Libraries. To kick off the new album cycle, he has shared the record's first single, "Heartbreaker."