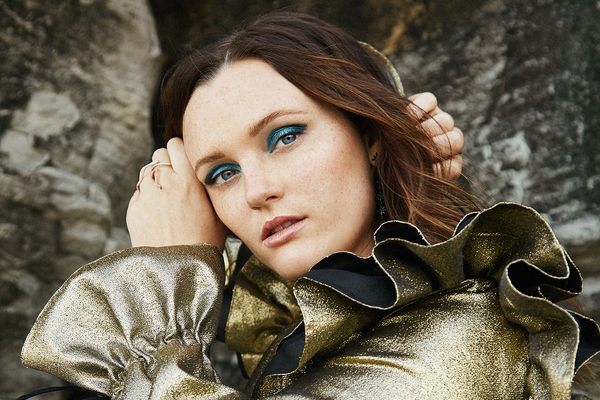 @skopemag news – friday – august 26, 2022 @ 6 am est
@skopemag HQ – http://smarturl.it/skope
Mobley Releases "worstway" Single/Video – 'Cry Havoc' EP Out 9/23 on Last Gang Records
The "worstway" video takes place inside the mind of Jacob Creedmoor, the protagonist of the "themesong" and "stay volk" videos and the figure at the center of the story of Mobley's forthcoming Cry Havoc! EP. "The video sees time and memory collapse on themselves as Jacob tries desperately to piece together an important part of his past," said Mobley. ''worstway' is the only love song on the record and the video explores Jacob's devotion to his partner against the backdrop of his growing suspicions that she's hidden something from him."
Ron Suno & Money Man Swag Out in NYC in "DCH" Video
NEW // Rising Songstress Klaudia Keziah Shares Sultry Single 'Hero'
Streaming Now! Calgary's SYRYN's New Album "Heads or Tails" Tells Epic Tales of Mermaids, Sailors, and Pirates!
"This album was a blast to write! We've been holding on to these riffs for a long while, and hopefully, the anticipation is exactly what our fans were waiting for. We've got a mix of thrash, rock, metal, and ballads on this one. We are extremely proud of this album from all angles. The songwriting, lyrics, art, and production quality show the effort we put in. It's something we know we'll be proud of in the years to come."
Big Moochie Grape Swings Back Like a Beyblade on "Spin It Again"
OSMANI GARCIA LE CANTA AL AMOR CON SU TEMA "INFINITAMENTE", EN DOS DE LOS SITIOS MAS ROMANTICOS DEL MUNDO, PARIS Y LONDRES
El tema actual "Infinitamente" fue escrito por Osmani, y el video musical que fue filmado entre Paris y Londres por Saskia Bella Film, enseña una pareja enamorada, viviendo los mejores momentos de su vida con mucha felicidad. Laura y Osmani se encargaron del Guion y Dirección del video, que comienza con una balada preciosa y sigue un sonido urbano bailable.
Katrina Ford (mem. Celebration) Shares "I'm Found" Live Video via EARMILK | Solo Self-Titled EP Out Now via Violin Films
Today, storied singer-songwriter Katrina Ford (of Celebration and Mt. Royal) shares a brand new live video (featuring her longtime partner Sean Antanaitis) for "I'm Found," the final single off her recently released debut solo EP, released June 24 via Violin Films.
[VIDEO] Katrina Ford drops live version of sultry track "I'm Found"
Gothic Metal Artist THE EFFIGY Releases Lyric Video For New Single "One With My Enemy"
Ayla unveils blazing new pop track 'Bitterness'
"This song came out of one of the strongest heartbreaks I'd ever felt – a friendship. Writing it was a way to process the hurt I felt at the time. Sitting with the song for around two years, I've been able to reflect on it as a sentiment of the darker elements I felt about the situation at the time. In a way I was embarrassed by the feelings I'd had, but I think that both listening to and writing music helps to process your thoughts and feelings -some of which you don't want to carry around with you. You can get it out, and then let it go." AYLA
FORLESEN Premiere New Single "Strega" At Machine Music
FORLESEN have offered up the first taste of their upcoming album with new their new single "Strega". Taken from their upcoming album, Black Terrain, out on October 28th via I, Voidhanger Records, the band draws from dark ambient, epic doom, black metal and slowcore, subverting traditional songwriting.
PREMIERE: IMMERSE YOURSELF IN THE MAJESTIC STORM THAT IS FORLESEN
INTENT Stream New Thrash Album Exile In Full
Arizona's rising thrash metal act INTENT, is unleashing a storm with their phenomenal new album Exile. Streaming now, the full length is a powerful offering of commanding rhythms and powerful lyrics.
Lowertown – Debut Album Announce / "Bucktooth" Single
"When we were in London recording the album, I was pretty homesick for America so I was listening to a lot of old country and folk music," said Olivia. "I was really into Johnny Cash's At Folsom Prison album and wanted to write a cheeky, narrative song similar to 'Cocaine Blues.' A bucktooth cowboy with his crew of troublemaker bandits kept popping into my head. The song started as a silly story but ended up being thematically tied with some of the far-right extremism that was happening in America during the time Avsha and I were recording the project."
Cousin Tony's Brand New Firebird release uplifting third studio album 'Smiles Of Earth'
Today, indie favourites Cousin Tony's Brand New Firebird release their latest album 'Smiles Of Earth'; their most stylistically cohesive, organic and collaborative statement to date. The record exudes warmth and showcases an increased use of horns across 10 gorgeous songs; ranging from observational, whimsical and quirky to deeply moving ruminations on love lost (and found). It includes the singles, 'When This Is Over', 'Bluestone', 'Red Dirt Angel' and new single 'Every Morning, It Breaks'.
MEDIA RELEASE:: INSTYNKT SHARE NEW SINGLE + VIDEO 'RIDE'
Classic rock gets a mighty modern makeover via the punchy new track RIDE from Melbourne youngsters INSTYNKT. An upbeat anthem for positive self-belief set against rock and roll served straight up, RIDE also comes belting in today with an accompanying music video, marking the band's first ever official music video released into the wild. And they'll celebrating with a gig tonight at Melbourne's iconic home of rock, Cherry Bar on August 26.
MEDIA RELEASE:: JACOB LEE SHARES NEW SINGLE & VIDEO 'JEALOUSY'
Bold, compelling and ardently forward-facing, Gold Coast singer-songwriter Jacob Lee's latest single Jealousy turns the green-eyed monster into breathtaking new sonic territory for the trailblazing artist. Coming hot on the heels of Jacob's recent ambient-filled track Drift, Jealousy builds on the previously wielded electronic and synth prowess, emerging as a melodic and modern masterpiece that comes complete today with a slick accompanying dystopian music video.
DJ KHALED RELEASES MOST ANTICIPATED HIP-HOP ALBUM OF THE SUMMER 'GOD DID' TODAY
Delivering the hip-hop event of the summer, he welcomed an A-list cohort of friends to join him for his latest magnum opus. For the first time ever, he collaborates with none other than Dr. Dre and The ICU in addition to joining forces with Eminem, Future, Kanye West, SZA, 21 Savage, Lil Wayne, Lil Durk, Roddy Ricch, Travis Scott, Latto, City Girls, Kodak Black, Quavo, Takeoff, Gunna, Bounty Killer, Sizzla, Buju Banton, Skillibeng, Capelton, Fridayy, Don Toliver, Jadakiss, Nardo Wick, Vory, John Legend, and the late Juice WRLD. Of course, he also reunites with longtime brothers Drake, JAY-Z, and Rick Ross, while his sons Asahd and Aalam guest and co-Executive Produce once more. Check out the full tracklisting below.
Caroline Romano Releases New Single "Chopstix"
After releasing her massive debut album, Oddities and Prodigies, earlier this year, Nashville-based pop act Caroline Romano returns today with her new single, "Chopstix," out on all streaming platforms now.
MADISON BEER RELEASES NEW SINGLE AND VIDEO "DANGEROUS" AHEAD OF READING AND LEEDS PERFORMANCES!
sunsetto Releases New Single "late to the party"
Co-written and produced by Michael Lantz, sunsetto's new single instantly hooks listeners with his highly intoxicating vocals laid over lush, rhythmic production. With relatable lyrics like, "I said I'm sorry, I'm always late to the party," the song presents itself as a sort of apology letter.
Rokets unleash new single "Destroyer"
Rokets launch the electrifying track "Destroyer". The second single leading up to the Finnish five piece's sophomore album "Break Free" offers guitar driven and energized rock'n'roll at its finest, blending gritty vocals with distorted guitars and pounding drums.
ANNA OF THE NORTH RELEASES "BIRD SING"
Today, Anna of the North releases "Bird Sing." The track is an iridescent offering from the Norwegian songstress – emotional, yet detached, finding comfort in vulnerability. Starting off with a stripped back guitar melody, the track is a slow burn that highlights Anna's feathery vocals as she sings about peacefully waking up before remembering the loss she's experienced. Anna quickly flips the narrative, showcasing her strength and confidence, crooning "you do whatever you want, babe. You should be exactly the way that you want, Babe. They don't know you, the way that I do."
I'LL BE DAMNED release "FuckYouMoney" video and digital single
OUT NOW // Trevis Shares Debut EP 'Floor Plan' & Visuals!
Housing pre-released singles 'All Night', 'Company For Now', and 'Avenue' (both of which have accumulated over 10.5 million TikTok views and counting), the 'Floor Plan' EP delves deeper into a relationship Trevis went through; exploring the highs and lows that come with seeing someone, 'Floor Plan' is spread across 6 tracks that each boast his versatility.
Emerging Scottish DJ/Producer ARKLEY shares 'All I Got Is Love' from 90s rave-inspired EP 'Origins' out now!
Emerging Scottish DJ and producer ARKLEY continues his unique 90s rave redux with his 'Origins EP' out now via Our Space records.
Lead track 'Back 2 Love (House '89)' soaks itself in the spirit and sweat of the M25 orbital raves and warehouse parties of 1989's second "Summer of Love". Analogue synth stabs and chopped-up house diva samples ride an irrepressible rhythm track all the way to a heady climax.