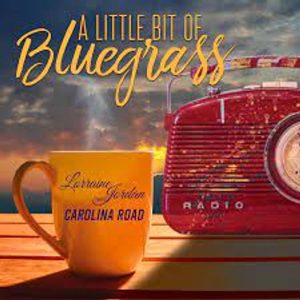 Lorraine Jordan & Carolina Road is the rare confluence of different bluegrass generations coming together without ego and recording classic material. Jordan, a seminal figure in the genre's late 20th-early 21st century history, has picked a first-class collection of instrumental partners to help deliver her vision. Allen Dyer, Randy Graham, Ben Greene, and Matt Hooper boast a long list of bluegrass credits that reads like a roll call of giants. Their playing pedigree includes stints working alongside Doyle Lawson & Quicksilver, The Bluegrass Cardinals, Charlie Moore, and James King, among many others.
URL: https://carolinaroadband.com/
Their new single "A Little Bit of Bluegrass" has the sort of robust energy all bluegrass fans listen for. The cool and propulsive confidence of the arrangement doesn't sound affected, but effortless instead, and the interplay between the multiple musicians has an instant spark. Allen Dyer's lead vocals radiate warmth and exuberant engagement and the secondary voices mesh seamlessly with his own.
Matt Hooper's fiddle acts as a quasi-vocalist. It fills in the arrangement spaces where the vocalists step away and never with an overbearing hand. Randy Graham and Wayne Morris' guitar playing provides two of the key pieces completing the songwriting puzzle and balance showing their skill well against the track's needs.
The song's message is simple and has instant appeal. Jordan and Carolina Road deliver a straightforward payoff with the song's refrain that never overstays its welcome with listeners. The participants are far too canny about tradition to ever risk extending the song too far and its well-tailored running time helps magnify its audience impact. The merits of "A Little Bit of Bluegrass" is undeniable.
Does it break new ground? No. There's no doubt Lorraine Jordan and Carolina Road are deep adherents of tradition. The single, however, doesn't sound like a ghostly voice out of the distant past but, instead, makes every attempt to maintain a modern sound. The orchestration of elements such as the multi-part vocals and allotting each of the instruments its own unique and useful space in the mix presents a tall order.
https://open.spotify.com/album/38A3NbC9F1lohYBh68XANL
The musicians involved fill the order with almost casual ease. This doesn't mean they take it breezy, glossing over the track without distracted indifference; far from it. There's an audible commitment you can hear in the music – it is loose and relaxed, yes, but also unfailingly precise. Slapdash approaches aren't in the vocabulary of musicians like this. 
It's obvious why Jordan and the other musicians have garnered the respect of audiences and peers alike. It's equally apparent why they've been able to parlay their gifts into a growing slate of live appearances throughout the North Carolina area and are now reaching beyond. It's easy to be confident that Lorraine Jordan & Carolina Road will find favor with any audience that hears them. "A Little Bit of Bluegrass" doesn't make some kind of substantive lyrical statement, no, but it's nonetheless a satisfying song from beginning to end. It's immensely likable, as well, and encourages listeners to keep coming back for more.