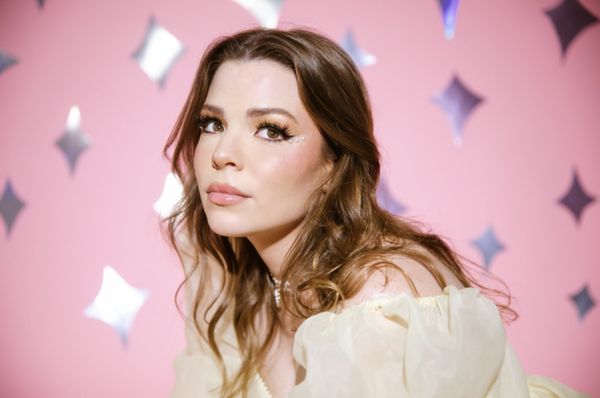 @skopemag news – friday – august 11, 2022 @ 6 pm est
@skopemag HQ – http://smarturl.it/skope
Vundabar Announce 'Good Old' – a collection of unreleased + acoustic tracks
After a decade of being a band and five full-length records, Boston trio Vundabar are marking their time together with Good Old, an 11-track collection of songs that includes seven unreleased tracks that were recorded between 2015's Gawk and 2018's Smell Smoke and four acoustic reinterpretations of previously released tracks. Good Old will be released September 16, 2022 on amuse, and Vundabar are sharing the unreleased track "Time" from the collection today. The single starts out tense and muted before sprawling out into an anxious slacker fuzz-rock anthem complete with falsetto melodies spiraling over how quickly time is passing by.
Jeris Johnson Releases New EP A Summertime Side Quest
The Sophomore EP is a vivacious short collection of tracks geared for summer. With the cumulative force of three songs that had gone viral and are now finding a home, the EP showcases yet another side of Jeris Johnson. A Summertime Side Quest is a trio of 'windows-down' singles, all featuring Jeris' signature twang.
BEACH WEATHER RELEASE "UNLOVABLE" VIA ARISTA RECORDS
Wade Bowen Offers Album 'Somewhere Between The Secret And The Truth,' Out Now
"It feels like I'm renewing my vows," Bowen says of the album praised by Forbes for "his deep love of country-style songwriting, his stronger-than-ever voice, and a renewed excitement for creating and performing." "I love waking up knowing what my purpose is, what my direction is, and also feeling like there's so much more left to do… I feel revived."
Tyler Bryant & The Shakedown to Release New Album "Shake the Roots" September 9th!
Maggie Lindemann Releases Striking New Track "self sabotage"—Listen Now
"The song is about not allowing yourself to receive the love that you deserve," Maggie shares. "I crave a little bit of action in my life and when things are going too good, I tend to do something to test the pliancy of the positiveness."
MIGHT: "Shrine" Video From German Post-Rock/Doom Duo Premiered Through Nine Circles; Second LP, Abyss, Nears Release Through Exile On Mainstream This Month
Nine Circles is currently hosting an exclusive video from German atmospheric post-rock/doom duo MIGHT. The "Shrine" video is created for the new single, which is found on the band's second LP, Abyss, nearing release later this month through Exile On Mainstream.
Video Premiere: MIGHT — "Shrine"
Edmonton Indie Pop Artist Kaeley Jade Announces Release Date of New Album + Premieres New Single
Produced by the JUNO-nominated team at Velveteen Music, Kaeley's latest single blends shimmer and grit to explore the ways in which we conceal the truth. Reminiscent of artists like Maggie Rogers and Taylor Swift, 'Beneath the Lies' will leave listeners eager to soak up the last rays of the summer sun.
NOTD JOIN FORCES WITH KIIARA FOR NEW SINGLE "WHAT'S WITH THE ROSES"
About "What's With The Roses," NOTD commented, "We're so excited for this song with Kiiara to finally be out. We've been fans of hers since we heard 'feels' and 'whippin', so to do a song with her now is very special for us. Sonically, this record feels super fresh and was one of the first songs we made in the more rock/organic type of style."
Toronto Rapper Nue Releases 'PLAYGROUND' LP
That song, the electro-chaotic rock-rap plea "Wallflower," serves as the latest single from Nue's full-length PLAYGROUND album. "Wallflower" hears Nue express things in a certain way that was new to him, having never made any form of rock music or alternative – whatever you want to call it.
Lulu Simon Releases Dreamy New Single "Something"
On the new single, Lulu shares: "'Something' is about romanticizing a past relationship, to the extent that you're not fully ready to let it go – but you're also not putting your life on pause, waiting for it. My previous songs were written from a very reactionary place, whereas 'Something' is more self-reflective, looking back on relationships with fondness – and saying that if this is fully over, then at least it happened in the first place."
[New Single] Bronze Nazareth feat. Fashawn & Che Noir "Morning Sun"
Fresno California emcee Fashawn has teamed up with TRUST Gang emcee Che Noir for a new track perfect for the end of summer titled "Morning Sun".
The two come together over Wu-Tang Official veteran Bronze Nazareth's production. The tracks melodic sound provides the perfect background for both Che and Fashawn to deliver high quality descriptive lyrics and bring them to life for the listener.
[Single] Brando Bambino ft. Planet Asia – F16's prod. by Pyramid Tapes + "Bandito" Album Stream
Cruising at low altitude, evading radar and fully equipped with ballistic Tomahawk missiles, Brando Bambino has his targets locked in sight with this heat seeker along with veteran aviator Planet Asia flying co-pilot. "F16's" proves it possesses long range capability. The single is taken from the "Bandito" LP Available Now (8/12) on Vinyl, CD & DSP on Man Bites Dog Records.
OUT TODAY: Kiwi Jr. – Chopper
Toronto's Kiwi Jr. have launched their high flying third album, Chopper, and the reviews are starting to roll in, including Exclaim who in their coverage stated that "Kiwi Jr. have risen above the pack to become one of the best indie rock bands around."
Julian Taylor Releases New ​Single ahead of New LP
"There was some turmoil going on in my family and that was troubling me too," said Taylor. "Mostly because I felt like it could have easily been avoided and at the same time a few people close to me and some that I used to be close with were going through some huge losses in their lives. I could feel their pain but wasn't able to be there in person. So that was weighing heavily on my mind. I was going through a lot of changes and losses too and they couldn't be there for me either."
No Love For The Middle Child teams up with MASN and Mothica for "Nightmares"
Speaking further to how the collaboration came to be he shares "Nightmares came together differently than a lot of my other songs. I made the beat and wrote the hook with Ian Walsh and Pat Mencel, then got MASN on the first verse. The song sat for a while because we didn't know what to do with it, but we knew it had potential. We sent it to Mothica on a whim feeling that it really fit her style and the "nocturnal" themes on her album, so she cut the second verse. I ended up finalizing the song while I was on tour, recording the bridge in a sprinter van."
LOST KINGS RELEASE "UNDER THE INFLUENCE" WITH JORDAN SHAW
The high-energy dance track speaks to a new sonic direction for Lost Kings that they have steadily continued to hone, with their next chapter of anticipated releases tapping into the exhilarating feeling of freedom. "Under The Influence" captures this effortlessly through its upbeat, amped-up production and pop-punk vocals from Jordan Shaw.
RELEASE: Cypress Spring Shares New EP + "Out Here" Music Video
Christian country hip-hop artist Cypress Spring is proud to announce the release of his debut evangelical EP, Rebel Reborn, via Average Joes Entertainment. Kalan Miller takes the beloved Cypress sound and fuses it with elements of Christianity as he shares his testimony through hard-hitting bars. The EP includes a recently released title track "Rebel Reborn" as well as brand new singles "Out Here," "Holy Living," "Lost Count," and more. Rebel Reborn is now available for download and stream on all digital platforms!
CHRISTIAN FRENCH RELEASES "BUTTERFLY FIELDS" MUSIC VIDEO
AMERAKIN OVERDOSE Premieres "Agastopia" at Knotfest Today
"The band's first release since 2017 dissects how posturing on social media has really effed up reality. The energized track embraces the band's industrial sensibilities and deranged aesthetic to begin a new chapter marked by their new found resurgence." – Ramon Gonzales, Knotfest
Industrial metal outfit Amerakin Overdose reactivate with energized new single, "Agastopia"
THE ENIGMATIC BLIXIE PERESTROIKA SHARES NEW TRACK "SWING" – LISTEN
Today, the enigmatic Blixie Perestroika shares the third single from her upcoming debut album, Ambition is Low, which will be released on September 9, 2022. The new single "Swing" is a dark, soaring ballad analyzing an estrangement. "It might sound angry but it's really yearning," Blixie explains. "Sometimes you can't say something to someone directly, because they won't hear you. So for me, it comes out in music." The melancholic, baiting chorus belies an emotional undertow that catches the listener off guard.
MAULÉN: Drone/Experimental Solo Artist Releases Stunning New Single "Rostro" (Featuring Behzad Barazandeh); Two-Part EP To See Release Via Icons Creating Evil Art
Drone/experimental solo artist MAULÉN will release his stunning El Miedo De Amar Pero Igual Lo Hago via Icons Creating Evil Art in early 2023. El Miedo De Amar Pero Igual Lo Hago, which translates to "the fear of falling in love but I still do it," will be released as a two-part EP, the first of which, El Miedo De Amar, will see official unveiling on September 29th.
LIL MIGO DROPS VIDEO FOR BANGER 'MARRIED TO THE MONEY'
5Star (Don Lo Legendary & Gennessee) Pays Homage To The Golden Era With New Video "God Body" FT. Mainey Vent, Emcee Infinite & DJ Raw B
From the San Francisco underground Hip Hop scene, rises 5Star. Producer Don Lo Legendary, and Grammy nominated, platinum selling emcee Gennessee have taken old skills to form a new movement. Classic hard hitting Boom Bap beats combined with fresh lyricism and witty punchlines, the dynamic duo have been receiving big praise for their debut full length release Full Metal Jacket.