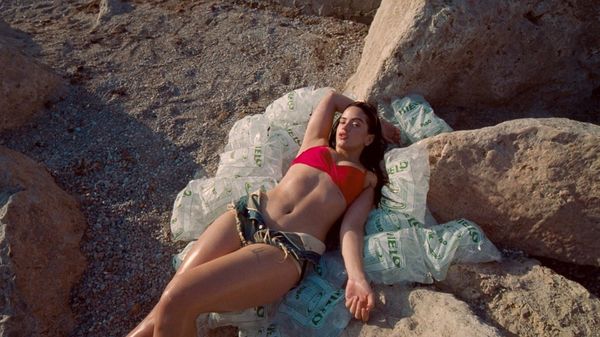 @skopemag news – thursday – august 11, 2022 @ 6 am est
@skopemag HQ – http://smarturl.it/skope
Horror Punk Icon WEDNESDAY 13 to Release Ninth Studio Album 'Horrifier'
Heavy horror punk icon WEDNESDAY 13 has slithered his way to the top of the horrendous heights of rock, punk and metal with his electrifying solo music and as front man of renowned horror punk supergroup Murderdolls, amassing a colossal cult-following along the way.
Editors share new track "Kiss" & official video
Watch Kiwi Jr.'s "The Sound of Music" Video Directed By Laura-Lynn Petrick + Chopper out this Friday 8/12
In celebration of Kiwi Jr.'s Chopper, the band's third album out later this week, you can now watch the official video for "The Sound of Music," directed by Laura-Lynn Petrick (who has also directed videos for Weyes Blood and Jessica Pratt). The song features backing vocals from Canadian singer Dorothea Pass (U.S. Girls, Jennifer Castle).
Cory Singer Does it Again and Pays Homage to a Lost Love In New Single "I Still Love You"
Nordic Folk Newcomers Vévaki Unveil New Song, "Gestaþáttr"
Hardcore band Regulate announce new album out September 30th on Flatspot Records
New Today // emie nathan – "good thing"
Explaining how the song came to be, emie explains "good thing depicts the breaking point of a very good friendship and the agonizing moment where we decided to call it a day. and I moved home-truthfully it felt like a breakup. What it came down to, was a difference in perspective over what we both needed from that space. We were at cross-purposes, trying to be as respectful as possible but hurting each other in the process looking for comfort in a stressful and confined string of winter months during Covid living together. Simply put, it wasn't how I think either of us wanted it to be. I'd like to think that good thing encapsulates the maturity behind the decision to leave the apartment & the support we had for one another in our next steps, but to me it also speaks to the sadder undertones of losing an element of friendship and things feeling forever changed."
KALAN.FRFR SHARES NEW VIDEO FOR "PULL UP"
Carousel Kings Release New Single "Not Settling Yet" featuring AJ Perdomo to all digital outlets!
Carousel Kings released their new emo rock collaboration track titled "Not Settling Yet" featuring AJ Perdomo (Dangerous Summer) to all major platforms! This is the fourth single leading up to their independent full length release titled Untitled Mixtape that was co-written, produced, engineered, mixed, and mastered by Grant McFarland and Carson Slovak at Atrium Audio, in Lancaster, PA.
Kilfeather Streams Entirety Of "Armchair Revolutionaries" Album
San Diego's KILFEATHER is streaming the entirety of Armchair Revolutionaries in advance of it's release on August 12, 2022. The album is a 13 track cacophony of freak-out musical consciousness unearthing the dark side of society. Since 2006, KILFEATHER has been involved with numerous musical outfits and has shared stages with the likes of Wayne Kramer (MC5), Kyle Gass (TENACIOUS D), Danny Carey (TOOL), Steven Adler (GUNS N' ROSES), and John 5 (ROB ZOMBIE).
KILFEATHER comments "The new album is a neo art punk atom bomb filled with fury and oozing vats of psychedelic madness. Landing on planet earth from Golden Robot Global Entertainment's Riot Records, I am back from the cosmic warp of space to deliver a brand new 13 track cacophony of freak-out musical consciousness."
Watch ECITON's New Official Video "Peeled Off Intelligence"
ROSALÍA RELEASES VIDEO FOR NEW TRACK "DESPECHÀ"
"DESPECHÀ" serves as the first new music offering since the release of her globally, critically and commercially acclaimed landmark Spanish language album MOTOMAMI, which continues to be the most highly rated album of the year, according to Metacritic.
COHEED AND CAMBRIA SHARE OFFICIAL MUSIC VIDEO FOR "A DISAPPEARING ACT"
TURN-UP TITAN YVNGXCHRIS ANNOUNCES VIRALITY PROJECT, SHARES "AIN'T NO FUN" VIDEO
girlpuppy shares "I Want To Be There" from Slow Pulp/Sam Acchione produced debut LP (Royal Mountain)
DAX RELEASES HIGHLY-ANTICIPATED VISUAL FOR HIS COUNTRY CROSSOVER REMIX "DEAR ALCOHOL" FEATURING ELLE KING
"It was amazing to join forces with Elle King on this remix and tackle a problem millions are fighting in silence," shares Dax. "The impact is touching lives and this visual adds depth to already powerful lyrics."
[PRESS] Strategies (mem. of Lawrence Arms/The Ghost" Premiere "Outages"
We're two weeks away from the release of Strategies' breathtaking self-titled debut EP. Featuring Brian Moss (The Ghost, Great Apes, Hanalei), Neil Hennessy (The Lawrence Arms, Joyce Manor), and Paul Lask (The Ghost), the band's members are no strangers to the punk community and bring a whole lot of proficiency to their new project. Pressured by limited timelines and geographical constraints, Strategies kicked out their four-song EP in just two recording sessions and it packs a whole lot of punch. Arpeggiated riffs, cascading guitar delays, and odd time signatures are bound by a straightforward drumming sensibility. Their newest single "Outages" is a narratively structured song about feeling nostalgic and it's premiering today at Chorus.FM. "Outages" will be available on all streaming platforms on Friday, August 12th.
Melodic Death Metal Outfit DEATH SCYTHE Reveal New Single + Video "Hollow Darkness"
Yucatan based melodic death metal outfit DEATH SCYTHE are thrilled share their latest single "Hollow Darkness" from their upcoming album Killing For Pleasure Forever, due out August 26th.
MISS MAY I Drops "Free Fall" Single and Video
HEILUNG Shares Mood Video for New Song, "Tenet"
The band explains, "HEILUNG comment on the track: "Our third single release is a palindrome. All individual musical parts, melodies and instruments (and even at times the lyrics) play the same both forward and backwards. The song is based on the "Sator Square", the earliest datable two-dimensional palindrome, first found in Herculaneum (Italy), a city buried under the ashes of the erupting Mount Vesuvius in 79 AD, at that time part of the flourishing Roman Empire. What is particularly interesting with this palindrome is that not only does it read forwards and backwards but also vertically in both directions.
SALLY BOY RELEASES "LIKE THAT" OFF FORTHCOMING EP
The chilled-out single is a low-fi release that puts Sally Boy's melodic vocals on full display, volleying back and forth between crooning choruses and his signature fast-paced, witty lyricism. The breezy alt-pop track echoes the easy-going, summer-soaked sounds fans can expect from his latest body of work later this month.
NEW VIDEO: STOKLEY RELEASES NEW VISUAL FOR "CAFE" FEATURING WALE
OFFICIAL VIDEO 'Jiggle Jiggle': Jason Derulo, Duke & Jones, Louis Theroux & Amelia Dimz
Chase Rice Debuts Travelogue Music Video for "Key West & Colorado"
HARMLESS HABIT Releases New Single, "Swing Low"!
Sixth Annual Songwriters in Paradise Cabo unveils artist lineup
On the heels of the wildly successful launch of Songwriters in Paradise Healdsburg, an experience that featured 4 nights at some of Sonoma County's best wineries SIP is thrilled to reveal the musical lineup for the sixth annual SIP CABO, taking place November 30 – December 3, 2022 in Cabo San Lucas, Mexico.
charlieonnafriday Is On To Better Things in Music Video For "Enough"
Last week charlieonnafriday released his latest single, a low-key banger "Enough," that earned over one million streams in the first 72 hours of its release. Ahead of "Enough" dropping, charlieonnafriday hit the one million follower mark on TikTok, nabbing over 2.1 million likes in 30 days. In essence, it's only up from here for the Seattle native artist. Today, he's releasing the music video for "Enough" that proves he's got everything he needs to claim up next — in the video, Charlie exudes charm & charisma as he effortlessly leaves a relationship that's no longer serving him. The video sees Charlie walking onto better things, like the superstar career ahead of him.
Rolling Loud Announces LoudPunx, a NFT Program Offering Unprecedented Utility
Rolling Loud's exquisite taste and appetite for innovation helped the brand create the world's biggest hip-hop festival in just a few short years. Today, Rolling Loud keeps an eye firmly focused on the future, announcing LoudPunx, a new Rolling Loud NFT program with unprecedented utility. Named after the "Punx" figures that populate the grounds at each Rolling Loud festival, "LoudPunx" is a collection of 10,000 NFTs that provide holders free entry into every Rolling Loud festival across the globe–for life. "LoudPunx" holders also receive many other benefits, including a generative PFP image, and preferred access to Rolling Loud's future Metaverse and Web3 endeavors.
Skope Mag: The Murlocs (King Gizz members) share "Compos Mentis" single + video
Today, Melbourne's 60's-tinged psych-rock punks The Murlocs (including members of King Gizzard & The Lizard Wizard) have shared "Compos Mentis," the second single from their upcoming album Rapscallion, which is set to release on Sep 16 via ATO Records. The track, which was debuted by FLOOD Magazine this morning, shows the band's softer side and plays into the introspective story-book feel of the record.