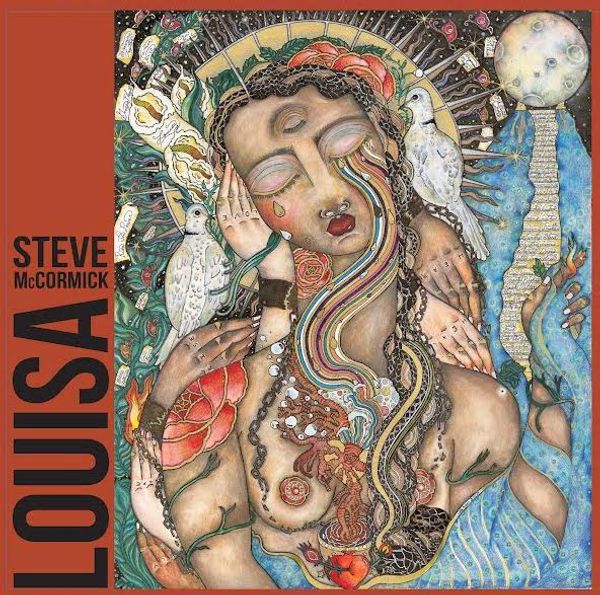 When done right, Americana is one of the most purest forms of music with its freeing spirit and I have to say Steve McCormick nailed it with his new release 'Louisa'. This multi-talented singer/songwriter proves to be a dominant force within the Americana genre and also proves to be a dynamite storyteller and musician. With a real rootsy style and honest approach, Steve McCormick truly knocked it out of the park with 'Louisa'.
There are eight songs on this new album and each one different from the next. Steve McCormick brings a raspy vocal delivery to the table along with stellar instrumentation on 'Louisa'. The record starts up with the title track "Louisa" that has good times and positive vibes written all over it. The inviting melody and fun 'n' lively performance will get you hooked on "Louisa". Next, I hear a cool jam and slowed-down tempo on "My Sister" that is rolling along at just the right speed. The listener will receive top-of-the-line musicianship on "No Easy Way Out" where the overall style is appealing beyond belief. Trucking along, get ready to "Spend Some Time" hitting the back roads and kicking up dust 'n' dirt as Steve McCormick is digging deep on this track. Prepare to be hit with a fan-friendly, funky beat on "There Is Smoke" where you will inhale the smoky notes. Next, "Tie Me Up", will hold your attention with its distinct tone & richness that can't be denied. Steve McCormick dares to ask the question "What Are You Afraid Of" and what one will discover is a sincere/genuine presence that comes complete with emotionally-charged lyrics and balanced rhythm. Lastly, head into the great "Wide Horizon" where true wonder and sheer excitement meet.
Steve McCormick is an accomplished studio owner, producer, performer, session player, composer/songwriter and microphone builder. Steve's latest creation, 'Louisa', showcases McCormick as a rock-solid artist to watch out for. I thoroughly enjoyed this album by Steve McCormick and I think you will too!
Website: http://www.stevemccormick-music.com/
Instagram: https://www.instagram.com/stevemccormick/
Facebook: https://www.facebook.com/steve.mccormick.127
Band Facebook: https://www.facebook.com/stevemccormickband
YouTube Channel: https://tinyurl.com/46676nu8
Spotify: https://tinyurl.com/yc5y32kt
Band Twitter: https://twitter.com/stevemccband
By Jimmy Rae