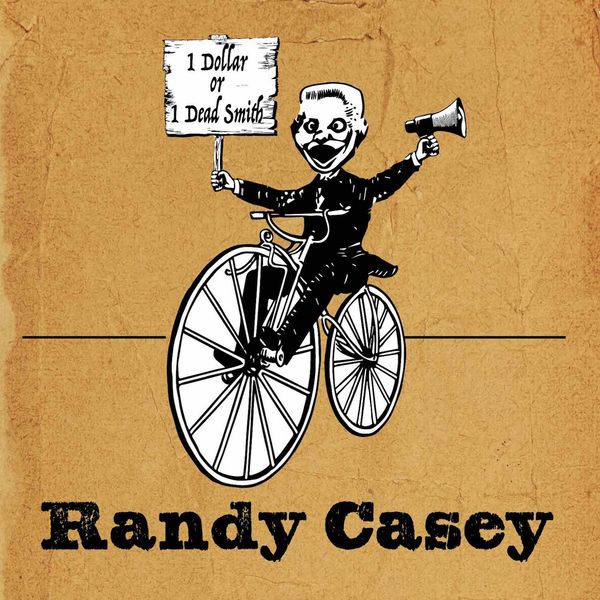 Randy Casey is an accomplished musician with over 30 years in the music business. Besides being a talented session player, singer/songwriter and recording engineer, Randy has also composed tracks for big companies such as: Target, H&R Block, Levi's, Mattel, Pep Boys, Vidal Sassoon and other famous brands. Randy Casey has also written scores for film & television and some of his work has been licensed by Fox Television. Obviously, Randy Casey has been involved with many exciting ventures but his most recent project titled 'One Dollar or 1 Dead Smith' is one ambitious production to say the least.
With heavy elements of rock & blues on this new album, Randy Casey highlights these genres wonderfully and with finesse. The record starts up with the title track, "One Dollar or 1 Dead Smith", and right away the listener will pick up on a rock and roll spirit to go along with great guitar riffs. "Sleep Deprivation" is the next number and will provide an easy-going, mellow pace that has a very light texture. It's time to kick back and drink up the next tune, "You Look Like I Need a Beer" where you will want a refill and be saying Cheers by the end! Randy Casey is barking up the right tree on "No Dogs Allowed" where a catchy melody and rhythm will capture your attention. Next, it's time to serve up the catch of the day on "Big Fish" where Randy has you hook, line & sinker with one appealing sound. Moving along, "Not My Monkey" supplies a straight rock groove that will knock your socks off! The following song, "I Like Birds", is simple yet has the most impact for me as a listener based on the subject matter. I heavily relate with this sentiment about liking birds because I'm an avid bird lover/bird watcher myself. "I Like Birds" is soaring away and holds a special place in my heart. Randy Casey hits you with relevant lyrics on "Let It Burn" where the material speaks volumes for today and tomorrow. "Let It Burn" will have you listening close and thinking twice before you act. On the next track, "I Don't Like You Anymore", Randy is able to put a fun-filled twist on the idea of not liking someone. "I Don't Like You Anymore" actually provides a bright sound that will make you feel good and brighten your day. "Back on the Blues" has Randy Casey slowing things down a bit while also turning on the serious switch. Randy ends on a super quick 'n' happy note on "Dead Smith (Reprise)" with a nice, little instrumental to close the 11-song set.
Overall, I am very pleased with Randy Casey's efforts on 'One Dollar or 1 Dead Smith' as he brings high-quality recordings to the table. The style and Randy's musical ability will captivate your ears! Vocally, lyrically and musically, Randy Casey is spot on with 'One Dollar or 1 Dead Smith' and deserves a thorough listen. Enjoy the music!
https://www.facebook.com/randy.casey.589
https://www.youtube.com/channel/UC_MWecPbdaECIcOAG-qyAWg
https://www.instagram.com/randycasey007/
https://open.spotify.com/artist/7hj6j8MVHGi9vYzhBQzcCz?si=y2R8Yk_rTZuKra0Ou1R8zA
By Jimmy Rae