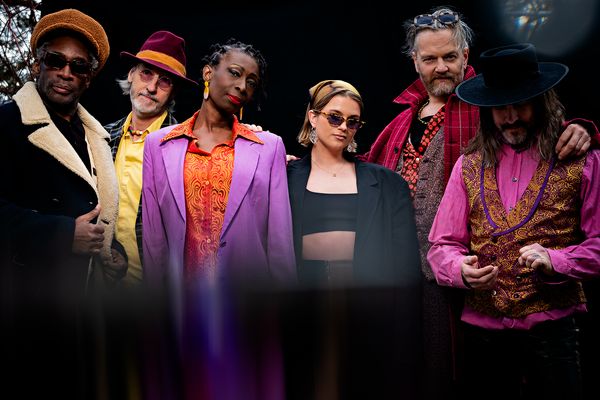 @skopemag news – monday – july 25, 2022 @ 4 pm est
@skopemag HQ – http://smarturl.it/skope
[BUMP] Big Ballin' NYC Trio Ron Suno, Dusty Locane, and Rah Swish unite for "SHOES"
This concrete cracking track is fresh off Ron's soon upcoming album SUNO MODE, currently set to drop on August 5th via SBL / EMPIRE! Filled with Ron's braggadocious boasts and whip smart punchlines, the 15 tracks on Suno Mode–including the fiery, Rowdy Rebel-featuring remix to Ron's hit "What They Gon Say" (25+ million streams)– turn this summer up a notch.
Dream-pop group Tallies share "Memento" (ffo Penelope Isles, Galaxie 500, Ride) / New album out this Friday!
The Toronto-based band, Tallies are today sharing their new single, "Memento" which comes as the final advance preview of their forthcoming album, Patina which is out this Friday, July 29 via Kanine Records (US), Hand Drawn Dracula (Canada) and Bella Union (UK/EU). The latest single arrives following a string of recent tracks which have found support at Stereogum, Paste, Clash, Under the Radar, Exclaim, CBC Radio, Brooklyn Vegan and more with the new record following their self-titled debut which earned acclaim at NYLON, DIY, CRACK, MOJO, KEXP and BBC 6 Music in 2019.
The American Metal Brigade Corners of Sanctuary Release New Video and Demonstrate That Metal Never Dies
Corners of Sanctuary (COS) has released a new music video for their unique tribute cover of Def Leppard's classic track, "Bringing on the Heartbreak."
Video: CEO Trayle – "DrillC4"
CEO Trayle specializes in sly slick talk, packing his bars with wit and wry menace. Proving that he can master any style, Trayle shares "DrillC4," a new banger. Populated with ghostly vocal samples and militant snares, "DrillC4" finds the critically acclaimed rapper tiptoeing atop the fast-moving percussion with grace, keeping a deliberate pace as he doles out bits of street wisdom. Though he's trying his hand a sound popular in Chicago, NY, and the UK, the focus remains firmly on Trayle's hometown of Atlanta: "Free YSL, still waitin' on a verdict/Long live Keed, that's the prince, yeah you heard it/Chop on the top on that, its verdict/Straight out the mud, my Amiri's dirty." The song arrives with a Ring Ring Visuals-directed video, which finds Trayle performing the song in NYC, as he stunts in the rain with his Caddy down under the Kosciuszko Bridge (which divides Brooklyn and Queens).
DC Gore reveals title track ahead of debut LP 'All These Things' – out this Friday
Ahead of the release of his debut album All These Things this Friday, today DC Gore releases the wonderfully wistful title track.
In contrast to previously released singles, "All These Things" is a beautifully nostalgic ballad featuring a dreamy saxophone melody from Dan Berry (Bombay Bicycle Club) and Gore's soft, reminiscent vocals.
PHONY Debuts New Single/Video "THE MIDDLE" via FLOOD, New Album Out This Friday (7/29), Joyce Manor Support Dates
PHONY (aka Los Angeles-based Neil Berthier) today shares "THE MIDDLE," the anthemic final single off his new album AT SOME POINT YOU STOP, out this Friday, July 29th. It arrives alongside a chilling Dom Vaughn-directed video that culls inspiration from David Cronenberg, The Twilight Zone, and 80's slasher films, premiering today via FLOOD Magazine. "It depicts a body-horror procedure that plugs Neil into a simulation," explains Vaughn. "The VR setup allows him to experience a kind of cosmic gumbo of abject loneliness and his happiest memories." The song, Berthier explains, is about the devastating loss of his father: "I had a tough time dealing with my father's dementia conceptually. To cope, I wrote letters to get my feelings out there, knowing no one would see them. It was more helpful than I thought it would be. This song is about wishing there was a recipient to eventually read these letters, but knowing that's not possible."
YK OSIRIS RETURNS WITH NEW SINGLE + VIDEO "BE MY GIRL" VIA DEF JAM RECORDINGS
Check Out SILENT THEORY Official Music Video for Acoustic Version of "Livin' The Dream"!
Idaho Heavy Rock Band Silent Theory has revealed the official music video for "Livin' The Dream," off of their new collection of acoustic renditions of their several of their previous singles, Theoretically Speaking: The Acoustic Sessions Vol. 1. Directed by Jon Kuritz from Make Waves Entertainment, "Livin' The Dream" is originally off of the band's 2011 released Black Tie Affair.
KELOW LATESHA TAPS ASIAN DOLL FOR GENRE-BENDING NEW SINGLE "HE AIN'T MINE"
Kelow LaTesha arrives full speed with the release of her base-knocking new single "He Ain't Mine" featuring Dallas-born rapper Asian Doll.
Lightning Seeds Drop Brand New Summer Track 'Walk Another Mile'
"It's about two imaginary people arguing about the end of a relationship and blaming each other," he explains. "I had that thought and was thinking about endings. I was listening to a lot of Northern Soul, and the little vignettes you can get in those songs. I love writers who can do that, write stories – Squeeze, The Kinks, Eminem. I always start off doing that, but up nowhere near it, so this song is the closest I'm going to get to that."
News – Centershift release new single "From Where We Are" (ex-OneSideZero etc)
THE PIT presents… Lords Of Chaos
After already presenting some amazing content on the platform with 'RocKabul', 'Soaring Highs And Brutal Lows' or 'Sound Of Scars' about Life Of Agony, THE PIT (aka the first ever SVOD platform dedicated to the ROCK & METAL universe), recently added new amazing content with the broadcast of the live performance by French blackened-hardcore masterminds Celeste @ Le Trabendo Paris, France and now the movie Lord Of Chaos (2018) directed by Swedish filmaker Jonas Åkerlund, available right now on the platform.
Swiss-American indie rocker Sam Himself returns with 'Never Let Me Go'
Danny Elfman Releases Ghostemane Remix of "Native Intelligence" ft. Trent Reznor
Kingdom Collapse Release Official Music Video for Single "Break Free"
Kilfeather To Release New Album Armchair Revolutionaries
The new album Armchair Revolutionaries from KILFEATHER, the San Diego based solo artist, is a neo art punk atom bomb filled with fury and oozing vats of psychedelic madness. It's a new 13 track cacophony of freak-out musical consciousness unearthing the dark side of society. Since 2006, KILFEATHER has been involved with numerous musical outfits and has shared stages with the likes of Wayne Kramer (MC5), Kyle Gass (TENACIOUS D), Danny Carey (TOOL), Steven Adler (GUNS N' ROSES), and John 5 (ROB ZOMBIE).
Alternative rockers SHAPE OF WATER reveal hot new music video & album!
British alternative art rock band Shape Of Water have just revealed a new music video for their new single "The Snoot", as well as announcing the availability of pre-orders for their upcoming LP album Amor Fati which is scheduled to be released on October 28, 2022 via Eclipse Records. The video was directed by Luca De Falco.
ARONIOUS Premiere Visualizer for New Single "Nincubura" via Metal Insider
"'Nincubura' recounts the part of this tale in which Inanna's faithful companion embarks on her own voyage to plead with several gods for their aid in retrieving Inanna from the underworld, hence saving her from her infernal fate. Just as Nincubura's quest itself, this song weaves through a labyrinth of dizzying, uncompromising passages that will leave you feeling utterly annihilated. Enjoy!"
BROOKLYN FUNK ESSENTIALS Release video for uplifting single 'Scream!'
Across 28 years and six albums, Brooklyn Funk Essentials have fused soul, hip hop, spoken word, jazz, Latin, and of course, funk. The band has built up a loyal international cult following since its inception in 1993 by iconic producer Arthur Baker and bassist Lati Kronlund during New York's buzzing hip hop, jazz and slam poetry scenes in the early 90s, rotating some of the finest musicians, DJs, poets, rappers and singers.