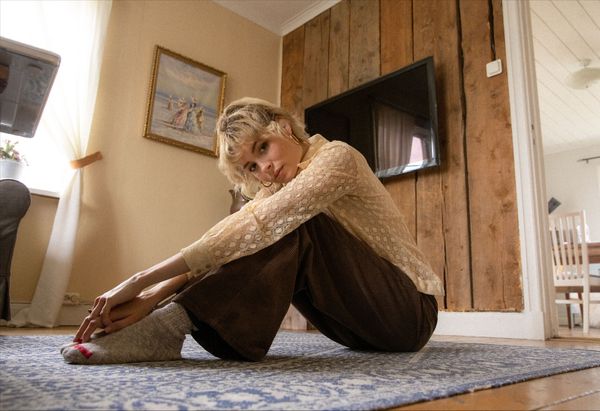 @skopemag news – wednesday – july ​13, 2022 @ 5 pm est
@skopemag HQ – http://smarturl.it/skope
Listen to the title track from Kal Marks' upcoming album, My Name Is Hell – Out August 5th on Exploding In Sound
In early 2020, the long-standing three-piece lineup of Kal Marks dissolved. This left Carl Shane, the band's vocalist, guitarist, and de facto leader wondering if the Boston noise-rock institution he'd started nearly a decade prior would even continue. "Dylan Teggart (A Deer A Horse) reached out to me and asked if I wanted to play music. I knew he was a great drummer, and if anyone could play this kind of music it was him. It got me thinking that I could start a new version of the band. I had all these songs that I wrote for Kal Marks, and it seemed like it would be a waste if I didn't use them."
BETH ORTON — Unveils New Single: "Forever Young" || + New Album Out 23 September
"Forever Young" is an engrossing, nearly six-minute cornerstone of Weather Alive with vocals ringing through an old synth played by ambient artist Dustin O'Halloran (A Winged Victory for the Sullen), backing vocals from the "sublimely odd" (NY Magazine) Grey McMurray and double bass by Orton's frequent collaborator, Ali Friend of the London instrumental outfit Red Snapper.
Larkin Poe unveil smoldering title track from eagerly awaited new album Blood Harmony
Larkin Poe – the GRAMMY® Award-nominated duo of Georgia-bred, Nashville-based multi-instrumentalist sisters Rebecca and Megan Lovell – have shared "Blood Harmony," available now at all DSPs and streaming services. The smoldering title track from their upcoming sixth studio album is joined by an official music video that premiered today via Guitar World. Blood Harmony arrives via Larkin Poe's own Tricki-Woo Records on Friday, November 11. Pre-orders are available now, including limited edition magenta colored vinyl, CD, cassette, and more.
Orthodox Releases New Song and Video for "Cave In"
GOD IS AN ASTRONAUT Premieres New "Route 666" Music Video from Upcoming Live Studio Album "The Beginning Of The End"!
McCall shares electrifying single + self-directed video, "Easy," ahead of debut LP out this Friday
FLO MILLI UNLEASHES LATEST TRACK "NO FACE" – ANNOUNCES RELEASE DATE FOR DEBUT ALBUM 'YOU STILL HERE, HO ?' OUT JULY 22ND
You Still Here, Ho ? is the follow up to Flo's critically acclaimed debut mixtape, Ho, why is you here ? and keeps on theme with a focus on black female empowerment and self-love. Flo previously announced You Still Here, Ho? with the release of her track "Conceited," which was released to critical acclaim, landing on NPR's #NowPlaying, Billboard's R&B/Hip-Hop Fresh Picks of the Week, and Consequence's Rap Song of the Week. The track is currently taking off on TikTok as it is currently the #2 most used sound on TikTok this week, with nearly 600k creations to date. Stream "Conceited" HERE.
NINA NESBITT SHARES THE NEW SINGLE 'NO TIME (FOR MY LIFE TO SUCK)' & NOVEMBER TOUR EXTENDED
'No Time (For My Life To Suck)' is the antithesis to drama both IRL and on social media, a rejection of the time-wasters, vibe vultures and karma killers that have a midas touch for making life worse. Not that Nina is getting worn down by them. Instead she waves them farewell with the kind of flighty, feelgood playful pop that renders their powers of pessimism obsolete.
Asher Monroe New Album 'Windows of Time' Out Now!
Today, Asher Monroe has released his new studio album, Windows of Time. An introspective journey of songs about never giving up and living life without fear, the 8-track LP is unique and timeless as it spotlights Asher's distinct maturity not only in his artistry as a singer, songwriter, and producer, but also in his personal life as a husband and father. Windows of Time features the previously released singles "Midnight Masquerade," "Try Me," and "Wanderlust," which have collectively garnered over 1 million streams and received support from Elton John, BBC Radio 2, Vulture, Wonderland, Hollywood Life, Clash, and CelebMix.
Top New Song // Elizabeth M. Dummond – "Congratulations"
Elizabeth M. Drummond releases her sophomore single "Congratulations" today via Young Poet. Delivered with an acid tongue, the song is reflective of the state of mind Drummond found herself in at the time, where life seemed to be playing out in slow motion. The hazy, nonchalant production style employed by Drummond is mournfully intentional on a song where strikingly honest lyrics float above a track that feels both hypnotic and powerful.
CAUSTIC CASANOVA release first video single and details of new album
CAUSTIC CASANOVA channel the power of the North American buffalo and deliver a massive beast of a song with brand new track 'Lodestar', the first video single taken from the Washington D.C. based riff-rockers' forthcoming album "Glass Enclosed Nerve Center".
Nina Nesbitt Releases 'No Time (For My Life To Suck).' New Album, 'Älskar' Due September 2.
'No Time (For My Life To Suck)' is all about kissing away the negativity and bringing positive vibes only; a rejection of the time-wasters, vibe vultures and karma killers that so often bring the mood down. It's the perfect sort of flighty, feel-good playful pop that renders those powers of pessimism obsolete. Speaking about the track, Nina reveals, "I wrote 'No Time (For My Life To Suck)' to be the soundtrack for the summer of our lives! It's here to cleanse people of any negative vibes, there is truly no time for them."
Australia Indie-Alt band Dear Seattle share new single "Here To Stay"
Today, Australia-based band Dear Seattle shared their introspective new single "Here To Stay". The song comes from their highly anticipated sophomore album, SOMEDAY, out September 2nd via Domestic La La. On "Here To Stay", the band swirls through infectious melodies pushing somewhere between indie-rock and alternative pop. The track, like much of the album, focuses on self-growth and the video documents the band's time in the studio.
MOSARA Release Video For "The Permanence of Isolation"
Doom metal outfit MOSARA have unleashed a video for their song "The Permanence of Isolation". The song isf from their upcoming album Only The Dead Know Our Secrets which is set to be released on July 22nd.
Fujiya & Miyagi Announce New LP, Share "Digital Hangover" Single + Video via Brooklyn Vegan
British experimental electric outfit Fujiya & Miyagi is back with the announcement of their forthcoming LP, Slight Variations (due September 30). To celebrate the announcement, they have shared the record's first single, "Digital Hangover," alongside a music video directed by David Best (vocals + guitar) and Bob Brown.
BROTHERKENZIE RELEASES NEW SINGLE "DIE BROKE" OFF NATHAN, ARRIVES 26TH AUGUST VIA THIRTY TIGERS
On NATHAN, Stocker fearlessly explores what would happen if you listen to, and obey, your demons, if you lean into heathen ideals, if you turn toward self-loathing. The result is catharsis, an observant account of growing a new self. Stocker wrote the 12 new songs on NATHAN between March and November 2020, recording and producing the entire album with friend and Baby Boys collaborator Caleb Hinz in Minneapolis, MN in between sold out world tours with his other projects. This marks Stocker's third full length release as Brotherkenzie and follows 2020's BIG WHAT. Pre-order/pre-save HERE.
Sunset Radio Drop Brand New Video For "Ghosts & Cigarettes"
SOMBRA Shares New Single "PYRAMIDES"
More than just his physical struggle to climb a mountain, "PYRAMIDES" is about his mental health journey, which has always been a key part of SOMBRA and his musical inspiration and drives. His experience at Mt. Fuji was the first time he gave up, but didn't feel awful about it. It just felt like the right thing to do – to relinquish control.
Within Temptation release stunning new music video
Today legendary leaders of dark anthemic music, Within Temptation, have released a stunning music video for the latest single 'Don't Pray For Me'. The music video shows the band performing in a giant shrine, interspersed with surreal portraits and occult imagery.
FIVE SECONDS OF SUMMER DROP NEW SINGLE "BLENDER" – LISTEN HERE
"Blender", written and produced with the band by Peter Thomas (P!nk) and Jake Torrey (Justin Bieber, Maroon 5, John Legend), showcases the group's pop and punk influences and gives fans yet another preview of their highly anticipated 5th studio album, 5SOS5, which will arrive on September 23, 2022, and will be released independently via BMG. The deluxe CD and digital versions of the album will have 19 tracks with cassette and vinyl formats also available.
Judy Whitmore Releases New Single/Music Video for "It Could Happen To You"
With her music amassing over one million streams, "It Could Happen To You" is the follow-up to her highly lauded 2020 debut album Can't We Be Friends and marks a new era musically for Whitmore with a bold departure from the more traditional arrangements of its predecessors, unfolding in a more free-flowing sound imbued with the improvisational spirit and exploratory musicianship of jazz – a feat she achieves with both dazzling ingenuity and extraordinary grace. Produced by John Sawoski (a composer, orchestrator, and musical director who also helmed the production of Can't We Be Friends,) the track came to life at the legendary Capitol Studios in Los Angeles (where her story began as a singer in college) in a series of sessions with Grammy® Award-nominated recording engineer Steve Genewick (Barbra Streisand, Burt Bacharach).
Chris Linton releases new single 'Anyway' (prev. support from Spotify, MTV, CLOUT & more)
Sean Paul, Gwen Stefani & Shenseea Star in New "Light My Fire" Video
HARRY STYLES "LATE NIGHT TALKING" OFFICIAL VIDEO OUT NOW
Folk duo Basset grow on ethereal video/single "In The Clay"
Their latest single, "In The Clay," reflects on the harm they've caused and the ways in which the duo have grown, even within darkness. Patient fingerpicked guitar and vocal harmonies trace explorations of the wilderness transfigured through the reality of living in a basement apartment throughout much of the pandemic.
mmeadows Share New Video "Light Moves Around You" (Dirty Projectors, Beyoncé, Lorde)
Pop songwriter Francisco Martin pens op-ed for SPIN, reveals video for "hate you to love myself"
Hood Tali P Releases "Two 40s and a 9" Official Video Today
Philly-born rapper Hood Tali P released the video for his forthcoming song "Two 40s and a 9" today. The new single is found on Tali's forthcoming project, 'Top Opp', slated for release in August. Shot by Triptych Visuals, the video features Hood Tali P taking a nighttime cruise along the streets of Chicago. With a co-sign from Meek Mill and a catalog of street anthems, "Two 40s and a 9" and the forthcoming project will continue to build Tali as a street heavyweight.
ABRAMS: Denver Rock Outfit To Release In The Dark September 9th Via Small Stone Recordings; "Like Hell" Streaming At New Noise Magazine + Preorders Available
Initially seeking to fuse melodic hooks with dissonance, ABRAMS began in 2013 in Denver, Colorado, with guitarist/vocalist Zach Amster and bassist/vocalist Taylor Iversen. Later joined by drummer Ryan DeWitt, ABRAMS has released an EP and three studio albums, all to critical acclaim. With each release the listener can hear the band evolving and maturing to what it has become today. A band dedicated to compelling songwriting, and energetic live performances, ABRAMS ups the ante with the moody, heavy, psychedelic rock venture of their forthcoming LP, In The Dark.
CINNAMON BABE Drops Music Video for Impactful New Single "Rock 'N' Roll Is Black"
Already addressing issues like mental health on the song "Pure O" and sexual power dynamics with "Messiah", "Rock 'N' Roll Is Black" touches on one of the most 'saying the quiet part out loud' topics in entertainment culture – the typecasting of where black people do and do not feel embraced. From the fetishizing of black culture to the concept of what activities do and don't fit with the black experience, the song points back to Rock n' Roll's roots to explain why no explanation should be needed.