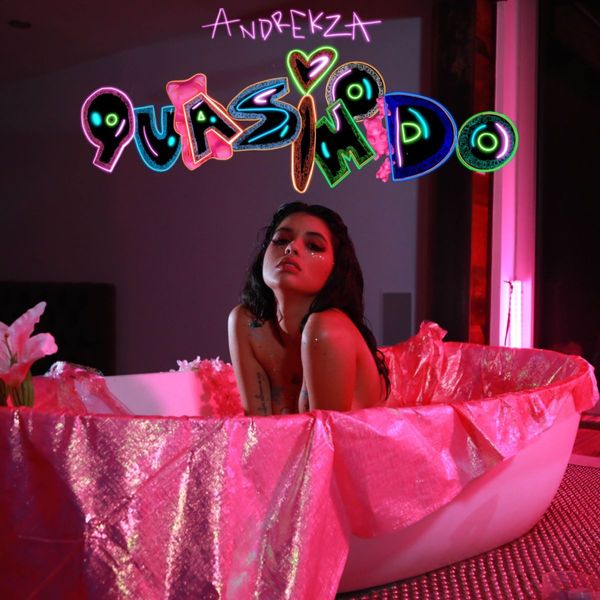 @skopemag news – thursday – june 30, 2022 @ 5 pm est
@skopemag HQ – http://smarturl.it/skope
YOUNG LEGEND, BOBBY SESSIONS BACK WITH A NEW RELEASE "ISO"
Bobby Sessions swears he isn't superstitious, but the way his career has unfolded has felt magical. Over the last decade, the Dallas MC has cultivated a pure, contemplative rap style while taking the kinds of career risks that make or break you.
AS I MAY Release Music Video for New Single "Traitors"
Andrekza Releases Visuals for "Quasimodo"
Andrekza describes the visual as, "a fun video that represents the day after making the decision to break up with your partner, many people decide to drown their sorrows in alcohol and I drowned them with an overdose of sugar ha ha."
Dream pop artist Forgetmyname releases new single "High"
Today Forgetmyname, the synth pop project of singer / songwriter Nicole Morales, has released the perfectly bittersweet new single "High". The track impressively builds upon the synth pop style of Forgetmyname's debut single "Complex", blending that more retro-leaning sound with modern indie rock / dream pop elements, displaying her range as an artist while reaffirming her undeniable knack for synth pop with effortlessly catchy hooks.
New Music Video! Finnish Alt-Metallers AS I MAY Unleash Their Inner "Traitor" + EU Tour Dates w/ SEMBLANT
Directed by Kimmo Pulliainen, the music video for "Traitor" was shot at As I May's rehearsal place, which is an old military bomb shelter. The band's concept was to have cyberpunk feeling to compliment the use of synth on the single. Starring in the video as the character of "Milana" is band friend Leevis along with all the light work and atmosphere planned by the band's own light engineer Mikko Harju.
GINEVERA ANNOUNCES DEBUT ALBUM "WE BELONG TO THE STARS"
Frontiers Music Srl is proud to announce the upcoming debut album, "We Belong To The Stars", from Sweden's Ginevra, a new group comprised of vocalist Kristian Fyhr (Seventh Crystal), guitarist Magnus Karlsson (The Ferrymen, Primal Fear), bassist Jimmy Jay (H.E.A.T.), and drummer Magnus Ulfstedt (ex-Eclipse, Nordic Union). The band's debut single and music video, 'Unbreakable' is out today. Watch the video HERE:
DUSTY LOCANE Can't Be Caught Slipping in New "DEADLY" Video
WATCH FIVIO FOREIGN, QUEEN NAIJA & COI LERAY PAY HOMAGE IN THE NOSTALGIC "WHAT'S MY NAME" MUSIC VIDEO
V Knuckles Reflects On City Life With New Video "Winter Warfare"
Trunky Juno spells the tricky words for you in Oxford English Dictionary
"I still find it difficult to spell Mississippi, but I did manage to write a fun song. It's a hooky Alt-Pop that will confidently power walk you straight back to the Trunky Superstore for more Trunky.
Jada Michael Releases New Single "GO"
An unfortunate reality for many, the hypnotic, bass heavy track marks a massive spiritual 'coming of age' for Jada, highlighting her journey of self-respect and knowing her worth. Without filter or fear, Jada Michael unapologetically projects a confident spirit within her music anchored in a body, sex, and self-positive presence underscored by an inimitable alternative R&B brew. Empowering audiences by wholeheartedly and courageously showing herself, Jada strives to represent plus-sized women, LGBTQ women, and women of color. She is proud of her body type, sexuality and skin and wants her listeners to feel confident through her music.
100M+ streams 93FEETOFSMOKE anthemic rock
93FEETOFSMOKE has over 100M+ streams worldwide and is signed to Photo Finish Records. He's been featured on Alt Press, Earmilk, Lyrical Lemonade, Hot Topic, Ones to Watch + more.
93FEETOFSMOKE will be direct support on the girlfriends tour starting at the end of June, with his album GOODGRIEF dropping July 22.
Listen to "NIGHTMARE" ft gaurdin
THE NEW MASTERSOUNDS SHARE NEW SINGLE "GONNA GET IN MY WAY" & ANNOUNCE THEIR 17TH ALBUM 'THE DEPLAR EFFECT'
WizTheMC Explores Iceland in Video for "Fck Love" Feat. BENEE
The visual compliments his boundless, unconventional sound perfectly with the Iceland's otherworldly scenery. Much like the sincerity of his track, the video depicts Wiz's freedom and his ability to let go, finding his evolving identity in the natural beauty. With help from Arcteryx and Spencer Badu's provided gear, the video is a visual masterpiece. "Fck Love" feat. BENEE. Is one of three songs off the deluxe version of his sophomore EP Where Silence Feels Good. The deluxe version also includes the tracks "Walk Away" and "Fallin"
"Me Falló" es el nuevo sencillo del salsero colombiano Gerley
Gerley, artista colombiano con más de 20 años de carrera musical, ha grabado tres (3) álbumes, tales como: "Intimo", "La Conquista" & "Emergiendo". Distribuidos bajo su sello independiente GMM Music. Además, ha lanzado varios sencillos con los que ha logrado sorprender a su público.
BIG TIME RUSH RELEASE NEW SINGLE "HONEY"
Big Time Rush became an overnight sensation in 2009 from the launch of the Nickelodeon television series Big Time Rush. The show was a huge success and catapulted the group into real-life stardom, as they went on to release 3 studio albums and performed across the globe, including five tours from 2011 to 2014. In June 2020, the band held a surprise virtual reunion to celebrate the 10-year anniversary of their smash hit "Worldwide," resulting in mass hysteria amongst their fans and in the media. In March 2021, all four seasons of Nickelodeon's Big Time Rush were added to Netflix and the band went viral once again, increasing fan demand for an official reunion. Soon after, the band announced they would come together for two special live shows in New York and Chicago, which sold-out in a matter of minutes, blowing expectations out of the water and proving the power of the band's devoted fandom. Now, with the launch of their nationwide Forever Tour and the release of all new music, including hit singles "Honey," "Fall" and "Not Giving You Up," fans can expect to see a lot more of the power group for years to come.
Kruel Summer Music Submission
The band was started by former members of the band The Holdup which topped the Billboard charts and placed at #1 on the iTunes Charts multiple times. Kruel Summer's music is all about being care-free and letting go of the stresses of life in a fun way. We were recently signed to Symphonic for distribution and are working with Lead engineer, Lewis Richards (Dirty heads, Fortunate Youth, Rome, Slightly Stoopid). We've opened up for Steel Pulse, played a few dates with Mike Pinto, The Palms and Bay Legends.
MEDIA ALERT: Doom Supergroup MMXX Drop "This Breath Is Not My Breath" Lyric Video — WATCH
Born during the initial lockdowns of Rome and New York City, and incubated as the seasons passed, doom metal supergroup MMXX represents the sound of global pandemic isolation. Joining Candlelight Records for the release, the band has debuted an ethereal new single with "This Breath Is Not My Breath," which features guest vocalist Mikko Kotamäki (Swallow the Sun).
CAT SFX – Release new track: "Binman" on It's Creation Baby – Listen
Chewing through an angsty yet melodic mesh of jittery guitar strums and a melodic and catchy chorus, Cat SFX's latest offering boasts the breadth of the band as they embrace more ethereal sonic territory that nods to the works of alt/rock visionaries like PJ Harvey or 80s new-wave trailblazers like Psychedelic Furs.
New Music: Playing For Change Releases Debut Album "The Real Revolution"
Playing For Change is proud to release The Real Revolution featuring the Playing For Change Band! The new album is a purpose-driven record with a compelling message of connecting the world through music. The songs embody the spirit of love, truth and unity that binds us all together and leads us from the darkness to the light. The new album is out now and available everywhere you stream music.