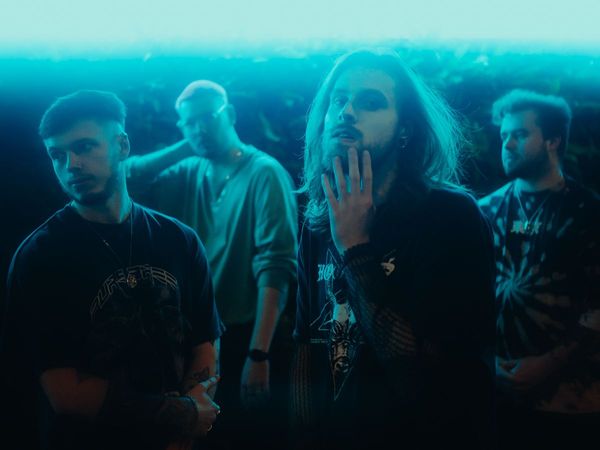 @skopemag news – monday – june 27, 2022 @ 8 am est
@skopemag HQ – http://smarturl.it/skope
Reminder: Melodic Metal Project BURIED UNDER SKY Releasing Debut EP 'Darkest Corners' in August
Melodic Metal/Rock project BURIED UNDER SKY will self-release its debut EP, Darkest Corners, on August 19.
The EP's title track is streaming now on Bandcamp:
Buried Under Sky is a melodic metal/rock project that formed in the middle of the 2020 pandemic from members of the 90s Connecticut metallic hardcore scene. With an avowed love for dueling melodies and hard rock rhythms, Buried Under Sky wears its 90s influences on its sleeve with zero ambition to be the fastest, hardest, heaviest, or anything but four middle-aged guys with day jobs making the metal they want to hear.
Darren Hayes unveils emotional and nostalgic video to 'Poison Blood', touring Australia in 2023
Iconic Australian performer and award-winning songwriter Darren Hayes unveils the powerful new video to accompany his current single 'Poison Blood'. The single is easily Darren's most personal and revealing effort to date – the songwriter embracing new levels of introspection and self-understanding than ever before.
To accurately encompass the energy and emotional impact of the song itself, Darren collaborated with filmmaker/photographer and friend Alex Hyner to bring its central concept of nostalgia and intimacy to life on screen.
KARIO Shares "Captive (Your Hooks)" *GFA 6/27* Debut LP "Audition" Due September 23rd – Via LePel Records
BROKENHEARTSCLUB – Party Started
While it's the first time you're reading about BHC, you might have already heard Harvey Whyte & ONUR in their respective solo projects. Nicknamed the "rap Cobain", Harvey's raw punch and frankness have previously put him firmly at the top of the collaborators' list, from Footsie and KeepVibesNear to Greentea Peng and soon Fatima. Acclaimed by his peers Labrinth, kwassa or EDIS, ONUR intrigues just as much, infusing British pop with Turkish beats and carefully curated samples. His debut EP A Millennial Rhapsody cumulated 1 million streams across platforms, garnering the attention of multiple record labels in the UK. Together as BHC, they'll be releasing a handful of tracks this year.
London nu-soul singer AMY STEELE returns with tapestry of soul 'Smoke Castles'!
Amy Steele is a London based Singer Songwriter, with sultry vocals and a distinctive tone. Her music is what you get, when you mix Kate Bush and Sade, alternative tapestries of soul.
VISUALS // Bronx Rapper SPRTYK – 'Projects Heat'
The Bronx, New York, is home to many mythical rap figures. From Fat Joe and KRS-One, down to Grandmaster Flash, Slick Rick and Jim Jones — it's no secret the concrete-bound borough is home to some generational talent. SPRTYK is no exception.
NOAH CYRUS RELEASES READY TO GO
Produced by Tommy English and Mike Crossey, 'Ready To Go' details the demise of a broken relationship, as Noah succumbs to the realization it's over. Noah shares: "I call this song "July's sister song" due to their similarity in lyrics, but in actuality, they're really more like cousins. They're about different people, entirely different storylines, and each brings up different memories and emotions. In a way, I see a lot of growth in myself from who I was then and who I am now, but at the same time it's still impossible for me to walk away from people I love, even when it's harmful to myself." Last week, Noah joined Zane Lowe on his Apple Music show, New Music Daily to discuss the track.
WHERE OCEANS BURN present their brand new single 'Manifest'
WHERE OCEANS BURN is a 4 piece Metalcore act from Manchester, UK, drawing inspiration from artists such as Northlane, Architects and Thornhill. Their debut single 'Hollow Heart' gained huge success, surpassing 600k streams on Spotify alone. The following singles all followed suit with features on official Spotify editorial playlists such as 'New Metal Tracks', 'Metal UK' and 'New Blood'. Today the quartet is ready to unveil their brand new single 'Manifest', which marks the beginning of the next chapter of the band – watch the accompanying music video above.