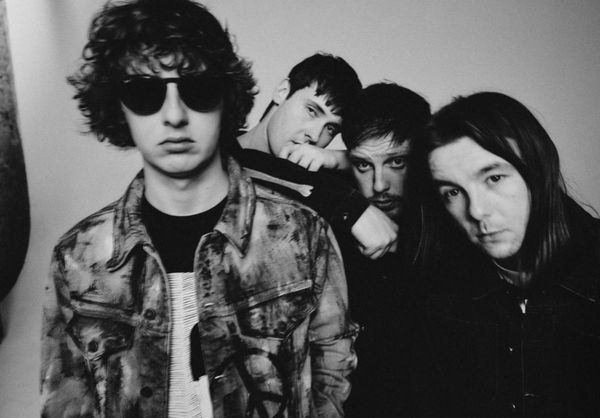 @skopemag news – wednesday – june 22, 2022 @ 8 am est
@skopemag HQ – http://smarturl.it/skope
Delicate Steve shares new track "I Can Fly Away" | New album "After Hours" out July 8th via ANTI-
"I Can Fly Away" was inspired by Helado Negro, Funkadelic, Pharoah Sanders, Marion Williams and The Clash," Marion explained. "It features the voices of Tall Juan and Breanna Barbara, the percussion of Mauro Refosco and the drumming of Austin Vaughn along with keys by Jake Sherman. I was experiencing moments of joy creating all of these new songs. I am happiest spending my time working on music and I'm lucky that I get to share it."
beabadoobee Releases "10:36" Performance Video
Joji's New Single "Glimpse of Us" Debuts Top Ten on the Billboard Hot 100
Today, critically lauded artist Joji is celebrating his highest chart debut to date for his newly-released single "Glimpse of Us." The song debuted at #10 on the Billboard Hot 100, a career milestone for Joji. "Glimpse of Us" was also the #1 song on the Spotify Global Chart last week, in addition to being the #1 song on the Spotify U.S. Chart. The song also topped the Spotify local charts in 13 other countries, including Indonesia, Philippines, Australia, New Zealand, Malaysia, and Singapore.
RADIAN: Distorted Sound Magazine Streams Entire Discordian LP From Ohio Doom/Sludge Metal Quartet; Album To See Release Through Elburno Records This Friday
RADIAN's sound is more vicious and vibrant than ever before on Discordian, the album delivering six new songs with an elevated sense of living in a perilous world wrought with political discontent and societal unrest. Discordian was recorded and engineered at Akron Recording Company September of 2020 by Sanford Parker, who provides synth elements to the album. Parker mixed the album at his Hypercube Studio in Chicago, after which it was mastered by Colin Jordan at Boiler Room Mastering in Chicago.
Introducing: Circle The Earth // New Single "Sweetest Pain" Out Now!
Ace Hood wants only good 'Energy,' shares new track from BODY EP
Just bumping this up really quick – Last Friday, June 17th, Ace Hood dropped his new single "Energy," fresh off his upcoming B.O.D.Y. EP, which will be released in July via Hood Nation/EMPIRE. "This is flow, movement, a magnetic feel," says Ace as he describes what energy is to him; after listening to the Mally Mal produced beat on "Energy," it's easy to see this was a match made in heaven for Ace's high-octane lyrics. Ace is spinning back the clock to "Hustle Hard" to recapture the vibe that had America in the gym.
[cadaveria] CADAVERIA release Silver Rain video
THE SNUTS ANNOUNCE NEW ALBUM BURN THE EMPIRE
One of the most exciting acts in the UK right now, The Snuts deliver 11 slices of sonic brilliance on Burn The Empire. Produced by longtime collaborators Detonate and Clarence Coffee Jr, the album continues the band's evolution both sonically and lyrically. A voice for the next generation lead singer Jack Cochrane attacks subjects affecting the youth of today. Opening with the album's title track, a no holds barred protest against the corrupt corporations and politicians, the album delves into the negative effects of social media on "Zuckerpunch", and "13" tackles the lack of mental health services and the lethal effects of poverty across Britain and its impact on society.
BLUEBUCKSCLAN FLEX HARD ON NEW SINGLE "JUST HIT ME"
Circle the Earth Releases Fiery New Single Produced by Ethan Kaufmann (Avril Lavigne)
Founded in 2018 by bassist Michael McBay, Circle the Earth is comprised of a broad array of renowned musicians who stem from all corners of the planet, hence their name.
NEW MUSIC: Kolohe Kai Releases New Album "Hazel Eyes" Along With Music Video for Title Track
Years in the making, "Hazel Eyes" captures Kolohe Kai's emergence in life. The album is inspired by his life passions. He explains, "From the ocean with its soothing power, to the faith that anchors my soul. From my intense desire to help others feel beautiful, to my vows to the greatest wife in the world. This album represents all of me. Every crevice of my heart was emptied into these lyrics. The journey of these past few years has been a hike to remember, filled with important lessons. I hope it inspires anyone listening to grab hold of true love and happiness."
Kiwi Jr. share new single 'Unspeakable Things' | New album 'Chopper' out Aug 12 via Sub Pop
Kiwi Jr. are today sharing a new single. Watch the "make it Heat but starring Vorhees" official video for Kiwi Jr.'s "Unspeakable Things," directed by Morgan Waters, and a new single and highlight from Chopper, the group's forthcoming new album.
HANNAH SCHNEIDER addresses the summer season with sedated 'It's The Season'!
Alamay & Omar Cassius share velvety, jazz-flecked R&B single 'Guidance'
Ahead of their Glastonbury debut this weekend, today [22th June 2022] Bristol-based emerging talent, vocalist Alamay and Omar Cassius (fka skiimsk) announce their second self-produced EP How to Swim, dropping 13th July 2022, and share their glorious new single, 'Guidance'. The follow up to their recent single 'Overnight', supported by Clash, Notion, Why Now and more, 'Guidance' is an emotive, jazz-tinged slice of R&B. A poignant letter of love and support to her younger self, Alamay looks back on her journey with a candid lens. Collaborator Omar Cassius nails the sun-soaked and warm production again. Sultry sounds of UK jazz and his signature stripped back drums make for a perfect backdrop for Alamay's striking vocals.