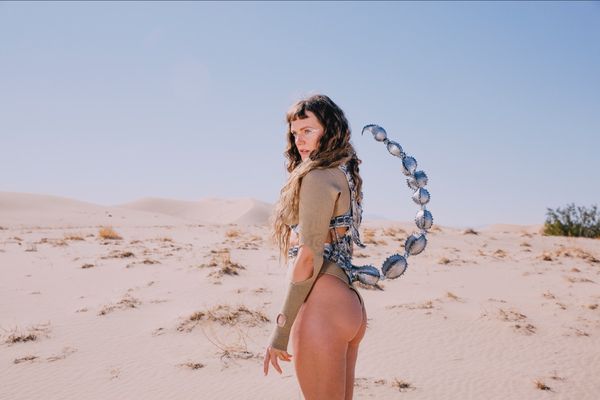 @skopemag news – tuesday – june 21, 2022 @ 4 pm est
@skopemag HQ – http://smarturl.it/skope
Kasabian take a trip back to Leicester in new video for 'CHEMICALS – 3:21AM in Les-tah'…
Following a euphoric headline slot at Isle Of Wight Festival, Kasabian have dropped the cosmic video for their new single 'CHEMICALS', the third track from their highly-anticipated new album The Alchemist's Euphoria, out August 5th on Columbia Records.
VIDEO: Isobel Campbell's honey-like vocals feature on aching SON PARAPLUIE French pop masterpiece!
ICYMI: Get on a sugar high with BOY SODA's new collab with TAKA PERRY – 'LEMONADE'
With its accompanying tongue in cheek video, written and directed completely by the duo, you can see that the creativity doesn't only stop with the music and that the two don't take themselves too seriously. The video is centered around a late night shopping channel as its animated host (BOY SODA) gets tricked by his guest (Taka Perry) into drinking lemonade that puts him squarely onto cloud 9.
Betrayed Release A New Impressive Video For "Time Is The Best Murderer"
As recently announced, italian thrash/death metal act Betrayed has revealed a new video for the track "Time Is The Best Murderer", taken from their last concept album "Kasna". About the video the band says: "The video of the song "Time Is the Best Murderer" wants to represent the common desire of many people: to be able to control the passing of time at will in order to satisfy their needs, goals and necessities. The young protagonist of the story will make the discovery of a powerful object capable of changing the passing of time. At first the artifact will be used casually but, once knowledge about its functioning is acquired, its intervention will be forced to satisfy one's desires, not without paying a high price. The title of the song in fact wants to represent the strength, the unpredictability, the uncontrollability and the brutality of the passing of time and the irreversible consequences in trying to control it".
SEGIRI SHARES THE OFFICIAL VIDEO FOR HER NEW SINGLE'SILENCE SPEAKS' – WATCH IT HERE
NEW MUSIC: Pop Songstress Sabrina Monique Unveils New 'Sideshow' Video [FFO: Dua Lipa, Ariana Grande and Bebe Rexa]
Lynda release Retro-Futuristic single 'Under The Pines' Out Now
NYC's LIZZIE & THE MAKERS Shares Live Video of Hard-Hitting Rockin' Alt-Blues Track "Bottle"
"This show at The Bowery Electric was our first full band show in NYC post quarantine. Eight people on stage playing to a packed room felt so good! I had missed that electric feeling," says NYC-based Lizzie & The Makers frontwoman Lizzie Edwards on the energy surrounding this show that was the basis for the live video for their newest single "Bottle" (out today). "The crowd was more alive than ever and the energy between the band and the crowd was pure joy," she fondly recalls. "Bottle" is a hard-hitting rockin' alt-blues track that's taken from the band's sophomore studio album Dear Onda Wahl, released independently on November 5, 2021 and produced by the legendary aforementioned Reeves Gabrels and Mario J. McNulty (David Bowie, Prince).
She Wants Revenge's JUSTIN WARFIELD releases solo single "Everything To Me"
"To me, the song sounded like the ending credits for a film which had yet to be released," says Justin Warfield about his debut single "Everything To Me" which is released Friday, June 17, 2022 via Downwrite. One of the main creative driving forces of iconic post-punk band She Wants Revenge, Warfield is releasing this track under his new solo outing WARFIELD. A fascinating blend of electro-rock with splashes of post-punk shimmer, "Everything To Me" is propulsive and cinematic. It's an epic statement that is not only perfect for the closing of a film as Warfield suggests, but also a refreshingly exciting beginning for this new outlet that caters to his own creative output.
Alex G announces new LP 'God Save The Animals' – out Sept 23
Today Alex G – the Philadelphia singer, songwriter, and producer Alex Giannascoli – announces his highly anticipated ninth studio album God Save the Animals, due out September 23 on Domino. The announcement comes along with new single "Runner" and its accompanying video. The video was shot by Colin Acchione and features an affectionate performance by Giannascoli and his bandmates Sam Acchione, Molly Germer, John Heywood, and Tom Kelly.
Power Metal Warriors VICTORIUS Reveal Fourth Single "Night Of The Nuclear Ninja" + Lyric Video
Watch Built to Spill's "Fools Gold," Official Video From When the Wind Forgets Your Name
When the Wind Forgets Your Name featuring the aforementioned "Understood," along with "Gonna Lose," "Fool's Gold," "Spiderweb," and "Rocksteady," was produced by Doug Martsch, mixed by Martsch, Lê Almeida, João Casaes, and Josh Lewis, and mastered by Mell Dettmer. When the Wind Forgets Your Name is the first new Built to Spill album since the release of 2015's Untethered Moon.
AEON STATION celebrates PRIDE with "Queens" video, starring NYC's MargOH! Channing
The origins of the video is one based on the history and friendship of Kevin, Mary Ann and Bill/MargOH! who had been coworkers while Kevin and Mary Ann were dating. After a breakup between the two, Bill proved to be the catalyst that initiated their ultimate reconciliation. "Bill was unknowingly part of Kevin's plan to get us back together," laughs Mary Ann. "Kevin asked Bill to deliver some gifts to me. I wouldn't take them at first, but after some initial protest, I eventually accepted the gifts, and the rest is history."
Brazil's PATRIA stream lyric video for "A Last Breath of Sulphur" at Black Metal Promotion
THE ARMED ANNOUNCE 'ULTRAPOP: LIVE AT THE MASONIC' SOUNDTRACK + BLU-RAY AND MOVIE STREAMING RELEASE DATE
After an initial, limited release late last year of their narrative-driven, groundbreaking concert film, ULTRAPOP: Live At The Masonic Temple, The Armed are now announcing the soundtrack release for it, along with release dates for Blu-Ray DVD + digital streaming. The OST will arrive on all streaming services and physically in stores on July 15th on Opaque Red vinyl via Sargent House. The movie, which was only available to live stream for a short period of time around its October 15th, 2021 debut, will come to Blu-ray and video streaming services on September 29th.
IMMERSER Releases Official Music Video for "Blame"; For Fans of Nirvana, Alice In Chains, Failure , In This Moment
Hard Rock solo project IMMERSER (John Logan Parsons III*) has released the official music video for his newest single, "Blame." Blending heavy guitar rhythms with a driving percussion, "Blame" showcases the multitalented artist's heavy rock and alternative influences while spotlighting gothic-punk instrumentation and vocal performance.
Dalton Cyr Debuts Video for "Dying to Love You"
Pop-rock artist Dalton Cyr just dropped a stunning new video for his single, "Dying To Love You." Directed by Julian Davis, the video dives into an all too familiar love story. Cyr may come off as a hopeless romantic, but the love story presented is far from perfect. "I wrote this song to capture the helpless feeling of being trapped in a hot and cold relationship," explains Cyr. "The toxicity of emotional high highs and low lows takes a toll on the psyche, hence the title, 'Dying To Love You.'" Stream the emotionally-driven single on Spotify, watch it on VEVO, and visit DaltonCyr.com.
JOSIE COTTON honors Elvis in twangy new single/video duet with Kevin Preston of Prima Donna
"I knew we had something very special," New Wave icon JOSIE COTTON says about her new rockabilly-drenched single and video "Ballad of Elvis Presley," a gorgeous twang-filled duet with Kevin Preston of Los Angeles' acclaimed Wicked Cool Recording artists Prima Donna. Released today, June 21, 2022 via Josie's own label Kitten Robot Records, the single and video walk you past the horizon of a more innocent time. This is Elvis country, where Viva Las Vegas lives on forever .
Track Submission from Devin Farney
Singer-songwriter TIANNA ESPERANZA releases brand new track and visuals to "Princess Slit and the Raincoat Prince"
L.A. Project 'Rock Star' Video Out Now, Featuring Former Member Of Deadwitch and Exiled
Portugese heavy hard rock project, L.A. Project, formed by ex member of Deadwitch and Exiled, have released their EP '5 Dimensions' in February 2022 and now a music video for the song 'Rock Star', view the Youtube video here:
PHOXJAW Release New Single "Sungazer"
"The sun is quite literally gonna burn us all one day, you can take that in two directions, a super nihilistic view on things served with a smile, or as an opportunity to hold the things you love close and cherish them. With very pagan-esque themes, the bouncing and upbeat track takes bi-polar twists and turns into something darker and heavier, whilst still preserving the same chaotic Phoxjaw energy presented on previous releases. We hope this track digs deep into your brain and burns out your eyes."
Nicole Haber Shares Bold New Single "25"
Nicole's new single, the bold and relatable synth pop singalong that is "25," embraces the experience of quarter-life crisis. The song's lyrics acknowledge the scary period of forced reflection we have all gone through over the last couple years, along with the heightened emotions that come with questioning everything as you try to find your place in the world.
Matt Nathanson Announces Album + Fall Headline Tour
"as a kid, i couldn't get out of new england fast enough. i left massachusetts when i was 18 and would've moved to the moon if i could have. instead, i drove out to california with my buddy jeff and never looked back… built a support system, a family, a career. i left a place where i didn't feel understood or connected and went about creating one where i did. and you know what's crazy… the group of friends i made along the way… the ones i trust most, the ones who made me feel understood and connected… almost every one of those people are from massachusetts. that's what this record's about.
Watch a New Clip From Untrapped: The Story of Lil Baby
Lil Baby has been one of the world's most impactful artists since his first release in 2017. Untrapped: The Story of Lil Baby chronicles the life of the Grammy®-winning rapper, known to friends and family as Dominique Armani Jones, and his meteoric rise to the top of the hip hop world.While still a teenager he became one of the most notorious figures in the streets of West Atlanta before he was arrested and sent to prison. After his release in 2016, he faced a hard choice: Return to the fast money of the streets or take a chance that his charisma and untested talent could bring him success as a rapper. In 2020, his second album, My Turn, was the year's top seller across all music genres. Today Lil Baby is a devoted father to his two young boys and a powerful voice in the fight for racial justice and police reform. Untrapped: The Story of Lil Baby is at once an intimate portrait of a singular artist and activist and an exploration of the systemic oppression that keeps far too many people of color from participating in the American Dream.
TOVE LO RELEASES NEW SINGLE 'TRUE ROMANCE'
Today, multi-platinum selling, GRAMMY® Award nominated artist Tove Lo releases yet another irresistible earworm titled 'True Romance,' along with the news of a forthcoming fifth studio album DIRT FEMME to be released on October 14 (Pretty Swede Records / mtheory). The album tracklist, which was also unveiled today, boasts an impressive lineup of special guests, including SG Lewis (appearing on two tracks), Channel Tres and First Aid Kit.
TURNSTILE ANNOUNCE NORTH AMERICAN FALL TOUR
Recorded with producer Mike Elizondo and co-produced by TURNSTILE vocalist Brendan Yates, GLOW ON which staked its claim as one of 2021's top releases, earning "Best of" honors from: NPR, Rolling Stone, Pitchfork, Billboard, Stereogum, SPIN, Vulture, The FADER, The Ringer, The Washington Post, Los Angeles Times, Esquire, FLOOD, Uproxx, Consequence, Paste, Revolver and more. It found TURNSTILE once again charting new ground for hardcore, expanding stylistic boundaries and celebrating new possibilities. 15 tracks devoid of borders, boundaries, or entry obstacles, only abundant imagination, heart, and grooves plucked from all corners of the musical spectrum.
"WE (WARM EMBRACE)" VIDEO OUT NOW STARRING CHRIS BROWN AND NORMANI — CHRIS BROWN'S 12TH STUDIO ALBUM "BREEZY" OUT THIS FRIDAY!
Directed by Arrad, the visual leads with a sneak peak snippet of Brown's track "Sleep At Night" followed by Chris and Normani showing off their dance moves and embracing through the night.
Julian Lage announces new album ft. Bill Frisell; shares first song
Guitar virtuoso Julian Lage expands his horizons on View With A Room, a collection of 10 compelling original compositions out September 16 that marks his second release for Blue Note Records. Having established a home base with his brilliant and deeply attuned trio of bassist Jorge Roeder and drummer Dave King — most recently heard on the guitarist's acclaimed 2021 Blue Note debut Squint — Lage casts his gaze outward to discover new orchestrational possibilities with the addition of six-string icon Bill Frisell, who adds his inimitable voice to this stunning album. View With A Room is available for pre-order now on vinyl, CD, and digital formats. First song, "Auditorium," is available for streaming now as is a live performance of it by Lage's live trio.