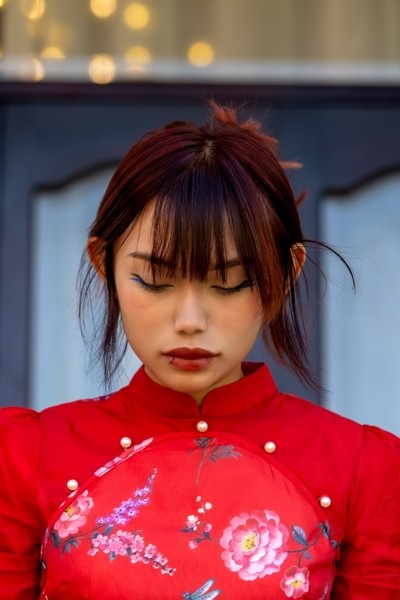 @skopemag news – thursday – june 16, 2022 @ 8 am est
@skopemag HQ – http://smarturl.it/skope
Ostarè Comes Alive with New Single "Deep Down"
If Show 'Em What You've Got was a brilliantly brash and buoyant slice of R&B, Ostarè returns with something slightly more chilled, more soothing, and more understated. But that is not to say that Deep Down isn't still filled with the same message of empowerment and inner healing, it is just that whereas the previous single comes at the listener face on, a collection of soul and swagger, attitude, and ambition, Deep Down just throws its arms around you and gives you what can only be described as a sonic hug!
"Me Now" A New Single From Happy To Be Here A Hard-Hitting Band's Revelations of Recovery
"Everything in my music is high, loud, and abrupt – because I have something to say," says Greyson Grimes, vocalist and songwriter of Happy To Be Here. Alongside his co-conspirator and collaborator James Hamilton, Greyson fronts the powerhouse four-piece Los Angeles-based band whose courageous message of hope, healing, and rebirth is portrayed in a riveting new track titled "Me Now."
SONS OF SILVER RELEASE VIDEO FOR "CAUSE OF MY PAIN" FROM THEIR NEW EP ORDINARY SEX APPEAL
Sons of Silver has released the video for their power-groove, funk-infused "Cause Of My Pain". The song is from the band's new EP Ordinary Sex Appeal. The video is already gaining traction and has debuted on VEVO's Pure Rock and New Music Friday playlists.
Lucid Grave: Copenhagen doomy dark psych group share title track off debut record 'Cosmic Mountain'; LP comes mid-July via Electric Valley Records
The Danish heavy psych quintet Lucid Grave has shared the title track from their impending debut LP, Cosmic Mountain. The album will be out on 15 July 2022 via Electric Valley Records on vinyl (four editions) alongside the availability on the digital/streaming platforms.
New Single KimTrang
Vietnamese producer KIMTrang releases a dreamy soundscape ambient single 'LALALA' that takes listeners on a sonic journey released via SYS Sister Sounds Label.
With the culmination of perseverance, hard work and life experiences KIMTrang's single bridges the connection between her Electronic raw sounds and human connections. The result is a flawless combination of different styles and ambitious artistry that sets a new bar in her musical repertoire.
DJ SHADOWMIND has released a follow up track to his Gold Hit "Alien America 2022".
DJ SHADOWMIND had already created a hit with his track, "Alien America 2022," so expectations were high for his next single. The new track, "Carefree Boogie Van" exemplifies the quintessential DJ SHADOWMIND sound. "Carefree Boogie Van" has all the hallmarks of his previous work and will likely get plenty of feedback. "Carefree Boogie Van" is the perfect DJ SHADOWMIND track for 2022.
SKY BARKERS RETURN WITH STUNNING NEW 'GIVE YOU LOVE' SUMMER SINGLE
Sky Barkers is an indie trio based in coastal West Wales. It is comprised of Joanna MacGregor Messore, Dan Messore and Matt Brown. They make groove based, hook heavy, vocal laden music – lyrically connective and energy driven, rooted in song-writing but with a wonky edge. 'Give You Love' is the bands second offering writing as this current trio, following on from their first single 'Beholden to None'. Expect a full EP soon, coming this Autumn.
INGRID ANDRESS ANNOUNCES SOPHOMORE ALBUM GOOD PERSON OUT AUGUST 26TH NEW SONG "PAIN" OUT NOW WITH OFFICIAL MUSIC VIDEO
On Good Person, the second album from the acclaimed singer-songwriter, Andress returns to the reflection and confession at the core of her GRAMMY-nominated debut and plumbs even deeper. Out August 26th, the album features 12 tracks, all of which were co-written and co-produced by Andress.
MILKBLOOD x PVRIS RELEASE 'WICKED'
The venture was spawned during the Covid-19 quarantines of 2020. Musicians David and Pat had spent their pre-pandemic years hunched over a mixing desk, establishing impressive careers writing for and producing the likes of Hayley Kiyoko, Weezer, Tom Morello, SAINt JHN, Miley Cyrus and Jess Glynne. Self-isolation gave them the opportunity to dream and manifest with contemporaries like Dave's brother Mike, the only music video director (L'il Nas x, Run the Jewels, The Lonely Island) to ever make it on the Saturday Night Live team. They pooled their considerable skills in music, film, and art to build an esoteric universe expanding across digital and metaspace media. Utterly unique, but relatable and poignant, the MILKBLOOD mythos combines the macabre modern horror of 1980s' VHS video nasties with sharp contemporary commentary, and a retro acid house 'synthpunk' look.
Zoey Lily – 'Friend'
"Zoey gives us all the tell-tale signs that she's definitely one to watch" – tmrw mag
Zoey Lily's entrance to her music career unquestionably started off on the right foot. Within her first year of releasing her debut album, she had headlined O2 Academy Islington, received endless enthusiasm from BBC Radio who invited her to perform as part of their 'Summer By The River', as well as joining their Introducing show as a 'featured artist'. The latter end of the year also saw Zoey Lily be personally selected for Tommy Hilfiger 'Music Takes Us Further' Campaign.
RIVFEST WEEKENDER — Returns 5-7th August 2022 || Lottery Winners, Graeme Park, The Zangwills to Headline
Now firmly established as one of the key fixtures in the region, the charity festival returns to the 2,500 capacity Old Market Square, Warrington with a three-day weekender of major names and hotly tipped talent.
RivFest is presented by The River Reeves Foundation, an arts charity launched in 2016 following the tragic deaths of River, his band Viola Beach and their manager, Craig Tarry.
"This is a great, great record" – Marc Riley, BBC 6 Music | Hamish Hawk shares first new material of the year in "Angel Numbers"
Edinburgh's Hamish Hawk returns today with "Angel Numbers", his first new material since 2021's breakthrough LP "Heavy Elevator" saw significant plaudits at both press and radio, including – no mean feat for an artist self-releasing in the current climate – three singles playlisted at BBC 6 Music.