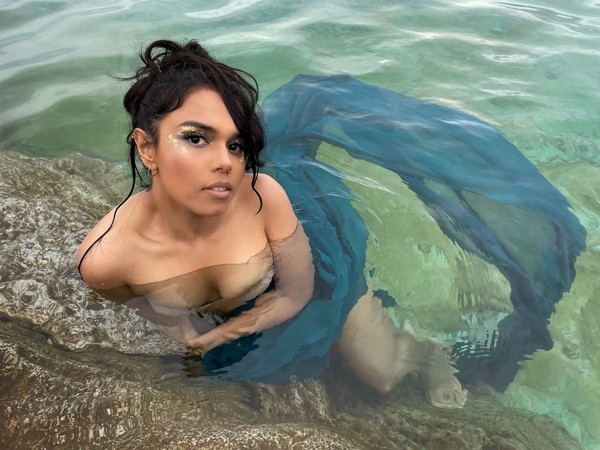 @skopemag news – monday – june 6, 2022 @ 11 pm est
@skopemag HQ – http://smarturl.it/skope
ALICIA BLUE shares new dark indie-folk track "Saline Waters," debut EP 'Inner Child Work' out July 15
Nashville-based magnetic indie-folk singer-songwriter Alicia Blue says her newest single "Saline Waters" (from her new EP Inner Child Work out on July 15 via Magnetic Moon) is about facing mortality and is like a "darker and more aggressive take on Joni Mitchell's' classic 'Circle Game.' It's essentially a tender message about what is seemingly the least tender thing we all must one day face, meaning death','" she says. The track is a dark reflection of 2021, the second year of the pandemic. She adds, "I was now beginning my own year of magical thinking, having lost three people in a span of 12 months. I found myself with my best friend taking a drive down to Salton Sea on New Year's Day. It's a dead sea without a living thing spared and it fascinated me."
Chill-Pop Producer Mokita Collaborates With Charlotte Sands; Announces Live Debut With Slenderbodies Dates 
Chill-pop producer-musician Mokita partners with rising artist Charlotte Sands on the latest single, "Crash." Over the past two years, Mokita (aka John-Luke Carter) has been writing, recording, and self-producing meaningful songs with unrelenting honesty. For Mokita, music is a profoundly intimate form of expression, a means to tackle the most sincere of subjects.
"Crash (feat. Charlotte Sands)" is about being stuck in a relationship with someone you know won't last, it's not good for either of you, but you can't break the cycle.
Rusty Santos, known for his work with Animal Collective, announces new solo LP & shares first video
Cecilia Castleman Signs to Glassnote Records + Shares "Lonely Nights"
Today is a day of firsts for 21-year-old Franklin, Tennessee native Cecilia Castleman as she shares her silky soft debut single "Lonely Nights" in conjunction with indie powerhouse Glassnote Records, the label she now calls home after signing her first record deal. The firsts don't stop there as the single was premiered worldwide this morning by Zane Lowe on Apple Music 1 and her very first music video followed shortly thereafter.
THE NIXONS Release New Single "Kaleidoscope" to all major platforms
The Nixons were founded in Oklahoma City, OK by singer/guitarist Zac Maloy, guitarist Jesse Davis, bassist Ricky Brooks and drummer John Humphrey in 1990. FOMA, released in 1995 on MCA Records, included the radio hits "Happy Song", "Wire", and "Sister" which was a top 5 alternative hit that also crossed over into the Hot 100 pop chart. The group capitalized on their success with big tours (about 300 shows a year for nearly a decade), including dates with KISS, Soul Asylum, Radiohead, and Toadies. They went on to release two more albums with MCA that yielded several rock radio hits including "Baton Rouge". The band recently reunited the original line up for a series of sold out shows in the Midwest, culminating with an opening slot with Smashing Pumpkins. In 2019 the band released singles, "Favorite Lies" and "Crutch" as well as a video for the latter. The band wrapped up the year with a double bill tour with Sponge.
Brent Barker with Ken Mary and Pete Griffin Release First Single "Electric Necromancer" Today
In June 2022, critically acclaimed guitarist Brent Barker is releasing a series of Progressive Metal Instrumental singles featuring Ken Mary (Flotsam and Jetsam, Alice Cooper, Impelliterri, Accept) on Drums and Pete Griffin (Steve Vai, Zakk Wylde, Yngwie Malmsteen, Paul Gilbert) on Bass. Mixed by Grammy winning engineer David Thoener (AC/DC, Aerosmith, Santana) the first single "Electric Necromancer" is available on all digital platforms today, June 6.
Hyper Pop Artist Danny Dwyer Shares New Single "Little Gnome"
When asked about the new track Danny adds, "'Little Gnome' is about making light of life's problems and the absurdity of it all. It's a story about seeing the beauty and fun in even the most trying times."
Space Fight (mems. Ra Ra Riot) Share Single "Stay Love" via Under the Radar + Psychedelic Baby Mag Feature | LP Out June 24
Writing began for the Space Fight album Do You Dream In The Daylight around the start of the pandemic, when the members of Space Fight found themselves in lockdown. What started with a few files being shared from New Jersey to Japan between vocalist/keyboardist/bassist Spen Miles and guitarist Tom Welch, soon became over 20 demos by the end of 2020. A lot of the material was influenced by the state of the world at that time, and the fact that both men (or really their wives) were bringing babies into that turbulent world.
Jacob Giaimo – New Single "Sun Support"
Jacob Giaimo is back with a happy, care free single, "Sun Support" out now. It's the follow-up to his very well received song, "Take Care". The singer-songwriter from Orlando, FL. continues to gain new fans with his thoughtful lyrics and guitar driven songs.
Watch Lindsay Clark's "Better Way" video via Under The Radar
"I wrote "Better Way" about breaking karmic emotional cycles of self-betrayal. Years ago I was in a dysfunctional relationship dynamic with someone in the music community which became really strained, confusing and manipulative. It was a painful experience in some ways but also a catalyst for looking at my own patterns of what kind of love I let myself receive. The song is a lullabye to myself, and anyone who has ever accepted less than they deserve. While it took a long time to complete, it became one of my favorite songs on the album, partly because of the string/wind arrangements my collaborator, Jeremy Harris (Devendra Banhart/Hand Habits) wrote for it. We both love classical music and 60s/70s baroque folk, artists like Judee Sill and Linda Perhacs, and he captured my vision perfectly."
Video: Cube Ref – Parry
GENERATION RADIO ANNOUNCES DEBUT ALBUM SELF-TITLED RELEASE OUT AUGUST 5, 2022
Frontiers Music Srl is pleased to announce the release of the upcoming self-titled debut album from Generation Radio, a colossal new rock group centered around the combined talents of Jay Demarcus (Rascal Flatts) and Jason Scheff (longtime lead vocalist of Chicago), on August 5, 2022. Today, the band has released the first single and video from the album, 'Why Are You Calling Me Now?'. Watch the video HERE:
Charlottetown Rockers the Pearly Gates Say "There's a Black Hole (Where Your Heart Should Be)"
DEMI LOVATO ANNOUNCES 8TH STUDIO ALBUM 'HOLY FVCK' – AUGUST 19, 2022
GRAMMY-nominated global superstar Demi Lovato has announced their 8th studio album, HOLY FVCK, will be released on Friday, August 19, 2022, via Island Records. The 16-track album is a sonic journey grounded in Demi's rock and pop-punk roots and illustrates an earnest yet tongue-in-cheek retrospective of their life experiences.
DELTA GOODREM STUNS OPENING WEEKEND ON BACKSTREET BOYS: DNA WORLD TOUR
Multi-platinum selling singer-songwriter Delta Goodrem delivered a stunning performance at this weekend's opening night of the Backstreet Boys: DNA World Tour in Chula Vista, CA. The acclaimed Australian artist is now back in the U.S. opening for the Backstreet Boys on this massive nationwide tour, singing some of her biggest hits from chart-topping albums including Bridge Over Troubled Dreams, Innocent Eyes, and Wings.
Re-Introducing Drella
R&B singer songwriter Neela encourages us to get lost in love on sultry single "Tease"
Her latest single, "Tease," encourages listeners to feel free in their expression of love. It's meant to create a feeling of wild, carefree yearning without judgment or limitations to love.
Manchester Pop Dance Duo Saintz Released Their Debut Album Goosebumps
Manchester England based Pop Dance duo Saintz have released their debut album Goosebumps last week. This album release follows the buzz that Saintz has been creating over the last year with single releases like debut single "You'll Always Find A Way" remixed by Kelvin Wood, that premiered with EQ Music and reached # 4 in the UK Dance Chart amassing over 185,000+ streams, with the music video gaining 47,000+ views.
Call of Duty: Modern Warfare II live action trailer featuring famed DJ, Steve Aoki
"Being in the new Call of Duty: Modern Warfare II live action trailer has been too much fun. I am excited for everyone to see the spot.," said Steve Aoki. "I am a huge fan of Call of Duty and when I'm not in the studio or performing, you can usually find me online."
Crandelion's 'Don't Mind the Merry Go Round'
Chicago-raised and L.A.-based musician and songwriter David Miller first picked up the guitar when he was eight years old and, as a teen, started flying to Los Angeles to hang out with his good friend (and now producer) Danny Shyman.
Reflections – New Album – Maëla Raoult
It is a journey around the world that Maëla proposes for this second album honouring composers of the 21st century. Contemporary music is an important part of Maëla's work. She offers a virtuosic and luminous highlighting of unmissable and essential pieces of clarinet repertoire like the Sequenza by Luciano Berio, the three pieces by Igor Stravinsky and the Sonata by Edison Denisov ; a brilliant and shining interpretation of Sonatimage by François Meimoun and the Fantaisie by Jörg Widmann ; the creation of Tocatina by Sina Fallahzadeh, written especially for Maëla ; without forgetting the two pieces by the belgian composer Michel Lysight : Solipsism and Facing the looking glass.