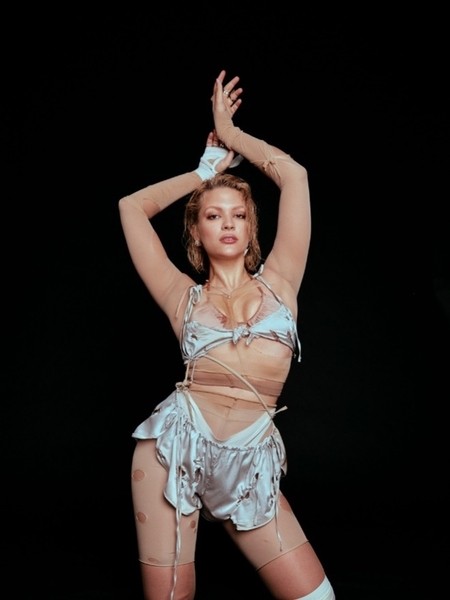 @skopemag news – friday – june 3, 2022 @ 9 am est
@skopemag HQ – http://smarturl.it/skope
THE CALLOUS DAOBOYS: Atlanta Mathcore Group To Release Celebrity Therapist September 2nd Via MNRK Heavy/Modern Static Records; "What Is Delicious? Who Swarms?" Video Now Playing At Revolver
Comprised of charismatic frontman Carson Pace, possessed like a young Mike Patton, fretboard abusing guitarists Maddie Caffrey and Dan Hodsdon, frantic bassist Jack Buckalew, destructive drummer Sam Williamson, and spirited violinist Amber Christman, THE CALLOUS DAOBOYS revive noise rock like they're summoning the dead. The recklessly free-spirited collective deliver a vibrant combination of mathcore, sasscore, and post-hardcore — a sound that is at once abrasive, chaotic, and classy. Reveling in high-strung extremity their music is dense, impenetrable, and chaotic yet confusingly inviting as each song deliriously swerves across stylistic lines.
French indie sensation La Femme release new single "Sacate La"
Today, the French indie rock band La Femme are releasing a brand new single "Sacate La". Inspired by their trips around South America and the south of Spain, "Sacate La" is a bright and breezy psych-pop tune with lively shaker rhythms, an infectious vocal hook, and lyrics sung in Spanish.
Diamond-Certified Producer Antoine Chambe Unveils 'Dangerous (ft. Lucas Cozy)' Single & Video From Debut Album
ERIKA SIROLA ANNOUNCES SIGNING TO ELEKTRA RECORDS
Opening in stark simplicity then slowly building to a glorious whirlwind of fast and frantic beats, "End Of The Day" tilts heartbreak into something strangely sublime. The single is available now on all streaming services and is accompanied by a captivating performance video directed by Nico Paolillo, which is streaming on Erika's official YouTube channel. In addition to being a longtime piano player, guitarist, and clothing designer, Sirola is also a talented visual artist and designed the accompanying mixed-media single art.
Finnish Singer-Songwriter Erika Sirola Signs to Elektra Records, Debuts "End of the Day" Video: Exclusive
Zoon Announces New EP, Shares "Astum" Single + Music Video, Brooklyn Vegan, BPM, Earmilk Features | 'Big Pharma' EP Due June 21 via Paper Bag Records
Today, Zoon (Daniel Monkman) announces his forthcoming EP, Big Pharma, and shares a brand new single and music video, "Astum" (ft. Leanne Betasamosake Simpson). Big Pharma is due June 21 via Paper Bag Records.
Cycotic Youth release new music video for "Cyco Up!"
Venice thrash/punk legends Cycotic Youth have risen from the dead and are set to release new music throughout Summer of 2022. On the heels of their comeback single "Cycofied" (April 22), the band has now released their latest track and music video for "Cyco Up!".
Reminder: New Promo: Nicarus – Holy Sun Father Spirit – (Post Rock/Metal, Stoner, Doom, Sludge)
In her own words: "most labels today are just trying to hold heads above water since it is the worst business plan to sign a metal artist for split royalties, probably worse than opening a sex shop in a church, surely over a 10 minutes of pain in frequencies that obviously so hard to sell, when I will write sweet melodies that can be played in movies and pc games I might consider work with other people to sell it so I can focus on the art, but until then I see no reason to go through a collab that will make everyone suffer, the internet is open, if what you look for is to get your art out there you don't need a label, you need a pair of balls, man or woman". – Nicarus
Dalton Cyr Channels an Emotional Narrative with His Latest Track "Dying To Love You"
Los Angeles pop-rock artist Dalton Cyr's most recent single, "Dying To Love You," dives into an all too familiar love story. Cyr draws in listeners by pouring his heart into the genuine lyrics, backed by a guitar-heavy pop melody. The young singer-songwriter may come off as a hopeless romantic in his latest single, but the love story presented is far from perfect. "I wrote this song to capture the helpless feeling of being trapped in a hot and cold relationship," explains Cyr. "The toxicity of emotional high highs and low lows takes a toll on the psyche, hence the title, 'Dying To Love You.'" Stream the emotionally-driven single on Spotify and visit DaltonCyr.com.
George Ezra Shares New Song "I Went Hunting" Taken From The New Album 'Gold Rush Kid' Due June 10 via Columbia Records
As premiered as Zane Lowe's 'World Record' on Apple Music, BRIT Award-winning, multi-platinum selling musician George Ezra today shares his striking new song "I Went Hunting," the latest to be taken from his forthcoming new album Gold Rush Kid, due June 10 via Columbia Records.
5 Billion in Diamonds (Butch Vig/TSOOL) Share "I Colour You In" Video via EARMILK, Announce 'Divine Accidents' Vinyl​ via MAKE RECORDS, Out July 8th
Today, 5 Billion in Diamonds — the legendary trio of Butch Vig, Andy Jenks, and DJ James Grillo — announce a vinyl release for their newest LP Divine Accidents, due July 8 via MAKE Records. Fusing influences from the 80s with their signature genre-bending sound, the LP is stacked with an exciting set of renowned collaborators and delivers on the anticipation that such a star-studded group promises.
5 Billion in Diamonds celebrate the beauty of life on hypnotic track "I Colour You In"
ANTIMOZDEBEAST Stream Entirety of Mother Earth
ANTIMOZDEBEAST the industrial solo project of Gabriel Palacio is streaming the entirety of his album Mother Earth via Terra Relicta. The album will be released tomorrow June 3, 2022.
Gabriel comments:
"The making of this album was inevitable. It is the following premise of both music and lyrics from my previous work. Mother Earth takes a slightly different approach then it's last albums while retaining the Antimozdebeast sound."
Mother Earth focuses on the spirituality of the individual as well as society and human history. Gabriel has learned to create a new form of expression when it comes to lyrics. With inspiration derived from NIN, ROB ZOMBIE, SKINNY PUPPY, CYGNOSIC and more, ANTIMOZDEBEAST finds his music on a balance of sound, noise, and metal.
Reminder: Review Alert: Riot After Midnight – Yours All Night – (Heavy Metal)
In April 2021 they supported Brisbane band 'SNAKEBITE WHISKEY' and helped sell out the show at 'Whole Lotta Love'. They have also supported bands at in 2022 at The Bendigo Hotel with EAT THE DAMN ORANGE and THE DREADFUL TIDES, The Evelyn Hotel with IRONSTONE, FLYNN EFFECT, WITCHGRIDER and alongside SHOTGUN MISTRESS and KINGS VENGENCE at Whole Lotta Love.
'Riot After Midnight' are now ready to hit venues all over Australia and worldwide to give fans what they've got and showcasing their debut and second album.
Chicago's DCG BROTHERS Report Live from the Jungle in Their New Video
Emerging from the West Side of Chicago with a bookful of bars, DCG BROTHERS deliver a blend of drill designed to put smiles on faces. Today, the charismatic sibling duo, comprised of DCG Shun and DCG Bsavv, shares "Jungle Life," a new music video and a dispatch from their home neighborhood. Produced by JustSpvnk, who layers church organs with entrancing synth arpeggios and military percussion, "Jungle Life" creates an appropriately dramatic, yet light-hearted backdrop for the brothers to do their thing. Shun and Bsavv go back and forth on the track, seemingly competing over who can deliver the best punchline: "So many hog sticks in the whip, it looks like it's a Luau," spits Bsavv, while Shun adds, "I still ball some like Chris Paul/Gimme the ball, I want it, tip off." Directed by No More Heroes, the video finds DCG Shun and DCG Bsavv in their element, gathering a crew in the West Side and squadding up by the dozen. Rocking Amiri baseball caps and showing off their dance skills, the DCG BROTHERS mug for the cameras, managing to make the jungle where they grew up feel more fun than Six Flags.
"Deep Sea Diver" by Parks N' Rec explores themes of loneliness and courage
Belize is a place where the sea is dotted with cayes and a history of courageous and adventurous divers exploring there. DiFelice was specifically interested in how a lot of those people are breaking through barriers of their own mind and body. He felt lucky to be around that culture and to have an opportunity to understand the obsession with "what's underneath." Through these experiences, DiFelice was trying to walk himself through his fear of the deep sea. He then created a magical place where fear and beauty collided as he daydreamed under the sea.
MULTI-PLATINUM R&B SUPERSTAR GIVĒON TO RELEASE MEGA-ANTICIPATED FULL-LENGTH DEBUT ALBUM !!!!
He recently heralded Give Or Take with the ballad "Lie Again." It has already amassed over 8.9 million Spotify streams and 4.4 million YouTube views on the music video. Right out of the gate, Rolling Stone hailed it as "beautifully painful," and Complex proclaimed, "He shows his strength in vocals as he asks his partner to lie to him about past indiscretions."
Country Singer-Songwriter Houston Bernard Recently Released The Music Video For His Single "Hangover" Off His Upcoming EP
When asked about his latest single "Hangover," Houston said, "Hangover is such a fun and relatable song, especially after the pandemic when a lot of us felt more comfortable at home than going out or our favorite bars were closed."
Samuel Or Daniel Shares Debut EP 'I Miss You Don't Come Home' via Psychedelic Baby | Read More in Vents, Glide, and Backseat Mafia
Portland Maine-based DIY experimental indie rock outfit Samuel or Daniel (moniker for Sam Guenther, who got the band name from a not-quite-correct takeout order from East Coast Taco) is finally ready to share his brainchild: I Miss You Don't Come Home (out this Spring). Formed in the depths of the pandemic with artistic collaborators Charlie Dahlke, Micah Rubin and John Lisi (of The Brazen Youth) and Will Orchard, I Miss You Don't Come Home delves head-first into a vast, empty alternate universe seen through the eyes of a lone space cowboy. Exploring everything from isolation and paranoia to heartache and estrangement, the EP has the qualities of both a psychological spiral and an epic journey.
'I Miss You Don't Come Home' by Samuel Or Daniel | EP Premiere | Interview
MuMu Shares "The Bitch in Me" Video via Wonderland
NYC singer-songwriter MuMu throws shade with her newest release, "The Bitch in Me," a punchy song about clashing personalities and what happens when you give in to your inner bitch. It's a bop with totally relatable, cleverly comedic lyrics. MuMu's storytelling is so on point, we feel like her best-friend across the table exclaiming, "Yaaas girl, spill that tea!" Today, she shares a music video for the track.
MEDIA RELEASE:: MAL DE MER SHARE NEW SINGLE & VIDEO 'MIRAGE' LIFTED FROM NEW EP 'SANGUINE' SET FOR JULY RELEASE
Potent Perth collective Mal de Mer have today released a brand new single Mirage, a slinky, funked-up fantasy that'll tap shoes far and wide. Alongside the bustling frivolity of the new tune, Mal de Mer have also announced an accompanying video for Mirage, with both the song and video marking the final alluring glimpse into the group's brand new EP Sanguine which will officially drop on July 8 and is available to presave now.
Ben Harold & The Rising's Latest Roots/Americana Rock Album 'These Days' Examines the Human Condition
Ben Harold & The Rising, often being compared to Tom Petty & The Heartbreakers, Counting Crows, and Wilco, is an Americana rock and roll band based out of Milwaukee, WI. Their music is known for its honest conviction and a style that is both familiar and modern as realized in the recent album These Days. Their live shows have a contagious energy and warmth that will leave you wanting more.
TIAGO PZK & OZUNA DELIVER A POWERHOUSE CLASSIC "NOS COMEMOS"
A throwback reggaeton stomp penned by Tiago and Ozuna, the raucous "Nos Comemos" was recorded in Miami and Buenos Aires and produced by studio wizard Big One. The song's eye-catching video directed by the fast-rising newcomer Martin Seipel was shot in April at a gas station and on the streets of Miami. The video relates the tale of two groups – one led by Tiago PZK and Ozuna – and the other comprised of female drivers with whom they end up challenging to a 2 vs 2 race on which everyone will bet everything they have.
Tiago PZK recalls that his "Nos Comemos" project with Ozuna was a smooth ride from start to finish.
LONG ISLAND SKA-PUNK SEXTET DINO SKATEPARK RELEASE FULL LENGTH "ARTIFACTS"
On the new record, Dino Skatepark showcases their new, mature sound through complex song structures and time changes a-typical to the ska-punk genre. By blending elements of progressive rock, hardcore, emo and ska-punk together, they have made a new genre which they have coined "Dark Ska". Soaring guitar solos, complicated horn arrangements, hardcore breakdowns, and a myriad of a-typical instrumentation such as banjo and cello are littered throughout the nearly hour long epic.
TOVE STYRKE RELEASES NEW ALBUM 'HARD'
Tove brings her fiercely intimate lyrics to a truly visionary sound, spiked with elements of everything from left-of-center club music to experimental art-pop to early-'60s girl-group records. At turns explosive, poetic, and transcendent, the result is Tove Styrke's most electrifying work to date, fully embodying the ineffable wildness of romantic love itself. With its exploration of desire and obsession and delirious longing HARD closely examines the savage complexity of love, a quality referenced in its title.
070 SHAKE RELEASES SOPHOMORE ALBUM, SHARES NEW VIDEO FOR "MEDICINE" YOU CAN'T KILL ME OUT NOW VIA G.O.O.D. MUSIC/DEF JAM RECORDINGS
070 Shake officially releases her highly-anticipated sophomore album, You Can't Kill Me via G.O.O.D. Music/Def Jam Recordings. Executive produced by 070 Shake and Dave Hamelin and mixed and mastered by Mike Dean, the new project arrives alongside an Alexander Wesseley-directed video for the album track "Medicine" that shows an intimate performance of the song as Shake is submerged in water while vocalizing through an oxygen mask. The album features previously released tracks "Body," "Web," and the first offering from You Can't Kill Me, "Skin and Bones."
ZERO 9:36 RETURNS WITH NEW SONG "BREAK" FEATURING ATREYU
Once again, he returns with an unpredictable and undeniable shape-shifting anthem, teetering between hard rock, hip-hop, and alternative punctuated by glitchy electronics. Guitars underline Zero 9:36's tightly woven rhymes as he laments, "No escaping where I've been, I wouldn't expect you to understand" while Atreyu frontman Brandon Saller's soaring vocals add yet another level to the multi-layered assault.
Fire From The Gods Release New Single "SOS," Plus a Lyric Video, Ahead of Tour with 5FDP + Megadeth
Discussing the track's meaning, vocalist AJ Channer said, "With life comes challenges and some of those challenges can seem insurmountable. When we reach said point it can feel like we're drowning. Unfortunately, there may not be someone there to save us. We have to save ourselves. This song speaks that truth, but it is one part of a larger story of self realization and discovery."
CLINTON KANE REMINISCES ON HIS PAST WITH NEW SONG "14"
Soul Infused acoustic pop
Nick Black is a fun, optimistic, and authentic artist from Memphis, TN. Influenced by the feel-good music of John Mayer and John Legend, and the musicality of legacy acts such as Al Green and Sting, Nick has created his music to sound modern and unique, yet familiar and nostalgic.
POLO G DROPS NEW SINGLE AND VIDEO FOR "DISTRACTION"
"Distraction" follows up Polo G's smash hit "RAPSTAR" which topped charts around the world in 2021, becoming a breakthrough year for Polo, with the Chicago star's Hall Of Fame album also debuting at #1 on the Billboard Top 200 in June and is certified Platinum, amassing over 3 Billion streams globally. The album's record breaking 5x Platinum #1 single "RAPSTAR," garnered Polo his first major award nomination at the 2021 MTV Video Music Awards for Best New Artist and Best Hip Hop Video and earned Polo multiple nominations at the 2021 American Music Awards and 2022 Billboard Music Awards. Polo also landed the cover of Rolling Stone Magazine in October and was honored with Variety Magazine's 2021 Hitmaker Award for Rising Star.
Namir Blade Releases New Album "Metropolis"
Imagine Sun Ra time-traveling to the techno-dystopia in Blade Runner, Marty McFly piloting the DeLorean through the cyberpunk cityscape in Akira. Now you're in the headspace to digest Metropolis, the latest album of time-traveling dispatches from Nashville multi-instrumentalist, producer, and rapper Namir Blade. Inspired by and named after the 2001 anime Metropolis and its 1927 predecessor, these 16 tracks are chapters of a speculative memoir unstuck in time, a quest for joy as late-stage capitalism crumbles looking wearily to a near-future dominated by tech oligarchs. In his most vulnerable writing yet, Namir shirks wallowing in loneliness and algorithm-induced self-doubt by going to therapy, making art on his terms, and learning to cherish his hooptie.
ROWDY REBEL HITS THE STREETS OF BROOKLYN FOR NEW SINGLE AND VIDEO "WOO NINA"
Today, Brooklyn-bred drill star Rowdy Rebel crash lands into summer with the release of his new single and video, "Woo Nina." The video, directed by G-Train (French Montana, Matt Ox) is set in Brooklyn and available now.
WORLDS COLLIDE: B-LOVEE & COI LERAY SHARE "DEMON", THEIR NEW SINGLE
As a breakout star who pushes the artistic limits of street music, Bronx drill rapper B-Lovee has developed a cult-like following for his raspy vocal tones and embodiment of the city's timeless tradition of sampling. Connecting with Platinum superstar Coi Leray, the 21-year-old rapper shares "Demon", his new single. Produced by Fast Life Beats, "Demon" released with a pseudo video, finds Lovee and Coi delivering a hypnotic hook-verse combo providing an illuminating and infectious collaboration.
DOJA CAT DROPS "VEGAS" VIDEO
ELVIS is an epic, big-screen spectacle from visionary filmmaker Baz Luhrmann that explores the life and music of Elvis Presley (Austin Butler) through the prism of his complicated relationship with his enigmatic manager, Colonel Tom Parker (Tom Hanks). The soundtrack features Elvis's extraordinary body of work spanning the 1950s, 60s and 70s, while also celebrating his diverse musical influences and enduring impact on popular artists today.
HEADSHRINKERS — Release New Single "The Sea Has No Friends" || + Debut EP 'Doorway Conversations'
Expertly tapping into and memorialising a certain place and time in history, the latest single from Headshrinkers is a lofty expanse of a track that merges spoken-word lyrics with velvety vocal harmonies and opulent stretches of instrumentals.
Megan Knight's "My Drama" EP is an Addicting Blend of Emotions
This latest EP by Megan Knight brings her vocals, lyricism, and instrumentals together in full force to tell the story of a complicated romance. "My Drama" EP has a little bit of everything. The EP dropped today on all streaming & download platforms.
It starts off with "My Drama." The song has a bit of a rock vibe that gets you moving to the beat from the intro alone. The chorus has Knight accompanied by a male vocalist, and their harmonizing can emphasize the core message of this track and ultimately the EP as a whole: "I can deal with your demons and your trauma/if you can live with me and my drama."
Danish cult heavy metal band MIRAGE release new video "Guiding Light"
In the 80s, MIRAGE was, by just releasing their debut album, a band everybody looked upon as having a great future. It wasn't meant for them, as problems with the label led to an early disbanded, but time made sure they got the cult status they deserved. "…And The Earth Shall Crumble", slowly, but steadily, became one of the highest regarded albums in the Danish 80's metal scene.
SINGER-SONGWRITER TREVOR JAMES UNVEILS NEW TRACK AND MUSIC VIDEO "AGAIN"
Pennsylvania based singer-songwriter Trevor James today releases his latest song "Again" and its official music video – out now on all major streaming platforms.
Written by Trevor and produced by The Online Recording Studio, "Again" is a soft-pop track which tells a guy-meets-girl love story. It's about infatuation, the intensity of romance and long-distance relationships.
HAVE YOU EVER SEEN THE JANE FONDA AEROBIC VHS? release 'Maine Coon'
Finnish garage rock trio Have You Ever Seen The Jane Fonda Aerobic VHS? release their third album 'Maine Coon' today via VILD Recordings.
Over the last half decade, the three-piece have cultivated their unique 'Flower-Garage' sound, and established themselves as one of the most exciting and infectious bands to come out of Scandinavia. New album 'Maine Coon' solidifies this reputation.
SPEKTRVM – New Single/Official Video 'Leviathan'
"What can one say about vanity. Vanity plays lurid tricks with our memory, and the truth of every passion wants some pretence to make it live. It is most often the unseen spur and everyone has as much of it as they want understanding. But in the only thing that can preserve you from it, lies the knowledge of yourself."
Leviathan is the first single/official video from Greek metal group Spektrvm, taken from their forthcoming album Blood For Heaven, which is set for release on July 8th via Sliptrick Records. The video was directed by Maria Chatzigianni.
Duke & Jones return with shimmering new single 'Lucid'
Steeped in refined dancefloor emotion, 'Lucid' is a shimmering big room club weapon that's destined to soundtrack swathes of memorable moments this summer. It marks the follow-up to 'Jiggle Jiggle', the duo's viral smash with Louis Theroux. Currently the biggest song on TikTok, it has already amassed over 4 million Spotify streams and 8.6 million YouTube streams respectively.
Fantastic Negrito's Most Ambitious + Provocative Work to Date, White Jesus Black Problems Visual Album, OUT TODAY
Today, three-time Grammy-winning singer, songwriter, musician and activist Fantastic Negrito (neé Xavier Dphrepaulezz) shares his most ambitious and provocative project to date, White Jesus Black Problems, out now on Storefront Records. Accompanied by a companion film, White Jesus Black Problems is a synthesis of so much – an ancestral journey, an unlikely love story, and even a self-discovery of one's true name. This new project follows the artists' acclaimed 2020 album Have You Lost Your Mind Yet? Sonically, White Jesus Black Problems is emotionally charged, mixing blistering rock and roll grit with infectious R&B grooves and buoyant funk energy to deliver a sound that manages to feel both vintage and experimental all at once.
BETTY WHO RETURNS WITH TRIUMPHANT NEW SINGLE "BLOW OUT MY CANDLE"
"Blow Out My Candle" is a triumphant return to form for Betty Who. On the '80s-inspired song, Betty channels her infectious spirit with a newfound level of insight and introspection. The track is a catchy ode to perseverance, with a chorus that activates the dancefloor: "You can blow out my candle, but you you'll never put out my fire." The video, directed by Tyler Cunningham, finds Betty embracing the '80s aesthetic as she dances around in a Jamie Lee Curtis-inspired workout leotard, sweatband, and high socks as she sings about self confidence and love.
Young Rising Sons Release New Track "Beach Bummer"
"'Beach Bummer' is about growing up in a beach town in New Jersey," stated Andy Tongren. "Being the locals in a summer tourist trap always made us feel sorta diminished and forgotten about. We were always the outcasts & the slackers. Our favorite part of summer was the end when the tourists left and the beach was gloomy and empty. Beach Bummer is our local summer anthem."