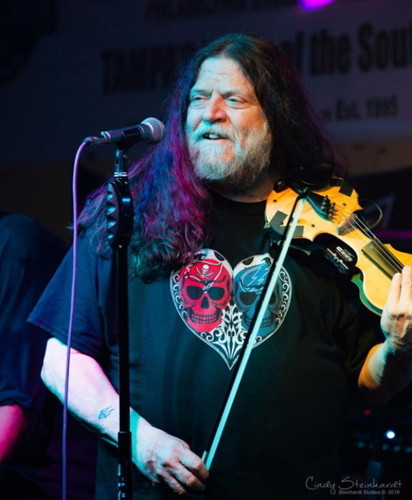 @skopemag news – friday – june 3, 2022 @ 10 am est
@skopemag HQ – http://smarturl.it/skope
Metalcore Band SEEKING SIRENS Release New EP and Video For Title Track
Frontman Joseph Izayea had this to say: "I'm incorrigibly gratified to announce the upcoming release of the very first SEEKING SIRENS EP: Departing Ways, which will hit most digital platforms on Friday, June 3rd, 2022. This record realizes the long-awaited collaboration between myself and my long-time friend Kevin Wilson, whom I'm proud to say has brought out some of my best work yet! After dropping two singles ahead of this release, my hunger to have this record see the light of day has been palpable! I hope you all find the EP worth the wait!"
South Carolina Rockers The Blue Dogs Return With Brand New LP "Big Dreamers"
Today, after almost two decades since their last release, Carolina's favorite rock and rollers the Blue Dogs are back in the game with the release of a brand new full-length album, Big Dreamers. Produced by accomplished guitarist and longtime Blue Dogs fan—and at times, guitar player—Sadler Vaden (Jason Isbell & The 400 Unit), Big Dreamers marks a long-awaited comeback for the band and an inevitable full-circle moment for their producer. "I have a history with these guys," Vaden says. "They used to hire me when I was 18 or 19 years old to play with them." Vaden isn't the only fan of Blue Dogs contributing to Big Dreamers, legendary Texas songwriter Radney Foster sings background vocals on "That's How I Knew," which he co-wrote with Bobby Houck along with the greasy, mid-tempo "If Ever," and dobro master Jerry Douglas joined the boys on the bluegrass-inspired "The Road You Don't."
ALBUM REVIEW: After 16-Year Break, Blue Dogs Regain Their Bite With 'Big Dreamers'
Watch The Linda Lindas collab w/ Kathi & Erica from Bikini Kill & Vice Cooler in "Lost In Thought" video, LAND TRUST album out today
As with all of the other songs on LAND TRUST – including the record's first two singles, made with Kathleen Hanna and Kim Gordon respectively – the song was the result of a remote collaboration between Lyle and Cooler that began in the early days of the pandemic. Lyle approached Cooler with the idea that they'd write songs together via file sharing ask their friends in their music community to add vocals, lyrics, and bass. Then they'd make the results available as a benefit record.
NEBALA Reveal new single and video "Ant Mér Sjalfri Þér"
After being involved with Heilung for two years, and more recently with the worldwide-acclaimed movie The Northman as songwriter and actor, Jonas Lorentzen decided to focus on his own musical expression, based on a reimagination of Nordic Folk and spiritually driven music. The result is Nebala, spearheaded by Jonas Lorentzen, but assisted and graced by powerful talents such as Sebastian Gainsbourough (Vessel, The Northman, Manchester Collective), Kjell Braaten (Wardruna, Origami Galaktika) as well as non-musician minds assisting in the conceptual development, Doctor Mathias Nordvig (Professor of Pre-Christian Religion at CU Boulder) and Philosopher Naina Gupta (University of Kingston).
OUT NOW: Indie-Folk Musician Cujo Moon Releases Horizons EP [FFO: Bon Iver, Ben Howard, and Jeff Buckley]
SEINABO SEY SHARES NEW SINGLE, "BLESSED," AND B-SIDE, "BLACKSTAR"
"'Blessed' is a bit like 'Younger's' big sister. It has the same feeling but with a different sound," says Seinabo Sey, referring to her breakthrough single, which was amassed several hundred millions streams worldwide. Kygo's remix of "Younger" climbed to No. 1 on Billboard's Hot Dance Club Play chart.
Rocstaryoshi shares new single "Humina"
Rap newcomer Rocstaryoshi shares his new single "Humina" via Boom.Records. The new track finds him delving into a hyper-sonic realm as his signature cadence skids over the beat. Produced by Henney (Future, Kodak Black, Offset) and Rafmade (Trippie Redd, 2Chainz, Lil Yachty) "Humina" combines elements of hyperpop, and digicore with hip-hop and features a booming bass. Check out the single below and follow Rocstaryoshi for more news.
Kailaya Releases New Single "Outrageous" In Honor of Pride Month
Kailaya proves with her recent single "Outrageous" that she is unafraid to open up about her experience coming out. The R&B artist addresses her previous lovers, revealing that past relationships didn't fulfill her because she had yet to get to know herself. Kailaya describes "Outrageous" as "my coming out journey and looking back light-heartedly at all the little hints throughout my life." Blending elements of pop and hip-hop for her newest song, the queer artist uses an up-tempo trap beat to provide the background for her strikingly powerful vocals. Listen to "Outrageous" on Spotify and visit www.Kailaya.art or follow her on socials @Kailaya.Art.
Oops! Australian Trio THE BUCKLEYS "Love You"… New Sugary Single Out Now!
Coming off of the release of their critically-acclaimed debut album Daydream, Australian pop-country trio THE BUCKLEYS have returned with a brand new single "Oops I Love You" which is available today, June 3, 2022 via Petrol Records/Universal Records/UMe. Recorded at Nashville's iconic East Iris Studios earlier this Spring, "Oops I Love You" finds the chart-topping band in a fun-loving ,joyous playful mood.
Jasmyn Releases Bright + Joyful Debut Album 'In The Wild' Today
Formerly the frontperson of the band Weaves, Jasmyn embraced a chance to step back and reset on 'In The Wild', where the art of reshaping, shifting and grounding is encouraged with an open-hearted vigor. The album shows us that by diving far into ourselves and ruminating on the reflection we see in the mirror, we can unearth a new kind of clarity, where the balance we've been searching for slowly begins to reveal itself.
GWAR Releases Video For "Ratcatcher"
blank paper to Release Knock-Out New Single 'High legacy' from June 3rd
One of Japan's most enigmatic new names in rock, blank paper, announced that knock-out new single 'High legacy' will be available for download and streaming worldwide from June 3rd, 2022. The track follows in the blazing footsteps of debut single 'enemy', which has been streamed over a million times since its release four months ago. The track was also used as the theme song to mecha anime 'AMAIM Warrior at the Borderline' (released in Japan under the title 'Kyokai Senki') from animation studio Sunrise Beyond (Gundam, Cowboy Bebop, Code Geass), and also as the entrance music for Muay Thai athlete Yoshinari Nadaka.
SACROSANCT, founded by former Pestilence guitarist Randy Meinhard, Release 'Avenging Angel' Music Video, Brand New Single Out Now
Progressive Metal outfit SACROSANCT, founded by former Pestilence guitarist Randy Meinhard, have released a music video for their brand new single 'Avenging Angel'. The track is taken from their fifth, yet untitled studio album to be released later this year.
Ken Yates shares new LP 'Cerulean' today + single "Don't Mean To Wake You" featuring Stephanie Lambring
Cerulean meets Yates at his darkest and most vulnerable, as he transforms the pain of grief, fear and loss into an 11-track quest towards hope, light and peace. A crucial vehicle out of the depths of darkness and bitterness for Yates, Cerulean serves as a powerful reemergence filled with his signature remarkable vocal intimacy as well as a profound yet candid peek into the universal human experience. Along with producer and collaborator Jim Bryson, the LP the duo teamed up to create a hard reset, a painful look in the mirror–one that allows Yates the space to come to terms with life's challenges and heal.
LEONARD COHEN'S CAREER-SPANNING ANTHOLOGY ALBUM HALLELUJAH & SONGS FROM HIS ALBUMS, WITH UNRELEASED 2008 LIVE AT GLASTONBURY VERSION OF "HALLELUJAH" OUT TODAY
This collection is a companion piece to the new documentary Hallelujah: Leonard Cohen, A Journey, A Song, which premieres at Tribeca Festival this month, and was also an official selection at 2021 Venice Film Festival and 2021 Telluride Festival. The film is a definitive exploration of the singer-songwriter as seen through the prism of Cohen's internationally renowned hymn "Hallelujah." Approved for production by Leonard Cohen just before his 80th birthday in 2014, the film accesses a wealth of never-before-seen archival materials from the Cohen Family Trust, including Cohen's personal notebooks, journals and photographs, performance footage, and extremely rare audio recordings and interviews. The feature-length documentary contains moving testimonies from personal friends of Leonard's such as Adrienne Clarkson and Larry "Ratso" Sloman, and recording artists for whom "Hallelujah" has become a personal touchstone like Judy Collins, Brandi Carlile, and Rufus Wainwright.
JAKE SCOTT SHARES MELODIC NEW SONG, "GREEN EYES"
Amelia Moore 'teaching a robot to love' EP OUT NOW!
Moore, who has amassed over 43 million combined global streams to date, will play her first headline show on June 9 at The Sun Rose at Pendry Hotel in Los Angeles. The sold-out show follows her recent supporting slot on FLETCHER's sold-out North American tour.
Frex shares new single "Oxford Circus"
Speaking on the track she says, "This is the first song I've ever released that I played guitar on, so that's special to me. This song came together so naturally in the studio that we didn't even add anything after the session- just touched up the mix. It came together in about 3 hours from scratch. Start to finish. I recorded it in Brixton and it was amazing to be able to capture the atmosphere while I was there. I love London and I can't wait to go back."
Channeling raw emotions via her music, Frex started making ripples with her nostalgic 2018 debut album "blu". The R&B-tinged artist further expounds on her musical ethos as she draws inspiration from Rihanna, Usher, and Ne-yo. Stream the single below and stay tuned for more news to come.
Ce'Cile Returns With a Warning in New Single Cherish My Loving
As one of Jamaica's most consistent and beloved leading ladies in music, Ce'Cile has thrilled audiences locally and abroad for years. Hit singles like Can You Do Di Wuk with Sean Paul, Hot Like We, and Gold Dust, stand as testament to the space she has carved for herself in dancehall/reggae music. Ce'Cile changed the landscape of dancehall music by blending the sweet sultry melodies she's known for, with the spicy patois Deejay style popularized in the dancehall. Her debut album Bad Gyal earned her the signature moniker that has helped to distinguish the particular brand of music she presents. Albums like Jamaicanization, released in 2011, Still Running, Diary Of A Journey, Music & Magic and most recently Sophisticated in 2021, serve as key moments in her musical voyage.
US-Based House Producer jackLNDN Unveils Tempting 'Bad Decisions' Single [FFO: Ben Bohmer, Jan Blomqvist, and Yotto]
Hayden Joseph Announces Release of Genre-Bending Breakup Anthem "As Close As I Can Get To You"
When speaking about the song, Joseph said, "My biggest inspirations have always blended sonic elements from multiple genres, alongside the narrative, country lyrics. I've aspired to do the same since I began making my own music, and this song demonstrates just that. It sounds completely different than anything I've put out before – placing a prominent slide guitar alongside synth and disco elements, but the storytelling is still front and center."
Watch Kansas Legend Robby Steinhardt's Video For "Not in Kansas Anymore"
Just released! Kansas legend Robby Steinhardt's video for "Not in Kansas Anymore" from the critically acclaimed album of the same name. Produced by Michael Franklin, the album was released on Solar Music just after the unexpected passing of Steinhardt.
OUT TODAY: ANNA BATES RELEASES DEBUT HERE'S TO THE END EP ON NEON GOLD RECORDS + LIVE IN LOS ANGELES ON 6.6
Writing and creating my first EP Here's to the End was simply cool. Just kidding, it was a lot more than that. In fact, there are so many emotions attached to this little piece of art that it's hard to mash them all down and condense them into one word- so I'm not going to. The songs on this EP are a mixture of stories I have created in my head, exaggerated tales of my friends, personal expression, and the unpacking of my religious upbringing. It is a soundtrack to a road trip, or a campfire, or an awesomely epic mental breakdown.
Caroline Romano Shares 'Hollister' EP
With the 'Hollister' EP, Caroline is able to showcase the versatility of the single. "Hollister – Nightcore Version" amps up the pop-punk energy of the track, while the slowed down version, "Hollister (I Want To Be Her Version)," allows the emotion of the lyrics to take centerstage.
Nashville Songbird Tori Tullier Releases New Single
Written during the bleakness of quarantine, Tullier was questioning everything. "I was cleaning my baseboards, yes I actually did that, and had a bit of a breakdown to be quite honest. What was I doing, where was I going. My music career hadn't quite panned out how I thought it would," she shares. "When I picked myself up and went to the piano the chorus just fell out. I guess I needed to hear it."
Single Out Today from IMBER
IMBER is an English indie electronic project featuring brothers Ben and James Imber. Their sound combines electronic influences with intimate vocals, funky percussive guitar and soulful keys.