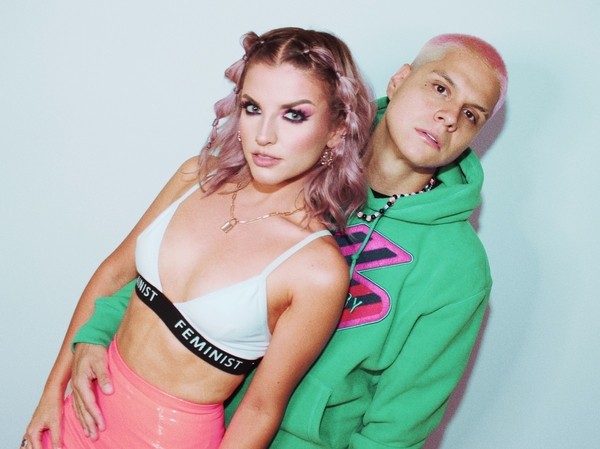 @skopemag news – thursday – june 2, 2022 @ 12 pm est
@skopemag HQ – http://smarturl.it/skope
ALEXANDRA MVP: ES FESTEJADA COMO REINA EN EL DÍA DE LAS MADRES DOMINICANAS
La queridísima empresaria e influyente, Alexandra Hatcu, conocida popularmente como Alexandra MVP, con motivo de la celebración tan especial del "Día de las Madres" en República Dominicana, la personalidad posó con su pequeña Charlotte quien la convirtió en madre.
Una entrañable imagen de madre e hija que presumió con orgullo la exitosa empresaria en sus redes sociales quien además fue celebrada en este día tan emotivo, por todo lo alto desde un jet privado a 30,000 pies de altura rodeada de hermosas rosas rojas y diversos detalles inigualables.
Randie O'Neil's New Americana and Folk Rock Album "Full Moon Rising" Reveals Her Intimate Songwriting
Full Moon Rising really explores finding your way through tough times and explores relationships during those tough times. During the dark times of Covid 19, Randie found a way to stay connected to her friends and community. She found a way to explore and expand and even inspire. Full Moon Rising deals with being cooped up and isolated but determined to stay connected to those who matter most. She felt like every day was full moon and Randie was restless to go out and be able to explore. She used that energy to write.
Miss Christine kicks off Pride Month by unveiling lead single from forthcoming album
Miss Christine is ready to take listeners beneath the surface to show how first impressions are usually little more than illusions.
Christine Moad (they/them), an Iowa bassist and singer-songwriter who records under the moniker Miss Christine, has shed societal expectations in recent years as they've explored their genderqueer identity. "Can't See," their new single released Wednesday to coincide with the first day of Pride Month, documents part of that journey.
Track Out Today from Ruru
Ruru is the solo project of Denice Quimbo, an artist and singer/songwriter originally from Manila, Philippines. She began writing music in 2014, fueled by various influences of twee, alt, R&B, jazz, and bedroom pop. She writes with the witty lyricism of someone who was once 13; her verses are mangled scenes that seem to have been taken straight out of a living room party involving balloons, aquariums, fizzy drinks, and lots of introspection.
New Nathan Xander Album, French Creek Flood, Out Today
Nathan Xander is following up 2017's Blue House with the wryly humorous and often touching French Creek Flood. Named after the creek that runs through his small hometown of Union City, PA; the album is a perceptive look at life's transitional moments, capturing Xander and his band before pivotal changes—a new lineup, Xander's quitting alcohol, and the pandemic's impact on musicians everywhere. French Creek Flood will be released digitally on June 2nd, 2022.
California based artist and poet Caleb Nichols just released via Atwood Magazine a stunning music video for "Jerome" new single taken from "Ramon", his upcoming album out June 24, 2022 via iconic indie label Kill Rock Stars.
WYLDERNESS — Release Shimmering New Single "Wet Look" || New Album Out This July
Arriving like a thin ribbon of sunshine cutting through an ash-grey sky, Wylderness' latest offering "Wet Look" blends doomy shoegaze sensibilities with brighter, more rhythmic moments that echo the pull of the coming summer months.
LAURAN HIBBERD shares effervescent second LP single 'I'm Insecure' | out now via VIRGIN MUSIC
Ada Marques Releases Dreamy Debut Single, "Bell"
Beginning as an acoustic whisper that mirrors the insecurities and timidness previously felt by Marques, the dreamlike indie-folk track builds into a bold explosion of strings and horns, celebrating her decision to rise up, champion herself, and release her emotions candidly. Passionately reminding her peers to stop replaying and reliving the same moments over and over again in our head, Marques used "Bell" to reinforce that it is on us, and not on those who've damaged us, to dictate what life we will end up living.
F4ST Share New Single "Love Nwantiti"
Fainal and SaraTunes are the Colombian DJs, producers, singers and songwriters better known as F4ST. The first and the only Latin male/female electronic duo, they have been listed as one of the most important DJ/producer acts in Latin America thanks to a string of successful releases that have accumulated well over 40 million streams on Spotify alone. And they look set to add further to this and keep their momentum going with the release of their brand-new single, "Love Nwantiti".
Featuring their signature slap house beats, the infectious track packs a punch and will no doubt be another success for the duo. Speaking further on the new release, F4ST say, "What we love about this song is that we were able to make our own version of it, and to put a print of our style (slap house) on a hit like this makes us proud and happy."
Raffaella shares irresistibly catchy "BUICK" via Mom + Pop + supporting Del Water Gap
"Buick" is a breakup song, flurrying with all of those anxieties and feelings of relief and exaltation that come along with finally seeing that someone isn't actually all that good for you. Percussion chugs along, propelling you into the infectiously catchy chorus, with Raffaella's voice yo-yo-ing perfectly up and down a meandering scale. Co-written with singer/songwriter Charlie Hickey and Marshall Vore (a songwriter/musician known for his work with Phoebe Bridgers and Christian Lee Hutson), "Buick" brings Raffaella's ultra-vivid storytelling to the tale of a far less charmed romance.
New Japanese singer Natumi. performs 'AMAIM Warrior at the Borderline'
With her powerful singing voice and air of mystery, female singer Natumi. recently made her debut with a single produced by Hiroyuki Sawano.
'pARTs' is currently available in pre-release form on digital music platforms, along with a music video also out now. The CD edition was released June 1.
San Fermin Shares "Tired of Loving You" Single + Lyric Video
Today, San Fermin shares a brand new single entitled "Tired of Loving You." The band will share more new music this year via Better Company Records.
CAFUNÉ SIGN TO ELEKTRA RECORDS
BATTLELORE Premieres Middle-earth Inspired Music Video for New Single "Elvenking" from Upcoming Album "The Return Of The Shadow", out this Friday!
This Friday, the time has come to wield your sword and charge back to the battlefield, as Finnish heavy metal force BATTLELORE returns with their brand new studio album The Return Of The Shadow! More than 10 long years since their last offering, Doombound (2011), June 3, 2022 will finally see the Tolkien-inspired masters of epic, fantasy metal release their much awaited, seventh record on Napalm Records.
David Poe – New Music Video Out Today
David Poe's exuberant new single "Post" is out now on ECR Music Group. "Post" is a light-hearted, 1960s-tinged breakup song for the modern era––one in which your ex is falling in love again and celebrating it in posts on social media. "I'm happy for you," Poe sings to his ex about her new love interest, "but I wish I didn't know who it was."
NEBULA: new album + track announced on HPS Records!
Californian heavy psych legends NEBULA return this July 22nd with their seventh studio album 'Transmissions from Mothership Earth' on Heavy Psych Sounds. Listen to its debut single "Highwired" now exclusively on Invisible Oranges!