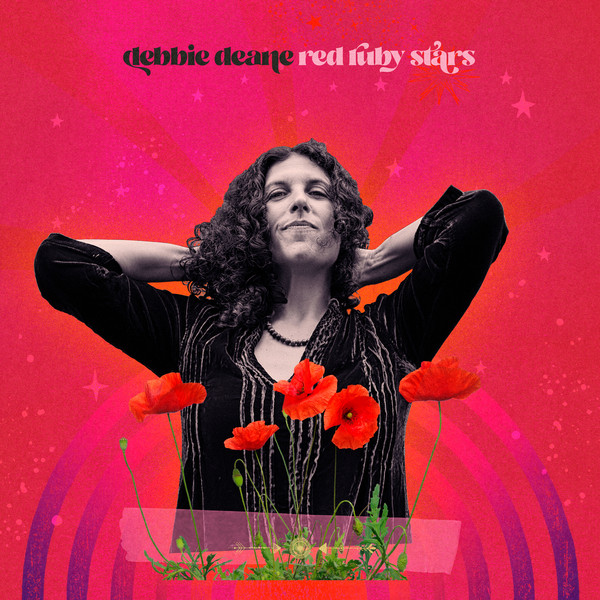 Debbie Deane is a talented composer/pianist/vocalist from Brooklyn and is releasing her highly anticipated 3rd album called 'Red Ruby Stars'. There are many layers & dimensions to this record but all material is 100% genuine, honest and original. Debbie Deane is digging deep on the new album and not holding back at all. Reflecting on life through all the trials & tribulations as well as the happy memories and joyous occasions, Debbie battles the dynamics of human emotions head on and comes out victorious in the end!
'Red Ruby Stars' kicks off with a song titled "La Dee Da" and right away the listener is transported to a happy-go-lucky world where pleasing melodies are the standard. "La Dee Da" is a real treat and joy to hear as Debbie Deane is definitely starting off on the right foot. Next, we hear a wonderful arrangement, smooth vocals and stellar instrumentation on the title track "Red Ruby Stars (Donny McCaslin)". Track three, "Ghost", is scary good musically, vocally & lyrically as Debbie plants an infectious groove that will appease the ears. Moving along, we are subjected to a commanding performance by Debbie Deane on "In This World". Debbie provides a strong delivery as she is owning the space & moment on "In This World". On track five, "Walkin In the Rain", prepare to soak up this bright number full of catchy sunshine and shining flavor. Debbie Deane is supplying much depth on "Read My Mind" and giving the audience an insightful experience that has its own distinct charm overall. Track seven, "Missing You", showcases Debbie Deane as a strong vocalist and proves that she is rising to the top! Pleasant music will surround your eardrums next on "Waiting" and in turn will make you smile inside and warm your soul. "Label Love" is the following song and what a peppy tune this is that will attract many listeners. "Label Love" just feels right! Track 10, "Forbidden", contains an intoxicating melody with Debbie Deane standing tall in the spotlight. One will receive a gripping performance on "Give Me a Chance" where Debbie does a fantastic job with this song that is musically rich. I would say a fitting finish for Debbie Deane on "Sweet Melody" because stunning melodies embody this entire record and Debbie does not disappoint with the closing number. "Sweet Melody" proves that all of the musical pieces are placed perfectly here with nothing out of place. Nothing left to say but a "Sweet Melody" to my ears.
With elements of jazz, pop and folk, Debbie Deane blends it all together in brilliant fashion. Proving to be an excellent singer/songwriter with a pristine & soulful voice, Debbie Deane has plenty to be proud of on her latest release. 'Red Ruby Stars' also features acclaimed musicians and they are: Donny McCaslin (David Bowie) on saxophone, Tom Guarna (Oteil & Friends) on guitar, Marvin Sewell (Cécile McLorin-Salvant) on guitar, Christopher Thomas (Macy Grey, Norah Jones) on bass, Alex Alexander (Dido) on percussion and Brian Blade (Joni Mitchell, Wayne Shorter) on drums. 'Red Ruby Stars' is a terrific album with heavy substance, so be sure to pick up a copy and also check out Debbie Deane if you enjoy pure quality and well-written songs.
https://www.facebook.com/DebbieDeaneMusic
https://www.instagram.com/debbiedeanemusic/
https://open.spotify.com/artist/5qMbB3kvVs7EbV9zFtrjDl
By Jimmy Rae