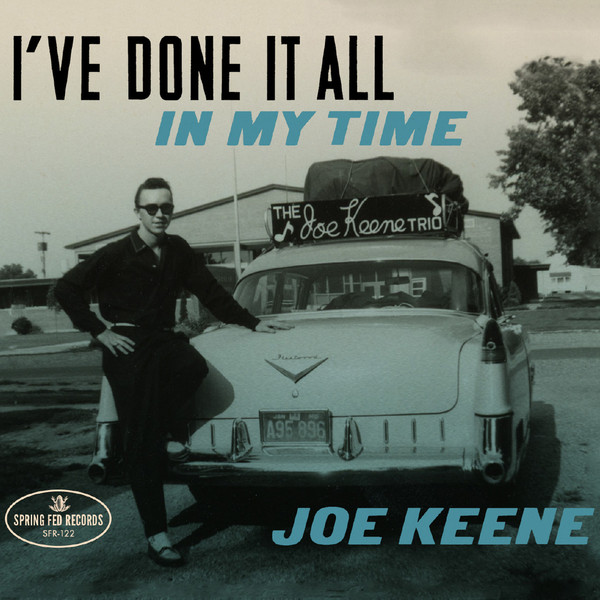 Joe Keene has been recording and performing songs for over 60 years and this new album, 'I've Done It All In My Time', is a true testament to Joe Keene's longstanding career in music. With 20 songs on this new album, Joe Keene offers a flashback to the golden oldie sound. It comes as no surprise to me to discover that Joe's major influences included Rockabilly legends Jerry Lee Lewis and Carl Perkins. You hear that early rock 'n' roll along with elements of classic country, bluegrass and gospel. The songs on 'I've Done It All In My Time' are refreshing and bring the listener back to a simpler time.
The record starts up with the title track, "I've Done It All In My Time", and provides an upbeat melody and good times where you'll want to hit the dance floor. Next, a slowed-down tempo is in place and Joe Keene is setting the mood just right for "It's The Sweetest Lips (That Tell The Sweetest Lies)". Track three, "Last Night Was My Last Night With You", is a fun jam with a laid back sound that you can kick back to. Enjoy that nice, old-fashioned country charm on "What Do You Use For Money" while "It's Not What You've Got" is easy on the ears. Track six, "I Don't Mind Being Tied Down", is a wonderful song that is full of emotion and then get ready to let loose and enjoy the toe-tappin' rhythm on "I'm Gonna Get It Right Tonight". The following song, "Till Something Better Comes Along", Joe Keene is calmly kickin' up dirt and draggin' along at just the right pace. Track nine, "I've Never Been This Close to Heaven Before", offers up heartfelt lyrics with tender notes, so embrace the comforting sound that will warm your heart. It's time to hit the road in style on "Hitch Hikin' Soldier" while a driving rhythm is hitting you head on. The bluegrass element is alive & well on "The Ballad of John Henry" where the listener will want to jump in and join the lively jamboree! Track 12, "It Just Keeps Getting Better'", supplies an infectious beat that will get you movin', clappin; and dancin'! I appreciated the Christian reference on "Get It While You Can", where one can stop to thank Jesus for everything and pray for a minute. I love the message on "Pass It On" where it's all very positive and emphasizes doing good deeds for others. On track 15, "You Can't Have a White Christmas (When You've Got the Blues)", you receive a cool twist on Christmastime tunes where Joe Keene hits you with the blues but still keeps everything cheery and joyous in nature. Joe is going very personal next with a touching song about "Daddy's Old Hat" that will definitely pull at your heart strings. Moving along, old-fashioned country is pumping through your speakers on "I've Got A lot to Get Over" where I pick up on a Hank Williams vibe from Joe Keene and is very appealing to listen to. On track 18, "Lying to Myself", Joe is going with mellow 'n' melodic that goes straight to the core and then get ready for a fan-friendly number on "What's Been Buggin' Me". The rock 'n' roll spirit is in full force on the final song, "Nobody Can Do It Like Me" where Joe Keene is simply on fire and proves that he can boogie with the best of them!
I am thoroughly impressed with Joe Keene's efforts on this new album and love the throwback sound. Joe has a cool style vocally, musically and lyrically and proves that good music never dies. 'I've Done It All In My Time' is a big hit in my book and you should definitely check out Joe Keene.
https://www.springfedrecords.com/
https://open.spotify.com/artist/7qi0BbGodkuYSxWNI6Oap4?si=f4wOwwH7QIuzZVqnh4IPLQ&nd=1
By Jimmy Rae