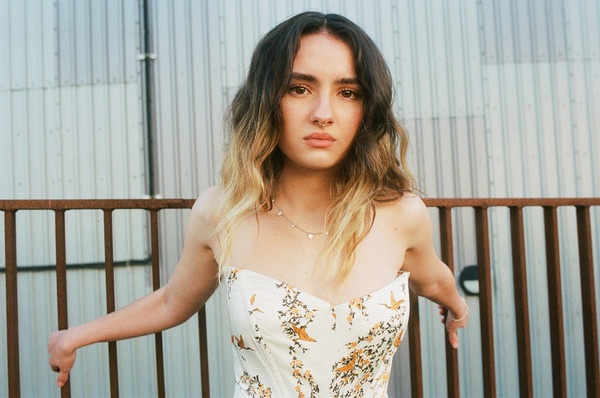 @skopemag news – monday – may 30, 2022 @ 2 pm est
@skopemag HQ – http://smarturl.it/skope
FALSE HEADS — Unveil Vehement New Single: "Mime The End" || UK and Ireland Live Dates This October
Produced by Frank Turner, the clangorous new cut comes as a second glimpse into the band's long-awaited new album 'Sick Moon', set for release on 30 September 2022 via Scruff of the Neck Records.
OUT NOW // Valencia Grace – "Goodbye"
(Newcomer Valencia Grace's sophomore song "Goodbye" is charged with unadulterated, honest emotions that hits like a direct punch to the heart divinely delivered by vocals that feel incredibly homely. Goodbye is out now via Ministry of Sound (UK) and Columbia (US & France).
(Reminder) Alex Pizzuti Feat Shibui – I Don't Wanna go to school (Ultra Music)
Italian DJ and Producer Alex Pizzuti marks his debut single "I Don't Wanna Go To School (feat. SHIBUI)" on Ultra Records. The track is a powerful electro / bounce track with vibrating vocals from SHIBUI which is perfect for the dancefloor.
It fits perfectly for the upcoming festival summer and spreads the dance mood. With a catchy and harmonious break to a powerful drop, this track convinces all along the line.
New Promo: VIRGIN IDOL (UK/USA) – VIRGIN IDOL – (Traditional Heavy Metal)
"Virgin Idol was started in summer of 2020 in the midst of the Covid-19 pandemic by guitarist Scott Michaels and vocalist JR Preston. JR and Scott met while performing as session members for US black metal legends, Lord of Depression. JR is known for his black metal bands Blood Cult, Tjolgtjar, and Xexyz. Scott is known for his past accomplishments with black metal band Forest of Witchery featuring drummer Kevin Talley (dying fetus/suffocation/Napalm death) on 2017 release. In October of 2020, Scott and JR attracted the attention of drummer Chris Reed from UK punk/glam outfit, New Generation Superstars – known for their outrageous stage shows and performances, while receiving shoutouts from Kerrang Magazine and Bruce Dickinson from his BBC radio show, touring with legends like Saxon, twisted sister, LA Guns, Vain, etc. Virgin Idol was started out of a love and passion for traditional heavy metal, 80s metal, and thrash metal. In October of 2021, Virgin Idol finalized their debut album with mastering completion taking place in February."
WHAT SO NOT DROPS NEW SINGLE 'MR REGULAR' FEATURING OLIVER TREE AND KILLER MIKE
With this hotly-anticipated track already previously whipping up a frenzy amid a leaked version finding its way online a little while back, it's def been a labour of love to finally get to the point of release, but What So Not is so ready to share this scorching track with the world at long last, as he explains, "It's one of the biggest songs I've ever been part of, tied up in red tape for too long. I know how much the fans and community want this one… Mr Regular is about the difficulty that we face through our childhood and career progression as clueless superior figures try to control and shape our path".
ATLANTA-BASED ARTIST CEO TRAYLE PARTNERS WITH 10K PROJECTS + DROPS THE COLLECTION MIXTAPE
Checking in at eight tracks, Trayle's latest release boasts slick production from MoneyMusik and Ambezza. It was preceded by "Head Doctor," a single that manages to be as gruesome as it is romantic. Equal parts style and menace, The Collection only reaffirms Trayle's penchant for wordplay and unflinching street narratives, a powerful combination that's made him one of rap's most exciting rising voices.
PINK FLOYD TO JOIN TIKTOK
Users will be able to access official Pink Floyd sounds from each track featured across Pink Floyd's 15 studio albums. They can acquire a comprehensive library of official Pink Floyd music for their own TikTok video creations. Each user will be able to utilise audio clips from the band's career including tracks such as See Emily Play, Money, Another Brick in the Wall (Part II), Comfortably Numb, Wish You Were Here and High Hopes to name just a few.
Oiee video debut: A collection of several background scenes of a tour
Clarke John blends alternative hip-hop and R&B on new release 'Sunsets'
Chill-hop artist Clarke John is back with his brand new single 'Sunsets'. The genre-blending track mixes Clarke's signature chill-hop sound with a smooth R&B vocal line and tranquil synths. Authentic emotion resonates throughout the lo-fi offering, Clarke shares more about the meaning behind the track:
"Sunsets takes a melancholic look back at a past relationship, expressing hope and concerns about how differently it could have gone. As a sunset represents the closing of a day, I chose that title to represent the closing of that relationship."
Inner Child – touching music video by NORDIR
BESVÄRJELSEN: new video and album out now on Magnetic Eye Records!
Following up with the release of their new videos "Digerliden" and "Clouds", the forest rock foursome presents their hard-hitting third single today. Singer Lea Amling Alazam reveals: "First time I heard the riff for this song I knew I wanted to go punk and messy with the melodies and lyrics. I had been reading 'The Seven Deadly Sins' by Karin Boye and the book was lying on the table as I was listening to the track. The first line that came to mind was 'a rollercoaster of the seven deadly sins.' Life is a fucked-up rollercoaster and you never know how the path will turn next, so I wanted to celebrate the ugly parts of life. We live in a glass house society, in which people want to portray themselves as if they have their shit together and be on the right side of life, while most of us are messed up, confused, horny bastards with no self-control. It's okay to be a fuck-up. It's okay to run through life not knowing where the hell the road is going. But if you are the type of person, who always gets super drunk and cries at parties, maybe it's time to go and see a shrink. Because chaos is fun, but taking mental health seriously is even much cooler. See y'all in hell!"
Female President's third single "Sacred Voyage" has a beautiful message that shines through tragedy
From their forthcoming EP "Our Year To Grieve", Female President tells the story of a woman's journey who has had enough in the song "Sacred Voyage". A sonic departure from Bring Back The Ghosts and Nine Nineteen; cello and violin are feathered into the song to convey the mood of somber beauty and tragic endings. The woman in the lyrics is a bright light who can't find her spark or joy for living . Sacred Voyage is dedicated to family members lost during the pandemic, and for all those who suffer silently with mental illness and depression.
VALLEY OF THE SUN: new single "Headlights" available!
Ohio's heavy rock pillars VALLEY OF THE SUN present the third single taken from their new album "The Chariot", to be issued on June 17th via Ripple Music and Fuzzorama Records. Hit speedlight with their new anthem "Headlights" now!
NCT DREAM RELEASE NEW SINGLE AND REPACKAGE ALBUM, "BEATBOX"
MEXX HEART RELEASES TOUCHING NEW SINGLE IN MEMORY OF BROTHER
With gripping lyrics like What could we have done different? What did I need to say? I swear I kept your secrets in my heart buried away, "Another Chance" is a beautiful acoustic tribute that will pull on the heartstrings of many.
This is a music release from Mac Foreign
Check Out DYMBUR Official Music Video for Explosive New Single, "Child Abuse"! FFO: BLOODYWOOD, THE HU
Shillong, India based, Khasi Thraat Folk Metal band DYMBUR has unleashed the intense, stunning music video for their exquisitely incisive new single, "Child Abuse." Originally premiered with GHOST CULT MAGAZINE, "Child Abuse" aims to raise awareness and needed funding to address and combat the very real and incredibly debilitating social problem.
BLOOD OF INDIGO Release Video "Angelus, the 'Faceless' Vampire"
Canadian fantasy metal band BLOOD OF INDIGO have unleashed a stunning animated video for "Angelus, the 'Faceless' Vampire". The song is from their album Dawn of the Shaded World which will be out this summer.
The band comments:
"This song holds a very special place in our hearts. We really experimented with song structure, cinematic vibes, sound design, and the overall character of this piece. Angelus is such a unique character too. I've always had a passion for creating characters and giving them an origin story. This song definitely brings that out of me. Especially in my lyrics and performance in the recording."
Canada's DK x Ghettosocks Focus On Graffiti With New Video "All In" FT. O.C & Moka Only
[New Video] Jay Royale & Snowgoons ft. Nems – Finga Printz
From Baltimore to Coney Island. When the Snowgoons teamed up with Jay Royale the mission was clear: Jay Royale delivers authentic street lyrics and the Goons digged deep in the grimey crate for those bangers.
The brand new album from Neonlight has finally dropped
The brand new album from Neonlight has finally dropped. After a sleuth of singles, seeing some of the most cutting edge music the duo have produced since their first stint on Blackout Music, Neonlight marks this historic release by returning to the platform for another massive selection of tracks. Including singles 'Scarface' with label heads Black Sun Empire, 'Desire' ft. flowanastasia, 'Hero of my Youth' and 'Kinski / Triumph' , there's nine brand new records from two technically revered German producers. Taking listeners through a range of emotions, from the uplifting sonic whirlwind of 'Desire', to slamming collaboration 'Scarface' with Black Sun Empire, they've already proven the complexity and diversity which has breathed life into their music and this is something which continues with the forthcoming release of 'Vanity Fair'.
[Single] U-nik Stylez ft. Diabolic – Talk Mine prod. by Steps Necessary
Reading, PA emcee U-nik Stylez connects with respected Long Island vet Diabolic on his latest single "Talk Mine" produced by Steps Necessary. This boom bap track provides the perfect sound to capture the raw, grimey era of 90s Hip Hop. Diabolic, who's no stranger to controversy, sets it off with U-nik anchoring the track. Both emcees take turns displaying their lyrical ferocity with references from "Slim Shady" to "A Bronx Tale."
New Promo: Lord Of Horns (USA) – Few Ever Survive The Night… (Black Metal)
Unleashed from the amalgams of his previous projects, Lord of Horns reconnects with his natural elements of dark artistry. Returning to pure Black Metal inspired by horror, dark fantasy, and Norse paganism, his compositions integrate the savage speed of the genre with somber melodies creating dramatic scores full of atmosphere and harshness.
NYC's Razor Braids shares new song "Megachurch"
Today Brooklyn band Razor Braids shares a new acoustic song, "Megachurch," which despite the title, is not a searing takedown of modern-day religion.
Nigeria's Most Notorious Artist – Naira Marley – Releases Latest Album 'God's Timings The Best' on Marlian Day
The Marlian Music frontrunner has assembled a roster of exceptional talent including South African poet and songwriter Busiswa, Jamaica's Jada Kingdom, French rap star MHD, and fellow Marlian Music artists Zinoleesky and Mohbad to craft a 14-track classic set featuring production by Rexxie, AYK, Niphkey
, Diquenza and Leo Beats. The project's production and sound has been strategically crafted to speak to the Afro-Caribbean global diaspora, taking cues from Yoruba, Angolan, Dutch and French sounds, cultures and dialects.
BROCKHAMPTON's Merlyn Wood Speeds into His Own Lane with "GREEN LIGHT," OUT NOW
All signs point to "GO" as Merlyn zooms into his post-BROCKHAMPTON era. Driven by his fiercely unique personality and shameless energy, Merlyn Wood has no plans of slowing down– this song and video are the first in a set of four to be released each week leading up to June 20th. With "GREEN LIGHT" we're given a sense of where his thoughts are as he looks toward the future, and the possibilities are endless.
Video: Merlyn Wood – "GREEN LIGHT" (Prod. by CONNIE)
Directed by Miggy, the new video for "GREEN LIGHT" gets its power from Merlyn's wide-eyed charisma, taking inspiration from video games and Merlyn's freewheeling lifestyle. The 26-year-old artist fires up his Nintendo 64, which magically works without a cartridge and allows him to instantly customize everything in his life–from his outfit, to his whip, to his girl. Rocking ski goggles in the Cali sunshine with a mischievous smile on his face, Merlyn is enjoying life as master of his own domain.
New Promo: Nicarus – Holy Sun Father Spirit – (Post Rock/Metal, Stoner, Doom, Sludge)
In her own words: "most labels today are just trying to hold heads above water since it is the worst business plan to sign a metal artist for split royalties, probably worse than opening a sex shop in a church, surely over a 10 minutes of pain in frequencies that obviously so hard to sell, when I will write sweet melodies that can be played in movies and pc games I might consider work with other people to sell it so I can focus on the art, but until then I see no reason to go through a collab that will make everyone suffer, the internet is open, if what you look for is to get your art out there you don't need a label, you need a pair of balls, man or woman". – Nicarus