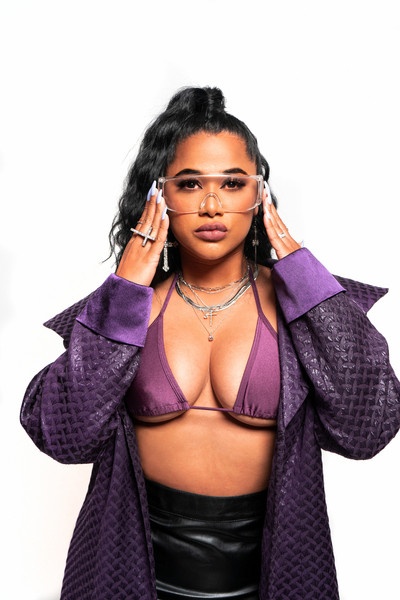 @skopemag news – thursday – may 26, 2022 @ 11 pm est
@skopemag HQ – http://smarturl.it/skope
M.I.A Releases New Track 'The One.' Confirms New Album Is On The Way
Groundbreaking global trailblazer M.I.A returns with a brand-new track titled 'The One.' Produced by Rex Kudo & T-Minus, 'The One' signifies a compelling new era for the multi-talented artist and activist, who remains one of the most captivating and innovative creators of a generation. The track comes with confirmation that a new album titled 'MATA' is on the way.
Watch ▶ Ir Sais x Farina x Konshens "Flauta"
Today, the multi-platinum Bonaire singer, Ir Sais drops his fiery new anthem and visual for "Flauta" ahead of his anticipated EP, Deeper X (Part 1), out tomorrow May 27, 2022 via Sony Latin. Its U.S. broadcast premiere aired last night (W. May 25) on REVOLT TV network.
ELIZA Unveils New Single "Heat Of The Moon" || Out Now on Different Recordings/ PIAS
Today, ELIZA releases her new single "Heat Of The Moon" and its accompanying video. "Heat Of The Moon" follows ELIZA's previous single, the minimalist and edgy "Straight Talker" released this past March. Underpinning the song's palpably earnest spirit is its bewitching and bass-heavy production handled by Finlay 'Phairo' Robson. Sonically traversing neo-soul, indie and Hip-Hop sounds.
Check out Peter McPoland's new music video for "Dead Air" from his new Slow Down EP!
NYC's Kristeen Young releases highly relevant video for new single, "Sara Get the Baby"
James "Jimmy Soul" Holvay revisits classic Chicago soul sound of the '60s on 'This Girl' EP
Known to his fans as "Jimmy Soul," singer-songwriter-guitarist-producer Holvay established a formidable rep on the Windy City music scene during the '60s, as the co-founder of the horn-based band The MOB — the major inspiration for another popular local act, CHICAGO — and as the author of The Buckinghams' chart-topping national hit "Kind of a Drag" and three other top-20 hits by the group.
Jeff Eager Shares Somber Yet Funky New Single "Joy"
"Joy," his latest single, is a somber yet funky piece of blue-eyed soul music taken from his forthcoming second album, which was written to sit alongside the greats of analog music's golden age.
Sometimes it can feel like we only hold onto joy for a moment before it slips away. This song captures that universal yearning over a nostalgic, R&B groove.
INVICTUS: Metal Injection Premieres "Exiled" Video From New Solo Project Led By Kataklysm/Ex Deo Frontman Maurizio Iacono
Well-respected as the singer of Kataklysm and Ex Deo, head of Hard Impact Artist Management, founder of Distortion Music Group, and co-owner of hard-and-heavy booking agency Continental Touring, Iacono delivers dynamic new layers of heaviness and melody with his latest creative vehicle. A Latin epithet for various Roman deities, "Invictus" translates to "unconquered" or "invincible," a theme present throughout Iacono's latest output. "I've explored many facets of the music business, from performing, writing, and producing to managing," he explains. "But I'd never explored that deep down energy inside my thoughts which drives me to compete and, in many ways, survive everything thrown at me."
Her new song, "Echo" is an exploration of the tip into obsession, the reckless romanticization of an oppressive dynamic, and the underlying sadness that often drives it. Haunting and intimate, this song aims to draw attention to the often enticing nature of toxicity.
In The Valley Below Present "Candy Hearts"
"Candy Hearts is the story of a fun, indulgent and shallow relationship," says Angela Mattson, "the kind of relationship that is exciting but going nowhere. Inspiration came from many past love affairs. It started with this cool, dark instrumental track where we sampled our friend's dog growling. The sound is buried deep now, but the feel permeates. It's dark and sweet."
JJ Savage Premieres "Close the Curtain" at BWBK Today!
Quote from the band- "We gave our all to deliver the fans this debut shot of JJ's music. We hope the people have as much fun listening and we did creating it . We look forward to seeing the fans up close and personal in the very near future. Love to all "
Just Wondering Release New Single "IDK Maybe" || Out On Lower Third / PIAS
EL ESPERADO EP DE LUCHY DR "LUCKY 7" YA ESTA DISPONIBLE EN TODAS LAS PLATAFORMAS DIGITALES
La cantante dominicana, Luchy DR, lanza hoy el esperado EP titulado "Lucky 7". Un album que contiene 7 temas "Soy", "Dime La Verdad", "Mal De Amor", "Pa' Que Me Llamas", "Confesión", "Te Quiero Comer", y el primer sencillo y tema de enfoque, "Nota" que es con Juan Magan y Maffio. "Nota" es un tema bailable, mezcla de merengue electrónico y música urbana que habla de fiesta y estar en una nota que la tiene loca.
Montreal Grunge-Punk Band BAD SKIN Capture the Crazy-Making Sorrow of a Bad Breakup on "Completely Insane
REZZ RELEASES NEW TRACK "SWEET DREAMS (ARE MADE OF THIS)" WITH fknsyd
On the new track, Rezz says, "I originally started creating this instrumental for Nightmare on Rezz Street but then I started to hear the sweet dreams vocal over top of it. I played around with the vocal and loved the result, but I didn't want it to be just a cover. So I reached out to fknsyd to help me record the vocal and it came together so organically. I'm really happy with how this turned out and it's been so cool playing it live and seeing the crowd's reaction night after night!"
MATOMA PAIRS UP WITH JP COOPER TO RELEASE "MIDNIGHT SUN"
Inspirational Norwegian DJ and record producer Matoma, known for songs like "All Night" with The Vamps and "I Don't Dance" with Enrique Iglesias, has released his newest single "Midnight Sun" with JP Cooper, available now on all streaming platforms HERE. Working together for the first time in their music careers, the incredibly talented artists have seamlessly blended their two unique styles to create one of the top hits for the Summer.
Red Spot Rhythm Section covers Soft Cell and The Cure
Chicago's Red Spot Rhythm Section follows up last year's Won't Back Down: A Roots Tribute to Tom Petty with a double dose of broken-hearted soul, covering two big hits from 1980s Britain:
ClubDisco share French Touch single "Darius"
Parisian duo, ClubDisco share their single "Darius" via Casablanca Sunset.
Reminiscent of Daft Punk and many of the French Touch producers that have come before them, ClubDisco leave little to disappoint on this club-friendly house single.
Press Release: Scars And Guitars (Australia) – Scars And Guitars Volume 1 – (Books- Podcast Memoir)
Short Bio: Contained within the pages of Scars and Guitars, Volume 1, you'll discover thoughts and recollections from conversations with over 90 podcast guests. You'll read excerpts from conversations with the members of bands playing their trade under the broader banners of rock, classic rock, heavy metal, industrial, death metal, black metal, deathcore, thrash metal, punk, and reggae, featuring musicians as diverse as Michael Schenker (MSG/ Scorpions), Don Felder (Eagles), Erik Danielsson (Watain), Phil Campbell (Motörhead), Al Di Meola, Adam Darski AKA Nergal (Behemoth/ Me and That Man), George Lynch (Dokken) as well as bumper entries featuring conversations with the members of Morbid Angel, Anthrax, Megadeth, Napalm Death, Testament, Corrosion of Conformity, and Cradle of Filth, to name just a few.
Dear Masha: new video Where U Wanna B out
American band DEAR MARSHA, release their video for the new single Where U Wanna B today.
With hundreds of shows under their belt and influences ranging from Janis Jopin and Melissa Etheridge to Tina Turner, DEAR MARSHA, is ready to release new music.
SINGER SONGWRITER JESSICA CARTER ALTMAN'S HEARTFELT NEW SINGLE "LUCKY ONE'
Rising pop singer-songwriter Jessica Carter Altman, who is currently putting the finishing touches on a new EP, For You, the follow-up to her debut No Rules, is sharing a new song, "Lucky One"—a heartfelt ballad dedicated to her father. This first single is perhaps the most deeply personal song to date in her repertoire—it's a gorgeously uplifting acoustic ballad that pays homage to the strength and inspiration her father instilled in her. That strength and passion has seen her through many phases of her life—from her fast-track career as a successful lawyer, to the moment that her artistic impulses galvanized her to pursue music. The song was written by Carter Altman and Palmer Lee and produced by Jason Lehning. Also appearing on the song are Todd Lombardo on acoustic guitars, Viktor Krauss on bass, Jordan Lehning on keyboards and percussion, and Palmer Lee on backing vocals. "Lucky One" will be released digitally via Symphonic.