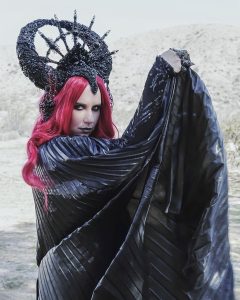 @skopemag news – monday – may 23, 2022 @ 4 pm est
@skopemag HQ – http://smarturl.it/skope
Lucas Laufen shares the video for "Weathering"
Berlin-based, Australian-born singer/songwriter Lucas Laufen releases his highly anticipated second album, Weathering, out May 13 via Embassy of Music. Weathering is a collection of impressions and memories he has collected in Europe throughout the last years. "Like everything I write, the album consists of personal stories, reflections and poems from the time after the release of my first album I Know Where Silence Lives. Weathering is about personal insights, processes changes and looks both to the future and to the past," says Laufen about his musical diary.
Camel Power Club releases 'Bamtak' video & luxurious new dream-pop album 'Narukanaga'!
Ulrich Forman Shares Introspective Single 'Shadows Of Memories'
Today, May 23rd, French composer, songwriter and producer Ulrich Forman shares introspective single 'Shadows Of Memories', the last single taken from his forthcoming new album, 'Chapter IV', due for release on May 27th. Stream 'Shadows Of Memories' Here. Pre-order Ulrich Forman's upcoming album 'Chapter IV' Here.
"RICHRATH PROJECT 3:13" RETURNS WITH NEW SINGLE "HEARD IT ON THE RADIO" AND TOUR
RICHRATH PROJECT 3:13 continues to pay tribute to late/great original REO Speedwagon guitarist, Gary Richrath – with the new rockin' single, "Heard It on the Radio," plus performances throughout the year. Singer Michael Jahnz and Richrath Project 3:13 continue to honor the memory of the late Gary Richrath at every show, and with this new single from the album 'LA Is Mine,' for which its video can be viewed here:
TOMMY FOR SKOPE: DIY artist co-signed by Jack Saunders to release goth-pop single
DECLAN WELSH & THE DECADENT WEST announce EP release date & share new track 'Aw The Time' | out May 23rd
Scottish indie favourites Declan Welsh & The Decadent West announce the arrival of their 'Impermanency' EP, set for release July 4th, and share brand new track 'Aw The Time' today (May 23rd), alongside details of their biggest headliner to date at Glasgow's iconic Barrowland Ballroom.
Ashlee Keyton Shares New Single "I Won't Ever Call You"
Follow the search for Japan's next-generation boyband with new YouTube documentary series 'WARPs DIG' – from training to major-label deal in 365 days!
WARP-Syndicate (commonly known as WARPs) stands for Wind Assemble Radical People-Syndicate, meaning a collective that harnesses the wind of innovation. By operating groups with fixed lineups as well as various projects across multiple artistic disciplines and regardless of age, gender and nationality, it is a collective that aims to create a new landscape where talent can shine beyond existing categories and frameworks. The Japanese-Chinese mixed boys' group WARPs UP have been active as the first act under the WARPs umbrella.
Delicate Steve Shares Video For New Track "Looking Glass", Watch Now
Delicate Steve has shared a video for the surrealist new song "Looking Glass" today, a track that stirs up an air of mystery and restlessness atop a churning, perpetually unsettled groove. Directed by Eleanor Petry the video follows Steve as he walks the streets of Los Angeles playing the riff of the song on his guitar and encountering some mysterious figures along the way. Watch it below.
SINGER-SONGWRITER LOUISE HAVELL RELEASES NEW SINGLE "EVERYTHING'S GONE"
London-based singer-songwriter and performer Louise Havell has had a life well-travelled, full of rich experiences and observations which inform her creativity and fuel her songwriting. She is also a versatile and accomplished multi-instrumentalist. Drawing inspiration from Tori Amos, Kate Bush and Joni Mitchell, her music is very beat-driven but with a strong sense of melody and arrangement. She now releases the emotionally fine-tuned single "Everything's Gone" which follows the gentle and poetic "Running", – and features on her debut E.P. "Shooting With Lives" which will be released on 17th June 2022.
Albert Cummings' New Video "Meet The Man" on CMT Edge this week!
Albert Cummings' new video "Meet The Man" makes its CMT Edge debut this week. "Meet The Man" is one of the standout tracks from his new album TEN and has also been added to The CMT Edge Spotify playlist.
The video features Cummings by himself, performing the song in front of a somber backdrop, fitting the track's emotional lyrics. "Meet The Man" sets a solemn tone, framed as a farewell from someone facing their mortality. "It is a song that has deep personal meaning to me," notes Cummings, "but I think it's universal and an inspirational song too, and I hope people take it that way."
"'Till You Get There," the first single from Ty Herndon's forthcoming album JACOB, ships to radio
"This song is about the trials and tribulations we all face in life — both big and small — that can seem so overwhelming and discouraging when they're happening. But I believe everything happens just the way God intends, and we don't always know what all those bumps along our journeys mean until we reach the end. I wanted to kick off this album with a fun, uplifting, and inspiring song that we can all relate to, and I think we nailed it," said Herndon, who co-wrote the track with Jamie Floyd, Erik Halbig, and Jimmy Thow. Thow also serves as the track's producer.
Delicate Steve shares new track "Looking Glass" | New album "After Hours" out July 8th via ANTI-
Delicate Steve has shared a video for the surrealist new song "Looking Glass" today, a track that stirs up an air of mystery and restlessness atop a churning, perpetually unsettled groove. Directed by Eleanor Petry the video follows Steve as he walks the streets of Los Angeles playing the riff of the song on his guitar and encountering some mysterious figures along the way. Watch it below.
Emerging songstress Nat Slater new R&B release "4 Leaf Clover"
Warmly blending R&B inspired Instrumentals and Nat's signature airy vocals the uniquely talented musician and songwriter showcases her contemporary take on the genre. Reflecting on being "unlucky in love", the introspective lyrics of "4 Leaf Clover" explore the universally relatable struggle of finding romance and comparing yourself to your friends – wrapping it all in a hazy, pop-edged soundscape. Produced by Mark Hill, the duo's longstanding working relationship results in and effortlessly slick and melodic sound.
CELESTIAL SON present new single 'Fakir' feat. Gavin Harrison
Copenhagen-based electronic, progressive rock trio CELESTIAL SON sets out to uncover the unexplored and exciting intersection between modern synth-wave, pop of the 80's, 70's progressive art-rock and the 90's melodic grunge. Today the band present their second single 'Fakir', featuring the legendary Gavin Harrison of Porcupine Tree on drums. The accompanying music video is an energetic one-take dance journey, directed by world-renowned videographer Lasse Hoile and featuring the two talented young European Champions in Electric Boogie, Nuke_N_Sive – watch the impressive music video.
Mamalarky (Fire Talk) share "You Know I Know" / Tour w/ Jerry Paper
Atlanta's Mamalarky released their debut full length on Fire Talk (Dehd, Bnny, Deeper) in 2020. An immediate critical breakthrough, the album saw praise from outlets like NPR, Bandcamp, NYLON, FADER, Billboard, Consequence, Paste and Pitchfork, who highlighted it's "complex instrumental interplay that inspires lean-forward listening." As soon as they were able the band began hitting the road in earnest, touring with Slow Pulp, Jerry Paper and like-minded label mates PACKS and Wombo, which has only seen the buzz around the band grow in the last few months. Today, the band are returning with track entitled "You Know I Know", that arrives with a video featuring the Mamalarky's trusty tour van.
Germany's LEONIDEN Reveal Video For New Single 'Smile' Out Now Via Two Peace Signs
Kiel, Germany-based indie rock band Leoniden are pleased to reveal the video for their new single 'Smile' which is out now via Two Peace Signs.
Available to stream on all good digital service providers, the single will also be released as a limited 7″ vinyl.
Kimberly Morgan York Returns with New Single; LP on the Way
If experience is the birthplace for inspiration, and life provides the touchstones for creativity, then Kimberly Morgan York has a wealth of resources from which she can draw. The roads she's travelled, both personally and professionally, have nurtured her passion and purpose, as well as the ability to convey the lessons she's learned into music that resonates with honesty and conviction. She's faced her share of challenges, but she's consistently shown the strength that's needed to overcome those obstacles and emerge with the dedication and determination that's allowed her to persevere.
Hear Forrest McCurren's Feel-Good Road Song "Little Rock" From Upcoming Debut Album "Oh Me, Oh My"
With a half-time back beat and a feel-good guitar twang, songwriter Forrest McCurren graciously marries a classic rock road song with a classic country love song on his new tune "Little Rock." Sparked by how his messy motel room on the road was compared to the orderly and clean life he led back home, McCurren spun up this rocker that evokes the urgency of a road warrior like himself to make it on home, specifically to his wife Margaret—who sings and plays drums and fiddle on McCurren's upcoming debut Oh Me, Oh My. "The motel room I had booked in Little Rock was a complete mess and the AC wouldn't turn off," remembers McCurren.
Alex G Releases New Track "Blessing" + Announces North America Headlining Tour
Alex G – the Philadelphia singer, songwriter, and producer Alex Giannascoli – returns today with new song "Blessing." The track was produced by Giannascoli and his longtime collaborator Jacob Portrait and comes with an accompanying video directed by Zev Magasis.
Blueface & DDG Team Up Once Again for "Meat This"
Blueface has teamed up with rapper DDG for the new track and video "Meat This." The track is the first release from a new full-length collaboration project due out later this year on 5th Amendment/MNRK. The two rappers are friends who have collaborated previously on several tracks. Most notably, Blueface jumped on the remix of DDG's Platinum-certified hit, "Moonwalking in Calabasas."
R&B SONGSTRESS, DEBBIE, RELEASES NEW TRACK "ALL NIGHT LONG"
Songwriter & songstress Debbie has been singing since her earliest years. Now 23, the fact she was raised in the church comes as no surprise. Raised on a restricted musical diet of Mary Mary and Kirk Franklin, the way the music flows out of her makes her seem like a seasoned veteran: from her reflective but effortlessly relatable lyricism to her rich, resounding voice and her spiritual curiosity, she's a careful blend of refreshingly new and intimately familiar.
Miss FD Releases "Summoning" Music Video for World Goth Day
Gothic, electronic, and overall sonic witch Miss FD has released a brand-new music video for her song 'Summoning'.
Portraying dual roles, 'Summoning' sees Miss FD transform into an ancient sorceress summoning a mystical being in the desert. Clad in black with her signature piercing red hair, Miss FD's movements are compelling and hypnotic as she oscillates between roles. The video was filmed at Joshua Tree in California, and was directed by Storyteller. The video can be seen below.
The London Suede Announce New Album Autofiction Due For Release 16th September 2022
As The London Suede began work on the songs that would become Autofiction, they decided to go back to basics. In a move that recalled their most formative days, Brett Anderson, Mat Osman, Simon Gilbert, Richard Oakes and Neil Codling schlepped to a rehearsal studio in deserted Kings Cross to collect a key, hump their own gear, set up and start playing.
GREYLOTUS Release Music Video for New Single "Chiaroscuro"
Baltimore progressive tech-death metal quintet GREYLOTUS are back with the next single from their upcoming album. Fans can check out the new music video for "Chiaroscuro" (feat. Gareth Mason) via the link below. The debut full-length from Greylotus, titled 'Dawnfall', will see a July 8, 2022 release via The Artisan Era.
DAWN OF SOLACE Share Music Video for "White Noise" and Release New EP! "Notes Of Perdition" out now on Noble Demon!
Dawn of Solace, the solo project of Wolfheart/Before The Dawn mastermind Tuomas Saukkonen, have released their brand new EP Notes Of Perdition, out today on Noble Demon. Just a few months after the release of their latest album Flames Of Perdition, the new EP from the Finnish masters of melancholy offers four intimate and soulful unplugged versions of songs from their latest full-length and is once again an unforgettable journey through breathtaking atmospheres of incomparable class.