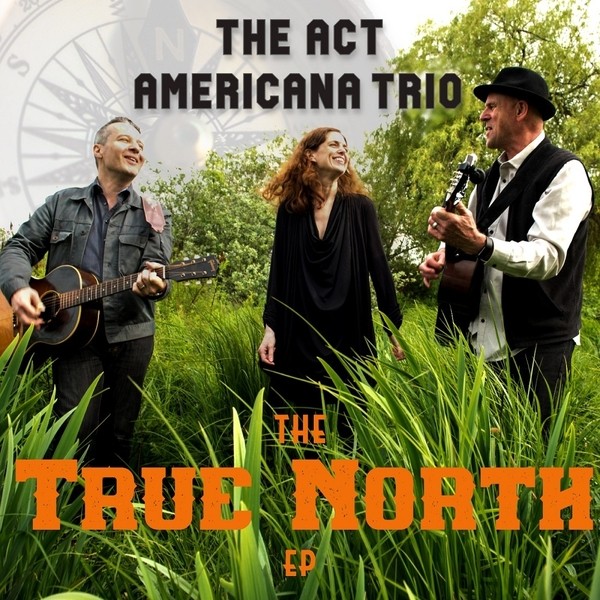 With harmonies that are bigger than the verses they frame, you know you're in for a melodic tidal wave not long after pressing the play button on "Nothin' You Can Do About That." In this song, as well as the other three that join it on The Act Americana Trio's The True North EP, is driven by a simplicity that has been hard to find in a lot of straight country and folk music lately. When you think about how big an influence Americana is having on other genres in this decade, it's not surprising that the demand for something more versatile like this is there, but what's intriguing is that it's coming from an underground group like this one.
There's a continuity between these songs that makes it feel like the tracklist, which totals out to just under fifteen and a half minutes in running time, is meant to be consumed in a single sitting as opposed to being cherry-picked, but I'd stop short of calling this a progressive effort. You'd have to be quite the ignorant critic to dismiss the fluidity of the songs as mere luck; these players have a shared goal, and they're chasing it with immense passion here.
"Rescue Fantasy" has the greatest radio appeal of the four songs in The True North EP, and this isn't because of its catchy hook alone. There's something pure about its production style that lends the identity of the track over to something rustic and familiar, even though it stands on its own creatively. The warmth of this material is really something, and the first time I explored all of the songs here I was immediately drawn to the tonality of the instruments, especially in the way that they complement the vocalists featured in this group.
"True North" is the default title track in this record, and it's ironically one of the more understated performances of any included here. I wouldn't have put it at the start of the EP, but I can also appreciate the calm before the storm-style intro that it's able to provide for the likes of "Whole Lotta Livin" and, later on, "Rescue Fantasy" and "Nothin' You Can Do About That." Making a mood tangible to the listeners is everything in this genre and every other within the western pop lexicon, and this isn't something that The Act Americana Trio needs to be informed of.
APPLE MUSIC: https://music.apple.com/us/album/true-north/1613783300?i=1613783301
The True North EP has a lot of pizzazz in terms of its cosmetic accessibility, but as a work of countrified folk music, it doesn't feel the least bit indulgent next to the bulk of what's coming out of the underground this season. The Act Americana Trio is a fresh face to me, but if this is a good depiction of what they can do when they've got a collective idea in the studio, I don't doubt that they're going to be around in the headlines for a hot minute – especially with The True North EP hitting record store shelves this year.
Gwen Waggoner