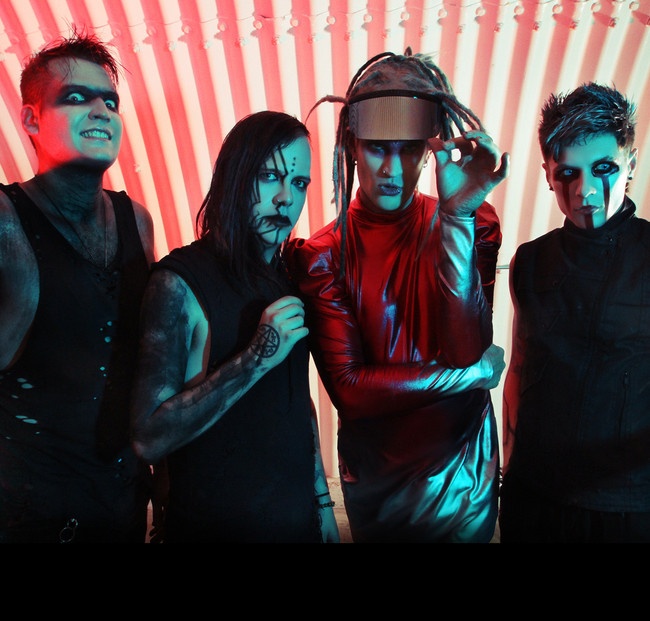 @skopemag news – saturdday – may 7, 2022 @ 1 pm est
@skopemag HQ – http://smarturl.it/skope
Skilla Baby – Tim Dunkin (feat. Sada Baby) (Music Video)
After putting in a level of work on the m-i-c so monumental over the past three years that artist/rapper Skilla Baby now swings fifteen racks a day & tens of thousands of listeners tuning-in for new music every month – the man is set to dominate the top of the charts with his latest joint "Tim Dunkin" this May 6th.
Modern Metal Outfit BAD RESCUE Tease New Single "A Dream"
Modern Metal outfit BAD RESCUE is is teasing another genre defying track "A Dream". The industrial influence, rap infused heavy rock/metal ensemble has continually pushed the boundaries of metal with each single they have released thus far. Previous releases "Battering Rain" and "Wall Eye" set the stage for something impossible to define.
Emotive Soul Pop New EP MTV Approved
Elise Hayes combines infectious pop and R&B melodies with heartfelt and meaningful subject matter. She first sparked attention by having many songs featured on TV shows, such as ABC's "Grey's Anatomy," The CW's "Charmed," MTV's "Siesta Key," and more. The gifted singer-songwriter has further written songs for other prominent artists (Lucie Silvas, Jill Andrews) and has toured the country as a professional keyboard player and background singer (Carly Pearce).
Gooseberry Share Debut EP via Ones To Watch, 'Broken Dance' Out Everywhere Now
New York City-based four piece Gooseberry share their much anticipated debut EP, Broken Dance, via Ones to Watch, who wrote, "if you haven't heard of Gooseberry before, this EP is most certainly the perfect introduction." A bombastic, ambitious four track EP, Broken Dance sees Gooseberry thrive at what they do best: melding genres in a dynamic, thrilling fashion to create a sound that is not only unique to them, but to every song within the record. A melange of indie rock, blues, and jazz, Gooseberry prove themselves to be a band at their peak sonic creativity and cohesion.
TURKEY VULTURE New Single "Little Monsters" Out Now
Connecticut heavy music duo TURKEY VULTURE have released their new single "Little Monsters," On Bandcamp. The song was inspired by the arrival of their second son. Jim Clegg takes over vocal duties and Jessie May contributed guitar tracks.
Clegg comments, "I just wanted to write a cute and catchy song about monsters." May adds, "Compared to the werewolves and aliens of our January EP Twist the Knife, these monsters are a lot more kid-friendly! Our toddler cries when I put on Twist the Knife, but he actually likes this song."
Prismo Fans the Flames of Romance With New Single "Ignite" ft. Elle Vee on Lost In Dreams – Out Now
On his new single "Ignite," he teams up with Las Vegas vocalist Elle Vee on a riveting dance anthem written about the importance of keeping the sparks flying in a relationship, rekindling the passion with galvanizing synths, electric guitar riffs and passion-fueled atmospherics.
Artist: Prismo
Title: Ignite
Label: Lost In Dreams
Genre: Dance / Electropop
Release Date: May 6
BLOOD OF INDIGO Reveal Trailer For Upcoming Video "Angelus, the 'Faceless' Vampire"
Canadian fantasy metal band BLOOD OF INDIGO have revealed a trailer for their upcoming video "Angelus, the 'Faceless' Vampire". The video is set to be released on May 27, 2022 and is from their album Dawn of the Shaded World which will be out this summer.
The band comments:
"This song holds a very special place in our hearts. We really experimented with song structure, cinematic vibes, sound design, and the overall character of this piece. Angelus is such a unique character too. I've always had a passion for creating characters and giving them an origin story. This song definitely brings that out of me. Especially in my lyrics and performance in the recording."
DAVEY SUICIDE "Caught In The Fire" (New Single)
Hollywood based, heavy rock outfit, DAVEY SUICIDE has released their latest single, "Caught in the Fire."
Catch the band currently on "The Right to Remain Defiant Tour" with support from Oh the Horror and The Funeral Portrait.
ANTIMOZDEBEAST To Release Mother Earth
ANTIMOZDEBEAST the industrial solo project of Gabriel Palacio will release Mother Earth on June 3rd, 2022.
Gabriel comments:
"Mother Earth will be released on June 3rd. Its underlying message is the spiritual battle mankind has faced from the beginning of our time. I delve into the human psyche, and reveals possibilities of another world that we cannot see feel or hear yet know exists."
Mother Earth focuses on the spirituality of the individual as well as society and human history. Gabriel has learned to create a new form of expression when it comes to lyrics. With inspiration derived from NIN, ROB ZOMBIE, SKINNY PUPPY, CYGNOSIC and more, ANTIMOZDEBEAST finds his music on a balance of sound, noise, and metal.
MA's SHORT BUSS13 Depicts The Difficult Journey To Recovery With New Single "Rugged Road" FT. Shyheim & Kastro Zaytana
Production duo SHORT BUSS13 follows up their instrumental album Baby's Second Bus Ride with a new dope single Rugged Road FT. Shyheim & Kastro Zaytan. The song is also the name of Shyheim's Podcast and describes the difficult journey to recovery while still remaining true to the classic Hip Hop sound. "We started with some boom bap drums, added some thick bass, got some keys, got the garnishes like the vocal samples and stuff, and bada bing bada boom" says SHORT BUSS13. Check it out now on your preferred digital streaming provider.
SECRET IRIS (GOYA/GATECREEPER/Ex-SPIRIT ADRIFT) To Release What Are You Waiting For on Vinyl
SECRET IRIS will release their debut EP What Are You Waiting For on vinyl via Crisis Tree Records on May 27 2022. The EP was previously released digitally.
WITNESSES To Release The Holy Water EP
WITNESSES, the cross-genre project of multi instrumentalist Greg Schwan, is set to release The Holy Water EP on July 15th, 2022.
The Holy Water EP marks a new chapter in WITNESSES' doom metal sound–slowing the pace further, enhancing the atmosphere, and for the first time bringing long-time collaborator Gabbi Coenen into the metal side of the project. Thematically, the EP explores Bram Stoker's Dracula characters Lucy Westenra and Mina Harker, imagining the characters from different perspectives.
Singer/Songwriter CHANDLER Liberates His Insecurities, Returning to Self in Folk /Pop EP, "Brent"
CHANDLER, our ingenious lyricist, singer-songwriter extraordinare, remains honest with his fans and ever transparent with his identity, leading by example to a place of self-love, liberation, and the simple joys of life. Today marks the release of CHANDLER's EP, "Brent," returning him to an identity that had been shoved aside and artificially altered by the standards of the music industry and all things "Hollywood." This catchy pop-folk inspired piece of art combines intimate, acoustic-based arrangements with warm and familiar melodies, enhancing the generic pop formula and allowing a glorious space for the passionate vocals to really hit home.