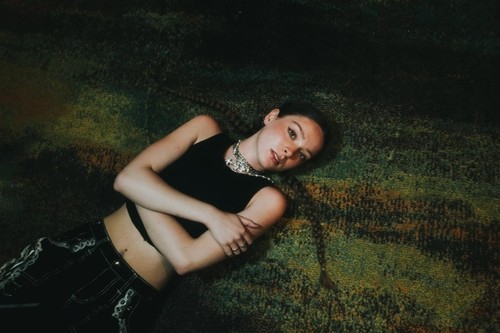 @skopemag news – friday – april 29, 2022 @ 11 am est
@skopemag HQ – http://smarturl.it/skope
Sama-nominated Amy Lilley releases new single, 'Video Games' off upcoming album
Taken from her upcoming album, 'Video Games' is Amy's first release since her debut EP, She. A soulful modern pop track, 'Video Games' is all about learning to love who you are and the things you have to offer the world. Finding comfort in the song and the accompanying game-style music video, Amy recalls, "I was so nervous to talk to anyone and I was always in my head. I found solace in video games a lot, I never put myself out there and it took me so long to come out of my shell. I still am trying to."
Anomalie Unveils Hotly Anticipated Debut Album 'Galerie'
Montreal artist Anomalie has unveiled his long-awaited debut album Galerie, out 29th April on Nettwerk.
A ten-track release, Galerie is a forward-facing LP partly inspired by Anomalie's hometown and the sense of community that it brings him. Citing a glorious genre fusion of inspiration that includes D'Angelo, J. Dilla, Brian Wilson's Pet Sounds, Herbie Hancock's Sunlight and Robert Glasper's Black Radio, the record is a resounding thesis: a road map tracing how consonant styles overlap and interact.
Jauz & Johnny GOLD join forces on new single 'PPL'
Channelling an infectious dance-pop sound, 'PPL' blends smooth vocals and euphoric breakdowns with a driving bassline that's perfect for the dancefloor. Jauz's second single release of the new year, it follows the groove-laden'Bring Et', which was released via Jauz's own Bite This! label. Looking ahead, he has a slew of high-profile shows to look forward to, including EDC Las Vegas, Ultra Europe and Tomorrowland.
Tenderhost (ex-Sistertalk) release debut EP "The Tin" + share new track "After A Good While"
Today, North London sextet Tenderhost have released their highly anticipated debut EP "The Tin".
Formed in 2021 by songwriter/composer Gabriel Levy, he guides his new ensemble – made up of: Tara Cunningham (guitar), Jonny Wickham (bass), Nat Philipps (saxophone), Nathan Ridley (drums), and Alex Parry (keys) – through a highly authored exploration in tension, confession and chronic unease. As composer and band leader, he drifts freely between the sonorous and the eerie, his songs delighting in their narrative unpredictability.
Kwengface drops reflective new single '10 Years'
Taking a step away from the peak-time, high-octane bangers he is known for, '10 Years' sees Kwengface in reflective mood, with the Peckham mainstay looking back on his ten years on the roads and what he has achieved in that time. Shot between London and New York, the accompanying official video juxtaposes his trap beginnings with the luxurious lifestyle he now leads – perfectly capturing the theme of the track in the process.
MARSHMELLO & TOKISCHA TEAM UP ON NEW SINGLE "ESTILAZO"
1NONLY WANTS HIS EX TO QUIT "STALKING" ON NEW TRACK FEAT. SHADY MOON
"Stalking" begins with dreamy acoustic guitar chords and beautiful vocals, before morphing into 1nonly's brand of bass-heavy, phonk-influenced rap. "You should've never traded me for him," he raps, before letting his ex know that he has moved on: "Stop stalking me, stop stealing tees, yeah I need my shit back."
Brian May Goes Back To "Another World" Of His Youth For Brand New Video
Brian May shares a newly-created performance video for the title track of his 1998 solo album Another World – filmed recently in the Canary Island locations where he says he feels "closest to Heaven." The video premieres on YouTube today, April 29th.
 The atmospheric song is a highlight of the album, which is out now in a deluxe, multi-format edition in May's Gold Series of reissues. The 2CD and box set formats feature the remastered original album and the Another Disc collection of remixes, rarities and live tracks.
French Indie rock collective – Glossy Clouds release 'My Devil'
On April 29th, Lyon based indie-rock collective Glossy Clouds, share 'My Devil' produced by Liam Watson (White Stripes), at his all-analogue Toe Rag Studios, London. The new single arrives with an electrifying, self-directed music video, released via UK independent label, KWS Blank Canvas Music. 'My Devil' follows 'Bargain Hunter', and 'Nobody In The Dust' and is the third single to be released from the band's debut album set for release in June 2022. Glossy Clouds released their self-titled debut EP in July 2021.
J-pop diva Ayumi Hamasaki celebrates 24th anniversary with new single 'Nonfiction'!
The single was announced on April 8 to celebrate the 24th anniversary of Hamasaki's debut; it is a pioneering dance track with an R&B groove, composed by Hisashi Koyama and arranged by tasuku. This powerful song leaves a deep impression, containing an intense message for all of us living in the modern age.
Liz Cass releases intimate new single 'Human'
Liz Cass has released her brand new single 'Human'. It is the latest song to be taken from her debut album The Words out later this year via Ultra Records.
'Human' is a raw and honest pop song about dealing with personal struggles and battling anxiety. Produced by Ed Graves, the track's warm bass swells and shimmering synths thrive around the delicate captivating vocals from Liz which provide comforting positivity in dark times.
Latin Alt-R&B Duo COASTCITY Releases 80s Inspired Love Song "Purple and Prince"
LIV SIN: new single and video "The Process" out now
In 2016 singer Liv Jagrell, worldwide known for her vocal duties in Sister Sin, let the world know that she had formed a new band, LIV SIN, a band driven of massive guitar riffs and a heavy modern metal sound. In 2017 the debut album "Follow Me" was released, and the second album "Burning Sermons" was edited in 2019.
Huey Mack returns with new single/video "One of One"
Los Angeles artist Huey Mack returns with his new single "One of One". The new track follows a self-imposed three-year hiatus and is the first single Huey Mack is releasing with Boom.Records. Blending elements of pop and country with Mack's honest lyrics, the laid-back track finds him falling for and enamored with a particular love interest as he bares it all. The accompanying video, directed by Travis Colbert, portrays Mack on a few fun dates, from singing at a Karaoke lounge, bowling, playing pool, and driving around town, bringing to life the intimate and adorable feel of the track.
Future-Pop Artist NAVA Releases 'Gaz' [FFO: Arca, Grimes and MØ]
Toronto Afro-soul musical movement Amai Kuda et Les Bois speak to a higher power on "Eshu" | New single out TODAY
April 29th, 2022 – Today, Amai Kuda et Les Bois – Toronto's favorite musical movement – is excited to announce the release of "Eshu." A prayer, an invocation, a Soca-Caiso jam and a work of political resistance all in one, 'Eshu', like the god to whom it is dedicated, is many different things at once. Eshu is the Orisha (god) of the crossroads in the Yoruba tradition. He is perceived to be a trickster that carries messages and offerings between humans and the other Orishas. He is neither good nor bad, but exists at the conjunction between the two. He is present every time two roads diverge in life and in the world.
PLATINUM POP PHENOMENON JOHN K RELEASES "A LOT" REMIX WITH SIGALA
"I never realized how often I say the word 'a lot' until I wrote this song. The story is about that feeling when you can't get someone out of your head, except for now that person is out of the picture. It's about replaying memories over and over, thinking about the person you wish you never lost. A simple concept really, but I felt like it was one my fans would relate to right away. You ever mess something up so bad and then all you have left is the memory of how good it used to be? That's A LOT." – John K
TrillNagi releases new single "I Can't Love"
The single follows TrillNagi's 2021 single "Dirty Diana," which received approval from Zane Lowe via a duet on TikTok and has amassed over 750K streams, resulting in a booming underground following. TrillNagi's music draws listeners in with his unique adaptive sound, versatility, and storytelling, proving that he has no limits to his success. Stream "I Can't Love" below and stay tuned for more news to follow.
PROFILER Release New Single "Alpha Nine" From Debut EP
In the band's own words "Alpha Nine is a composition detailing personal past struggles with drug addiction. People can become very dependent on needing to escape reality through substance abuse.
iamkyami releases new EP 'The Kenny Klubhouse' via Heist or Hit
The EP features the previously released singles "When I Call" (feat. Lazygirl), "Internet Friends" and "Stars", and follows recent support slots with Yazmin Lacey, Georgia, Pizzagirl, Zuzu and Roy Ayers, widespread press support from gal-dem, Dork Magazine, The Line Of Best Fit and Notion, alongside radio airplay from BBC Radio 1, 6Music, Radio 1Xtra, Reprezent Radio and Worldwide FM.
VIDEO PREMIERE: "One In A Million" by J.S.P.
NEBALA Announce Debut Full-Length, Reveal First Single
After being involved with Heilung for two years, and more recently with the worldwide-acclaimed movie The Northman as songwriter and actor, Jonas Lorentzen decided to focus on his own musical expression, based on a reimagination of Nordic Folk and spiritually driven music. The result is Nebala, spearheaded by Jonas Lorentzen, but assisted and graced by powerful talents such as Sebastian Gainsbourough (Vessel, The Northman, Manchester Collective), Kjell Braaten (Wardruna, Origami Galaktika) as well as non-musician minds assisting in the conceptual development, Doctor Mathias Nordvig (Professor of Pre-Christian Religion at CU Boulder) and Philosopher Naina Gupta (University of Kingston).
ACTION BRONSON DROPS NEW ALBUM + SHORT FILM
Action Bronson isn't anyone's idea of an underdog with a slew of critical acclaim, a New York Times bestseller, successful TV shows; a decade + long career where he's proved time and time again why he is one of the best MCs of our time. And yet, on his brilliant new album, Cocodrillo Turbo, he sets out to prove that his lingual versatility is stronger than it's ever been. "I don't feel like I'm given the fucking respect that I deserve," Bronson explains. Cocodrillo Turbo is Bronson demanding that respect. Cocodrillo Turbo a record that hits immediately, but rewards deep listening and close readings.
REUNIØN release stunning single 'Caves'
REUNIØN are musical pair Eliot James and Jon Green, who respectively have written and produced for the likes of James Bay, Kaiser Chiefs, Bloc Party, Linkin Park and more… Stepping into the limelight with their project REUNIØN, the duo have already gained huge support from Hotpress, Clash and Atwood Magazine.
Alt-pop artist Natalie Saint-Martin defies doubt on "2nd Place" | New single out NOW
Recorded with producer David Holman at his studio in Laurel Canyon, "2nd Place" is part pep-talk, part narration of a decade living in Los Angeles. After making ends meet by working three jobs, Natalie Saint-Martin felt burnt out by life. Envisioning her musical aspirations as more and more of a fleeting dream, Saint-Martin decided to utilize these feelings of hopelessness and self-doubt and put them wholly into her craft. Inspired by the lyrical storytelling she witnessed in Atlanta's hip-hop and country music scenes whilst growing up in the city, Natalie Saint-Martin aimed to focus primarily on one narrative during the writing process: no matter how many times you've felt like you're meant to stay the runner up in life, you are always allowed to be 1st Place in your heart.
altopalo share celestial "starfish in low tide" via Nettwerk
"starfish in low tide" was written in peak isolation, when everyone in the band was feeling that deep loneliness in a very heavy way. It's twinkling and wrought with a gorgeous counterpoint, tugging at the air with lonely guitar loops and the lightest touch of drums. It comes from a place of feeling like running away when you're near and also feeling like running back when you're far.
HD4President Unleashes Music Video for "We Don't Care" !!!
Kit Major Announces Debut EP | Shares New Single "I'm Bitter!" via Wonderland, Read Exclusive Interview with Flaunt Magazine
Los Angeles-based indie pop queen Kit Major is back with an exciting announcement: after sharing a string of singles for the past year, she's ready to share her debut EP! With the announcement, she shares lead single "I'm Bitter!" and it's a breakup pop to remember. Taking inspiration from Y2K pop-punk icons Avril Lavigne, The Veronicas, and Paramore, "I'm Bitter" is an addictive power pop banger packed to the brim with catchy guitar riffs and melodies that'll immediately get stuck in your head. A must-listen for fans of Olivia Rodrigo.
Lil Baby Returns With New Song "Frozen" !!!
Already at the summit of hip-hop, Lil Baby is showing no signs of stopping his climb as he returns with "Frozen," his third explosive effort this month. Despite recently earning a GRAMMY® for Best Melodic Rap Performance for his powerful verse on "Hurricane" with Kanye West and The Weeknd, the Atlanta superstar continues to grind like a hungry newcomer. On "Frozen," Lil Baby raps with a palpable determination as he muses on the trials and tribulations of being one of rap's elite.
Ted Nugent Releases New Album 'Detroit Muscle' and Video "Born in the Motor City"
Motor City Madman Ted Nugent returns with his brand-new album Detroit Muscle. This latest release from Nugent features 11 tracks of pure rock 'n' roll, 10 of which are written by Nugent, plus a soul-stirring rendition of "The Star-Spangled Banner" performed as only he can.
HELMS ALEE RELEASE NEW ALBUM
Seattle three-piece Helms Alee has released a new album Keep This Be The Way available via Sargent House. Across the span of their first five studio albums, the trio zeroed in on different aspects of their sound – a blend of lilting siren songs, crushing Northwest thunder and sludge, angular econo-rock, and heady guitar pop while retaining their no-frills, meat-and-potatoes approach in the studio. But with this Helms Alee have expanded their palette by delving into the production possibilities afforded by recording the album themselves, creating their most dynamic and technicolored work to date.
The Happy Fits want to dance to today's new single, "Dance Alone"| On tour now
Much like previous releases, "Dance Alone," is the ideal companion to a lonely night, one that will brighten any mood and bring anyone to their feet. With a drum machine-backed beat by producer Ayad Al Adhamy, the track blooms from the subtle apprehension that comes with facing your feelings into a full-blown confidence booster. Finding the balance between sincere and plain old fun, the band sings, "Heart is racing / You're to blame / I can't seem to find the words to say / I will never understand / How no one was there to hold your hand / Now, I'm gonna lose a chance / I just wanna ask you for this dance / 'Cause I don't wanna dance alone tonight."
Jane Honor Releases Debut Album, Spiraling in Central Park
Rising singer-songwriter Jane Honor has released her debut album, Spiraling in Central Park. The eight-track collection focuses on the high and lows of life, combining indie-pop and slow beats to create a universal relatable feeling for listeners. "The album consists of themes of loss, love, and recklessness. It deals with growing up, becoming comfortable with oneself, and navigating your own morality," says Honor. Make sure to follow Jane Honor's musical journey by keeping up with her on Instagram @JaneHonor.
A STARR Reveals Her Authentic Self On Debut Single "No Filter"
Singer, songwriter, and performer A STARR has released her debut single "No Filter," out today. Skittering 808s and swaggering baselines set the tone for the anthemic track as A STARR's vocals exude sassy confidence through a punchy cadence. Establishing herself as a bold personality with an even bolder voice, "No Filter" is an empowering declaration encouraging listeners to drop the social media façade and be the real version of themselves.
[Out Now: Experimental Folk, Indie] Appalachian ambience, heart-on-sleeve indie folk on Ethan Woods' Burnout on Whatever's Clever
Ethan Woods wades through humid field recordings and psychedelic songwriting on his latest release, Burnout, released today on Whatever's Clever.
Lil Kee Brings Life to Memories in "Letter 2 My Brother"
UK hardcore band Last Wishes unleash debut album, Organized Hate
Today hardcore band Last Wishes have shared their debut album, Organized Hate out on DAZE (US) and The Coming Strife (UK). The album was completely self-produced by the band and then mixed and mastered by Terror drummer Nick Jett. Across the ten in-your-face tracks on Organized Hate, the band commentates on their upbringing in Northern Ireland touching on life experiences, pain, and anguish.
Holly Humberstone Releases Brand New Single"Sleep Tight"
"It's awkward trying to navigate catching feelings for a friend, as they are often feelings we might have been suppressing for some time. When they float to the surface, you have to weigh up the risks of getting hurt and potentially losing them in your life. I wrote 'Sleep Tight' about the uncertainty of friendships evolving into something more. The first summer out of lockdown was pretty crazy for my friends and I because we finally had our freedom back and acted like we had nothing to lose. This song takes me back to that time of what felt like no consequences and impending heartbreak" – Holly Humberstone
Glasgow indie band Pandas release new EP 'Pandamonium'
Indie-soul four-piece Pandas are set to release their debut EP "PANDAMONIUM" on April 29th. The Glasgow-based band are driven by a burning passion for creating honest music, with strong influences spanning various genres, including Foals, Lauryn Hill and The Night Café. However, Pandas is about much more than the music itself, there is an intimate connection between the songwriting and story that brings together the things we love when listening to good music. Also united in their effort to advocate for equality in music, the indie outfit hope to provide a safe space for those listening, as they have found themselves in the music they love.
DVILA presenta "Quiero fingir"
El artista puertorriqueño en ascenso DVILA, quien ha logrado destacar por su estilo único y versatilidad musical, presenta su nuevo sencillo "Quiero fingir". Un regreso al estilo pop-rock, con una letra muy especial dirigida a los corazones rotos. Disponible en todas las plataformas digitales de música.
ARIZONA ZERVAS IS NOT LETTING ANYONE IN HIS BED ON "EVER AGAIN"
The guitar-driven track features Arizona's signature sharp vocals and a groovy chorus as Zervas sings about cutting things off with a past fling and promising to never let her in his bed EVER AGAIN. The new track comes alongside a video directed by Nick Jandora and features Arizona in the middle of a racetrack in bed as he's fighting on the phone with a girl, all while race cars circle around him –