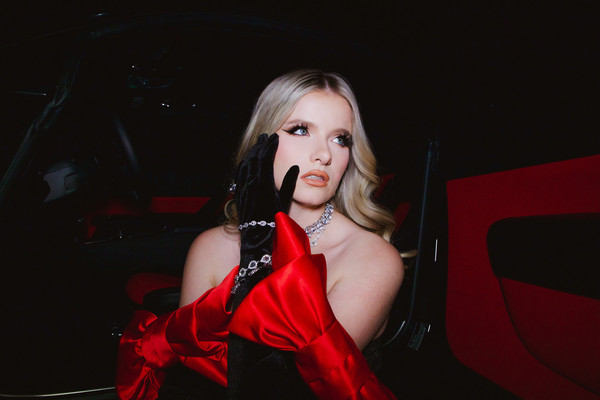 @skopemag news – friday – april 29, 2022 @ 1 pm est
@skopemag HQ – http://smarturl.it/skope
My Favorite Color Gets "Frustrated" With Cappers and Empty Calorie Rappers
Playfully experimenting with inventive flows and offbeat punchlines, My Favorite Color is charting his own path through the modern rap game. Taking time to get some things of his chest, the young artist shares "Frustrated," his new video single. An energetic airing of grievances from the L.A.-via-Pittsburgh rapper, "Frustrated" finds My Favorite Color chewing over his phrasing, delivering each line in an unexpectedly entrancing fashion. He paints the edges of the thumping instrumental with immaculately constructed bars, teeming with tics and jokes designed to amuse himself first, and the audience second: "N***s ain't sh*t b*tch, I'm a feminist."
Check out Alexander 23 support John Mayer at TD Garden on May 9-10!
Alexander 23 (5.3mm listeners on Spotify) has had an electrifying 2022. Most recently he released a live performance of his bold track "Crash" which is the latest taste of Alexander's forthcoming full-length debut, which he has been working on with producer Dan Nigro (Olivia Rodrigo, Carly Rae Jepsen, Conan Gray) – W
American Idol season 16 winner Maddie Poppe shares first new music in three years
Unless you've experienced it firsthand, there's no way to understand just how dramatically instant fame can mess with your head. Maddie went through all kinds of emotions — from elation to self-doubt — after winning American Idol in 2018, releasing her debut album Whirlwind the following year, and then ultimately watching in amazement as many of the people in her creative orbit dropped away.
Pop Songstress Sabrina Monique Unveils 'More Than A Friend' Video [FFO: Dua Lipa, Ariana Grande and Bebe Rexha]
Bryan Carter Releases New Single "Making Love"
Featuring a kaleidoscopic tracklist — "Black American music through the lens of a jazz musician," as Carter describes it — I Believe takes listeners on a journey of love and self-acceptance. "It's a coming out story, it's a coming of age story," Carter explains. "It's along the same lines as mine. But mine is a lot more messy, and it's hard to weave into a narrative. Those coming out videos on YouTube ten years ago, they were really helpful for me. When you actually speak to those people, you just realize that this shit is not that organized. 'I realize I wanted to come out, then I came out, then everything was better.' That's a nice thing to say, but that's not how this stuff works. The honest to God truth is when you come out, you come out every day. Every time you meet someone new, it's like you have to come out again. That's what coming out really is."
UNITED RELEASES BRAND-NEW ALBUM "ARE WE THERE YET?"
Today, Multi-award-winning and platinum-selling artist UNITED releases their brand-new album "Are We There Yet?" Recorded between Orange County, CA and Sydney Australia, the highly anticipated 15-track project includes previously released singles "Know You Will," "Sure Thing" and "On Repeat," which have collectively received over 50M global streams to date. In anticipation of the new album, UNITED unveiled three brand new songs from the compilation, including "Blown Away," "God Song," and "Show Me Your Heart," along with a music video for "Blown Away" earlier this month.
BABASONICOS Release Their New Album Trinchera
Today Babasónicos release their new album Trinchera, the first studio album in four years. As suggested by the title, the album offers a retreat from the current world, an ethereal paradise where the Argentine band displays all of their art in a manifesto of 11 songs that combine desire, mythology, awareness, existentialism and banality.
D'Arcy Shares "Crazy" Single + Video via Wonderland
Today, NYC singer-songwriter D'Arcy shares a brand new single entitled "Crazy," alongside an accompanying music video.
Speaking on the track, D'Arcy wrote:
"'Crazy' is about falling in love with someone and being transported into a different world where just the two of you exist. It is about wanting to feel that intense emotion no matter the cost, which sometimes can result in darkness. I really wanted the lyrics to capture what it feels like to really fall in love for the first time, where your whole world becomes this other person and you would do anything to keep that feeling alive."
DEREK SHERINIAN shares new single "The Vortex" from upcoming album
World acclaimed keyboardist Derek Sherinian, (Sons of Apollo, Black Country Communion), one of the most significant keyboard players of the modern era, will be releasing his upcoming new album, 'Vortex', on July 1st, 2022 on InsideOutMusic. Returning alongside Sherinian is legendary drummer Simon Phillips, who once again co-wrote and co-produced the album, as well as Tony 'The Fretless Monster' Franklin, on bass.
Mall Girl release debut album Superstar and share live video for 'Close My Eyes'
Today, Norwegian math pop four-piece Mall Girl have released their debut album Superstar via Jansen Records. To mark the release, the band has shared a brand new live video for album track 'Close My Eyes', recorded at Studio Paradiso in Oslo where they recorded the album.
DOMi & JD BECK RELEASE DEBUT SINGLE "SMiLE"; VIDEO DIRECTED BY ANDERSON .PAAK OUT TODAY
The video stars DOMi & JD BECK along with Mac DeMarco, who plays an aging jazz legend who has lost his hearing, plus cameos by .Paak, Thundercat, and more.
St. Lucia Releases 'Utopia I' EP
Led by husband-and-wife duo South Africa-born Jean-Philip Grobler and Germany-born Patti Beranek, St. Lucia retreats from a fractured world on fire and into the glow of a rapturous synth-spiked electro-pop catharsis—like a dance party at the edge of existence. On the aptly titled Utopia I EP, St. Lucia beams out a light of its own and shines brighter than ever.
New Music: THE REDHILL VALLEYS are back with Travel Well
Shaun Sloan Releases New Single "In The Sun" FT. G Herbo Today
As a sickle cell survivor, pain and suffering aren't foreign to Shaun. A resilient father and provider, Shaun has channeled his lifelong trauma and pain into his creativity, paving a way out for his family. Signed to EMPIRE by way of an assist from fellow labelmate and bay-area rapper, Mozzy, Shaun continues to cement himself as a rising star with every new release. After supporting both of G Herbo's recent tours ("PTSD" and "25") Shaun released two back-to-back, emotion-drenched projects throughout the pandemic, Life Is Life (2020) and Pain Purposes Only (2021), laying the foundation for his current 'Artist To Watch' status. Fueled by the pain and trauma of his chronic illness, Shaun continues to pour into his craft and is poised to have a breakout year.
Electro-Pop Artist IZZA Releases New Single/Video "Love Bracelets"
"Love Bracelets" is an instantly infectious, club-ready single that spreads an empowering message of self-love. Expanding on the new song, Izza says: "I used to value my worth based on how people viewed me and what relationships I was in or wasn't in. I wrote 'Love Bracelets' when I started focusing on myself and discovered that true happiness doesn't come from loving someone else, but by loving yourself." Fusing trap-inspired beats, experimental synths and digitized vocals, "Love Bracelets" puts Izza's knack for creating addictive electro-pop gems on full display.
Maggie Lindemann Releases New Track "how could you do this to me" featuring Kellin Quinn
After the release of her highly-anticipated debut EP PARANOIA in 2021, which was released through her own label swixxzaudio and Virgin Music, alt/rock songstress Maggie Lindemann is back with "how could you do this to me" featuring Sleeping With Sirens' Kellin Quinn. "how could you do this to me" is the second track to be released from Maggie's forthcoming debut album SUCKERPUNCH, which is set for release later this year.
CALUM SCOTT ANNOUNCES SOPHOMORE ALBUM, BRIDGES, SET FOR JUNE 17 RELEASE
The fourth single released from Bridges, "Heaven" once again reveals Calum's gift for finding unexpected ways to express universal emotions. "As songwriters, we're always searching for new ways of saying 'I miss you' or 'I love you' or 'I want you back,'" says Calum, who co-wrote "Heaven" with Hayley Warner (an Australian singer/songwriter who's also penned songs for artists like Katy Perry and Tori Kelly). "'The concept of 'Heaven' is the love between two people being so powerful that it is far superior to anything else, any other form of paradise that could be offered. I loved the idea of putting the power into the relationship."
Former American Idol and Boston Born Star Releases New Album
American Idol star, activist and singer-songwriter Casey McQuillen has released her debut album, Skinny, available today on all major music platforms to coincide with the start of Mental Health Awareness Month. Casey just wrapped an amazing 23-city UK tour with British sensation James Morrison and has returned to the US to celebrate the album release and upcoming shows in New York (5/18), Boston (5/24), Los Angeles (6/1), and Nashville (6/10).
New Music: NADJIWAN pens love letter to northern Ontario with new single "Land Of Skoden"
On his new single "Land Of Skoden," out today on Heading North Music, NADJIWAN, the Toronto-based singer/songwriter, multi-instrumentalist and producer also known as Marc Meriläinen pays tribute to his ties to northern Ontario with a rousing roots-rock banger, recorded live off the floor at the legendary Grant Avenue Studios in Hamilton, Ontario.
Kitchen Dwellers share stories of Montana and the Western US in new album Wise River
Today, Bozeman, MT based band Kitchen Dwellers are thrilled to share their third full length studio album Wise River, produced by Cory Wong (Vulfpeck) and released via No Coincidence Records. The new album showcases homegrown stories and the band's ever-expanding creative palette that carefully infuses elements of Americana, roots, bluegrass, rock and indie rock all into a truly unique sonic experience.
RISING GHANAIAN SENSATION MOLIY DROPS SURPRISE MINI-EP, MAHOGANY ST., FT. FIRST SINGLE AND VIDEO, 9-5
Moliy's last release, the single "Love Doc" dropped in time for Valentine's Day and was featured in PAPER Magazine, who called it "an easy, glistening single that captures a moment in her life when she was heartbroken." Throughout her music, Moliy reflects on her struggles as a way to come to terms with the harsh reality of dating in the 21st Century. But even in moments of despair, she's well aware of what she deserves. Moliy told PAPER, "I find that the woman is always the hero in my songwriting," she says, shifting the focus away from men. "This stems from a lifetime of witnessing men constantly abuse the love given to them so freely by us. So I'll write a heartbreak tune, but it'll always be made to uplift the woman's point of view and to shed light on 'fuck boy' behavior."
Julie Doiron and Dany Placard's Julie & Dany is out now on Simone Records
The album is an intimate look into the relationship between Dany Placard and Doiron. Written and recorded during the mandatory isolation between New Brunswick and Quebec, these songs are born from the complicity that enlightens the couple's everyday lives.
MITCHELL TENPENNY DEBUTS NEW SONG & MUSIC VIDEO FOR "ELEPHANT IN THE ROOM" FEATURING TEDDY SWIMS
"So many exciting things are happening in my life this year," shared Mitchell. "I continue to be blown away by the engagement of my fans with all the new music we release, requesting the single at radio and coming out to see us play live."
Don't Panic new single and video for "Time Machine" (Alt/Rock)
SASHA ALEX SLOAN RELEASES "NEW NORMAL" – 'I BLAME THE WORLD' OUT MAY 13
Driven by Sasha's melodic vocals, the melancholy "New Normal" captures the feeling of adjusting to life without someone. Going through the motions of her days as she once did, the record finds Sasha grappling with the void of her partner's presence where it once was, adjusting to the "new normal" of her routine.
OUT TODAY: SMILE – WHAT A HEART IS FOR (Dotto) – R.I.Y.L. The Replacements, R.E.M., Hüsker Dü, The Housemartins
"What a heart is for" is the jangliest song from Smile. The new one from the Turin-based four-piece indie rock act deals with those days you can hardly recognize yourself in the mirror, and awareness is a sudden flash that leaves you more puzzled than before.
LUCIGENIC – Glisten On New Single: "Joy"
With flecks of Patti Smith, Blondie and Belly, Mancunian post-punk group Lucigenic have shared their jubilant and driving new track "Joy".
Combining Lucy Davies compelling vocal delivery with dynamic and jangling alt-rock melodies and capacious choruses, "Joy" finds a hypnotic middle-ground between the gritty, overcast punk of earlier single "Still Breathing" and the chiffony dreamscapes on its predecessor "Hope".
Early 2000's Inspired Queertopia!! New R&B Pop EP
Get to know the future of R&B: R. Flex. Named as Now Toronto's Artist to Watch in 2022, R. Flex is scrupulously revealing their vision for 2022. Having already released the titillating R&B cut "La La Land" featuring Tafari Anthony, R. Flex is gearing up to release their incredible second EP FLEX WITH BENEFITS. Featuring production from Zlender (assistant mixing engineer on "Hotline Bling"), Def Starz (producer on Cupcakke's "Ephorize"), Sofia Fly (Toronto rapper/DJ phenom), Driftnote (produced for Witch Prophet & Shad), & Tantu Beats (Netherlands' platinum producer), R. Flex is ready to release one of the best pop/R&B EPs out of Toronto this year.
Stephen Wilson Jr. Proves Himself as a "Holler From The Holler"
Country rock singer/songwriter Stephen Wilson Jr. drops the explosive new song "Holler From The Holler," available everywhere today. Written by Wilson Jr. and Nashville hit-maker Craig Wiseman, the gritty, emotional track pulls from his personal experience growing up in rural southern Ind. Touching on the duality of his familial hardships and his rebellious nature throughout his childhood, Wilson Jr. proclaims "hear it when I sing it's the pain that put the holler in the holler from the holler" in the intense new release.
RAMMSTEIN: NEW ALBUM, ZEIT, OUT NOW
Hailed in advance by Revolver magazine for its balancing "slow-burning beauty with industrial-strength power," and preceded by rapturously received singles/videos "Zeit" and "Zick Zack", Rammstein's new album Zeit has arrived!
NEW Album Out Today Premiered via The Young Folks from NYC-Based, Quirky Indie Rock Project, MeMo
New York-based MeMo was once just a girl and her piano, but through the grace of the amazing musicians around her a new creative baby was born. MeMo and Friends is now a band of 5-9 roving, feral misfits influenced by anything from Motown to an Irish pub, and together they are proud to announce their new album Business of Healing, out today. MeMo's sound is what she describes as "Fiona Apple on a light cocktail of amphetamines and prozac."
Wallis Bird embraces life's uncertainties in new song 'Go'
Today, Irish-born and Berlin-based lesbian artist Wallis Bird shares "Go"- a song about beginnings and having the strength to stand out from the crowd to pursue passions and desires. "Go" is about letting go and embracing the uncertainty of what's in store, because life's too short to not try.