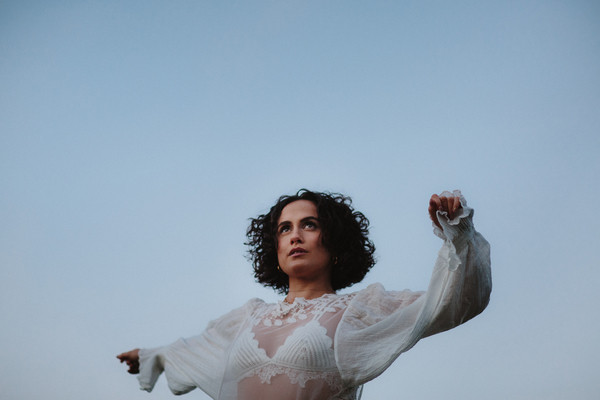 @skopemag news – friday – april 22, 2022 @ 10 am est
@skopemag HQ – http://smarturl.it/skope
Kate Bollinger Releases New EP 'Look At It In The Light', Out Today Via Ghostly International
Rising Virginia-based musician Kate Bollinger releases her new EP, Look at it in the Light, via Ghostly International. The EP's singles "Who Am I But Someone," and "Lady in the Darkest Hour" find Bollinger leaning in to her signature pop, folk, jazz and beat-driven experimentation, with The FADER saying "her songwriting is as strong as ever."
OUT TODAY: Katherine Aly – Hype Up (FFO La Roux, Florence + the Machine)
Edinburgh-based (via Greece) alt-pop artist Katherine Aly has been championed for her genre-defying by the likes of The Skinny, Tenement TV and Vogue Italia since releasing her debut single in 2019. Now, after the 2021 singles "Glow & Ignite", "Pariah" and "Rules" this June sees the release of her debut album Shadows Are Made Of Light Too. Next up is the electrifying single "Hype Up", out today.
Benedict Cork shares vulnerable new EP If These Walls Could Talk after psychotherapy course
Teaming up with Tim Bran (London Grammar, Birdy, Rae Morris) and Justin Tailor (Rina Sawayama, Shamir) to produce the EP, If These Walls Could Talk shares Cork's personal revelations after an intense course of psychotherapy and the consequent surfacing of extreme emotions, writing the EP while sitting alone within the four walls of his bedroom in his southeast London flat.
THE LICKERISH QUARTET drop lush new single 'New Days'
"New Days", the second single from the EP is streaming now! Sung by Roger, it's a tale of remembering the past with the longing psychedelic hope of the future.
James Chatburn Shares "Ok Ok (Be A Man)" Single
Chatburn settled in Berlin in 2015 and began carving out a niche in the world of independent music. Having first made a name for himself in the modern soul scene, he honed and matured his sound to encompass a fresh direction, embracing psychedelia and nostalgia into his songwriting and production. He has since become renowned for his soulful, heartfelt voice, world-class production talent and collaborations with Jordan Rakei, Rum.Gold, Noah Slee, Sedric Perry, Hilltop Hoods and more.
IRON LAMB Unleash New Single "Total Noise"
Sweden's IRON LAMB blends classic hard rock, furious heavy metal, and contagious punk rock on their new single "Total Noise". The first release from the group since their 2018 studio album 'Blue Haze', "Total Noise" is an exhibition of raging groove, rooted in early '70s Krautrock, but with a tougher and more contemporary sound. The single is released through The Sign Records and is a preview of Iron Lamb's upcoming fourth full-length album.
KORN SHARES VIDEO FOR "WORST IS ON ITS WAY"
ANDREW CUSHIN DEBUT EP 'YOU DON'T BELONG' IS OUT NOW ON STRAP ORIGINALS FEATURING THE NEW TRACK 'RUNAWAY'
A dreamy EP of warm folk-pop from Peri Rae
A dreamy collection of warm folk-pop, the gentle soundscapes of Handing You My Heart melt together in Peri's signature style, while maintaining heart-wrenchingly honest songwriting at its core. Ensuring personal experience remains at the forefront of her music, Peri's poetic lyricism artfully deconstructs the complexities of self-discovery, sexuality and coming of age.
ILAN ESHKERI SHARES THE NEW SINGLE 'STARS' FROM THE NEW ALBUM 'SPACE STATION EARTH' OUT ON MAY 13TH
CHILD OF THE PARISH NEW EP 'QUIET LIFE' IS OUT NOW FEATURING THE NEW SONG 'GHOST OF A CHANCE'
Child of the Parish have audaciously crossed genres, moods and even eras over the course of their three recent tracks. That intrepid exploration of sounds has won a growing list of influential admirers as they've amassed Radio 1 airplay from Jack Saunders, Kerry Cosh and Nels Hlyton, a One To Watch accolade from BBC Introducing, and some 6 Music attention from Lauren Laverne.
RENAO REVEALS SPELLBINDING DEBUT EP 'FROM THE SOUTH'// LISTEN HERE
Indian born, london based Renao today releases his highly anticipated debut EP, From The South. Led by gorgeous focus track 'Flares', the EP is a wonderful showcase of Renao's stunning vocals and deeply personal writing. The EP also features his viral debut track, Nobody, a track which went viral on Tiktok and picked up over 20,000 pre-saves before release. Since then, the track has picked up over 4 millions streams on Spotify alone.
DYLAN JOHN THOMAS SHARES THE NEW SINGLE 'FEVER' – WATCH THE VIDEO HERE
THE CHAINSMOKERS SHARE NEW TRACK 'RIPTIDE'
ICYMI Karine Hannah's Lyric Video "Separate Ways" Brings a NEW Dimension and Depth to the Rock Classic
ENGLISH TEACHER release debut EP 'Polyawkward' | out today via NICE SWAN RECORDS (Pip Blom, Sports Team, FUR)
THE SHIRES SHARE THE NEW SINGLE 'CUT ME LOOSE'- WATCH THE VIDEO HERE
TWINNIE SHARES THE NEW SINGLE 'DYING INSIDE' & ANNOUNCES THE RELEASE OF HER EP WELCOME TO THE CLUB ON 3RD JUNE
CHARLIE SIMPSON'S NEW ALBUM 'HOPE IS A DRUG' IS OUT NOW
The album follows his previous Top 10 hits 'Young Pilgrim' (2011) and 'Long Road Home' (2014) as his solo career continues the third stage of a varied and remarkable career. He has also achieved further three Top 3 and four Top 20 albums split between his time with the chart-conquering,BRIT Award-winning Busted and the critically acclaimed Fightstar. The album has been previewed with eclectic support from Radio 2, Kerrang!, Rock Sound and Dork.
The new 'Ride' video from Boston lyricist and vocalist Antonio Breez is out today
West-London MONDAY WAS SPECIAL releases emotive debut single "Bespoke"
Telling the story of a young black couple as they grapple with unplanned parenthood, "Bespoke" is an emotional masterpiece. Influenced by the R&B and Soul that he grew up listening to, steady drum loops keep the pace as the track builds and powerful choirs of backing vocals and harmonies dance across the beat.
Stef Pesic – Call Me
Carving his very own unique space in the current soundscape, genre-hopping artist Stef Pesic is adding another sonic fusion to his repertoire with his latest single 'Call Me'. Igniting glimmers of an indie resurgence but with a refreshed perspective, Pesic weaves indie-rock propensities with a woozy bedroom pop undercurrent to form his very own indie-hip-pop genre.
PINKPANTHERESS RELEASES "WHERE YOU ARE" FT WILLOW
PinkPantheress has debuted long-awaited single "Where You Are" ft WILLOW via Elektra Records/Parlophone Records. Produced by PinkPantheress, Mura Masa and Skrillex, the track marries PinkPantheress' signature saccharine vocals with WILLOW's pop-punk vocals to create an addictive outcome. The single arrives alongside an official music video directed by BRTHR (Lana Del Rey, Kali Uchis), which sees PinkPantheress and WILLOW attempt to navigate through club culture while dealing with heartbreak and internal conflict.