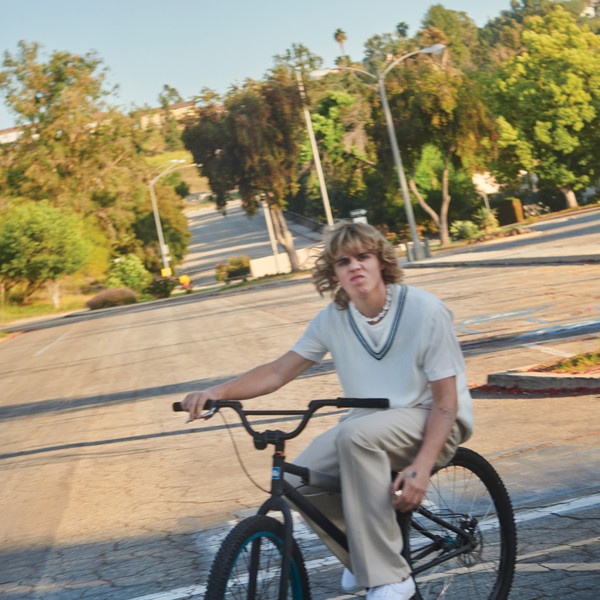 @skopemag news – friday – april 22, 2022 @ 9 am est
@skopemag HQ – http://smarturl.it/skope
Eliza & The Delusionals gear up for the release of highly anticipated debut LP Now And Then, share lead single, 'Bed Song'
With their Australian tour underway and their debut album NOW AND THEN in the wings, waiting to be unleashed, Eliza & The Delusionals return today sharing the lead single from the studio album: the addictive 'Bed Song'.
Released as a follow up to February's 'Give You Everything' and 'Halloween' at the top of the month, 'Bed Song' is another masterclass in how songwriters Eliza Klatt and Kurt Skuse balance emotionally driven lyricism with fresh and dynamic songwriting arrangements.
Colorful, Sunny Soul Pop EP // Ode to New York
The soulful serenades of New York City based singer/songwriter Jak Lizard is the positivity everyone needs infused in their lives. Born and raised in Long Island to a guitar-playing father and a former street-performing mother, as well as three older musician brothers; he had creativity and encouragement in abundance.
SKROG Unleash Cover of Slayer's "South of Heaven"
Minnesota's SKROG have revealed a blistering version of Slayer's "South of Heaven". The song is from the upcoming Forever Reigning, A Tribute To Slayer that will be released on April 29th via Satyrn Studios.
Samuel Or Daniel Shares New Single "Theo" via Americana UK | Read More in Glide and Backseat Mafia
Portland Maine-based DIY experimental indie rock outfit Samuel or Daniel (moniker for Sam Guenther, who got the band name from a not-quite-correct takeout order from East Coast Taco) is finally ready to share his brainchild: I Miss You Don't Come Home (out this Spring). Formed in the depths of the pandemic with artistic collaborators Charlie Dahlke, Micah Rubin and John Lisi (of The Brazen Youth) and Will Orchard, I Miss You Don't Come Home delves head-first into a vast, empty alternate universe seen through the eyes of a lone space cowboy. Exploring everything from isolation and paranoia to heartache and estrangement, the EP has the qualities of both a psychological spiral and an epic journey. Expansive and vast, I Miss You Don't Come Home is a cult classic ready to happen.
Dulcie return at a dynamic high with new single, 'Nothing Left'; touring regional WA May/June with Amy Shark
With the release of single 'tell ur friends' bringing Perth's Dulcie back to the fore for 2022, the trio have wasted no time in serving up their next dose of indie-pop goodness, this time in the dynamic 'Nothing Left'.
JACK PANTHER ANNOUNCES NEW SINGLE 'SKI LIFT 001' + NEW EP 'WHY DON'T YOU COME OVER?' OUT MAY 20
A glistening fusion of silken noir and fresh candor, Auckland based queer pop artist Jack Panther returns today with a lush new single SKI LIFT 001. Flowing with alt pop flavours and sharp vulnerability, SKI LIFT 001 is also accompanied by a bold visualiser, contrasting the heart-rending lyrics and melodics as Jack appears laying on the floor slowly bleeding out. SKI LIFT 001 also marks a peek into Jack's impending new EP why don't you come over? which will release on May 20.
Mild West share prophetic debut album 'Machine Learning'
Tackling massive topics in the catchiest of ways, the ten-track journey focuses on technological singularity and its unforeseeable changes to human civilisation. This dystopian theme runs deeper than lyrics alone, as the band relied heavily on technology to record the album while separated across five different areas. From Sydney to Newcastle, Byron Bay to the Central Coast, Mild West used on zoom calls, voice memos and messenger to craft each track. Listeners will be hard-pressed to find evidence of this geological distance, however. These unique recording conditions afforded Mild West the time and space to perfect each element, resulting in a polished, evolved and enthralling release.
Jeremy Loops unveils new single 'Better Together', an Ed Sheeran collaboration, announces album 'Heard You Got Love' out July 8th
South African artist Jeremy Loops has already played some of the world's most prestigious venues (including a sell-out headline Brixton Academy show) with his high-energy music, and has since amassed over 234 million global streams, and growing. Today he announces his brand new album 'Heard You Got Love' and releases the single 'Better Together' for which he joins forces with none other than Ed Sheeran.
Tomi Tomaski (of Swim Deep) releases 2nd single 'Coming Back'
'Coming back' is a song about FOMO and under-achieving. The main riff was written in the first week Tomi moved from France to London 8 years ago. It was meant to be appearing on Childhood's second album 'Universal High' as both Tomi and Ben Romans-Hopcraft finished the song as co-writers. It even had a version recorded in Atlanta, Georgia, by Ben Allen (Deerhunter, Belle and Sebastien etc…) in 2015, but did not make the cut as it was not working sonically with the rest of the album.
Music Submission: Johnny Nami
Johnny Nami began his musical career in 2014, with his release of "VietNami." Inspired by artists like Method Man and Kevin Gates, his music focuses on what he knows. Using mellow and rhythmic beats his alternative style dives deep into his life experiences. Unafraid to experiment with different sounds, his music pulls influence from multiple genres, including rock, jazz and blues. Johnny's low melodic voice, mixed with his alternative beats often gets compared to Tyler, the Creator. Lyrically focused; his style mirrors the honesty of his music, reminiscent of D12. 2019 saw a flood of new music from him, with the "Fornever Yours" album and "Purgatory" ep being released back to back. With each new project Johnny Nami hones his craft, and expands his skills.
IT'S ALMOST DRY: PUSHA T DROPS NEW ALBUM VIA G.O.O.D MUSIC/DEF JAM RECORDINGS
Today, Grammy®-nominated hip-hop legend and multi-platinum artist Pusha T releases his highly anticipated fourth album It's Almost Dry , produced entirely by Kanye West and Pharrell Williams.
SOUTHSIDE TAPS FUTURE & TRAVIS SCOTT FOR SIZZLING NEW SINGLE "HOLD THAT HEAT"
Southside's signature sirens introduce the track, before rumbling 808s and trap hi-hats take over. Travis and Future tackle the chorus together, over a beat that is complex enough to stand on its own, but also leaves room for the MCs to flex their lyrical might. "I got a main bitch but I mingle," Future spits in his trademark narcotized flow, which Southside has been soundtracking since the two joined forces on DJ Esco's seminal 2015 mixtape 56 Nights.
THE KID LAROI MAKES HIS WIDELY ANTICIPATED RETURN WITH FIRST SINGLE OF THE YEAR "THOUSAND MILES"
LOGIC DROPS "DECADES" SINGLE AND "TETRIS" SINGLE + VIDEO, OUT TODAY VIA DEF JAM RECORD­INGS
PETER MCPOLAND RELEASES HEART-WRENCHING NEW SINGLE AND OFFICIAL VIDEO FOR "NEWS AT 9"
Today, singer/songwriter Peter McPoland has released a song he calls "theeeee greatest song I've ever made in my entire life" with the striking ballad "News At 9." The track arrives alongside a heart-wrenching official video that sees the 21-year-old heartthrob delivering a highly emotional performance of the song.
TAY KEITH LINKS WITH GUNNA & LIL DURK ON DEBUT SINGLE "LIGHTS OFF"
NLE CHOPPA DROPS PROVOCATIVE NEW SINGLE "SLUT ME OUT"
Psychedelic Rock Funk Filled Sonic Cocktail
Cody Jasper is known for being the former frontman of Moon Fever who has generated millions of streams. The single "Disco Lemonade" is off of his upcoming full length album set for release later this year. Thank you for your consideration,
ERICA BANKS RETURNS WITH CLUB-READY PARTY PLEASER "POP OUT"
The energetic track opens with another nod to the Nelly classic that put her on the map two years ago. "Hot off in the club, clothes off / I'm Nelly," she raps, citing the 2002 mega-hit "Hot in Herre." That sets the tone perfectly, while the song's cheeky hook — "all bad hoes pop out" — summons everybody to the party. From there, Banks' spitfire flow sets the ground rules: You may be invited, but it still takes stamina to keep up.
JACK PANTHER ANNOUNCES NEW SINGLE + VIDEO 'SKI LIFT 001'
SKAAR SHARES THE NEW VIDEO FOR 'GET HIM AWAY FROM ME' – WATCH IT HERE
The video depicts SKAAR as the caretaker of a power plant, and the only employee who is working the nightshift. Initially her incompetence is playfully amusing, as she struggles to even turn a torch on. But when a minor problem occurs, her inability gradually makes the situation worse until the plant is on the verge of a meltdown. Ultimately, SKAAR is left with no choice but to run away from her problems.
RISING STAR GIA LILY SHARES HER SECOND SINGLE 'GOOD ENOUGH'
Gia Lily's debut single 'Signs' sparked ripples of excitement for the rising pop star. Immediately achieving widespread tastemaker approval and radio support from BBC Introducing, the track introduced the 22-year-old to a new audience as she built upon her social media following. She is now approaching 300,000 followers and 7 million likes at TikTok alone.
Emilia Tarrant – When It Was Chaotic
Working with Grammy-Nominated producer, Will Hicks – known for his collaborative efforts on many Ed Sheeran hits, Emilia Tarrant cements herself as a serious contender with the release of 'When It Was Chaotic'. Undressing a very personal topic of mental health, Emilia bares all in this single as she confronts the direct effect it's had on her life – from writers block to it eventually having the opposite outcome and creating this track.
ZINNY ZAN Release New Single "Nobody Gets Out Of Here Alive"
"'Nobody Gets Out Of Here Alive' is a song about daring to do and explore whatever you desire to explore in life. Some might get held back by the thoughts about what others might think or say. Why? Do whatever you desire and don't be shy! At the end of the day, nobody gets out of here alive anyway!"
New Music – Adam Aronson, 'Rock Bottom'
This beautifully meditative and dreamy new single was recorded during the first quarter of 2022, with parts performed at both Spin Studio in Long Island City and in Adam's home studio in Astoria, New York.