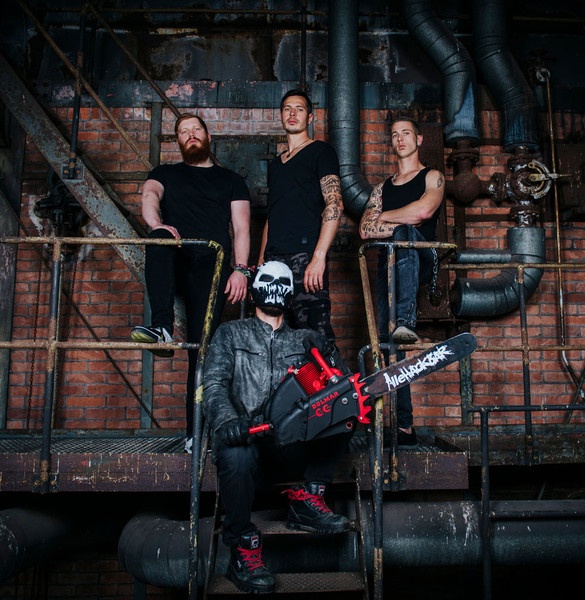 @skopemag news – wednesday – april 20, 2022 @ 5 pm est
@skopemag HQ – http://smarturl.it/skope
Toe-tapping rocker "More" by Ian Lake with a wicked synth melody
Upbeat and full of energy, the toe-tapping rocker "More" is unexpected after the slower, more emotional offerings Lake has made so far. With a wicked synth melody, a steady drum beat, and a vibe that will make you want to sing along in your car, the versatile performer reveals a personal struggle and recognizes that it's time to let go.
Nina Nesbitt Shares New Single & Video, 'Dinner Table.' North American Tour Starts Tomorrow
"The accompanying video feels like a documentary. Nesbitt heads to her old stomping grounds, taking care to use the camera lens to show off old pictures of her family. It provides adorable snapshots of their intimate lives, zeroing in on the dinner table to reflect the song's title." — PAPER Magazine
Karine Hannah's Lyric Video "Separate Ways" Brings a NEW Dimension and Depth to the Rock Classic
BOG BODY: New York City Cult Black Metal Duo Issues "Dregs Soar To The Skies" Single; Debut LP, Cryonic Crevasse Cult, Nears Release Through Profound Lore Records
As New York City black metal cult BOG BODY prepares for the May release of their debut full-length album, Cryonic Crevasse Cult, label home Profound Lore Records today offers the latest auditory barrage from the record, issuing the new single "Dregs Soar To The Skies."
LORDS OF THE TRIDENT Release Video For "Champion"
[Video] Breez x Pro Knows Music – Lettin' Out The Smoke ft. SkySplitter prod. by Pro Knows Music
"Lettin' Out The Smoke" is a 420 vibe that even non-smokers can nod along to. Hampton, VA artist Breez, flexes on the track with witty wordplay & braggadocious bars over a brilliant beat by Pro Knows Music. Accompanied by a serious rock solo from SkySplitter, this track has an authenticity and flavor that's unmatched. So light one, sit back and vibe to this.
THE SMILE: DEBUT ALBUM, A LIGHT FOR ATTRACTING ATTENTION, WILL BE RELEASED MAY 13
The Smile will release their highly anticipated debut album A Light For Attracting Attention on May 13, 2022 on XL Recordings.
The 13-track album was produced and mixed by Nigel Godrich and mastered by Bob Ludwig. Tracks feature strings by the London Contemporary Orchestra and a full brass section of contemporary UK jazz players including Byron Wallen, Theon and Nathaniel Cross, Chelsea Carmichael, Robert Stillman and Jason Yarde.
Ludic Drop New Single "Instabeat"
New single, "Instabeat," touches on the band's personal feelings and experiences with success. Success is different for everyone, but the idea of it can consume us. Do we really need attention to validate our efforts, and does this notion of success even matter? That's the question that Ludic asks in their new song.
SEEKING SIRENS To Release Departing Ways EP
Hot on the heels of successfully releasing two singles last year, North Carolina metalcore band SEEKING SIRENS will release their debut EP Departing Ways on June 3, 2022.
Tamar Berk shares video for "June Lake", new album out Friday
Metalcore Band Under Auburn Skies Releases Official Music Video for Single "Afraid"
Canada's INVICTA HEIGHTS Inject Emotion And Angst Into Southern Infused Metalcore On "Convalescence"
Canada's Invicta Heights is a curious blend of southern metal and metalcore, scratching itches you didn't even know you had. They are releasing their debut EP "Convalescence" this month and at the same time, lyric videos for each of the four tracks "Bad Habit", "Creature", "Anxious" and "Crooked Table". The record is a whirlwind of emotions, with lyrics focusing on mental health, personal struggles, and addiction. These intense topics are complemented with equally tense music, from the fast-paced "Anxious" to the heavy, southern riffs on "Creature". The band details the particulars of their introductory EP:
PURITY RING ANNOUNCES NEW GRAVES EP, SINGLE & VIDEO
Purity Ring have announced their new Graves EP out June 3rd. It's the first official release via the band's own label The Fellowship. They have also dropped the EP's title track today, the song was premiered in a one at a time listening party earlier this week, where fans were placed in a virtual waiting room before they could stream the song in full. Now the song is available for the world to hear when and wherever they want….
Truth Keeps It Hardcore Boom Bap With New Video "Brutality" Produced By Da Beatminerz
Following up his latest posse cut visual Entourage FT. Tragedy Khadafi, Large Professor, Das Kass, Treach & Joe Fatal, NY's Truth keeps it hardcore boom bap with another video Brutality produced by Da Beatminerz. Directed by Tydro Elite, the track keeps it Hip Hop, gutter, and lyrical like the music he grew up on. The single is included on the recent For All Intents And Purposes album entirely produced by Da Beatminerz with cuts and scratched by DJ Evil Dee, DJ JS-1, and PF Cuttin. "It's an honor to have such legendary producers working with you, let alone producing a whole album for you. There's no denying the chemistry with them so the process was very easy" says Truth. Check it out now on your preferred digital streaming provider.
Rising LA-based artist SEB unveils new single "SAVE ME"
Rising LA-based artist and producer SEB has just shared his second new track of the year "SAVE ME" via Mom+Pop. The song comes paired with a trippy VHS-shot music video that showcases a more melancholy side to SEB as he spirals down a path of self destruction over his own lo-fi '80s-inspired beat. "Save Me is about that point you reach after you've tried self-destructing," states SEB. "You've tried partying, you've tried drugs but once you're sober, that self hatred is still there. You're calling out for help but who you're calling out to, is still enabling you to go down that same path."
BELUSHI SPEED BALL Reveals Video For "Ripping Off Municipal Waste"
The Louisville, KY, based thrash metal outfit, BELUSHI SPEED BALL, have revealed a new lyric video for their track "Ripping Off Municipal Waste". Taken from the upcoming album What Us, Worry?, the band's wild antics are being transported from the theatrics of the stage onto the beloved Nintendo 64.
BLACK LUNG: get fuzzy with new video "Hollow Dreams"
The year 2019 marked significant changes for BLACK LUNG. Following the release of their third album "Ancients", guitarist and founding member Adam Bufano amicably departed the band and in November 2019, was replaced by guitarist Dave Fullerton. In the existential dread, loss and uncertainty of the global pandemic, with the backdrop of malignant fascism and cultural enmity in the USA, the band began writing the songs that would comprise their next record.
BLACK LUNG Burns Nice And Slow With New Song "Hollow Dreams"
Mall Pop Punk- Kiss An Ex's Best Friend
Pop punk singer-songwriter and actress, Maddie Glass is an unapologetic new artist on the rise. Born and raised in and around New York City, Maddie grew up acting and performing all around Manhattan in various Off Broadway productions where she found her love for the craft at a young age and never looked back. Attending NYU Tisch, Maddie Glass soon began songwriting; crafting witty, candid and relatable lyrics over a 2000's throwback sound.
SWIM THE CURRENT NEW SINGLE "Fatum Sciam (Knowing Your Destiny)"
EMÆNUEL (fka emaenuel) – New Album 'SUKISTAN' out May 2022 on sound as language / First Single "Machines" Streaming Now
SUKISTAN was written a few years ago in Kolkata. An experiment in rapid exploration, it was left shelved for years and experimented on sporadically. The corpus of the music is purely unrecognizable from what it was before. It's an album as an exercise in self-immolation. It's made to sound like the remnants of a series of daydreams, or the soundtrack to several kinds of prayers. The feelings are cold and warm, rough and smooth, small and large. It is dedicated to a friend who restored faith in the artist. No small feat.
GRAMMY-AWARD WINNING LUCKY DAYE RELEASES MUSIC VIDEO FOR "NWA" FT. LIL DURK
V**GRA BOYS ANNOUNCE NEW ALBUM 'CAVE WORLD' + WORLD TOUR
Stockholm post-punk band V**gra Boys (**= "ia" because spam FILTERS) have announced a new album Cave World due out July 8th via YEAR0001. Produced by past collaborators Pelle Gunnerfeldt (The Hives, The Knife, etc.) and DJ Haydn, the announcement of their third album coincides with the release of the first single "Ain't No Thief" and its accompanying video. The video, directed by SNASK, finds singer Sebastian Murphy, the anti-hero at the center of all V**gra Boy's videos, stepping into the role of an Evangelical preacher reaching deep into the pockets of his congregation. Inspired by current events, the album aims to tear through the insanity and confusion the world currently finds itself in. Like sin-eaters if sins had to be ingested from a very small spoon, V**gra Boys have consumed the utterly incomprehensible chaos of our era and distilled it into the 12 immaculate tracks that make up Cave World.
Moreish Idols Sign to Speedy Wunderground || New Single "Speedboat" Out Now on Speedy Wunderground / PIAS
Born from humble beginnings in a Cornish coastal town, the band recently relocated to the capital, expanding its scope in the process to create something that not only stands apart from their peers but also manages that aural diversity song to song within the same set. Created with a strictly implemented manifesto: writing solely as a group so as to allow the blending of each member's widely divergent personalities and influences. This melded a sound that combines jazz, funk, krautrock, dub and punk into something decidedly… moreish.
Producer & Singer-Songwriter Avarin Recently Released His Debut Single "Come a Little Closer"
Mumbai based producer & singer-songwriter Avarin recently released his debut single "Come a Little Closer," which is best described as 'lightning in a bottle.' The smooth vibes and seductive energy of "Come A Little Closer" has led to its success, topping more than 1 million views on YouTube in less than a month's time. The success of this single release is indicative of the shape of things to come for Avarin, as the Mumbai, India bred artist is destined for stardom. This is only the beginning.
ARCHITECTS Release New Song "When We Were Young"
"when we were young is a song that recognises what is gained and what is lost as we get older" says Dan Searle. "as the world unfolds around us we can become overwhelmed by its endless complexity. when i was 20 I thought I had the whole thing sussed, today i'm pretty sure i'll never understand reality. we lose our innocence as we age, and although fatalism and cynicism can creep in, we also begin to shift our focus toward gratitude for existence and for those that we love."
NYC's Don't Believe in Ghosts Drop "This is Paradise" Video
NYC indie/alt-rock band Don't Believe In Ghosts just dropped their newest music video for "This Is Paradise." The visual perfectly compliments the song and combines a modern alt-rock sound with electrifying indie-pop production akin to bands like MUSE and Royal Blood. "This Is Paradise" follows the idea of losing your mind yet coming to terms with this lack of control. The video is being released ahead of the band's single release show this Friday at Rockwood Music Hall in NYC.
AlleHackbar Release 'Saturday Night' Music Video
Northern Nights Will Be First Music Festival To Sell Cannabis At Stages + First Music Fest With Multiple On-Site Dispensaries
Northern Nights Music Festival has announced the initial cannabis and wellness details for their highly-anticipated return to California's iconic Redwood Forest from July 15-17, 2022. Taking place at Cook's Valley Campground in Piercy, CA on the Humboldt / Mendocino border, the beloved festival has built its name based on an eclectic mix of cutting-edge music, industry-leading cannabis programming, and serene natural landscapes.