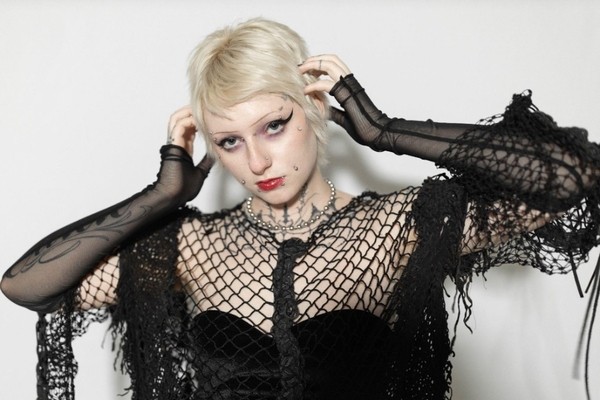 @skopemag news – sunday – april 10, 2022 @ 12 pm est
@skopemag HQ – http://smarturl.it/skope
COMA HOLE Release New Single "Wind & Bone"
In the run up to their debut EP, COMA HOLE have released their single "Wind & Bone" on all streaming platforms.
Jaguar Jonze To Release Debut Album 'BUNNY MODE' (June 3 via Nettwerk Records) 
Taiwanese-Australian singer, producer, songwriter, and multimedia artist Jaguar Jonze is thrilled to announce her debut album BUNNY MODE (June 3 via Nettwerk) and share the video for the new single "TRIGGER HAPPY," out everywhere today. Featuring previously released singles "WHO DIED AND MADE YOU KING?," "CUT," and "LITTLE FIRES," BUNNY MODE is a personal triumph of resilience and an incredible creative work that allows the world-building artistry of Jaguar Jonze to shine through.
OR: Chicago Instrumental Trio With Members Of Joan Of Arc, American Heritage, Sidekick Kato, Ghosts & Vodka, And More Releases Debut LP, Pariah, Through Dog & Pony Records
OR is formed by guitarist Frank Hryniewicz (Sidekick Kato, Damp Hay), drummer Matt Precin (American Draft, Sacha Mullin), and bassist Erik Bocek (Ghosts & Vodka, American Heritage, Joan of Arc). While this is OR's recorded debut, the album is hardly a haphazardly assembled collection of songs. Written over the course of the last five years, the album's eight tracks possess a focus and clarity that can only come with patience, time and allowing songs to develop as naturally as possible.
"Mandatory Suicide" From Upcoming Slayer Tribute Album Forever Reigning Released
St Paul's Distal Descent has just released their cover of Slayer's "Mandatory Suicide". The song is from the upcoming Forever Reigning, A Tribute To Slayer that will be released on April 29th via Satyrn Studios.
SONY MUSIC: Kate Stewart x Spoke Mag
Kate Stewart, a London artist preparing to release her new single "Numb" — the song is an ode to a chapter of the heartbreak story we know too well. The song came out today and has been featured on Spotify's New Music Friday UK, TIDAL's Rising R&B and Entertainment Tonight!
Rad Cat Claws at Happy-Go-Lucky House on Double-Sided Single 'One For Me / Think About Me' for NIGHTMODE – Out NOw
He's now continuing to push the limits with more experimental works arriving in the form of his double-sided debut for NIGHTMODE. The lead track leans into the nu disco space, with a bubbly vocal hook about feeling completely fulfilled by the fact of having someone to call your own. On the flipside, "Think About Me" edges closer to the future house end of the spectrum, diving into the opposite feeling: trying to decipher whether a crush feels the same way.
Artist: Rad Cat
Title: One For Me / Think About Me
Label: NIGHTMODE
Genre: Nu Disco, Future House
Release Date: April 8
Track Released Today from Similar Kind
Similar Kind originated as just a few friends jamming in a garage and has blossomed into a five piece band playing shows all over the northeast. Similar Kind has played with acts such as Sunflower Bean, Hot Flash Heat Wave, No Vacation & more.
helloworld Takes Another Dip Into Hard-Hitting Beats on "dive in" for Bassrush Records – Out Now
After establishing his unique voice in the melodic bass space through releases on Heaven Sent and Lost In Dreams, the fast-rising producer has temporarily shifted his sound to create darker and heavier sounds that he could use during his live sets. His first single on Bassrush arrived just a couple of months, taking the shape of "warning signs." He's now ready to delve deeper into the headspace on his follow-up record 'dive in,' incorporating slight melody and a moody vocal hook around his punchy, bit-crushed trap-leaning beat.
Artist: helloworld
Title: dive in
Label: Bassrush Records
Genre: Trap / Wave
Release Date: April 8
Check out SOCIETY 1 Official Music Video for New Single, "I Never Saw You"! DV "Dirt" Karloff Documentary, THE ALTERED NOISE, OUT NOW!
LA Based Industrial Metal band SOCIETY 1 has released the official music video for their new single, "I Never Saw You." Written by Matt Zane, "I Never Saw You" is off of the band's final album with the late bassist, Black Level Six, out NOW!
TYSONDOG: NWOBHM legendary band release new single "It Lives"
The release day for the new TYSONDOG studio album draws nearer and, to make the wait a bit more bearable, the NWOBHM legends release yet another digital single from the record. "It Lives" is a track based on a solid heavy metal riff, with a chord progression that gets denser and denser until the guitar solo and the liberating subsequent chorus. It has the Tysondog trademark sound all over it and it's sure to be one of the favourite tracks of "Midnight", when it gets released at the end of April.
CAROLESDAUGHTER PLEADS PLEASE PUT ME IN A MEDICALLY INDUCED COMA ON DEBUT EP OUT NOW & ANNOUNCES LIVE UK DATES
Regarding please put me in a medically induced coma, she added, "This EP feels like my introduction to the world. It's extremely honest and vulnerable and it almost is like giving up a little piece of me. All these songs I wrote in rehab as a teenager when I was first trying to overcome my addiction, and even if someone can't relate to the specifics, it's about coming of age and finding yourself—which everyone has to do at some point."