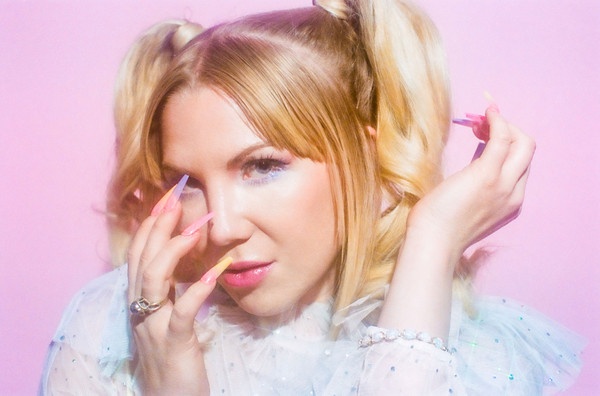 @skopemag news – friday – april 8, 2022 @ 3 pm est
@skopemag HQ – http://smarturl.it/skope
Top New Release // Dylan – "No Romeo" EP (Lollapalooza, + First LA & NY Dates + Tate McRae Supports)
Rising rock-pop star-in-the-making Dylan today releases her eagerly anticipated EP titled "No Romeo." It's an empowering 6-track release that is the perfect companion to navigating relationships whilst preserving what's important; self-worth and growth. Fans will notice recent favourites You're Not Harry Styles, Someone Else, Nineteen and the EP's title track has made the tracklist along with two new exceptional tracks, Alone & Live Without It. Dylan is currently on the road with Bastille before supporting Tate McRae in Europe (from April 30) all before her own US dates (this summer) and her upgraded headline dates in the UK (this fall) which includes a performance at London's iconic KOKO venue.
VINCE STAPLES' NEW ALBUM – RAMONA PARK BROKE MY HEART – OUT TODAY
Ahead of the album's release, Staples gave fans an early preview of the project sharing the first two singles off the LP — "MAGIC" and "ROSE STREET." Of the Mustard-produced "Magic," ROLLING STONE said, "it's everything we love about the artist who always finds a way to differentiate himself from the pack by delivering honest rhymes with a laidback flow," with BILLBOARD calling the "bouncy" track a "teamup between two of West Coast hip-hop's finest." Of the second single, "Rose Street," CONSEQUENCE said, "Staples glides over the West Coast bounce created by producers Tommy Parker and SAINT MINO," with HIGHSNOBIETY adding "if this track is any indication of what's to come, Staples has another shining body of work on his hands."
Ravive Releases Compelling Debut EP "Trauma Response"
Pop's grunge-girl Ravive has released her debut EP "Trauma Response," available on all digital streaming platforms NOW. Following the releases of four singles, the EP drips in edgy, alt-fused pop, and was created in response to a series of traumatic events by Ravive. Turning her pain into art, she created "Trauma Response" as a means of therapy. The EP's 7 songs are the result of experimentation, exploration, and a lot of in depth writing, ultimately creating a timeless, dark body of work.
A Beacon School Shares "Dot" via Grind Select, First Single In 3 Years, Playing Release Show Tonight
New York City-based A Beacon School is back with his first single in three years. "Dot," an ethereal dreampop track that ebbs and flows between lush shoegazey soundscapes and airy electronic, marks the return of the multi-instrumentalist. Expansive and immersive, "Dot" is out now everywhere via Grind Select.
ARMIN VAN BUUREN LINKS UP WITH BILLEN TEDD AND JC STEWART ON NEW SINGLE 'COME AROUND AGAIN'
While recent tracks such as 'Human Touch' (with Sam Gray) and 'Love We Lost' (with R3HAB, feat. Simon Ward) are still on everyone's lips, electronic music icon Armin van Buuren is already stepping up again with a collab of considerable magnitude. A joint effort with London-based, platinum-selling production duo Billen Ted and globally renowned singer-songwriter JC Stewart, 'Come Around Again' comes with a bespoke music video and could very well be the Grammy-nominated Dutchman's biggest hit of the running year.
Dust In The Sunlight release stunning new single 'Handful Of Water'
The new single is a melting-pot of vocal harmonies, dreamy synths, layers of strings and brass all building up to a crescendo of carnival percussion and drums.
Deer Scout (Carpark) talks songwriting w/ Told Slant for Talkhouse, influences w/ BrooklynVegan / Debut LP out today
Today, Deer Scout is releasing her debut LP Woodpecker on Carpark Records. Songwriter Dena Miller began writing songs under the Deer Scout name in her Philadelphia dorm room as a college freshman, before the project grew as she began popping up on DIY shows around New York and Philly, sharing stages with people like Waxahatchee, Joanna Sternberg, Gobbin Jr, Told Slant and Yowler while periodically putting out singles on Bandcamp and cassette. 6 years on from those first singles her debut LP has proved worth the wait, with the pre-release tracks earning praise from places like NPR's All Songs Considered, Stereogum, NYLON, BrooklynVegan, FADER, and a host of others.
The Travelin' McCourys Profess Their Love Of Suds With New Single "I Like Beer"
While it may not be the first time any of the five members of GRAMMY-winning bluegrass group The Travelin' McCourys have proclaimed their affection for the world's favorite carbonated adult beverage, it's certainly the first time they've sung about it on record. Out today, the McCourys' new cover of Tom T. Hall's "I Like Beer" is an uptempo waltz fit for summer music festivals, loose, late-night sing-alongs, and Oktoberfest beer halls alike. Banjoist Rob McCoury—Bluegrass's unofficial #1 beer drinker—appropriately finds himself on lead vocals for the first time in Travelin' McCourys history and is only briefly side-barred for a barn-burning solo section from the rest of The Travelin' McCourys' IBMA award-winning instrumentalists.
ELIZA & THE DELUSIONALS release new single "Halloween" from debut album NOW AND THEN, Out May 20
"'Halloween' was written around a time in life where it felt like we had no responsibilities and we could explore who we wanted to be and it never felt like we were attached to anything. It's about feeling like you're the main character in a movie and you get to choose the role that you want to play. Kurt had this song written maybe three or four years before we had even started writing together, let alone for the album, and when he showed me, I instantly connected with it and felt it needed to be a part of the record." – Eliza Klatt
SUNFLOWER BEAN – Shares New Single "I Don't Have Control Sometimes" | New album: 'Headful of Sugar' out 6 May
Today the band share new single "I Don't Have Control Sometimes". On the track Cumming revels in a period of recklessness and instability that brought her to the breaking point that made this new album such a force. But there's no darkness to mine here "I Don't Have Control Sometimes" is a jangly, bright pop song reminiscent of The Cure, confident in its refusal to be apologetic. "I don't care what tomorrow thinks/ Today I'm totally mine," Cumming sings, her scintillating vocals communicating a witticism and self-awareness that swallows any suffering beneath.
Watch Ricky Lake's "The Answer" video
Perenna Premiere "Murals" Music Video
B-LOVEE SHARES MISUNDERSTOOD PROJECT AND SHARES "ALL IN" VIDEO
"Misunderstood represents me, my style of rap, my personality, sh*t just me" says B-Lovee about the new project. "There's a bunch of stuff out there about me and I feel like most people have their own assumptions on who I am. I hope this project helps people understand me more."
MAGGIE ROGERS UNVEILS "THAT'S WHERE I AM" THE FIRST SINGLE + VIDEO FROM HER NEW ALBUM, SURRENDER OUT JULY 29th
Maggie Rogers, who will perform at the Coachella Valley Music and Arts Festival on April 17 and 24, said, "That's Where I Am" is a story I'd been carrying around for many years, the story of a love that had been with me and unfolding for a long time. A lot of the events that Surrender chronicles take place in New York City. In the stark solitude and distance of covid, it was the backdrop for all my claustrophobic fantasies. The proximity and pleasure of just staring at strangers. The way a night could unfold. Events that interrupt your day instead of having to consciously and deliberately make each decision. I longed for someone to sweat on me. Spill their beer on my shoes. Be too tall for me to see at the concert. The city's music and attitude was a big source of inspiration for the record. For all these reasons, there was only ever one place we could shoot the video. I've always said that New York is the city that winks back. It's a main character. It's a friend, a lover, an enemy sometimes. In many ways, the music video is about that New York love story. And on those filming days, it felt like the city was on our side. We got our first taste of true New York spring. That feral downtown explosion when suddenly everyone's smoking on the sidewalks in short sleeves and drinking gin and tonics. The appearance of a few classic New York characters – David Byrne, The Walkmen's Hamilton Leithauser, and photographer Quil Lemons – made the daydream feel complete."
DOECHII DROPS "CRAZY" VIDEO AND SINGLE NOW!
Top Dawg Entertainment (TDE) and Capitol Records' new artist Doechii drops the song and video for "Crazy" today. The record and the visual challenge the stigmatized imagery of the female form, with both the director, C. Prinz, and Doechii working extensively over the last four months developing the narrative of this film: intentionally and meticulously crafting each scene and frame to tell a story derived from both of their personal and shared experiences.
Jasmine Crowe Shares New Single "Invisible String"
On the new song Jasmine shares, "The inspiration behind 'Invisible String' and in writing the lyrics — the 'invisible string' — to me, it represents the pull from your heart when you are drawn to someone in life, and how even when you may be physically apart, you always feel connected to that person. The universe finds a way to bring you back together again."
Former K-Pop Idol, eaJ, RELEASES FIRST SOLO SINGLE "Car Crash"
New Signing Realizer Shares Hypnotizing Instrumental Track "Stay The Course" 
"When I made it, I hadn't recorded a Realizer track in a long time. So, it reminded me to focus and keep doing what I'm doing. Hence, the title "Stay The Course."
CAROLESDAUGHTER PLEADS "PLEASE PUT ME IN A MEDICALLY INDUCED COMA" ON DEBUT EP OUT TODAY
Opening up a world unlike anything else, gold-certified alternative pop artist carolesdaughter—a.k.a. Thea Taylor—presents her highly awaited debut please put me in a medically induced coma EP via Arista Records today.
Eyes Set To Kill Unleash New Track "Fake"
"Fake" focuses on the central theme of social media and the perception that we create. Speaking of the message behind the track, vocalist Alexia Rodrigues states, "Fake is about the versions of ourselves that we broadcast to the network of social media in order to steer away or cover up the reality of who we really are or how we really feel. I confess that I have been consumed by the idea of other people's perceptions of who I am from time to time."
Rockshots Records – SANDNESS Have "No Filter" w/ New Music Video For New Album "Play Your Part" Out May 2022
Italian classic 80's hair metal-inspired band SANDNESS will be releasing their fourth studio album entitled "Play Your Part" this coming May 2022 via Rockshots Records. The album follows their two previous released records on Rockshots Records, 2020 EP "Enter Please (2020) and 2019 LP "Untamed".
DRAMA Drops Housey Edit of 3AM w/DJ Emmaculate
DRAMA dropped their Don't Wait Up EP last month, which included the nightstalking cut 3AM, and today teamed up with fellow Chicagoan, and long-time studio partner, DJ Emmaculate to release an appropriately house focused Chicago edit.
Miku Martineau releases new video for "Stay in This Moment"
Whattaguy Music recording artist Miku Martineau releases the official video for her current single, "Stay in This Moment" today on Youtube. Miku effortlessly delivers the inspiring tune, letting the listener know it's ok to take a chance and cross that line. The video was directed by Joel Wetman, who also produced the track with songwriter, Shane P-W.
MIKE POSNER SUMMITS MT. EVEREST & SHARES HIS EXPERIENCE VIA NEW SINGLE & MUSIC VIDEO "HOME"
Portland Musician J Nicolas Reminisces on New Single "Lost + Found"
"'Lost + Found' was inspired by a couple of things: I've had this recurring dream since childhood, where I fall into a dark hole and encounter a witch," Nicolás explains. "It's a tribute to someone who has helped me find myself & encouraged me to be vulnerable as a means of finding my way out of that hole — often just by merely being in their presence." The accompanying music video displays Nicolás performing his newest track live in an intimate and warm setting. To keep up with J Nicolás, follow him on Instagram @JNicolasMusic and visit his website at JNicolasMusic.com.
Criminal Records Signs 'Stickman' to Release 'Ex-Box Life'
THE ALUMINUM GROUP ANNOUNCE RETURN WITH SELF-TITLED ALBUM & NEW SINGLE
14 years following the release of their last album, The Aluminum Group, an old school bliss-pop band formed in the 80's in Chicago by Frank and John Navin (gay brothers), announce today their self-titled album, due out on April 29. Arriving also today is the second single from the project, "Color My Lips Hot Pink" – a fun, sophisticated track that begs to be danced to.
Blue Fowers' signees, Mylar, Share Debut EP 'Elsewhere' || Out Now on Blue Flowers / PIAS
Today, Blue Flowers (Westerman, Nilüfer Yanya, Puma Blue) signees, London-based Mylar, reveal their debut EP, Elsewhere and also saw the release of their new video "Trailblazer" earlier this week. The EP has secured early praise from Clash, Brooklyn Vegan, Early Rising, The Luna Collective, The New Cue, The Independent, The Line of Best Fit, Disco Naïveté, Mundane Mag and much more.
EMERGING LA RAPPER KYLE GEE DROPS NEW TRACK "BLB2"
Today, 24-year-old emerging LA rapper/producer Kyle Gee releases his new single "BLB2." The track follows the release of his melodic single "Through The Fire" and the joint visual for "Through The Fire"/"BLB2."
Saib Releases New Album "Under The Stars"
Berlin-based, Casablancan beatmaker Saib is back for 2022 with a brand new 13-track LP, entitled "Under The Stars". The album features solo tracks and collaborations with key figures of the beats and lofi hip hop scene, including Tom Doolie, Bluestaeb, Flofilz, Cap Kendricks and Leaf Beach.
Lydia's Castle (ex-Staind, Soil) release new single "Search for You"
Lydia's Castle drops their newest single "Search For You" today on all streaming platforms including Spotify and Apple Music. The hard-hitting track was penned as a form of therapy for vocalist Tonya LeeAnne, who hopes to share her feelings of deep, personal loss with listeners. The song is the follow-up to their recent singles "Falling Into Place" and "Phoenix", which all will be included on a soon to be announced EP later in 2022.
LIAR THIEF BANDIT Release New Single "Diamonds (Are Made Under Pressure)" // THE RIVEN Launch New Single "Death"
Swedish power trio Liar Thief Bandit share the fourth single from their upcoming mini-album. "Diamonds (are Made Under Pressure)" is a feel-good rock track with uplifting choruses and vibrant riffs. The track continues on a theme presented on the band's latest album 'Deadlights' (2021). Mike from the band explains:
BE GOOD RELEASE "CRYING IN THE BATHROOM" AHEAD OF LONDON SHOW
"This song is written from the viewpoint of a someone who can't quite get what they want. I imagined zooming in to these close-up intimate moments, and zooming out to an almost disembodied sense of remoteness. The demo originally included a loop that we found online, but Patch re-recorded it on his banjo with his phone and sent it to us over Whatsapp. I love the scratchy imperfection of it. Felt really good to put it in the final track."
VIDEO PREMIERE: FlowerLeaf – 'The Storm' | New Album Series 'Dreamerie' Details Revealed [metal, melodic, female fronted, symphonic metal]
Centershift (ex-OneSideZero) releases new single "And So…"
Centershift, the new rock project from OneSideZero vocalist/guitarist Jasan Radford, has released their latest single "And So…" featuring Tallulah Swasey of Grumpy Plum. Swasey lends her familiar voice to this artistically heavy, emotional and larger-than-life track, creating a perfect balance of heavy and infectious vocals. "And So…" is available today on all streaming platforms including Spotify and Apple Music.
WHOKILLEDXIX UNVEIL PROVOCATIVE NEW EP LORE vol. 1
The guys bulldozed a path for the project with "DOZO." Right out of the gate, Lyrical Lemonade raved, "This self-produced, recorded, mixed, and mastered track has an insanely addictive bounce that combines with their diverse vocal selections that are seriously insanely addicting." Not to mention, it graced UK airwaves when Jack Saunders' Future Artists show exclusively world-premiered the track.
Homeschool Shares "The Strangest Thing" Single + Video via Ones To Watch | 'Homeschool: Book II' EP Out Now
Today, Homeschool (the solo project of musician Tom D'Agustino, formerly of Active Bird Community) shares a brand new single entitled "The Strangest Thing," alongside an accompanying music video. The track comes off his next EP, Homeschool: Book II.
Lostboycrow Returns With New Single "Chewed Up"; Signs To Nettwerk    
When asked about the video, Chris says, "I enjoy being on sets and I've had the pleasure of being on some really special ones. This video was no exception. I love the way it turned out, I think it looks great and represents the song in a way that's really exciting to me (Nicole crushed it). But I remember having this profound sense of success before we even finished filming, simply because we were all having fun at our jobs that day."
INTERNATIONAL PHENOMENON LAY ZHANG RELEASES "JIU"
The global pop star, LAY (Lay Zhang) has delighted his army of fans with his newest single release, "JIU", available now on all streaming platforms. The occasion today is the 10th anniversary of Lay Zhang's debut. The artist commemorates these years when he worked with his EXO brothers with this song. He wrote the song to celebrate this milestone as a toast to his brothers, and his fans hoping to see a better future.