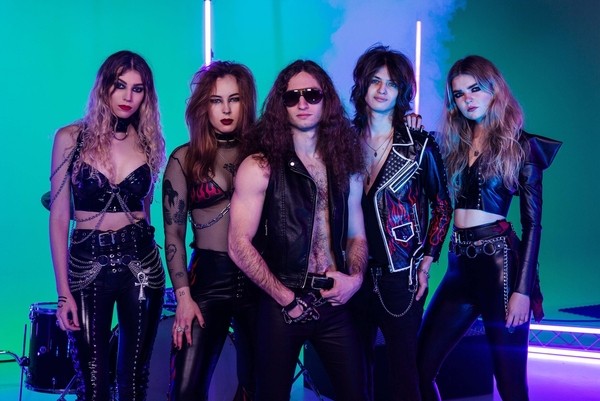 @skopemag news – thursday – april 7, 2022 @ 5 pm est
@skopemag HQ – http://smarturl.it/skope
Pa Salieu and SoundCloud debut documentary "The Return of an Afrikan Rebel"
Today SoundCloud has released a deeply personal documentary from emerging British-Gambian artist Pa Salieu. Produced in collaboration with Pa Salieu as part of the "First on SoundCloud" program and directed by Tayo Yussef, "The Return of an Afrikan Rebel" captures the artist as he travels back to Gambia for the first time since the age of 7. As a child, Salieu lived with his grandmother and elderly relatives in the West African country, describing that period as the most important time of his life, and the place where he gained his most profound musical influences.
East Village Rising Star, Breaker, Releases Timeless Rock Song and Video "People Change"
Breaker has the ability to get any room dancing. From playing piano at home, performing for strangers at parties, to charming friends with his confidence and wit, he has a magnetic personality and maturity that goes beyond his 21 years. With explosive drum and bass, zinging guitars, and a soulful choir of friends, "People Change" is an instant classic.
TURBO LOVERS Reflect On Past Mistakes With Rockin' Video "Should've Known Better"
With the latest release "Lettin' It Fly!" available for listeners around the world, Ohio's Turbo Lovers are continuing to deliver extraordinary rock done extraordinarily well. This latest album is fresh and full of the most completed and focused material that the band has written so far. For the new record they employed producer Dave Piatek and for the first time, they had another set of ears for the full-length, which pushed them to a whole new level. Today, they present their latest music video for the single "Should've Known Better".
HELMS ALEE DROP NEW VIDEO FROM FORTHCOMING ALBUM
Seattle three-piece Helms Alee announced a new album Keep This Be The Way for April 29th via Sargent House earlier this month and today they're back with the final single before it's release. "Tripping Up The Stairs" pits nightmarish synths against a barrage of distortion and is accompanied with an Apocalypse Now meets Swamp Thing styled video focused on the concept of control premiered today via The FADER.
French Melodic Artist NUITARIE Signs With Epictronic & Announces "Ghost Love Stories" EP
French Singer-songwriter Nuitarie is proud and honored to sign a deal with Epictronic for the EP 'Ghost Love Stories'. Thanks to Epictronic, she feels like she is making a big step in her career. She is very excited to see how this collaboration will unfold.
'Ghost Love Stories' is Nuitarie's fourth EP, but the first one that is not purely instrumental music. For this project, she dared to put her words into music and let her voice guide the listener through melancholy stories."
Silverstein Release New Single/Video "Die Alone" feat. Andrew Neufeld of Comeback Kid
Post-hardcore trailblazers Silverstein release their heaviest song ever today – "Die Alone" – featuring guest vocals from Comeback Kid's Andrew Neufeld.
JESSE MAC CORMACK – Releases New Single "All At Once" | New Album Out 8th April via Secret City
Montreal songwriter and producer Jesse Mac Cormack has released his new single "All At Once," from his upcoming album SOLO.
Mac Cormack has also shared a live performance video of the track, directed by Félix-Antoine Boutin & Thomas Leblanc-Murray.
VENESTI hace su debut musical con el sencillo "Shorty"
El artista integral VENESTI proveniente del pacífico colombiano, hace su debut oficial en la industria de la música con su sencillo "Shorty". Un tema urbano que se estrena con su video musical, disponible en todas las plataformas digitales de música.
TEXAS-BASED POP DUO SURFACES RELEASE OFFICIAL VIDEO FOR "I CAN'T HELP BUT FEEL"
Marking their grand return and the next era of Forrest and Colin's musical career, the pair dropped "I Can't Help But Feel" last Friday. In less than a week, it has already garnered over 1.5 million streams and was hailed by Rolling Stone who called the track, "fresh, breezy and a lot of fun."
LA's AUTOMATIC release new single "Venus Hour"
RAMMSTEIN RELEASES NEW VIDEO AND NEW SINGLE "ZICK ZACK"
Popular music, popular artists should always strive to surprise listeners – with good ideas, powerful and at times unexpected content, as well as great songs – something that Rammstein succeeds in doing again and again.
MARK TUAN OF GOT7 RELEASES FOURTH SINGLE 'SAVE ME,' OFF UPCOMING SOLO ALBUM
The fourth release on his solo journey, Mark continues to build on the rising buzz surrounding his first solo effort. SAVE ME continues the narrative crafted by his first three release LAST BREATH, MY LIFE and LONELY, which have quickly racked up over 28M streams on Spotify and YouTube combined. Each release has shown a different side of him, and with SAVE ME, Mark shows his vulnerable side, reflecting on keeping negativity at bay and knowing when to ask for help, a struggle that's far too common. Even with over a decade of experience in the music industry, Mark proves that it can sometimes be difficult tune out the noise and stay unaffected.
ACTION BRONSON ANNOUNCES NEW ALBUM + DROPS INCREDIBLE VIDEO FOR FIRST SINGLE
Action Bronson has announced a new album Cocodrillo Turbo for April 29th via Loma Vista. The album will include features from Conway The Machine, Roc Marciano, Hologram, Meyhem Lauren with production from The Alchemist, Daringer, Roc Marciano and Action Bronson. Bronson has found unending inspiration in the water, which is where the title comes from. "I first came up with this album while in the water. I've spent many lifetimes in the water. I'm just a water man. I was born in the water, I'm a water sign," he explains. It's also the basis of his incredible new, James Larese directed video for first single "Subzero". In it a tsunami hits New York where Bronson waits ready, bodyboard in hand to ride the wave through the streets as he raps about dropping a nine in the snow like a long lost Sopranos character before inserting a line about eschewing knives when ripping his bread. The short film takes him to the desert as The Alchemist drives a Mad Max styled vehicle and then back to the ocean where he is king of the crocodiles.
Out Now – $NOT Stays Joyriding in "Benzo" Video
COBRA SPELL Release Video For Groovy New Single "The Midnight Hour"
International heavy metal act COBRA SPELL has released a new video for their groovy second single, "The Midnight Hour," taken from the new EP, Anthems Of The Night, out now via an independent release.
GRAM continúa en escena con su último estreno
La Escena es una canción que busca transmitir la idea de intentar cambiar el rumbo de una realidad en la cual uno no está cómodo. La canción no tiene un hilo lineal sino que convergen varias historias detro de la misma.
Alice Merton Shares "Blindside" Single + Music Video via The AV Club
Alice Merton's debut album MINT saw the Berlin-based musician achieve phenomenal success. A fixture on Top 10 charts across Europe, Alice has accumulated 1 billion streams and was the winning judge of the German edition of The Voice. Now, Alice is set for wider international recognition as she prepares to release her eagerly anticipated sophomore album S.I.D.E.S. on June 17th via Mom + Pop. Today, she shared another single off the album, "Blindside," alongside a grippingly haunting music video.
Nitty Gritty Dirt Band Announces New Album "Dirt Does Dylan" – out May 20th
Five-decades-running Americana pioneers Nitty Gritty Dirt Band have already played a major role in the preservation and popularity of folk music—their Will The Circle Be Unbroken album series introduced droves of new fans to folk, country, and bluegrass and earned the band multiple Grammy awards—but now, the long-running group have taken on another American institution near and dear to their hearts; the Bob Dylan songbook.
Check Out PAUL JOSEPH BLUES PROJECT (Feat. Former Members of 100 WATT VIPERS & IRON BUTTERFLY) Official Music Video for Bluesy Rock Single, "Cold Rain Falling"!
Songwriter / Guitarist PAUL JOSEPH (100 WATT VIPERS) has teamed with Singer / Songwriter STEVE FELDMAN (IRON BUTTERFLY) on their soulful, bluesy masterpiece, "Cold Rain Falling." Produced by JOSEPH, the black and white, CONNIE CROWDER directed video features the duo performing the track with a natural blend of earthy passion and polished synchronization in Jacksonville, FL.