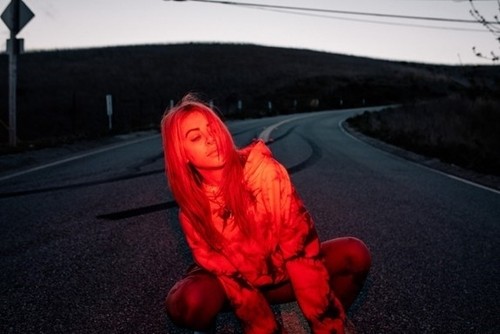 @skopemag HQ – http://smarturl.it/skope
HER SKIN | NEW ACOUSTIC VIDEO FOR SINGLE 'CONFIDENT' JUST DROPPED
The single is the first track from her forthcoming album 'I Started A Garden' that is unleashed on the world later this year. Originally from Modena – Her Skin is 25 year old singer songwriter Sara Ammendolia.
VANCE JOY ANNOUNCES NEW ALBUM IN OUR OWN SWEET TIME OUT JUNE 10+ FINDS HIS "CLARITY" ON NEW SINGLE
On the title of his new album, In Our Own Sweet Time, Joy shared, "I'm always drawn to the idea of timelessness or that shared moment that takes you out of the chaos outside. If the world is crazy, you can retreat somewhere. It's always hard to think of the right title but I think that sums up the album perfectly."
Loose Fit share new single 'Stupid Drama' – sax screeching punk | Debut album 'Social Graces' out 29th April via FatCat Records
'Stupid Drama' has a repetitive minimal funk thing going on, reminiscent of Use No Hooks and Pylon, but the vocals are sharp, dry and fiery, sometimes eroding into an acerbic Sleaford Mods style bored and anguished drawl. It's a bratty, snotty, foot-stomping, sax-screeching romp through the types of absurd, mundane predicaments that sometimes grow so big they seem to generate their own gravitational fields.
Dublin producer lullahush shares new video 'You Look Like You've Been Up All Night'
Today, Irish multi-instrumentalist and producer lullahush shares the newest single and video to be taken from his debut album A City Made of Water and Small Love, an intricate love letter to the small, everyday moments that make up a life, due out May 27th. New video 'You Look Like You've Been Up All Night' backdropped by the liminal space of Dublin's Royal Canal after an after-party, captures the fleeting intimacy of love in your twenties. Celebrating youth and all its heartbreaks.
FES Reveal Video For New Single 'Sun Visor' Released 7th April 2022
UK guitar-pop trio FES are pleased to reveal the video for their latest single 'Sun Visor' which is released on all good digital service providers on 7th April 2022.
William Poyer releases video for single 'Forgiven'
William Poyer has released the video for his new single 'Forgiven', the title track of his new EP out now via Spiritual Records.
The 'Forgiven' video is an emotive film which focuses on an elderly man full of regret. In his search for forgiveness he tries to harness time in an attempt to contact his past and change its course.
Folk/art-rock duo PET DEATHS announce second album 'unhappy ending' | release captivating new single "swingtime" (premiered by Lauren Laverne)
London based duo Pet Deaths today announce their second album unhappy ending – out 27th May via Silver Mind Records and release new single "swingtime" alongside a stark, surrealist black and white short film. The announcement follows the band's widely acclaimed debut album To the Top of the Hill and Roll… – released in 2019, described by Huw Stephens as "beautiful, understated and special" – noting it as one of his favourite albums of the year.
Inspired, musically, by the spiritual moments of Alice Coltrane, the freeness of Miles Davis' Bitches Brew with a sprinkling of Talk Talk's Spirit Of Eden in its colourful unravelling, unhappy ending is an enveloping experience, touching upon universal themes but all shone through the lens of lyricist and vocalist Liam Karima's signature perspective.
Gilbert O'Sullivan – One of the most revered singer-songwriters of his generation announces details of his new album: Driven
Today BMG release Take Love, the first single to be taken from Gilbert O'Sullivan's twentieth studio album, Driven, out July 22nd. Take Love finds Gilbert and guest vocalist, Scottish singer-songwriter KT Tunstall trading lines over a sizzlingly energetic R&B arrangement.
Yung Bae drops official video for latest single 'L.O.V.E.' ft. EARTHGANG, Jon Batiste & Sherwyn
Future Funk aficionado Yung Bae has unveiled the official video for latest single 'L.O.V.E.', also featuring hip-hop duo EARTHGANG, five-time 64th Annual Grammy Awards winner Jon Batiste and genre-blending artist Sherwyn, out now.
Boy & Bear Return w/New Single & Video; Announced for Bourbon & Beyond Fest!
Today, Australian ARIA chart-topping act and indie royalty Boy & Bear return with their newest single and video, "State Of Flight," available now via your preferred streaming service HERE. The single and video drop as the band were just announced for the Bourbon & Beyond Festival taking place in Louisville, KY September 15th through the 18th and are set to play on Sunday the 18th with Chris Stapleton, Marcus King, Yola, Madison Cunningham and more. Additionally, they're announcing their first tour in two years, as they embark on a nationwide Australian tour in June and July with North American, UK and European treks to be announced in the very near future!
CHILD OF CAESAR rebel against a slavish moral system with their new Gothic Metal single "Seven" and its threatening music video
After declaring its comeback last week and announcing the release of the new album "Spirit & Liberation" for late summer, the German Gothic Metal band CHILD OF CAESAR is releasing the first single "Seven" accompanied by a menacing music video now, which was produced in collaboration with Maria Goruleva of All4Band Design (e.g. Ignea, Diamond Head, Doomeye). The video clip perfectly matches the lyrics, which are about youth and their rebellion against a slavish moral system and the achievements of ethics and human reason. "Seven" is a song that gets stuck in your head with its anthemic haunting Gothic Metal, thrilling riffs and punching beat. For the sinister follow-up to 2015's album "Love In Black", mastermind and guitarist André Marcussen has stepped out of the shadows of the past with his project and recorded the eleven songs with the current line-up, which will be released worldwide on CD and digitally on August 26, 2022, via Dr. Music Records. The recording and mixing of the album was done at guitarist Christopher F. Kassad's Tones & Tunes Studio, and for the mastering, the musicians once again entrusted Mika Jussila of Finnvox Studio (Amorphis, Solstafir, Nightwish).
Alicia Keys Unveils "City of Gods Part II"
Today, 15-time GRAMMY® Award-winning artist and worldwide-celebrated music icon Alicia Keys debuts "City of Gods Part II," a reimagined version of her epic collaboration with Fivio Foreign and Kanye West, "City of Gods," released earlier this year. "City of Gods Part II" is available everywhere now. The accompanying music video made its global broadcast premiere on MTV Live, MTVU, BET Soul and BET Her, as well as on the Paramount Times Square billboards in New York City.
Oceanator releases sophomore LP 'Nothing's Ever Fine' tomorrow, April 8th, on Polyvinyl Record Co!
"The cars break. Everything goes slow motion. There's disaster and fire," foretells Elise Okusami, describing her cinematic vision of the end of the world. Apocalypse is a subject she mined in acute detail and to critical acclaim on 2020's Things I Never Said, her debut full-length as Oceanator. But in her most recent cataclysmic telling, she keeps the camera focused on the people who survive and need to keep on living. A couple escapes the wreckage in a classic pickup truck, their dog riding in the back. They find a new home in the woods and consider how to start over. "It could either be hopeful or negative," Okusami explains of the tale's ambiguous ending. "You're either walking off into a nice sunset or going off into a black hole. For me, it depends on the mood; it can be both ways."
Nice Vice Releases "No Ends" Music Video Inspired By Picasso
Toronto rocker Nice Vice has dropped a new music video for "No Ends." The song offers a nostalgic, '90s rock feel to a personal reflection on life habits in your 20s, setting boundaries, and learning how to let things be. "The 'No Ends' video all came from a Picasso painting titled "Le Clown" it inspired the whole video. It's about someone grappling with two different versions of themselves and not being able to see an end to the person that they have become," explains Seth Horst. Watch the video on Youtube and follow the band on Instagram @NiceViceMusic.
"Show No Mercy" From Upcoming Slayer Tribute Album Forever Reigning Released
Chicago's DISINTER have released their cover of Slayer's classic song "Show No Mercy". The song is from the upcoming album Forever Reigning, A Tribute To Slayer which will be released on April 29th 2022.
Supreme Unbeing sold their souls to the Devil – release new single "The Devil Smiles"!
The Devil betrayed the band (to no one's surprise!) and left the band to rot in their own greed until today when the band release their fourth, devil-fooling, single – The Devil Smiles – from their upcoming, second, full-length album Enduring Physicality (to be released 5.5.22).
Oceanator shares new track and video 'The Last Summer'
Brooklyn artist Oceanator recently announced her sophomore album Nothing's Ever Fine, co-produced by Bartees Strange, due out tomorrow, April 8th via Big Scary Monsters / Polyvinyl. Today, she shares new track 'The Last Summer', with an accompanying video directed by Baby Pony Food.
ALISON WONDERLAND UNVEILS "FOREVER"
Today, Alison Wonderland shared "Forever," the opening track from her forthcoming album, Loner. On the new song, Wonderland's raw, glistening vocals capture the first steps in a life-changing quest that takes her from darkness to light, from chaos to an immutable sense of purpose over the course of the album's 12 tracks. Listen to "Forever," which she first previewed during her sold-out, multi-night 2021 run at Red Rocks in Colorado.