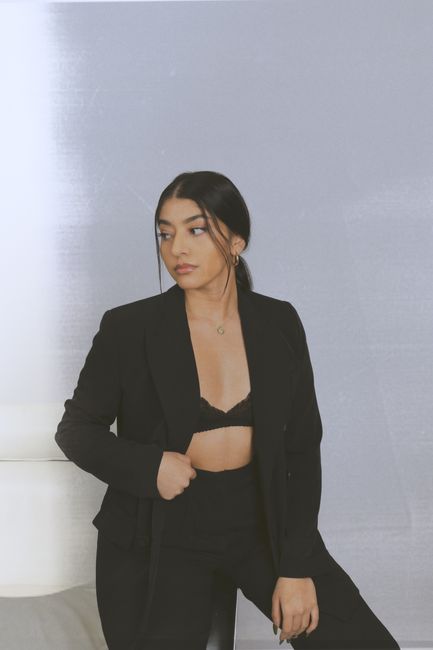 @skopemag news – wednesday – april 6, 2022 @ 12 pm est
@skopemag HQ – http://smarturl.it/skope
Swiss post-hardcore/stoner power trio JIAN (RIYL : Baroness, QOTSA, Fugazi, Kylesa, Sonic Youth…) premiered new music video "Coma Sex Life" // New album 'SINOPE' out now on digital through Bandcamp.
A couple of months after the official release of its debut album 'Sinope', Swiss power-trio evolving between stoner-rock/metal and post-hardcore music JIAN (including member from KØDE) just premiered a brand new official music video illustrating the song "Coma Sex Life" and available right now on YouTube.
NEW MUSIC: Soulful Duo ELIS NOA Releases 'Weights' Single [FFO: Billie Eilish, Lana Del Rey, Jordan Rakei, Jacob Banks]
London's ALICE SK releases "Electric" debut EP!
Now, the singer-songwriter has released her debut EP "Electric", produced by Muca (Los Bitchos, L.A. Salami). The EP includes Alice's tracks "Another Girl's Man", "Hidden Paradise", "Run Away" and "Sweet Like Honey". Alongside Brazilian bossa nova legend Roberto Menescal, Alice also featured on Muca's single "Until We Meet Again" which caused a stir during the summer and is also be released as part of the EP package.
It Was All A Dream (members of Peluché) share debut single 'Kookaburra' via Some Other Planet
Today, It Was All A Dream, the new dream-pop project from Amy Maskell and Sophie Lowe, formerly of London trio Peluché, have shared their debut single 'Kookaburra'. A kaleidoscopic blend of synths, samplers, clarinet, drums and vocals, It Was All A Dream create a beautiful sonic landscape which draws on elements of 90s pop, dance, dub, soul and RnB. Their musical concoction is as playful as it is moving, as they sing about emotional growth, climate change and being in isolation.
SAINT KOCHI reveals cinematic chamber-pop cut 'Almost Lost'
Saint Kochi crafts timeless chamber-pop. His sepia-toned aural vignettes operate at the intersection between mundane, incidental moments, and mind-broadening alternate realities. Latest single 'Almost Lost' is a quintessential example of this approach – gently cruising along its surreal psych, Americana and baroque-pop ornamented path.
Intimate & Sensual R&B from KIANA "chaos"
KIANA is a Toronto based R&B artist, known for her moody, soulful and hypnotic soundscapes. Reflecting feelings of heartbreak and melancholy, the songwriter touches on how growth is often painful but beautiful. With a unique Persian and Dutch upbringing, KIANA grew up in constant change. This experience taught her the beauty in letting go and adapting and as a result her lyricism developed into a form of observation of her ever-changing environment. Her music takes its inspiration from both Toronto and European music culture, creating something which is comforting and familiar, yet distinctly her own.
MYLAR share third single & video "Trailblazer"
Today, London quartet Mylar share a third single ahead of their debut EP Elsewhere which comes out this Friday 8 April via Blue Flowers (Westerman, Nilüfer Yanya, Puma Blue)
The new video for "Trailblazer" is directed by Irene Calvo with the song built around an instinctive, sinister, walking bass line.
Logic1000 remixes Groove Armada's classic 2001 track 'My Friend'
Sydney-born and Berlin-based DJ/producer Logic1000 has remixed the 2001 Groove Armada classic, 'My Friend'. Out 6th April via BMG, the remix is the first in a string of releases marking the 25th year since the band's debut single 'At The River'
Arlo McKinley announces new album 'The Mess We're In' & reveals first single 'Stealing Dark From The Night Sky'…
Out July 15th on Oh Boy Records, the follow up to 2020's acclaimed Die Midwestern makes a compelling argument that bad days really do get better, that love is still alive. Across the 11 tracks, captured at Memphis' famed Sam Phillips Recording Service and produced by Matt Ross-Spang (Margo Price, Jason Isbell, St. Paul & The Broken Bones), the Cincinnati songwriter emerges from the bleak, emotional fog that hung over his past two years. From the passing of his mother and best friend, to multiple others taken by the devils of addiction, McKinley drew inward for comfort, using the music as a way to orient himself in an uncertain world.
NGHTMRE AND SLANDER RELEASE OFFICIAL MUSIC VIDEO FOR NEW SINGLE "FALL INTO ME" FEATURING DYLAN MATTHEW
NGHTMRE and SLANDER have produced numerous hit tracks over the past few years, including "Gud Vibrations" in 2016, which eventually led to the creation of their record label, aptly named, Gud Vibrations. With both artists seen as festival mainstays, it comes as no surprise that they have taken over various festival stages around the world including Ultra and EDC and embarked on their own global tours.
Irish Alt. Rock Band MOVMENT Present "Propaganda" Single & Video
MOVMENT are an alternative rock bank band from Ireland. They have released 1 album, Broken Down, and 1 EP, Red Death Sessions. They will be releasing their 2ⁿᵈ album Transformation.
British pop punk band Ninebanks release new single "Little Silver"
Ninebanks are a band from Sunderland-UK, who started out April 2021 with their first release on September 10th. The group just released the new single "little silver" on March 21s. They are a pop punk band going for that 2000 era sound, basically the old-school stuff that the band grew up listening to and loved, so they have decided to make a band going for that vibe just with a touch of their own sound to refine it. The band's tracks were recorded from their home studio and it was mixed, mastered and produced with German based Injected Smile Studio.
Naomi Wild shares new single "OBSESSION"
Acclaimed emerging artist and songwriter Naomi Wild returns from a three-year hiatus with her highly anticipated new single "OBSESSION" via Boom.Records. "OBSESSION" embodies a palette of lush vocals and finds the rising artist exuding the utmost confidence through an authentically vulnerable and empowering lens. The breakout single received a World First premiere from Zane Lowe on his Beats1 Radio show yesterday.
Scout Gillett Signs to Captured Tracks, Shares New Single and Announces Debut EP (out 4/29), Playing Baby's All Right with Widowspeak in NYC Tonight
"I wrote 'one to ten' a few years ago to my future self, at a time when I longed for true vulnerability," explains Scout. "It's a track that encourages us to part ways with resistance and defy the urge to overanalyze – to let go. I wish for myself and my loved ones to experience true freedom in life and love, and this song expresses the beginning of that." Of the EP, she adds: "The covers here complement the title track. one to ten is a peek into my roots and inspiration up until this point in my life. I leaned into the diversity of my influences, classics that I grew up with and wanted to share with my own spin."
Rise Against Share New Interactive Video for "Talking To Ourselves," On Tour Now
Rise Against today shared their gripping new video for Nowhere Generation single "Talking To Ourselves"—a stand-out track about falling to complacency and feeling as though no one is listening—that features evolving and cryptic transmissions for fans to discover via QR codes, and are encouraged to follow over the next few weeks. "The intention behind the video was to yet again shed light on us as a society and to expand on the feeling that we have progressively lost our humanity. In our video, the QR codes represent little windows to the world outside of our bubbles, only to be dismissed and swiped onto the next event," explains director Ryan Valdez. "It feels so bleak. Heartbreaking headlines are so disposable and just another hashtag buried in the news of celebrity gossip and trending dances. As we watch and Tim sings 'Are we talking to ourselves,' I hope it reminds us to be human, listen, speak up and do better."
Alex Banks announces 'Projections', his brilliant new album on Max Cooper's Mesh
Excited to announce Alex Banks is returning with a brilliant new studio album titled 'Projections' set for release on Mesh this August. The work is his most ambitious yet, encompassing electronica, techno, breakbeat, bass and IDM.
NATALIE EVANS Reveals Video For New Single 'Movie' Released 6th April 2022 via Small Pond Records
London-based multi-instrumentalist virtuoso Natalie Evans is pleased to reveal the video for her new song 'Movie' which is out now on all good digital service providers.
Evans is also delighted to announce that the track is the latest to be taken from her forthcoming new album Movements, which is set for release on 3rd June 2022 via Small Pond Records.
SYLO (FORMERLY SYLO NOZRA) KICKS OFF NEW SONIC ERA WITH EFFORTLESS "MILLIONS"
Known for delectable tracks like "Ginny" and "FOMO" Sylo (formerly Sylo Nozra) is back today with a new name and new single "Millions." Introducing this chapter in his artistry, the Korean-Canadian alt R&B aficionado takes a step into a more intimate side of his musicality that showcases his sultry vocals over delicate production. Written in a remote cottage last fall, "Millions" is a silky love letter written in the form of manifesting none other than millions of dollars.
MISERY INDEX Releases New Single and Video for "Infiltrators" off Upcoming Album 'Complete Control'
MISERY INDEX states about the song, "'Infiltrators' is certainly the most hardcore-tinged song on the album (as well as the shortest). The lyrics target those who spew divisive, dehumanizing ideologies. It's an outright rejection (and admittedly a strong one) of those who support and apologize for these people and their anti-social, fascistic worldviews."
Tasman Keith + Genesis Owusu share 'CHEQUE'
'CHEQUE' picks up the boastful swagger of previous release, '5FT FREESTYLE', which saw Keith debut one of two personas whose journey will unfold through A Colour Undone. 'CHEQUE' sees the reappearance of an insolent, devilish ego that thrives on self-indulgence and conceit. What begins as a stripped-back gospel service rapidly snaps into fury – ruminating on the need for a savior, for "someone that's going to come down to this earth and just do something for us," salvation arrives through a steadfast beat-switch. Here Tasman and Genesis share a wrath as unapologetic and vicious as Pusha T and No Malice, be it Keith's remark "I told her watch em ego trip, I bust their ego lip" or Owusu's "You put your name next to mine, the audacity."
Bush Tetras Welcome Drummer Steve Shelley, Announce North American Shows & Release "Snakes Crawl" Video by Austin Julian-Sley
Bush Tetras are excited to welcome Steve Shelley, a New York-based drummer who truly needs no introduction. On top of recording and touring as a member of Sonic Youth since 1985 and working with countless other groups and projects, Steve founded the renowned Smells Like Records, is the operator of Sonic Youth's excellent SYR and Goofin' labels and helps to curate the Sonic Youth archive.
Frog Eyes Shares "Rainbow Stew" Single + Lyric Video via FLOOD Magazine
Today, Vancouver indie-rock greats Frog Eyes share "Rainbow Stew," the third track off their forthcoming comeback album (their first album in four years), The Bees (due April 29 via Paper Bag Records).