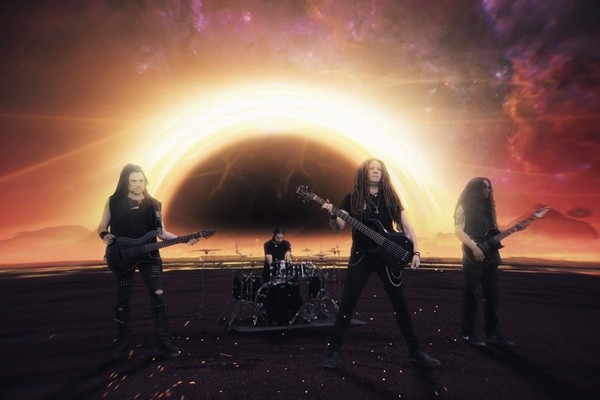 @skopemag news – sunday – april 3, 2022 @ 12 pm est
@skopemag HQ – http://smarturl.it/skope
French progressive death-metal Wrath Of The Nebula streamed entire new album 'The Ruthless Leviathan'
A few weeks after unveilling an official music video illustrating the single "D.N.A of the Gods", Progressive Death-Metal 4 piece Wrath Of The Nebula finally released its debut full-length album called 'The Ruthless Leviathan' and available worldwide right now on CD & digital through M & O Music/Season Of Mist.
REN MARABOU AND THE BERSERKERS Unleash New Single 'Brand Of Sacrifice'
Today, April 2nd, Irish Viking Metal/Norse Pagan Rockers REN MARABOU AND THE BERSERKERS have unleashed to the masses their new digital single 'Brand Of Sacrifice', via United Music Mafia.
"A song for the wild ritual warrior, the Berserker within. We live our Brand of Sacrifice and we fight without fear. To Valhalla, Til Valhal 🛡⚔️"
GRAMMY WINNING PRODUCER WALSHY FIRE, SMURV AND FELICIANA DROP NEW TRACK "BIRTHDAY"
Grammy award-winning Jamaican-American producer, DJ and emcee Walshy Fire of Major Lazer today dropped his newest produced single "Birthday," featuring Feliciana and executive production by SMURV. The celebratory R&B birthday anthem opens with smooth vocals and a weightless sample that anchors the entire track. Feliciana recommends listening to the new single "at least one drink in, at full volume in a car with friends, on your way to spend money on more stuff you don't need." The track comes ahead of her upcoming EP titled "Mirrored Reflections," executive produced by Walshy Fire and SMURV, coming out later in 2022.
SHANNON QUINN RELEASES EDGY NEW SINGLE "HATE YOU"
With gut-wrenching lyrics like burned me down to the lowest wick, had to get in that last kick, and all I want to do is hate you, but it's something I'll never do, "Hate You" tells the story of a broken relationship, detailing all the emotions that coincide with it.
Livers Shares New Single "Anyone" via Glide, Read More in Indie88
Livers is the moniker of Danny Webster, a singer songwriter and multi-instrumentalist based out of Toronto, Canada. Raised in a small town in Ontario, Danny was raised on his mother's love of classical music and his father's of 80's metal, becoming fascinated by music from a young age. Almost completely self-taught, he started writing songs as a therapeutic activity after his mother passed when he was 14, leading him to release his first album a few years later. After graduating high school, Danny attended a prestigious jazz program in Toronto but dropped out after a year to put more time in his own creative pursuits. Since then, he has released many singles, EPs, a second album with a third on the way exploring folk, indie rock, country, and pop styles. His lyrics tend to focus on loss, love, grief, fear, and anxiety, listing his main influences as The Beatles, Tame Impala, ABBA, Bon Iver, Radiohead and The Beach Boys. Aged 22 now, he intends to continue exploring different genres in his writing and continue to perform with his backing band.
SONG PREMIERE: Livers Explores Dream Pop At Its Most Contagious Via "Anyone"
Sunrise and Ammunition Defy the Bounds of Genre in their Latest EP, 'Triangulum'
They had this to share about Triangulum:
"These songs are inspired by transcendence, whether that's transcending your physical location, the limits of your ego, or interpersonal problems. Music is the vehicle to transcend, and to let the imagination take us on a journey to the spaces beyond our normally limited self."
ZíA Returns to Bassrush Records With Scorching Sophomore Single "Turn it Up" – Apr 1
The Philly-based artist has been turning up the heat with her distinct style of wobbles that have taken the shape of a string of singles and a recent full-fledged EP that have seen her release with Deadbeats and Circus Records. In 2019, she kicked off her production career with her inaugural single "Shotgun Sol," which was issued by the Bassrush crew. She's now making her highly anticipated return on her sophomore release with the label, "Turn It Up," a scorching dubstep single fueled by metallic synth hits, wompy synths, and an ever-changing groove that shows him turning up the heat higher than ever before.
Artist: ZíA
Title: Turn It Up
Label: Bassrush Records
Genre: Dubstep
Release Date: April 1
LOREN KATE ANNOUNCES AFFECTING NEW SINGLE AND VIDEO 'ONE OF THESE DAYS'
The music video is really powerful as well. Masterfully directed, the clip really tells the sad but all to relatable story incredibly effectively. Utilising an untouched and neglected property brings to life the trauma and pain that the song reflects on. The acting in this piece is outstanding and really hits home the way in which drug addiction can take over someone's life. Ultimately while the music video is forlorn, it has a hopeful outlook in that while we can go through the darkest times, there's always lights at the end of the tunnel.
WINDRUNNER Release NewFull-length Album 'TAN'
Vietnamese progressive metalcore act WINDRUNNER are finally introducing to the world the release of their new full-length record 'Tan', which is now out worldwide through Famined Records. With a futuristic post-apocalyptic theme, 'Tan' touches on human conflicts, battles against oneself and family displacement. The tracks are named after different color shades, suggesting their moods and vibe.
Katie Belle
She is an American Pop Artist, musician and international model who appeared on American Idol Season 17. Her breathy voice and playful, stage presence caught the attention of mega stars like Katy Perry and Luke Bryan.