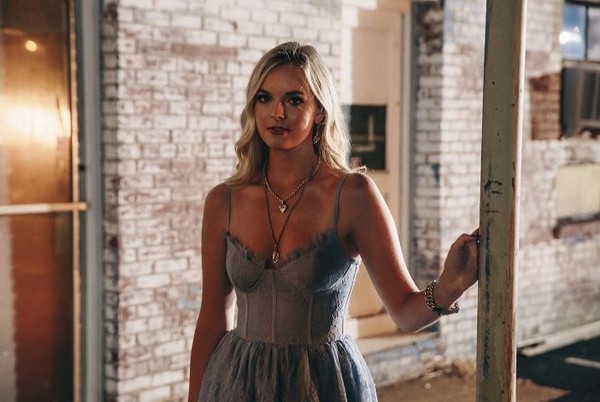 @skopemag news – friday – april 1, 2022 @ 11 am est
@skopemag HQ – http://smarturl.it/skope
Memphis Singer-Songwriter, Brooke Fair, Drops Her Single, "First Love" from Forthcoming Album
Memphis native, 17-year-old singer/songwriter, Brooke Fair announces her forthcoming nine-track studio album, "The Things We Were," set to release on May 20th. The album is available for pre-order/pre-add across all digital stores, with the single, "First Love," available now.
The upcoming album is produced by Matt Tutor (Derek Trucks, Eric Gales, Kenny Wayne Shepherd) and Chris Carter (Kirk Franklin, Chrisette Miller, Marcus Miller, and Jekalyn Carr), and is a follow-up to her 2018 6-track EP titled, "All Queens Wear Crowns," with her track, "Love Songs On Loop," garnering over 100,000 Spotify plays. "Universe," and "I Can't Breathe," produced by Justin Timberlake's guitarist/producer Elliott Ives and Scott Hardin, followed the EP.
SCARS Drop New Video "Battles" – Wormholedeath New Releases Out Today – 01 04 2022
"Battles" is a track taken from Scars' upcoming album "Trust No One!", due for re-release on May 6th via Wormholedeath worldwide. Scars is a Norwegian Metal band founded by Ole in 2013. The idea was to create straight forward and catchy, melodic metal.
MUVI Unveils New Single "Grace Cale"
MUVI has unveiled his brand-new single, "Grace Cale". "Grace Cale" is a sad-pop anthem that shows another more intimate side of the Italian multi-instrumentalist and songwriter. The stunning track arrives alongside visuals directed by Jari Brontesi and is the second single taken from MUVI's upcoming debut EP, LINE-A.
Alok & Bastille drop new single 'Run Into Trouble'
Brazilian dance music icon Alok has linked up with platinum-selling superstars Bastille on new single 'Run Into Trouble', out 1st April on Positiva.
LATVIA'S BLOODY HEELS ANNOUNCE NEW ALBUM "ROTTEN ROMANCE"
Latvian hard rockers Bloody Heels have announced their return with a new studio album, "Rotten Romance" on June 10, 2022. Today, the band has released a new single and video, the title track, from the album. Watch the 'Rotten Romance' music video HERE:
Romania's DIRTY SHIRT Release New Album "Get Your Dose Now" And Kick Off Tour
Dirty Shirt, hailing from Romania, is gearing up for an exciting April 1st as they release their sixth album "Get Your Dose Now!"; play live on Rock FM Bucharest and later that day, kick off their new tour in support of the release. Each song on the album has a particular ambiance, very different from the others, but coherent.
Blu DeTiger Shares New Single/Video + UK Tour Dates
Singer-songwriter and bass-playing prodigy Blu DeTiger shines on new single "Hot Crush Lover," out now via Capitol Records, an early and irresistible candidate for catchiest song of the summer. The song was co-produced by John Hill (2x Grammy Producer of the Year nominee) and co-written by Lowell. Opening with an energetic scream, the record weaves her tight signature baseline through a glossy pop-landscape and undeniably catchy hooks. "Hot Crush Lover" is accompanied by a music video directed by Will Kindrick (Kaskade, Neon Trees, Ice Cube, etc) that is packed with childhood nostalgia and carefree cool. Pastel pop and bodega candy serve as the backdrop for Blu's surprisingly slimy performance.
Judah & the Lion Announce New LP "Revival" out 6/10 & "HAPPY LIFE" single & video out Today!
Judah & the Lion announce their fourth full-length studio album Revival today with the release of their "HAPPY LIFE" single and music video, listen/watch HERE. The new album was recorded at Echo Mountain in Asheville, NC and finds the band attempting to recapture the innocence of their youth, embracing the sadness and loss of the last few years and welcoming the future with a renewed energy and spirit that harkens back to the group's earliest days. Like most of the world, Judah & the Lion's Judah Akers and Brian Macdonald found themselves doing a lot of soul searching over the pandemic that was the catalyst for personal and profession rejuvenation and evolution.
MASKED WOLF FT. BRING ME THE HORIZON – "FALLOUT" OUT NOW
Of the new collaboration, Masked Wolf commented, "I haven't done a collaboration that felt dark; I always felt that my brand had that edge of darkness to it, and I was waiting for the right opportunity to come along. When I heard 'Fallout,' it grabbed me straight away. The way I felt like I was meant to be in the rubble but could still be brought out, that's the feeling it gave me." He continued, "The way the song builds over time made me feel like there was nothing wrong with it at all. To me, it's perfectly structured and gives me the emotions I love diving deeper into when writing songs."
Erin & The Wildfire Release Highly Anticipated Sophomore Record "Touchy Feely"
Touchy Feely was recorded in the Summer of 2021, after nearly a year and a half of virtual songwriting and collaboration during the global pandemic, and was produced by acclaimed songwriter and producer Matthew E. White (Natalie Prass). With meticulous production, impeccable songwriting, and sensual vocals, the album polishes the signature style introduced by their popular single "Shape" in 2020. Lunsford's deeply personal lyrics are prevalent as ever with this album as she shares her journey through struggles with body acceptance, self-love and fighting the patriarchy in music.
Taylor Bennett Shares New Single "Fall Short," Announces Album 'Coming of Age'; "Be Yourself, Be A Champion" Tour Kicks-Off Today in Atlanta
Multi-genre Chicago-based artist Taylor Bennett today shares his brand new single "Fall Short" as the first taste of his forthcoming album, Coming of Age, due out later this month. The ebullient new single "Fall Short" arrives as an amped up summer anthem blending alternative, rock n' roll and hip-hop over a buoyant warm beat. It's a testament to Bennett's ongoing quest to push boundaries, defy genres and not be contained by cultural norms.
Ken Yates releases single + ski race themed video, "Consolation Prize," ahead of LP out this summer
The melancholic "Consolation Prize," featuring Katie Pruitt, finds Yates back with his sweet, signature guitar strums, only this time, exploring the depths of a heartbreaking unrequited love.
NEW MUSIC: Soulful Duo ELIS NOA Releases 'Weights' Single [FFO: Billie Eilish, Lana Del Rey, Jordan Rakei, Jacob Banks]
The duo is comprised of Aaron and Elisa who are both currently based in Vienna, Austria. The pair met during their time at the Jazz Department of Vienna's Music University. Together, ELIS NOA have released two EPs, High EP and Love Letters as well as their successful debut LP, What Do You Desire? ELIS NOA's sound ranges from pop to contemporary RnB, all the way to future soul. The pair is inspired by the works of Emilie Nicolas, Jacob Banks, Jordan Rakei, Frank Ocean, Jazmine Sullivan and Oliver Malcolm. However, their own sound draws parallels to the likes of Billie Eilish, Lana Del Rey, Jordan Rakei and Jacob Banks.
New minimal pop experiment by rising Norwegian/Ethiopian producer, vocalist Varnrable
Rising producer, vocalist and multidisciplinary artist Varnrable is unveiling today the details of her forthcoming debut album, Air Born, due out April 29, 2022 on beloved Danish label Escho (Iceage, Ydegirl, Smerz). Born Camilla Myhre, her life and work is informed by her mixed race upbringing as Norwegian and Ethiopian, and her experience being adopted at a young age in Norway.
Rachel Grae shares new single + video "Good Side"
Emerging pop artist Rachel Grae returns with her new single and video "Good Side" on Boom.Records. The authentically raw and subtly poignant single touches on the human condition and how humanity has lost itself to the unrealistic standards set by social media culture. Driven by clever introspective and hooky earworm lyricism that showcases Grae's powerhouse vocals, songwriting, and storytelling abilities.
Moderat share "MORE LOVE" video ahead of MORE D4TA album
Moderat, the trio of Sascha Ring (of Apparat) and Gernot Bronsert & Sebastian Szary (of Modeselektor), have just shared "MORE LOVE," the third single from their upcoming fourth album MORE D4TA (scheduled for release on May 13). A luminescent slice of electronic pop, MORE LOVE is a celebration of life. Palpably warm and bathed in lush static, the song is partly inspired by Botticelli's Venus; a stark painting situated across from his iconic The Birth of Venus at Berlin's Gemäldegalerie, it depicts the radiant goddess standing completely alone, naked and newly arrived in the world. It's a potent image, and as vocalist Sascha Ring — who frequently visited the museum over the past two years — swirled it around in his mind, he began to dream up a similar vision of a woman dancing alone at night, her inner vitality lighting up the merciless dark.
KARLEY SCOTT COLLINS UNVEILS HER "TATTOOS"
"'Tattoos' is about how memories of a person can feel like they're engraved in permanent ink on your heart no matter how much time has passed or how much you want them erased," Karley said. "It's about wanting to move on from something and not being able to, which is a feeling I think a lot of people have experienced."
RIPE shares explosive single "Settling"
Ashley Cooke Enlists Brett Young for Heartfelt Duet on "Never Til Now"
Breakthrough Country artist Ashley Cooke teams up with Country megastar Brett Young for a heartfelt duet on Cooke's lovestruck hit-single "Never Til Now," available everywhere now. via Big Loud Records / Back Blocks Music / BMLG Records. Originally released as part of Cooke's debut project Already Drank That Beer in Aug. 2021, the romantic love song has since skyrocketed to viral success across TikTok and digital streaming platforms, notching over 46K user-generated videos and over 30­M streams. The track is released in conjunction with an all-new music video with Cooke and Young, out now.
Alt-pop icon Lights has debuted her highly anticipated new album PƎP. The album has already received early praise from NPR, who lauded the collection's "insanely catchy hooks" and tipped the artist as "ready for world domination." The 13-track record is available now via Fueled By Ramen.
C Duncan Shares New Single "Bell Toll" || Out Now on Bella Union / PIAS
With his new album Alluvium due out May 6th via Bella Union, Glasgow born C Duncan shares another enticing new track titled "Bell Toll" from the much-anticipated release.
Rising Singer-Songwriter Anne Wilson Releases Her Latest Single "God Thing" Available Now
"God Thing is a very special song. I grew up hearing the phrase 'It's A God Thing' and didn't fully understand that until I watched God do miraculous things," says Wilson. "He is faithful and is always moving in our lives even when we can't see Him. I pray this song shows you the places that God is working in your life."
RAP STAR DREEZY DROPS "THEY NOT READY" SINGLE & MUSIC VIDEO
"I feel like we got to experiment with each other's sounds and create something that's different in the game right now. It's cocky, it's barred up, and the production is crazy! 'They Not Ready' is the perfect song to get people hype for our collab project," says Dreezy.
LORDS OF THE TRIDENT Release New Album 'The Offering' – Out Now!
Wisconsin-based heavy metal band LORDS OF THE TRIDENT have released their new studio album, 'The Offering', today (April 1) on all major digital/streaming platforms! Featuring the singles "Charlatan", "Acolyte", and "Carry The Weight", the new full-length is the band's sixth LP, and this time around, Lords of the Trident put an emphasis on connecting with their loyal fanbase like never before. In light of the recent lull in live shows and touring, the band created a Patreon where they would be able to share exclusive and finely crafted content with their most eager followers. By the time 'The Offering' was announced for a worldwide release, Patreon members had already been granted access to hear the new album in all of its glory!
CHRIS BROWN DROPS NEW SINGLE "WE (WARM EMBRACE)"
Today, global superstar Chris Brown releases his smooth new single "WE (Warm Embrace)" via RCA Records. This vibey track follows the release of Brown's melodic single "Iffy" along with its Joseph Kahn-directed cinematic visual back in January of this year.
Wallis Bird examines the intersection of personal identity and the authority of control in new song
"Aquarius" is a song about identity, constantly moving and questioning the authority of control, "Aquarius" paints a bigger picture with its witty intellect and openness of political statement. "The simple chorus is basically my own origin story, but the verse is about having the right to choose your own choices, pretty fundamental stuff: euthanasia, abortion and Ireland's Repeal the 8th movement, healthcare etc. These are really intricate things that became part of the big conversation about control and who controls what in life" explains Wallis.