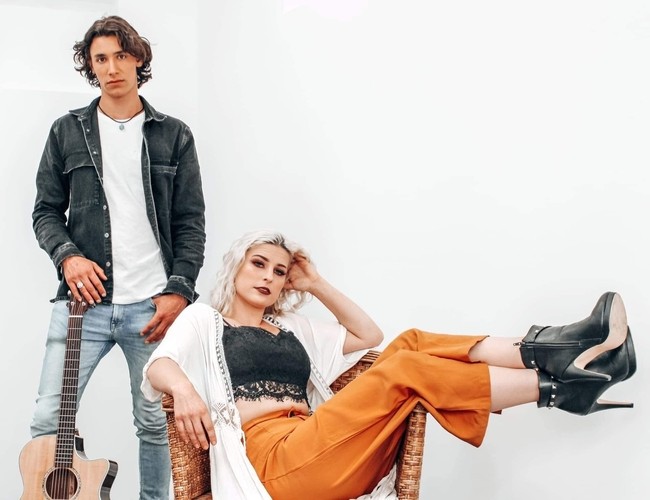 "Be Gentle With My Mind" the newest single by Love And Able is one of those declarative titles with a pleading undertone. The Welsh duo, who are also a couple, have contrasting backgrounds and they've come together to create a signature sound. Their genre is probably best described as Adult Alternative, and this particular track is on the heavier side of that equation. It's a competently written song with a relatively deliberate delivery. It's got the potential for mass appeal, and its overt Rock overtones will likely hold pros and cons for the duo.
Emma Jene and Dylan Norris comprise the duo known as Love And Able. Emma is the Lead Vocalist, and it's unclear if Norris plays all the instruments or is strictly guitar. It's obvious that he is the driving force, creatively and musically, but Jene is every bit his equal. The drum tracks on "Be Gentle With My Mind," are particularly bombastic. In fact, everything comes together on this track to offer an intense but accommodating experience.
Vocally, Emma Jene falls somewhere in between Amy Lee and Pat Benatar. Her show stopping vocals are going to be the first thing you notice about the single. She has one of those voices you simply can't believe hasn't been discovered yet, and Norris really knows how to make her shine. Before Love And Able, Jene had concentrated on Country Music, which is simultaneously easy and hard to believe. She collected several accolades along the way, but as all great artists do, she was seeking a new challenge.
On her journey of reinvention, she met and developed a personal relationship with Norris. Dylan Norris's background is rooted in the club and band scene. He has obviously integrated Jene into the Rock genre and it seems to suit her better than most may have expected. It's the variegated aspect of Love And Able's sound that creates the real magic on "Be Gentle With My Mind." The various elements come together to create an energy with broad appeal.
You took the beat right from my chest/no chemicals to cure my loneliness. Lyrically, "Be Gentle With My Mind," does a tremendous job of capturing the cold sting of negative reinforcement. The message behind the song is easy to understand, but difficult to define. We've all experienced rejection in a variety of forms. How we process the psychological consequences of rejection, is never done the same way by the same people.
"Be Gentle With My Mind" is enough to sell myself and likely, many others on the forthcoming Love And Able album. As a single, it sets the bar high, but the songwriting prowess the two have shown with this effort is more than promising. There's a wonderful true story behind the duo, and it will likely place a positive spin on their careers and creative chemistry. Emma Jene and Dylan Norris have virtually ensured that the anticipation for the record will be high, after such a stellar effort on the initial release. The mind is a beautiful thing, and Love And Able are here to ask you handle it with care.
Gwen Waggoner