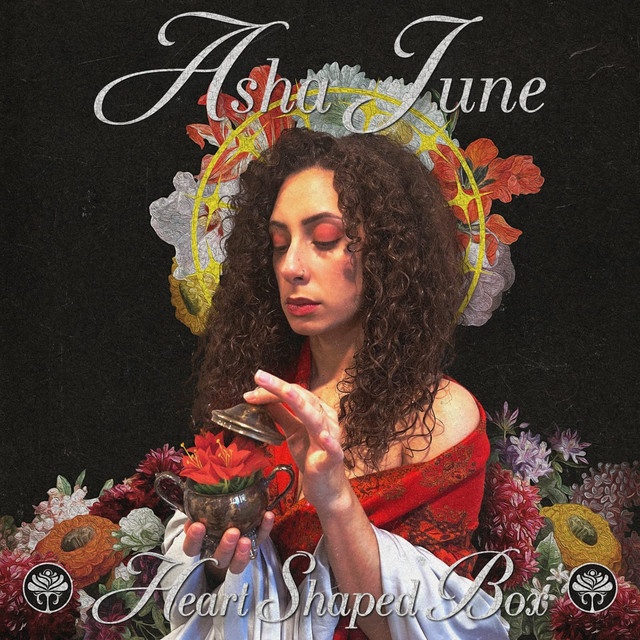 @skopemag: Where are we speaking from today and how are you doing so far this week?
Hi! Firstly, thank you for asking! We're speaking from Toronto, Canada. I'm doing well thanks, though eager enough for spring to actually… spring. It's pretty chilly up this way still.
@skopemag: Not to get into politics but how does the brutal war in Ukraine effect how you see humanity today?
What's the phrase; "The personal is political"… what happens in politics is more than just heresy or headline. It has a clear, direct, and in this case, brutal effect for millions of very real people. The nihilist in me is in no way surprised by the brutalism we've seen over the past month. War, certainly, is nothing new for humanity, or society. But those are very easy words to say when it's not your family, friends, and home suffering. It feels trite, honestly, to say anything at all about how the invasion on Ukraine effects me, when everyday people are forced to flee, some finding temporary solace whilst their refugee status and visa's hang in bureaucratic limbo, with others forced into human trafficking, or worse. I wish this was the exception. History shows otherwise.
If you, or anyone you know, would like to help, the UNHCR (UN Refugee Agency) has info for help organisations, (though there are many others), and many ways contribute.
@skopemag: Is Asha June your real name or musical alias and how did you decide on that name to express your music and art?
Yes actually! Though somewhat abridged. I used my first name, and subbed in my middle, named for my godmother. I wish there was a well thought out reason for the change, after all I went by my full first-last for a number of years. Mostly it was due to it being one syllable. Also my surname is a lesser known, albeit relatively simple, Dutch name which nonetheless has constantly been misspelled/mispronounced. Plus, it's easier for my graphic designer to fit on the cover art!
@skopemag: At what age and time in life did you realize that music was your passion and was something you wanted to do as a career?
I'd always had a love for music. As a kid, I was obsessed with Disney movies, (wore out a lot of VHS), and musicals. We would watch 'The Sound Of Music' every year at Christmas, and to this day, 'Edelweiss' brings tears to my eyes. Like many children, my sister and I were put into piano lessons, and I would annoy the hell out of my dad when, instead of practicing my RCM pieces, I would noodle and write little songs… and I suppose I never stopped.
It wasn't until years later, when at my Uncle's suggestion, I auditioned for a music program at a local college, which led to me continuing on to my degree, and while I took a hiatus for a few years, I never stopped writing, or performing. As I began to build my network, and confidence in my writing, I began to see a more clear path of the kind of art I wanted to create, and the kind of artist I wanted to be, slowly, things began to come together. I think there is an incredible amount of pressure, on young people in general, but especially on those in the creative arts, that your talents must be some prodigious miracle by eighteen, if not, then you've missed the mark, when really, it's a lifelong exploration. I know for myself, I feel more comfortable and secure as a person. That makes me a better songwriter, a better artist, and most importantly, a better person.
@skopemag: Would you say that your friends and family have been supportive of your pursuit in music?
Well, most of my friends, I've met because of music, if they aren't musicians themselves. That's the nature of the work, and I'm better for it! My family has always been incredibly supportive, which I know has been especially difficult for my parents. Not because they didn't want me to succeed, or didn't believe I could, but coming from immigrant parents, one being an immigrant themselves, having grown up in poverty, one in a very uncertain political climate, they want for me to have safety, and stability. Especially from the financial perspective. Considering the immense amount of artists out there, and the percentage able to reasonably subsist, if not thrive, it's terribly frightening. I'm actually astonished how well they've taken it! Especially all these years later. I'm still getting my mum to learn how to access Spotify, but she's my biggest cheerleader, and inspiration. There have been many, many late night calls and hysterias she's calmed me through. Honestly, if there is tenacity or character in myself, it's all because of her.
@skopemag: Besides making music do you also have other responsibilities such as a job or school, family, etc?
I'm actually about to do some second language certifications- though I was in a French immersion school growing up, there isn't very much spoken outside of Quebec. As a language lover, it's been a goal of mine for awhile to spiff up my grammar. I'm excited to feel more confident writing in another language again!
Insofar as work, like a lot of musicians, there are side-gigs to balance in between the music stuff. That's just the reality for a lot of us. I am fortunate that I have flexibility in my schedule to allow for recording sessions and, as things are opening again, live shows! Also, I have a cat. Her name is Lucy, (short for Lucyfur), she is a callous, furry little demon, and I love her to death. You will definitely see way too much of her on my insta.
@skopemag: We are loving your cover of Nirvana's 'Heart Shaped Box'. What inspired you to put out your own version to this huge hit song?
Aww that's lovely! Thank you very much! In truth, I could have picked almost anything from their material and be thrilled. I've done different versions of 'In The Pines', (which, I know is already cover-inception), or 'Polly', or 'Something In The Way'… but there's a devilish thrill in taking something so well known, so well loved, so widely played, and be inspired to find your own voice within it. With any cover I do, I always take the approach of re-writing the song. I take the lyrics, transcribe the chords, then basically muck about on the keyboard, throwing in inversions and chord substitutions, playing with the melody and adding tones and timbres that are more naturalistically my own, and once I hit something that feels right, I move towards working on the demo, and developing it further. Or, I just tuck it away as an acoustic/live version. It's a great exercise, especially if I'm feeling underwhelmed by songwriting that day.
@skopemag: Were you a huge fan of Nirvana prior to this release and what does Kurt Cobain's legacy mean to you?
Oh. Most definitely. I saved up for months to buy this huge, glossy boxset, with all their music, including B-sides, studio sessions, lyric journals, etc… I played them often enough to burn one of the discs, if that's any indication. I've never been one who's had much interest in the personal lives of the musicians who's music I listen to. Usually, I'm pretty focused on the song, trying to figure out what they played, and how they recorded, and how they were able to sing a particular run, or create a certain inflection. Especially pre-internet days, when a lot of discovery was relegated to catching something interesting off one of the decent Uni radio shows, and trying to track it down at a record shop. But of course, there are some events that impossibly shade your perception of the music. I mean as much as Kurt Cobain was, you know, Kurt Cobain, he was also just a guy, who played guitar, who wrote beautiful songs, who played in a band with his friends. That's his legacy. That he was here, he was human, he was flawed and fragile and wonderful and terrible, and that is life, and that is all of us.
@skopemag: What other musicians did you bring along to play on this track if any and where did you record and master the final version?
I've been working with this amazing producer, Jeremy Rompala, who is LA-based. We did this all remote! Essentially, I sent him the demo, with rough lead vocals, harmonies, and piano, we had a quick zoom to talk over the finer points of production, sound/feel, and as we both vibed right from the start, it was pretty much done in a couple versions. Jeremy has a wonderful intuition, he added his magic, I recorded it in my apartment, sent him the audio files, and he mastered it himself. He's an absolute thrill to work with and I can't wait to share our further collaborations. Jeremy, if you see this, you're the best!
@skopemag: Do you have plans to release your own material and when can fans expect to hear that?
I do indeed. My next single, 'Here' is due to come out early May, and a funky little number I'll be teasing out, comes just in time for summer. If you check out my Spotify, you can also hear 'Fade' and 'Run', both originals, released last year.
@skopemag: What is the most difficult and also most rewarding thing about being an artist in 2022?
I think my difficulties are similar to many people my age. Inflation, soaring cost of living, stagnate wages, the further socio-economic division between classes, a hard push towards privatisation of social support and services, the environment, war. You know. Just the day to day living in this day and age, haha. That being said, I think the combination of the advances in technology and the sheer ingenuity of the helpers out there, gives me such hope and motivation that, despite everything being, you know, on fire, we can enact change, and engage in ways that were simply not possible even five years ago. I think it's a great thing that technology has allowed a space for artists to have more control over their music, be it how they create, how they share, how they reach new listeners and other musicians, and carve their own path with much more independence and variety than before. That the mainstream music industry can live in healthy symbiosis with indie artists in a thriving climate, because of these advances. And I'm so fortunate to reap the benefits of the plethoric diversity of sound and song from so many creators around the world.
@skopemag: Before you go, where can we follow and stream your music and what are your plans for the rest of 2022?
Thank you very much for your time, and your thoughtful questions. Keep on the lookout for my new releases, I'll be doing a studio session soon as well, which will be available to stream as well as releasing new merch in the next few months. You can find me anywhere in the social world @ashajunemusic, or Asha June Music on Spotify. Stay safe and kind lovelies!