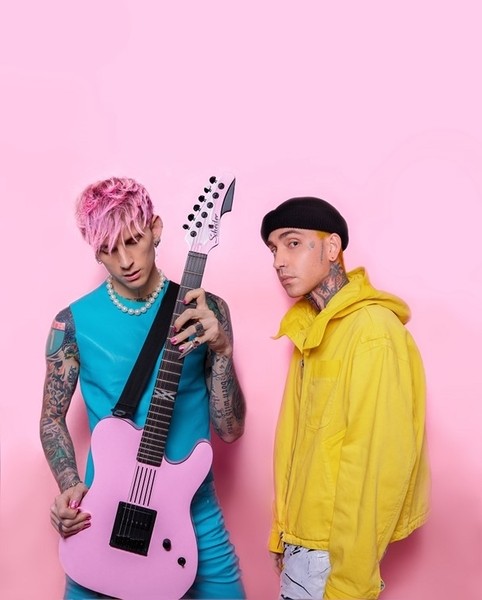 @skopemag news – thursday – february 26, 2022 @ 5 pm est
@skopemag HQ – http://smarturl.it/skope
Emeli Sandé Releases 'There Isn't Much.' New Album 'Let's Say For Instance' To Be Released May 6
Today, internationally-renowned British singer-songwriter Emeli Sandé has shared her new track 'There Isn't Much', available to stream and download now. The heartfelt, classic power ballad arrives as the latest offering from Emeli's forthcoming studio album Let's Say For Instance, out Friday, May 6 via Chrysalis Records.
Lil Gotit Floats Like a Feather with Toosii and Millie Go Lightly in "Take Care" Video
Since turning up the heat with Top Chef Gotit this past summer, Atlanta's one and only "real hood baby" intends to feed the streets as the weather warms up in 2022. Flying high in the sky with his money on his mind, Lil Gotit returns to share "Take Care," his new video single featuring Toosii and Millie Go Lightly. "Take Care" is the latest dispatch from The Cheater, Gotit's next album, out this spring via Alamo Records.
People Without Shoes – Boom Bap Ambassador (Video)
VERA ELLEN RELEASES VIDEO FOR 'IT'S YOUR BIRTHDAY'
Vera Ellen has released the music video for the title track from her recently released Flying Nun album, It's Your Birthday. It is an exuberant accompaniment to the joyful tune; a carefree ode to her early 20's. Vera can hardly hold her smile in during the entirety of the video and we can't either.
The video, directed by Al Kalyk, follows Vera around different L.A locations. The twinkle in her eye never falters as she shows us around, occasionally drifting off into her own world as the video erupts into vibrant animation by Elvira Kadyrova and Rom Vashtar.
PUSHA T JOINS FORCES WITH NIGO FOR NEW VIDEO "HEAR ME CLEARLY"
OCEANHOARSE Release Lyric Video and New Single "Fading Neons"!
Cultus Black Releases New Single "Killing The Beautiful" + Official Music Video
Groovy new single "Cage" from The Man Who about being thrown into an unfamiliar situation
Groovy new single, "Cage," captures a real emotion that The Man Who were feeling at the time. It was the first song they wrote after parting ways with the label they were signed to. There were no hard feelings at all, and this is in no way a "diss track," but when you are young and thrown into an unfamiliar situation, there can be a lot of excitement mixed with a lot of confusion, and sometimes it just takes a bit of a hard hit to be able to see things straight.
New Album From Machine Gun Kelly 'mainstream sellout' Out Now On Bad Boy/Interscope Records
Shortly after unleashing his highly touted collaboration "maybe" with Bring Me The Horizon, Machine Gun Kelly taps blackbear for his new video "make up sex." Fresh off the release of his highly anticipated sixth studio album, mainstream sellout (Bad Boy/Interscope Records), Machine Gun Kelly's prolific output on the visual side continues to draw fans, especially with his latest video. Surrounded by a dozen of cats, MGK's pink hair, bright guitar, and punchy lyrics about his disastrous relationship makes "make up sex" an enthralling ride for his diehard fans. Watch the Philip Andelman-directed visual HERE.
I KLATUS: The Obelisk Hosts Exclusive Stream Of Targeted Album From Chicago Sludge Metal Trio With Members Of Yakuza, Lair Of The Minotaur, And More; Record Out Friday Via Dead Sage
This Friday, Chicago-based esoteric sludge/doom metal trio I KLATUS – formed by members of Yakuza, Lair Of The Minotaur, and more – will release their fourth full-length album Targeted, through their own Dead Sage label. Advancing its release, The Obelisk is now hosting an exclusive stream of the album alongside a track-by-track breakdown of the album from the band.
I Klatus Premiere Targeted in Full; Give Track-by-Track Breakdown
renforshort Releases Captivating New Song "made for you" on Interscope Records
Produced by Afterhrs and John Ryan, "made for you" follows the January release of "moshpit," the first new piece of music from ren since her critically lauded 2021 EP off saint dominique — a June release that drew acclaim from the likes of NME, who hailed her as a "pop-rock riser…unafraid to speak her mind." The six-track project features standouts like "fall apart": a bombastic pop-punk anthem that earned ren her first production credit and amassed over a million global streams in under two weeks. Soon after putting out the EP, ren joined Yungblud on his fall UK tour.
BRKN LOVE Share "Like A Drug" Video — WATCH
SHAWN MENDES RELEASES NEW SONG AND VIDEO FOR "WHEN YOU'RE GONE"
Berried Alive Return With Dark Alt-Rock Single 'Pearanoid'
Described as 'colourful musicality melds together EDM, rock, metal, vivid pop textures, and a whole lot more besides' by Clash Magazine, Berried Alive offer up an authentic and unique sound as well as mesmerising musicianship.
SKINNY LISTER – Release: "Like It's The First Time" || UK Tour with LESS THAN JAKE starts Tonight
"Like It's The First Time" is a chipper cut from the band's latest album 'A Matter of Life & Love', a raucous record that pays homage to all the greatest things in life.
THE DAMNATION PROJECT – single "Soul Kitchen Blues" from forthcoming album "4"
Third single of forthcoming album of "The Damnation Project" comes as a surprise, an acoustic ballad, inspired by the "Soul Kitchen" period, a blues band that founder of the band established during his silent period, and was originally supposed to be released by that band. Vocal recordings are "one take", and rough, as they were recorded at covid-19 quarantine time. A special song, full of emotional performing, focused on feeling and love.
Avant-Tech-Pop Producer MARIA Die RUHE Unveils Single 'Superrare' [FFO: Robyn, Tove Lo and MØ]
The singer is from Thuringia, Germany previously lived in both Berlin, San Francisco, as well as London and is now based in Leipzig, Germany once more. While creating her unique sound, MARIA Die RUHE loses herself in different sonic realms, never minding the genre and recognising the works of Frank Wiedemann, Stimming, Dominik Eulberg, Elder Island, Sylvan Esso, James Blake, SOHN and The Knife to name a few. Her own sound calls to mind the unusual sounds of Robyn, Tove Lo and MØ.