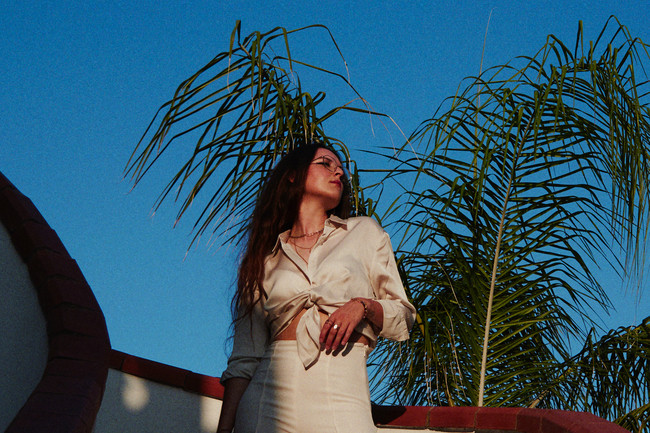 @skopemag news – thursday – march 31, 2022 @ 12 pm est
@skopemag HQ – http://smarturl.it/skope
MEXICAN DOGS – Release Rip-Roaring Video for New Single "She Cries Blues" {Out Now}
Cavorting their way through a thunderous blend of retro riffs, jovial drum beats and rip-roaring, live-ready vocals, "She Cries Blues" is a fuzzy glam-rock romp that touches on the past whilst barrelling hell for leather toward the future.
BRAND NEW ARTIST ELLAURO RELEASES DEBUT SINGLE
'Indigo', a track produced by Joy Anonymous and written by Ellauro, sings of sadness, melancholia and hope over slow, rolling drums and with her voice gliding like honey over the beat she sings "Lately, I've been feeling down / Maybe, I need someone else around."
CHAINS OVER RAZORS HAVE JUST RELEASED THEIR SOPHOMORE ALBUM THROUGH DEKO ENTERTAINMENT AND LANDED THEMSELVES ON THE BILLBOARD RADIO CHARTS
Chains Over Razors has just dropped their "self-titled" sophomore release, and the first single "Behind These Eyes" landed itself as the #2 most added spot on the Billboard (BDS) Mainstream Rock Indicator chart and the #1 most added spot on the Foundations chart on the first week of release. The guys had this to say about it, "Creating our sophomore self-titled album that is executive produced by the legendary Carmine Appice, released through DEKO Entertainment, and having our first single "Behind These Eyes" place #2 on the Billboard most added chart is surreal. Thank you to all who have listened, bought, or played our single or album!!!! This is a dream come true for us and the overwhelming support from everyone has been incredible. This album is one of the most ambitious and highly anticipated works that we have created and is now available to share with the world." -Chains Over Razors
NICK VASALLO: Video Playlist Of Entire Apophany Metal/Classical Opus From Bay Area "Father Of Deathcore" Now Playing; Album Out Now On Neuma Records
Ten years in the making, Apophany showcases VASALLO – "The Father Of Deathcore," from notable technical death metal/deathcore outfits Antagony, Oblivion, and more – as a composer, with epic performances from a variety of university orchestras and new music ensembles, including Red Shift, Wild Rumpus, The Living Earth Show, and others. Apophany is as gritty as it is satisfying. This is music for the metaverse, bedroom headphones, and giant auditoriums, but maybe not the parlor.
Rosie Carney Announces Second LP / May 27 via Color Study
Anglo/Irish, London based singer-songwriter Rosie Carney returns with "dad" the electric first single off her upcoming second LP, i wanna feel happy. The video stars John Bell, known for his roles in Outlander, The Hobbit, and most recently the revival of the Off-Broadway one-man show The Night Larry Kramer Kissed Me.
VERONICA FUSARO – 'Better With You' : brand new video for current single by Swiss singer-songwriter
Swiss singer-songwriter Veronica Fusaro has a small tattoo of a new moon on her wrist that is as subtle as her songs. "I'm a night person. It fascinates me," she explains. "When you see the stars and the Milky Way – that's when the space for thinking and dreaming opens up." Having said this, it is surprising to discover that her bright and very sunny new single, the acoustic guitar-driven 'Better With You', is all about the joys of the morning. A very special morning, mind you. "Waking up gently, rays of sunshine pushing through the curtains, already nice and warm….and with the person who makes the moment perfect next to you…." she adds, coyly.
Jedbrii Unveils New Single "Play"
Jedbrii is a singer/rapper from Canberra, Australia. One of the most versatile artists out there, he started off making hip-hop but now dabbles in everything from funk, trap, drill and D&B to neo-soul, R&B and pop. The rising artist has brought together some of these styles on his brand-new single, "Play" (feat. Johniepee). With Jedbrii's smooth singing vocals fused with his impressive rap flow, the track has immense appeal and puts the spotlight on an artist with a huge future ahead.
Widowspeak share visualiser for "The Drive" | New album "The Jacket" out now via Captured Tracks
Widowspeak on "The Drive" – "The Drive" is a song about balancing dreams and goals with realities, and questioning the prevalent idea that if you want something enough, you can just make it happen. It's a little tongue-in-cheek, and it's written from a place of acceptance more than lamenting anything. Within the original "storyline" of the record, the narrator has to decide if they are willing to sacrifice their integrity for success, and is considering how things might be easier (especially financially) if they did things differently. Of course it became more personal to our perspective, too. I think "The Drive" is about seeing the reward in taking things slow and being guided by your own purpose.
[Whatever's Clever Records] Clarice Jensen (Jóhann Jóhannsson, Max Richter) Joins Peter Coccoma on New Single "clouds of understanding"
Today Peter Coccoma released the second single and music video "clouds of understanding" off his forthcoming debut LP A Place To Begin, out May 20th, 2022 on Whatever's Clever Records.
BIG TIME RUSH RELEASE ACOUSTIC VERSION OF "NOT GIVING YOU UP"
The track is the latest in new content from the band ahead of their highly anticipated, Forever Tour. Produced by Live Nation, the 44-show tour will kick off on June 23rd at The Theater at MGM National Harbor in Washington, DC, making stops at iconic venues nationwide, including New York City's Madison Square Garden on June 30th, before wrapping up at the Concord Pavilion in Concord, CA on August 20th. Joining Big Time Rush on the road for select dates is special guest, recording artist, social media phenom and Big Time Rush super-fan, Dixie D'Amelio. Tickets are on-sale now at bigtimerushofficial.com.
Shanghai Baby of Hinds release third solo single "Go Home"
In equal parts dark and charismatic, "Go Home" invites listeners into a world of confusion and compassion. Layering electronic indie guitars, and marching rhythmic drums the track makes fro an effortlessly cool sound. With Ade's raw vocals and deeply personal lyricism the track combines a familiar nostalgia with something particularly unique.
GRAMMA VEDETTA Release New Song "Transmission's On"
Stoner metal band GRAMMA Vedetta are streaming their new single "Transmission's On". The song is from their upcoming release Hum of the New Machine which is out 27 May, 2022 via Mandrone Records.
The band comments:
"Transmission's On" is a sarcastic interpretation of those random thoughts that pops in your head at night and keep you awake such as "you are not good enough, you ate too many carbs, you lost your job, you have to pay the rent."
We've written down all those thoughts in verses, and put them on top of a chord progression that could be The Melvins covering Pink Floyd. It is a very dynamic song, with lots of ups and downs, a trippy exploration of the different personalities that our brain can create.
Gramma Vedetta Rev Things Up with Their "Transmission's On" Single Premiere
TOMBS Premieres New Song + Music Video, Unveils Digital EP Details
New York/New Jersey metal collective TOMBS is now unveiling a music video for their brand new song, 'Ex Oblivion,' inspired by the haunting H.P. Lovecraft story of the same name. The single is the first of TOMBS' upcoming 'Ex-Oblivion' digital EP, for which the final single will be made available on July 13. All songs will be available via Bandcamp, YouTube, and across all streaming services while a vinyl counterpart will be announced at a later date. The video, which was created by Guilherme Henriques, can be found at THIS LOCATION.
UK Hardcore band Last Wishes share new single + video "Loyalty"
Bursting out of the UK hardcore scene, Last Wishes, are creating music with hard-hitting riffs and a blunt attitude. Today, the band shares their robust new single "Loyalty" from their upcoming album, Organized Hate. Set for release on April 29th on DAZE (US) and The Coming Strife (UK), the album was completely self-produced by the band and then mixed and mastered by Terror drummer Nick Jett. "Loyalty" features a brutal blend of vocals and guitars highlighted by a stomp worthy breakdown. Lyrically, the track centers around the importance of friendship and respect, connecting with the overall album theme of being a product of your environment.
Finnish Fantasy Metal Force BATTLELORE Presents First Single from New Album 'The Return of the Shadow'
The time has come to wield your sword and charge back to the battlefield! Following their last studio album, Doombound (2011), and extensive touring, Finnish heavy metal force BATTLELORE took a creative break. On June 3, 2022, the long, lingering 10-year sleep of the collective will finally end with the release of their much-awaited, seventh record, entitled The Return Of The Shadow, via Napalm Records!
LATE LEGENDARY MC PHIFE DAWG RELEASES "FOREVER" MUSIC VIDEO
STEAK: stream new album 'Acute Mania' in full!
London heavy rock stalwarts STEAK premiere their third studio album "Acute Mania" in its entirety exclusively via Metal Injection today! It will be available worldwide tomorrow on Ripple Music, alongside the exclusive "Steak: Mad Lord" comic book and "Mad Lord: Samurai of 1000 Deaths" short movie.
Petrol Girls Announce New LP "Baby" out 6/24 & Release "Clowns" Single + Live Video
Since their formation in 2012, Petrol Girls have been known for playing fast-paced, chaotic punk that takes aim at everything from sexual violence to immigration policy, but over the last few years their sound has evolved in a more nuanced direction. Their 2016 debut album Talk of Violence was a blast of pure political rage, while 2019's Cut & Stitch saw Aldridge exploring familiar themes from a more personal perspective. Now their latest offering Baby sees the band turn another new corner. This time, by embracing irreverence.
[New Single] Teewhy G ft. One Three – Megalodon
Hudson County, NJ's Teewhy G is a Puerto Rican recording artist based in Jersey City who had his start in the New York underground circuit and has rapidly grew his star after releasing his debut EP titled "No Pressure, No Diamonds" in August 2021.
Jay Gudda Is Brash And Unapologetic With New Video "Slay"
New England's Jay Gudda is admittedly brash staying unapologetically true to himself with new video, Slay. Co-Prodcued by himself and Ammo, The Ventige Co. directed visuals highlight the authenticity and sincerity found in the track. "Duality is part of life, and we can choose to either battle or embrace that. I chose to embrace the madness and do everything my way" says Jay. Check it out now on YouTube and your preferred digital streaming provider.
LILA IKÉ WRITES A LOVE LETTER TO HERSELF
"True Love" is a love letter to herself. The song (produced by Natural High Music) and video (directed by Ayana Riviére) encourages us to choose love even through the darkest times.