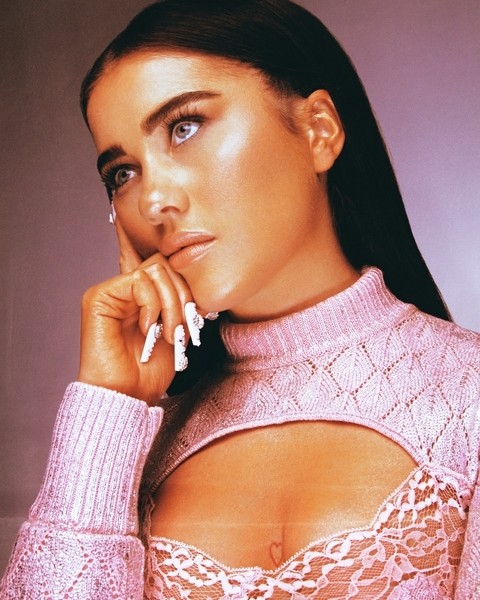 @skopemag news – friday – march 25, 2022 @ 9 am est
@skopemag HQ – http://smarturl.it/skope
Paris Combo Announces New Album
Paris Combo, the French quintet Variety describes as possessing "a seemingly endless supply of catchy hooks and imaginative lyrics," is back with a new album, Quesaco? The full-length release is their seventh studio album, but also the last recorded with the group's late singer/songwriter Belle du Berry, who died suddenly on August 11, 2020, aged just 54, following a brief battle with cancer.
Garrett Kato Shares Soulful New Single "Secrets" 
Produced and mixed in Garrett's home studio, "Secrets," shows a side of Kato we have never seen before. The track touches on vulnerability and the challenges of mental health after dealing with loss.
Racing Birds release alt-country, foot stomping new single 'Rarely Never Loaded' & announce EP 'Lonesome Blue'
Combining forces to blend their unique outlooks on storytelling, Sydney's Jeremy Strother & Bobbie Lee Stamper are today excited to be announcing their project Racing Birds, alongside the release of their debut single 'Rarely Never Loaded'. Drawing passionate vocals from Jeremy, to eloquently sit atop bluesy rhythms from Bobbie, the duo have combined to create an emotive sound that is fleetingly familiar, but uniquely Racing Birds. Reminiscent of late night drives through Southern California in the '60's, the band capture a raw and honest edge that is on show throughout 'Rarely Never Loaded'.
Bree Runway Releases New Single + Video for "Someone Like You"
British pop trailblazer Bree Runway continues her ascent to global superstardom with magnetic new single 'Somebody Like You' out now.
'Somebody Like You' is a stunning neon-lit devotional that showcases Bree's emotive and dynamic vocal talents. Built around propulsive '80s-inspired drums, subterranean padded synths and captivating melodies, it illuminates a new side to Hackney-born singer's limitless artistry, one which the Guardian said "further cements her unique position as a rising pop star who eschews convention to embrace complexity and contradiction".
Erin Shares "Still (Prod. Godriguez & Ken Allars)" Single + Visuals
Of the song, Erin says the polarising sound was a very organic process where the collaborators, Godriguez & Ken Allars, had total creative freedom. "I gave them a very fragile melody, with no expectation of likeness to anything else or intentional message to convey. Dave (Godriguez) & Ken are both artists that I have a beautiful connection to musically and I simply leave the music in their hands. It's exciting to see what comes back and rewarding to hear each time that the three of us naturally fulfil a role that the song needs."
Tai Verdes Releases His Funky New Single '3 Outfits' Along With Official Music Video – Out Now
Australian psych four-piece The Lazy Eyes share new single "Starting Over" | Debut album "Songbook" out April 22nd | Supporting The Strokes in 2022
PLACEBO | New album "Never Let Me Go" out today | UK / IE headline tour dates on sale now
Placebo today release their highly-anticipated, and universally-acclaimed, new album, Never Let Me Go. The near decade-long wait for a new full-length from the band is over.
ELECTRO-POP DUO HËXĖ RELEASE SINGLE 'CRUSH' ON TIKTOK'S SOUND ON
Merging the unique duo's joint talents in production and songwriting, 'Crush' showcases Lex's soft melting vocals whilst the signature colourful production style heard from Cal prevails in their crossover pop-electro output that oozes sexual expression and empowerment.
CLAUDIA VALENTINA RELEASES NEW SINGLE 'EXTRA AGENDA'
Today – 25th March – future global household name Claudia Valentina releases the astonishing new single, 'Extra Agenda', out via EMI Records. The track was premiered as a 'First Play' on Clara Amfo's BBC Radio 1 Future Sounds show and is set to become one of the hottest tracks on the scene right now!
Dan Drizzy & Eugy link up on new single 'International'
Ghana-born, Nigerian singer-songwriter Dan Drizzy and British-Ghanaian artist Eugy have joined forces on new single 'International', out 25th March.
Produced by Anelworldwide, 'International' finds the sweet spot between Afrobeats and amapiano, with both artists flexing their slick vocal prowess. Lyrically the track was inspired by Dan Drizzy's goal to cement himself as an International artist.
Mötley Crüe and Def Leppard Tour Openers Classless Act Collaborate With Justin Hawkins on New Single "This Is For You"