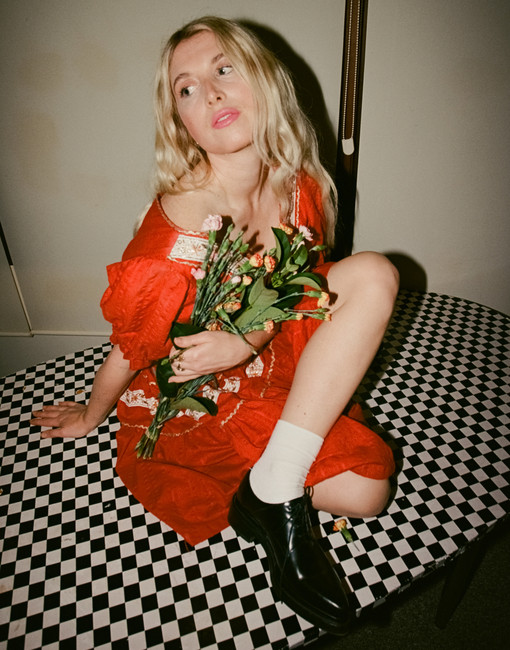 @skopemag news – friday – march 11, 2022 @ 6 pm est
@skopemag HQ – http://smarturl.it/skope
NIJA'S DON'T SAY I DIDN'T WARN YOU: JERSEY CLUB REMIXES OUT TODAY
V Magazine, which recently placed Don't Say I Didn't Warn You atop its list of the best new music, said, "With a cavalcade of smooth and polished…R&B and hip-hop beats and production choices, Nija comes in hard." Teen Vogue observed, "Throughout the ten tracks, the singer-songwriter fuses the confident swagger of rap with modern R&B, priming herself for a takeover of the music industry." RNGLDR said, "Graciously, she glides over the beats with a chilling effortlessness, spilling true emotion onto each track with her ever so silky register." "The thing about Nija's debut project, Don't Say I Didn't Warn You, is that it's appropriately titled," observed Rated R&B.
[Video Submission] The Storm Windows – "Life is a Railroad" (Country/Rock)
The Storm Windows are a new Americana Band. Formerly mainstays in the Greenwich Village music scene, the band members took a hiatus to pursue some other things, but are now back with a mixed repertoire of original Americana / Alt-Country / Rock songs and newly re-imagined versions of classics or should-be classics.
South African rap icon A-REECE for Skope Magazine – New 'TUFF LUCK' music video with his brother JAY JODY out today
The video is for 'Tuff Luck', which is taken from their exciting new collaborative project, 'Heaven Can Wait: The Narrow Door (Vol. 1)' that was released as a dedication to their late father, and has already garnered over a million streams on Spotify.
Suzi Moon Releases Video For New Single "Animal"
The video for "Animal" shows the fierceness and fire that Moon brings to her music and live performance. It's raw, gritty, and turbocharged with Moon's unabashed presence. There's no sugarcoating in this song – this is Moon at her most confident. "I chose the title Animal for the new EP because it best represents the overall feel of the record and the energy that I am currently aligning with. 'Call The Shots' was my first step into the world as a solo artist, and it was scary for me. I was saying "I can call the shots" – but my confidence was still shaky. I was hyping myself up at that point. Covid anxiety and the forced time off from performing live definitely played a part. A year later and I am ready to eat you alive if ya know what I mean! My focus is laser-sharp… I feel like an animal hunting its prey," Moon remarks.
Greyhaven share chilling new single "Ornaments From The Well"
"Ornaments From The Well" highlights a continued shift into a new era of the band, evoking a mix of anguished alt-rock and post-hardcore punctuated by moments of raw brutality. The new song is the 10th and final track of the album, and a fitting conclusion to the bands most emotive release yet. Serpentine riffs permeate the song, building a sinister tension that helps the bands distinct melodic sensibilities shine. The lyrics are stark and brooding, adding a palpable sense of darkness to the track that is punctuated by the swirling accompany visualizer. You can stream "Ornaments From The Well" here.
Sea Lemon Shares "Turn Away" Via FLOOD, Debut EP Out This Year Via Spirit Goth
Seattle-based bedroom pop artist Sea Lemon (Natalie Lew) shares a new single "Turn Away," an infectious track that channels anxieties into a piece of shimmering dream pop. Glittery and colorful, "Turn Away" is the third single from the artist, which FLOOD praised as "remarkably carefree." Sea Lemon's debut EP is due out this year via Spirit Goth Records.
MOOSKI RELEASES DEBUT PROJECT "MELODIC THERAPY 4 THE BROKEN" FEAT. CHRIS BROWN, A BOOGIE & MORE
Mooski opens up the project with a confident anthem saluting where he's from, appropriately titled "Bama Boy." On the record Mooski melodically sings "I can't show no love because I'm too scarred, though I got a big heart I got no room for it" as he then goes on to share the pain he feels from the loss of his father and not being able to share these moments with him. Mooski rounds the song out with an infectious chant "Don't get caught in the glamour and glory," foreshadowing what's to come on the remainder of the project.
Out today: Phebe Starr's 'Heavy Metal Flower Petal' LP + TAYLOR ALXNDR's '1993' EP
Australian indie pop phenom (and official SXSW 2022 artist) Phebe Starr released her highly anticipated debut album, Heavy Metal Flower Petal. Written in the wake of Starr's divorce from a man she'd married at 21, throughout, she contrasts the toughness (the 'heavy metal') and the softness (the 'flower petal') that now exists within her life, as she looks inward and becomes more in touch with her femininity than ever before.
SANTAFERIA Releases New Single And Prepares To Embark On Their First Mexican Tour
Santaferia, one of the most important cumbia groups in Chile is debuting their new song "Mis Muertos," a track that wishes to commemorate through joy all those who are no longer among the living. The composition includes new and exotic instruments such as the guacharaca, the Colombian tambor and digital effects that envelop listeners in their sound, achieving a perfect and ingenious mix between a caja nortina and a typical reggaeton caja.
Warm, Sunny Hues from Portuguese Singer/Songwriter
Cristóvam is a singer/songwriter from Portugal. Born amongst the deep blue of the Atlantic and the lush green of the beautiful Azores islands, Cristóvam's music shines with a warmth that
won't find anywhere else. Growing up, Cristóvam was surrounded by music everywhere he'd turn – his grandfather was a true radio pioneer who started the second oldest radio of the Atlantic and left behind a massive record collection, which Cristóvam would regularly lose himself in.
SOCIAL SCREAM – "Luna Dark" from upcoming album "ΔΕΙΝΟΝ ΕΣΤΙ"
In March 2022 the band announces that a new album is ready to hit the ground, called "Δεινόν Εστί". The recordings took place at Think Recording Studios and Dimons Studios. Album produced by Dimitris Sakkas and artwork created by Giannis Stergiou and dtopgraphics.
OUT NOW // Lois Rae 'SWIM' ft Tike
Lois Rae has been making waves within the music scene, her unique blend of 90s R&B, contemporary production, immaculate vocals, and a secret love for classical music, all comes together to create her one-of-a-kind style. In an industry where it's difficult to stay afloat, Lois Rae manages to 'SWIM' above the rest with her latest offering.
Olly Alexander of Years & Years Joins DJ Regard for "Hallucination" Video
In a darkened room lit only by the eccentric characters in there, a dance competition takes place, with evident inspiration coming from the likes of 1969 Sydney Pollack film They Shoot Horses Don't They, Squid Game, and Black Mirror. The music video showcases a cut-throat survival game, one with Regard as the puppet master opposition to Years & Years striving to survive, but plagued by intense competitiveness.
The Districts' New Album "Great American Painting" Out Today
Produced by Joe Chiccarelli (Spoon, The Strokes, Broken Social Scene) and recorded at the legendary Sunset Sound in Los Angeles, Great American Paintingis the rare album that shines a bright light on all that's wrong in the world but somehow still channels a galvanizing sense of hope. With equal parts nuanced observation and raw outpouring of feeling, The Districts confront a constellation of problems eroding the American ideal (gentrification, gun violence, the crushing weight of late capitalism), ornamenting every track with their explosive yet elegant breed of indie-rock/post-punk. Threading that commentary with intense self-reflection, Great American Painting ultimately fulfills a mission the band first embraced upon forming as teenagers in small-town Pennsylvania: an urge to create undeniably cathartic music that obliterates hopelessness and invites their audience along in dreaming up a far better future.
[BUMP] Sacramento's starboy MarMar Oso drops "Independent" for women worldwide
Just bumping this up – A day after International Women's Day, Sacramento's resident slick talker MarMar Oso celebrated independent women everywhere with his "Independent" track and video release via EMPIRE. From his GOLD-certified heartbreak track "Ruthless" to his recent buzzing song "Flirt" ft. Bino Rideaux, it's no secret MarMar has his ups and downs with women, but "Independent" puts his constant respect and adoration for them on full display.
Nathaniel The Great – Cash Out [DJ Pack] feat. Omeretta
The Drowns Announce New EP "Lunatics;" Release First Single "Live Like Yer Dyin"
"Lunatics" is the follow-up to the band's recently released 7" "Know Who You Are" and their previous full-length "Under Tension." For "Lunatics," The Drowns once again got back into the studio with producer Ted Hutt (The Gaslight Anthem, Dropkick Murphys, The Bouncing Souls) to re-capture the magic they created for "Under Tension."
V Knuckles (N.B.S) Delivers A Gritty Lyric Video "G'Z Up" FT. Millyz & Fredro Starr (Onyx)
V Knuckles (N.B.S.) highlights his latest banger G'z Up FT. Millyz & Fredro Starr (Onyx) with a new lyric video directed by Theo Santo Productions. This cinematic display of real life events contrasting with these authentic MCs brings a gritty visual to this street anthem. "Real Hip Hop is alive, well, and here to stay!!!" says Knuckles. Check it out now on YouTube and your preferred digital streaming platform.