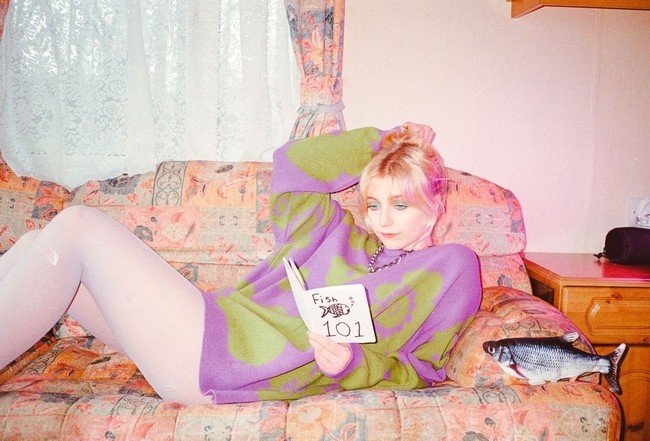 @skopemag news – friday – march 11, 2022 @ 12 am est
@skopemag HQ – http://smarturl.it/skope
AITCH UNVEILS BRAND NEW SINGLE & VIDEO "BABY"
Sampling Ashanti's global smash hit "Rock wit U (Aww Baby)" and receiving her official seal of approval, Aitch brings the feel-good R&B classic to a new age, effortlessly bridging the generations. Buzzing with virality and armed with an abundance of Aitch's trademark wit and conviction, "Baby" is an undeniable crossover anthem, proving 'our kid' is hitting the ground running in what's going to be an exciting year ahead.
Stay Inside unveil new video for 'Veil'
Brooklyn's STAY INSIDE present you their new video for 'Veil,' taken from their critically acclaimed full length, Viewing.
Veil was written about the pangs of guilt we feel from our avoidance of selfless acts, and questioning our contribution to society in the moments before death. The animations by visual artist Olivia Vaughn Hern represent how this guilt can become a parasitic third party, consuming our daily interactions and relationships.
Toronto Tabla Ensemble + Bif Naked Release New Single, "Prayer for the Mother"; Album Release Party March 19 – Harbourfront Centre
Ground-breaking musical collective Toronto Tabla Ensemble (TTE) and legendary Indian-born Canadian artist Bif Naked mystify with cutting-edge sonics and sophisticated grooves on their latest jaw-dropping single, "Prayer for the Mother" — available now!
COMA HOLE Release "Old Climb" On All Streaming Platforms
In the run up to their debut EP, COMA HOLE have released their single "Old Climb" on all streaming platforms.
SKILLIBENG DROPS NEW TRACK AND VIDEO "WHAP WHAP" FEATURING F.S. — SIGNS WITH EASTSYDE RECORDS/RCA RECORDS
New Zealand band Mild Orange shares "F.E.A.R." music video
Los Angeles-based alternative R&B artist MALIA unveils her visual for "More Than Love," via American Songwriter, to accompany her recently released stunning EP, What's After 'I Love You?'.
Daily Discovery: MALIA Covers the Chronology of Heartbreak on 'What's After I Love You?'
Nashville Singer-Songwriter Bre Kennedy Signs To Nettwerk; Shares "Thick Skin (Acoustic)," Tour With Joy Oladokun Starts 4/7 
Nettwerk Music Group is excited to announce the signing of Bre Kennedy, a Nashville-based singer and songwriter who creates music soaked in rich, timeless storytelling with innate pop sensibilities. Her latest single, "Thick Skin (Acoustic)," is a moving acoustic version of the triumphant anthem from her debut album, Note To Self, which she self-released in October 2021. Themes of self-growth, reflection, and over-coming shine through even more brightly with this stripped-back recording. It is one of four songs from her upcoming EP Note To Self (Acoustic), set for release on April 15th.
New Music Video: Joyce Santana hits some hurdles on a journey to his love in "Dormir Sola
RAS REBEL DROPS "CALI LOVE" TODAY!
The multi-genre reggae, hip hop artist Ras Rebel is ready to shine some love on his home of California. Hailing from the coastal town of Port Hueneme located in Southern California's Gold Coast, the internationally renowned reggae and dancehall artist, Ras Rebel has released his "Cali Love" single. Putting his twist on Dr. Dre and Tupac's classic hit, "Cali Love" is out now on Ras Rebel's imprint Rebel Sound Records.
Teen Idle Comes to Life with Dreamy New Single "Burning"
Teen Idle is the indie rock music project of 24-year-old NJ-based songwriter Sara Abdelbarry. Growing up miles away from the vibrant music scene of Asbury Park, she was inspired to start writing her own music in high school while taking classes at local music school Lakehouse Music Academy.
GRAMMA VEDETTA Release New Song "Robots For War"
Stoner rockers GRAMMA VEDETTA are streaming their song "Robots For War" over at Outlaws of the Sun. The song is from their album The Hum of the Machine which is set to be released on May 27, 2022 via Mandrone Records.