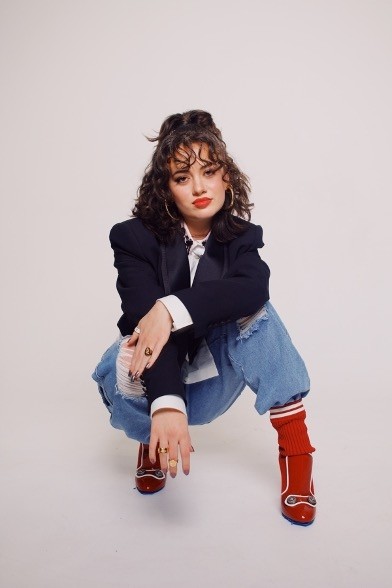 @skopemag news – monday – march 7, 2022 @ 12 pm est
@skopemag HQ – http://smarturl.it/skope
Euphoric alt pop duo Black Lilys return with vibrant new single, "Invisible Strings"
Bright and timeless pop music that balances both strength and vulnerability throughout, Black Lilys deliver a smooth blend between Robin's driving guitar melodies and Camille's effortless, raspy vocals.
TOM JENKINS (ex-Straight Lines) – Announces Signing To Xtra Mile Recordings || Reveals "Back Roads" Video
The ex-Straight Lines frontman has also unveiled the video for new single "Back Roads", a twinkling, country-tinged track that nods to Jenkins' rural roots, highlighting the solitude and struggle of the job that has taken lives in the rural community.
Electronic Producer dj poolboi Releases Single 'where are you now (ft. Fog Lake)' [FFO: Cocteau Twins, Beach House and Slow Dive]
Dani Ramos shares Dime Algo EP
Columbian Berlin-based producer and DJ Dani Ramos reveals Dime Algo EP via Sound of Berlin, digitally available everywhere on March 4. Originally from Columbia, Dani Ramos lives in Berlin and embraced the electronic scene with performances alongside the likes of Luciano, Martin Buttrich, Nick Warren, Hiroko Yamamura, Clive Henry, Seth Troxler, Ryan Crosson, Shaun Reeves, and Guti at premiere events ranging from Circolocoin Cartagena, BPM in Costa Rica and venues such as Ministry of Sound, SONAR, Pacha in Ibiza, Watergate, CDV, Hoppetosse, and counting.
Mysterious artists project Arcanamusica, a collab between Shueisha and avex, launches first single 'My role (Vo.RiZ)',
The first single from the "multidimensional media-mix project" Arcanamusica that was announced on February 2 and began activity on February 22, has been released. 'My role (Vo.RiZ)' began distribution on download and streaming sites from March 2, along with a music video by MONO-Devoid that was published on Arcanamusica's official YouTube channel on the same date. The jacket image was revealed on Twitter at 22:22 JST the night before.
Sundanese prodigy YAHYA drops brand new track and JAY WANETA-produced visuals to "HIM/ME"
The precocious, multi-talented youngstar — who shot to notoriety with his hit "Didn't Believe Me" — resurfaces with a powerfully gripping and hyper-imaginative music video to his new single "HIM/ME".
ICYMI: Hood Tali P "Savage" Track/Visual Out Now
In an effort to keep his son out of trouble, Philadelphia Hood Tali P's father offered him a cash incentive for every song he recorded. Ultimately taking his father up on the offer, is very first song, "Exotic" earned 10K views in the first week; In the first six months of his career, Hood Tali had already racked up a million views.
SPIRITUALIZED: NEW VIDEO FOR "The Mainline Song" OUT NOW
With their new LP Everything Was Beautiful due out April 22 via Fat Possum, today Spiritualized share a video for the third single to be taken from their already critically-acclaimed forthcoming album. The propulsive rush of "The Mainline Song" was at least partly inspired by the protests in the US happening towards the end of the first Lockdown in 2020. The equally dynamic video, directed by J Spaceman, can be viewed HERE.
Peter Doherty (of The Libertines / Babyshambles) & Frédéric Lo Release Video For Pop Piano Ballad "The Epidemiologist"
"When Frédéric and I were sitting at the kitchen table writing with guitars, we wanted the feel of The Last of The International Playboys or Everyday is Like Sunday," Peter shares. "There are a number of references in the lyrics to films, writers and books. It's about hope when things are a mess." Frédéric adds, "It was one of the first songs I played to Peter but it was the last one we finished. Pop and a bit classical."
Check Out DISCONNECTED Official Music Video for "King of the World;" New LP, 'We Are Disconnected,' Out 2022! Disconnected to Perform 2022 HELLFEST and WACKEN OPEN AIR!
R&B/Pop Singer-Songwriter Asha Maclean Released The Acoustic Video For Her Single "Serial F Boy" Following A Premiere With Atwood Magazine
When asked about the acoustic version of "Serial F Boy" and what fans can expect from her debut EP in 2022 Asha said, "I wanted to bring to life what it feels like to be in a relationship at 17 and what it takes to stand up for what I believe and how I want to be loved. The acoustic version of "Serial F Boy" only drives that message home more as your able to dive right into the lyrics. I can't wait for the world to hear and feel the emotion of the songs on my debut EP and have the magic that was made in the studio be conveyed in everyday life as people are listening to it."
Video Premiere: NYC's Asha Maclean Pours Her Heart Out in Empowering "Serial F Boy" (Acoustic Version)
Superorganism Share New Song "Teenager" from New Album 'World Wide Pop,' out July 15
When the first Superorganism music surfaced in 2017, the group's in-your-face aesthetic — a post-everything mishmash of psychedelic indie pop and fizzy, funky electronica — quickly began to resonate with the likes of Frank Ocean, Vampire Weekend, Jehnny Beth, Gorillaz as well as finding them legions of fans across the world.
Master Musicians Festival To Bring Grace Potter, The Wood Brothers, Marty Stuart, And More To Somerset, Kentucky, July 15 and 16
When festival organizers dreamed up the Master Musicians Festival nearly three decades ago, their idea was simple: to honor those whose contributions have had a significant effect on their respective genres and to highlight the up-and-coming acts who are carrying the torch of their forebears. For every Guy Clark they booked, a Jason Isbell shared the bill, for every Doc Watson, a Nickel Creek, and for every Willie Nelson, a Tyler Childers, highlighting a thread that runs through all generations of world-class musicians; a bonafide mastery of their craft.