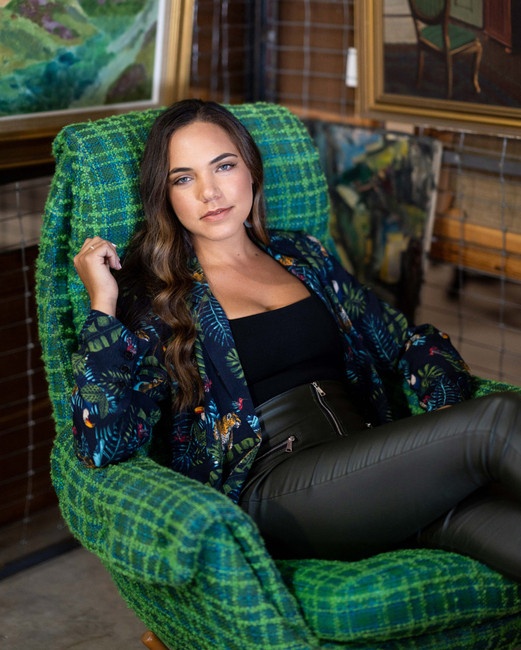 @skopemag news – saturday – march 5, 2022 @ 12 pm est
@skopemag HQ – http://smarturl.it/skope
Anuel AA presenta su nuevo sencillo "McGregor"
El exponente de la música latina Anuel AA, presenta su nuevo tema "McGregor". Una canción que lo regresa a sus raíces del Trap, y, además, pone en imágenes su pasión por las artes marciales mixtas y el fanatismo por el multipremiado peleador de la UFC Conor McGregor.
GREENBEARD: New Noise Magazine Debuts New Track From Austin Stoner Rock Outfit
GREENBEARD has made their mark on the stoner/desert rock scene, boasting heavy, heady sounds, and high-energy performances. The band blends early British heavy metal and psychedelia influences with big desert riffs and sedated stoner grooves. Variant meanders promisingly into "desert soul" territory, with bluesy interludes and heartstrung, crooning vocals. The serendipitously named album was subject to a long incubation period, due largely to Covid-related challenges, as well as lineup changes and industry-wide delays in vinyl production. Nevertheless, Variant emerges as a valiant tribute to new directions, creative experimentation, and engagement with the wider musical community.
Video Premiere: GREENBEARD – 'Get in the car. No time to explain.'
PLATINUM-SELLING ARTIST MOOSKI DROPS VISUAL FROM UPCOMING PROJECT
After looking inward on contemplative tracks like "Soul Bleed," the breakthrough artist lets loose on "Scuba Diving."On the instantly hummable anthem, Mooski counts down the minutes until he can see his girl again. "She say do you miss me or not, she say do you miss me or what," he sings. "Girl, you know I miss you a lot." Mooski wears his heart on his sleeve.
Perenna Announce Upcoming LP "Muses," Out 3/11
"This album is the culmination of years of development, bringing musicians from widely varied musical backgrounds together to create a cerebral, eclectic, yet cohesive collection of songs such that the listener will be compelled to return to over and over again. The album was not written with a central concept in mind, rather the songs were written individually, resulting in a fresh mix of alternative rock from several different musical perspectives."
Paige King Johnson Releases Lyric Video for Latest Single "Homes in the Hometowns"
Country music singer-songwriter Paige King Johnson has released the lyric video for her latest single "Homes in the Hometowns," which connects her passions for both the farming and music industry. The thoughtfully-crafted lyric video highlights all facets of North Carolina agriculture, showcasing the true beauty of the southeast state. The message of the "lifelong legacy" which farmers have made on each small town is emphasized in the video through picturesque landscapes, bountiful produce, cherished livestock, and more. A star on the rise, Johnson never forgets her North Carolina roots, thankful for those who wake up before the sun rises to provide for the community. The "Homes in the Hometowns" lyric video was premiered by Sounds Like Nashville and the single is available to download and stream on all digital platforms now!
Paige King Johnson Premiers Lyric Video as Official Musical Ambassador for NC Department of Agriculture
Dance Yourself Clean Just Dropped An Electro Funk Banger
"Stop It" is a song about learning to re-acclimate to social life after a long period of quarantine and solitude. All the nuances of going out, meeting new people… you have to remember how to act again. Which is fun and exciting but also feels dangerous and awkward at the same time.
Laddio Bolocko Announce '97-'99 3XLP Boxset Featuring Official Discography, Share "Nurser" Single via Brooklyn Vegan
Today, Castle Face Records announces a brand new 3XLP boxset from Laddio Bolocko (mem. Dazzling Killmen, Panicsville, the Psychic Paramount, and Mars Volta), featuring the band's official discography. '97-'99 is out May 20 via Castle Face Records, and the first teaser track, "Nurser," is out now.
LP Giobbi Partners with Insomniac Records to Issue the First-Ever 'Femme House' Compilation – Mar 4
Insomniac Recs is partnering with LP Giobbi to issue the first-ever 'FEMME HOUSE' compilation, the non-profit she co-founded to bring equitable opportunity to non-male individuals in the music industry. She takes the honors of delivering the lead from the 11-track album, "Togetherness," a piano-driven house anthem featuring frequent collaborator hermixalot, culminating into a spry and soulful outcry for unification. LP and FEMME HOUSE are currently embarking on a nationwide takeover tour, which will provide in-person workshops and seminars by day, and epic club parties by night (programmed with all-female / non-binary talent).
Hyper Pop Artist Danny Dwyer Shares Glitchy New Single "Summertime"
Today, Danny Dwyer shares his latest single, "Summertime," a hyper-pop anthem that tackles heartbreak head on. Danny explains, "It is a song from the last moments of a breakup. It's the denial that comes right before acceptance. It's staying up all night replaying the memories in your head and knowing you will never feel those things again. It's calling out praying it could change but knowing that's not what's best for either of you. It's also about guilt, I was thinking a lot about that poem 'the tell tale heart' when I made this where the guy thinks he hears the heartbeat of someone he murdered under the floorboards. I've experienced a lot of guilt when relationships change and I blame myself for not being able to control how I feel. This always creates a vicious cycle and I think this song is where that cycle spirals out of control."
PIERS ANNOUNCES DEBUT EP, SHARES "DUSK" SINGLE VIA VARIANCE
The debut EP from Piers, Ire, is a startlingly clear work of emotional tenderness crafted from essential elements. These five works of instrumental piano ambience are brief but impactful, showcasing the artist's deeply felt appreciation for melodies that cut close to the bone. Ire leaves a mark on the listener as soon as it's ended, an intriguing introduction to an artist building their own sonic world before our very eyes.
"Too Many Hands" is a single from Icarus Phoenix
"We wanted to write a dark comedic love song for a dysfunctional toxic relationship," the project's leader, Drew Danburry, says. "Then eventually Icarus Phoenix was re-formed and the sonic sound of the song began to take shape. We envisioned an animatronic Weezer playing the song and that's how we wanted to play it. A bit robotic and simple and straight."
COLDHARBOUR Release Debut Full-Length Record 'Soul Tempest'
Cincinnati metalcore outlet COLDHARBOUR are proudly introducing their debut full-length album to the world today; 'Soul Tempest', released via Hollowed Records / Kontrolla Music Group. To accompany the arrival of the new record, Coldharbour are also premiering the video for the final single in their release cycle 'It Spills Into The Aether', which is also the final song in the track-listing, due to its summarizing nature.
SILVERCORD Release Sophomore EP 'Umbral'
Progressive metalcore outfit SILVERCORD from Texas are proudly announcing the arrival of their brand-new sophomore EP 'Umbral' which is now available worldwide on various music streaming platforms via Famined Records. Accompanying by this release is the premiere of the official music video for the title track off the new EP.