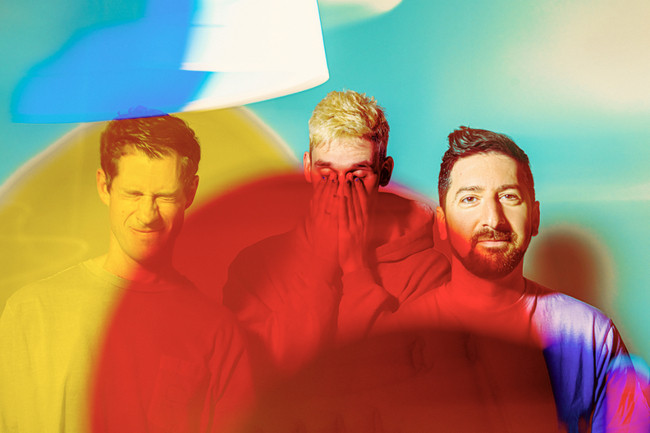 @skopemag news – wednesday – march 2, 2022 @ 12 pm est
@skopemag HQ – http://smarturl.it/skope
PENDANT (SADDLE CREEK) DROPS NEW VIDEO & SINGLE FROM UPCOMING LP
Los Angeles native Chris Adams who makes music under the moniker PENDANT (all caps) has dropped another song / video "Static Dream" from his forthcoming Saddle Creek debut Harp, available April 8th. Directed by Ramez Silyan (Lil Peep, The Neighbourhood, etc.) and starring Adams, the video is Trainspotting meets Terminator 2 (chase scene) soundtracked by a gripping mix of electronic pop and post-punk. Vocals are placed within the kinetic, brilliantly twisted soundscape like an additional instrument, always in service of Adams' surreal and anti-gravitational world, a world brought to life by the video. He notes of the song "I wrote Static Dream after seeing my late father in my sleep one night. The dream was chaotic and sad but over the following day I felt a closeness to him I hadn't felt since his passing. It felt like a new memory I was able to forge with him outside of space and time."
Onyda – 'Waitress'
Onyda is a new and compelling artist inspired by the dystopian landscapes of their hometown of Stoke, finding a creative spark in searching for beauty in unexpected places such as the industrial landscape of their hometown and from feelings of sadness whilst embracing the queerness of life in an industrial northern town through an acid soaked lens.
EADES release 'Backseat Politic' today
Leeds quintet Eades release new single 'Backseat Politic' today as the final preview for their highly anticipated debut album 'Delusion Spree', out digitally on March 4th and physically on May 6th via Heist or Hit (Her's, Pizzagirl, Brad Stank).
Calexico Share New Track "Harness The Wind", Announce North American Tour Dates
Oscillating between haunting desert noirs and buoyant jolts of cumbia, Calexico recently announced their 10th studio album 'El Mirador' and today they are sharing the album track "Harness The Wind", which features backing vocals from Iron & Wine's Sam Beam. Listen below.
Ben Marc shares "This Time Next Year" ahead of 'Glass Drop' album release
London-based producer and multi-instrumentalist Ben Marc has shared a new song "This Time Next Year," the latest advance track from his forthcoming Glass Effect album (out April 22 from Innovative Leisure). The heady track digs into Marc's talents as a producer and arranger, meticulously layering looped snippets of acoustic guitar melodies amidst pulsing synth pads and a swaggering beat. The song's profusion of influences is illustrative of Marc's singular vision – one that charts his own musical journey from studying classical music, to becoming a key collaborator in the burgeoning London jazz scene, to learning dance and hip hop production techniques, and on.
JEFF SCOTT SOTO ANNOUNCES NEW SOLO ALBUM "COMPLICATED"
Frontiers Music Srl is pleased to present "Complicated", the eighth official studio album from veteran hard rock vocalist Jeff Scott Soto. "Complicated" will be released on May 6, 2022 on CD, Color LP, and Digital formats. Today, fans can get their first taste of new music from the album with the release of the single and video 'Love Is The Revolution'. Watch the video HERE:
CLAUDILLEA SHARES THE NEW VIDEO FOR 'RELEASE YOU' – WATCH IT HERE
As her current single 'Release You' stirs elements of pop, opera, trip-hop and pop into one singular sonic style, rising talent Claudilleawanted its video to be just as atypical as the song. As its director and co-producer, that's exactly what she delivered with the visual which she now unveils.
Emeli Sandé Releases 'Oxygen.' New Album 'Let's Say For Instance' To Be Released May 6
Today, internationally-renowned British singer-songwriter Emeli Sandé shares her new track 'Oxygen', available to stream and download now via Chrysalis Records. It arrives as the latest taste of Emeli's upcoming studio album Let's Say For Instance, to be released May 6. The track, produced by F A L L E N (SAINt JHN, Doja Cat, Summer Walker) showcases a more vulnerable side of the songwriter as a tender ode to a loved one.
OH HIROSHIMA Releases "Ascension" Lyric Video! New Album Out This Friday!
Big Gigantic and GRiZ share new song "Open Your Mind" out today
"Open Your Mind" is Big Gigantic and GRiZ's fourth collaboration. It's the next chapter in their creative relationship following 2015 fan-favorite "Good Times Roll," which currently has 40 million streams and has garnered over two dozen top-tier sync placements, including Apple, ESPN and more.
Ali Taylor & Gary Wayne Release Official Lyric Video for "Showed Me Love"
Singer-songwriters Ali Taylor and Gary Wayne have teamed up for a joint single release titled "Showed Me Love." After receiving over 250k streams on Spotify, the duo has released the official lyric video for the release.
Ali Taylor & Gary Wayne Bring Inspiration to Audience in "Showed Me Love" (Premiere)
THEY HATE CHANGE ANNOUNCE JAGJAGUWAR DEBUT LP + DROP SINGLE & VIDEO
'From The Floor" follows a previous release from the album "1000 Horses" that Fader described "as stitching footwork and jungle influences into something cohesive, confident, and, more importantly, exciting."
Ottawa's SINFUL WAYS New Lyric Video "Pursuit" ; New EP "Darkest Days" Out Now!
The band's most adventurous song to date, "Pursuit" was originally written by guitarist Georgio Karapanos nearly a decade ago with all the orchestral arrangements composed for the EP that are featured at the beginning of the track before slamming into harmonized, sweep picking guitars. The song focuses on being in a dark place emotionally and mentally and finding the inner strength to find a positive way to heal.
SINFUL WAYS explore thrash, groove, and metalcore in new single "Pursuit"
The Ballroom Thieves To Release New Album 'Clouds' On July 15 + Announce North American Dates With Darlingside and Lady Lamb; Listen To "Worldender" Here 
The Ballroom Thieves continue to write and share music at a feverish pace. After a major car accident and the departure of a band member, the duo – Calin Peters (vocals, cello, bass), Martin Earley (vocals, guitar) – have found endless sources of inspiration. On July 15, the prolific pair will release Clouds, a lush meditation on longing to return to touring ("to see different sunsets, roads"), but also a reflection of its difficulties (insomnia brought on by sleeping in different hotel rooms every night).