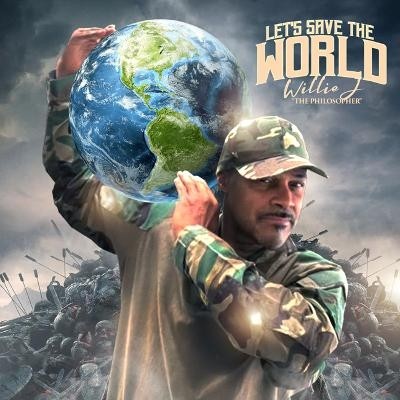 Willie J "The Philosopher" brings good vibrations with "Let's Save The World" and "Be a Father to Your Child". For both of these tracks lyrics prove to be of the essence. Lyrics are chosen with care with each verse carefully balanced on top of the last. Melodies, rhythms, these are all secondary to the sheer power of his voice. Mixed front and center, his voice has a reassuring presence to it one that serves as the very beating heart of the entire experience, in a way that feels truly righteous.
The electro-funk elements of "Let's Save the World" gives the track a giddy hopefulness. Melodies have a neon-hued glow to them for they effortlessly accompany the power of his words. Highly infectious the groove never lets up, and in some ways recalls a little bit of the G-funk of the early 90s with its laid-back, chilled-out atmospherics. Sprawling and ambitious the inspirational "Be a Father to Your Child" features dub effects. Utilizing delay to a great degree the way the piece builds up dovetails nicely with his thought-provoking message. Childlike wonder alongside the word choice itself helps to ensure that there is a warmth that radiates throughout the entirety of the piece. Evolution of the sound carries the piece home for there is a reflective quality to it.
– https://twitter.com/RevOgWillieJ
– https://www.strongrootsyouthfoundation.org/
A true storyteller with positive, soul-affirming messages, Willie J "The Philosopher" delivers righteous works with "Be a Father to Your Child" and "Let's Save The World".